Arkansas at a Glance
Breathtaking fall foliage, endless outdoor activities and unrivaled scenic beauty are just a few things that contribute to Arkansas's unique essence and charm. With over 600,000 acres of lakes, 9,700 miles of streams and rivers, six national park sites, 2½ million acres of national forests and 50 state parks, it's no wonder Arkansas is named the Natural State.
Although Arkansas might not have the monumental skyscrapers found in cities like New York and Chicago or the vast, sandy beaches of Miami or Southern California, its hidden natural gems and prime central location are major reasons its draws approximately 25 million visitors a year. And who could deny the magnetism of a place like Hot Springs National Park, which has hosted notables such as Franklin D. Roosevelt, Babe Ruth and Al Capone? Arkansas is swarming with sites and attractions that have historical and cultural significance. Arkansas may be recognized as the birthplace to legends such as Johnny Cash, Scott Joplin and former President Bill Clinton, but group travelers may not know that the state contains the oldest national forest in the South, Ouachita National Forest. Furthermore, one of the nation's largest municipal parks can be found in North Little Rock, and the Little River County Courthouse is world famous for its Christmas lights display. While these are just a few fun facts about the Natural State, a visit to Arkansas will reveal a great deal more about its rich history and unparalleled scenic beauty. What makes Arkansas so great is that, regardless of the season, there is always something to do and see. Each of the state's six major regions brings something special to the table, and here we aim to highlight just a few of the many "must-dos" for each region and season.
In-Depth Arkansas Articles and Itineraries
Arkansas by Season
A Winter Wonderland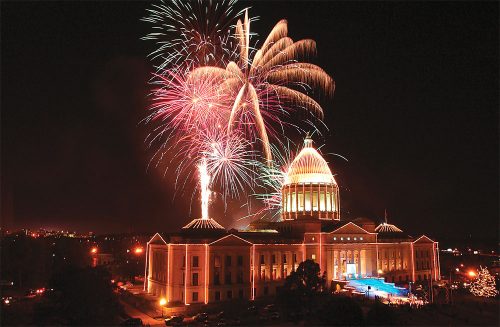 With mild winters throughout Arkansas, group travelers can enjoy a number of outdoor activities, including horseback riding, hiking, extraordinary golf outings, animal watching or world-class trout fishing.
What makes the Natural State a perfect location for groups are its affordable prices and numerous winter vacation packages. Arkansas' "Hiker Holiday" package deal invites groups to ditch cabin fever by exploring the multi-use trails of DeGray Lake Resort State Park or indulging in a game of disc golf. After a fun-filled day in the park, groups can head back to the lakeside lodge to soak in the indoor hot tub or get cozy next to the lobby fireplace.
A holiday tradition that began in 1995, the Arkansas Trail of Holiday Lights brings joy to all of the state's six regions. The Natural State gives a new meaning to "deck the halls," where communities come together to decorate their homes and local businesses with some of the most luminescent, colorful and festive lights and adornments anywhere. For an insider's look into the winter festival, check out the video here.
Horseshoe Canyon Ranch in Jasper offers guided horseback riding tours through the Ozarks, with a chance to ride through meadows and hardwoods, past massive rock formations and bluffs. Experienced wranglers accommodate all ages and levels of horseback riders. Advanced riders are given the chance to explore more adventurous trails such as Bear Bait, Bermuda Triangle and Crack House Alley. Adults can enjoy a twilight ride, while younger group members simultaneously partake in kid-friendly activities such as pony rides, arts and crafts and games.
Spring is in the Air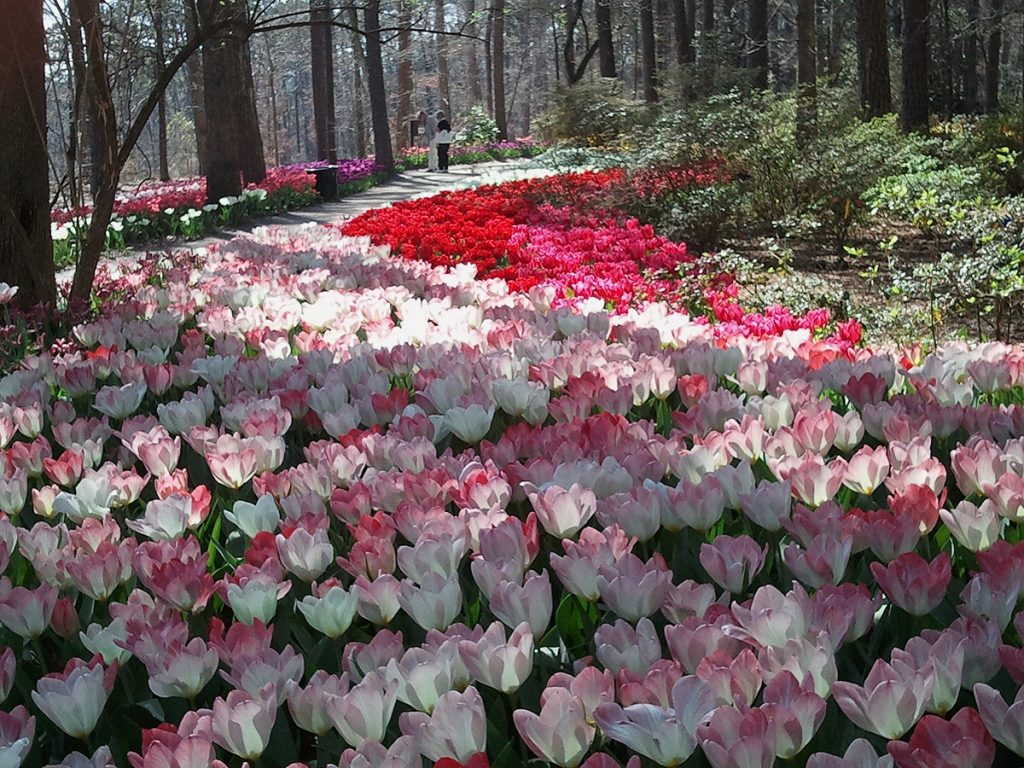 Springtime in the Natural State is all about nature, wildlife and outdoor recreation.
Hot Springs' annual Tulip Extravaganza at Garvan Woodland Gardens invites groups to celebrate the end of winter with thousands of colorful blooms, including crocuses, daffodils, hyacinths and over 150,000 beautiful Dutch tulips. Arkansas highways offer approximately 1,000 miles of designated wildflower routes, perfect for a day of exploring. For more info on Arkansas' wildlife highway routes, check out this link.
For wildlife-watching opportunities, spring is a great time for groups to visit. The state has its own Watchable Wildlife program executed on a state level by the Arkansas Game and Fish Commission (AGFC), with 25 state parks included. Many of the parks offer wildlife, birding and butterfly checklists to help groups know what to look for. For more information on Arkansas' Watchable Wildlife program, click here.
A trip to Arkansas wouldn't be complete without indulging in some of its outdoor recreational activities. We're talking kayaking, canoeing, fishing, rafting, scuba diving, biking, camping, hiking and so much more. Arkansas' 9,000 miles of streams make it the perfect getaway for water activities. Whether your group wants to partake in a rugged whitewater rafting adventure or lie back and relax on a peaceful floating trip, Arkansas' rivers offer many possibilities.
Groups are also encouraged to get out the two-wheelers and blaze through the Ozark Mountains of Northwest Arkansas. The Ozarks are jam-packed with technical hand-cut single tracks and professionally built flow trails. Riding the Ozarks' trails, moreover, is a great way to witness some of Arkansas' best natural beauty.
Summer Lovin'
Swimming holes, scenic road trips and cultural festivals are what attract visitors to Arkansas in the summer.
Memorial Day weekend in Mena, Splash Zone Water Park's season opening in Mount Ida and the 12th Annual Stuart Pennington Running of the Tubs in Hot Springs are all great times to pull up a lawn chair, sit back and enjoy an amazing fireworks display, a summertime favorite throughout Arkansas.
At the end of June, Highberry Music Festival in Ozark puts on a three-day music festival with approximately 16 hours of music each day. When groups aren't enjoying music at one of the five main stages, there are a number of events, classes and activities to partake in, including yoga, papermaking, intro to dragon staff and hair wrap and hula-hoop making stations.
To celebrate the local community of the Ozarks region, Fayetteville Roots Festival (Aug. 24-27) features four days of indie and folk music that maintain the "roots" theme..
For a break from the summer heat, Magic Springs Theme and Waterpark in Hot Springs invites groups to cool off and take a dip in the giant wave pool or race down the Rapid Falls Raceway. Groups can rent cabanas and dine at any of the park's five restaurants.
Fun in the Fall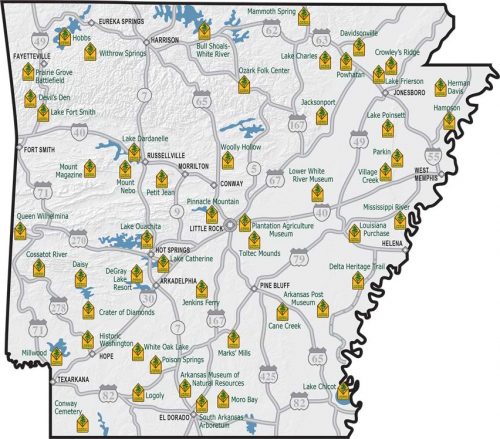 The changing of the seasons from summer to fall in Arkansas arguably may be one of the best times to visit the Natural State. Fall foliage can be seen throughout each of its six regions, and groups won't run out of things to do.
For a firsthand look at stunning mountains and valleys tinted with hues of orange, yellow and red, consider a group camping trip during fall months in Arkansas is a must. The Natural State is home to more than 200 public campgrounds with nearly 9,800 individual family campsites. Approximately 30 Arkansas state parks have over 1,700 campsites. These campgrounds offer a broad range of scenic attractions and usually have modern conveniences like hot-water showers. Campgrounds developed by the U.S. Army Corps of Engineers feature open, park-like areas with fresh water, restrooms and boat launching ramps, making them ideal for water sports activities. For a more rustic camping outing, groups can head to one of Arkansas' national forest campgrounds.
Scenic drives provide another great way to indulge in Arkansas' fall foliage. The state's first National Scenic Byway, Crowley's Ridge Parkway, begins in the northeast in St. Francis and makes its way to the southernmost terminus in West Helena. The drive extends 212 miles and winds through some of the region's most flourishing landscapes. Boston Mountains Scenic Loop passes through underdeveloped regions of the Ozark Mountains, showcasing picturesque, tree-covered canyons. Other well-known scenic drives in Arkansas include Great River Road National Scenic Byway, Talimena National Scenic Byway and Interstate 530.
Arkansas by Region
Northwest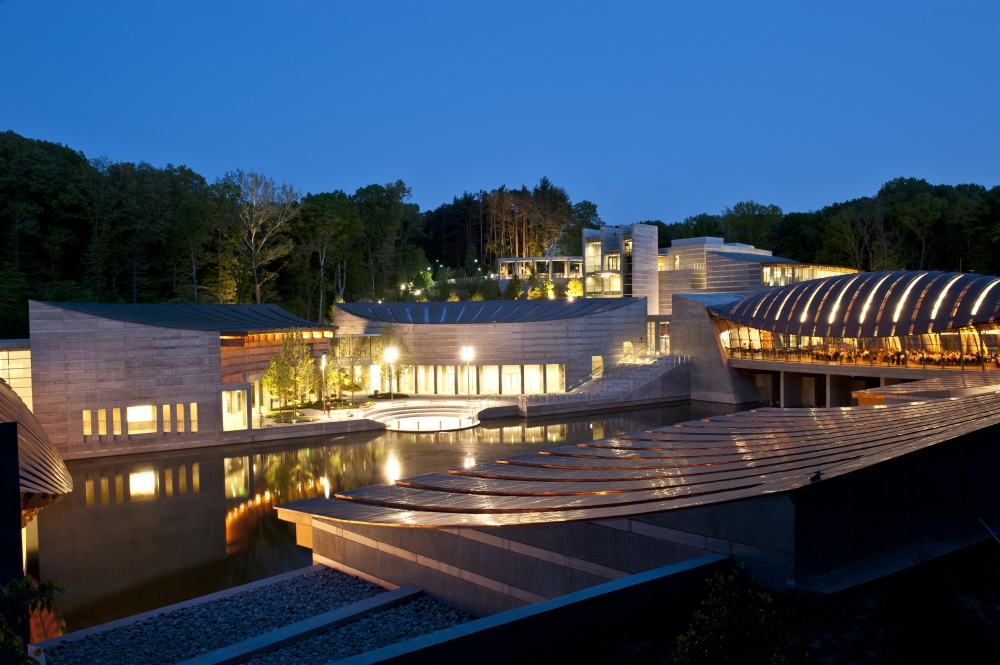 Groups can hike or backpack on the 258-mile Ozark Highlands National Recreation Trail. Winding through Lake Fort Smith State Park and the Buffalo National River, the trail offers geographic diversity and scenic backdrops sure to stun groups and give them a taste of what the Natural State is all about. For art aficionados, Crystal Bridges Museum of American Art in Bentonville features works by greats such as Thomas Cole and Andy Warhol. Groups can grab a bite at the museum's restaurant, situated on a glass-enclosed bridge overlooking spring-fed ponds. Making the American Institute of Architecture's List of Top 10 Designs of the 20th Century, Thorncrown Chapel in Eureka Springs, designed by famed Arkansas architect E. Fay Jones, soars 48 feet into the sky. With 425 windows and 6,000 square feet of glass, it has been deemed by some critics as one of the finest religious spaces of modern times.
North Central
White River offers some of the best trout fishing in Arkansas, while the 135-mile Buffalo National River is a must-do for canoe and kayak paddlers. A National Natural Landmark, Mammoth Spring invites groups to take a day and float down this treasured Ozark stream. The town of Hardy stages a number of live summer concerts. Tours of Blanchard Springs Caverns in Fifty-Six dazzles groups with its implausible rock formations.
Upper Delta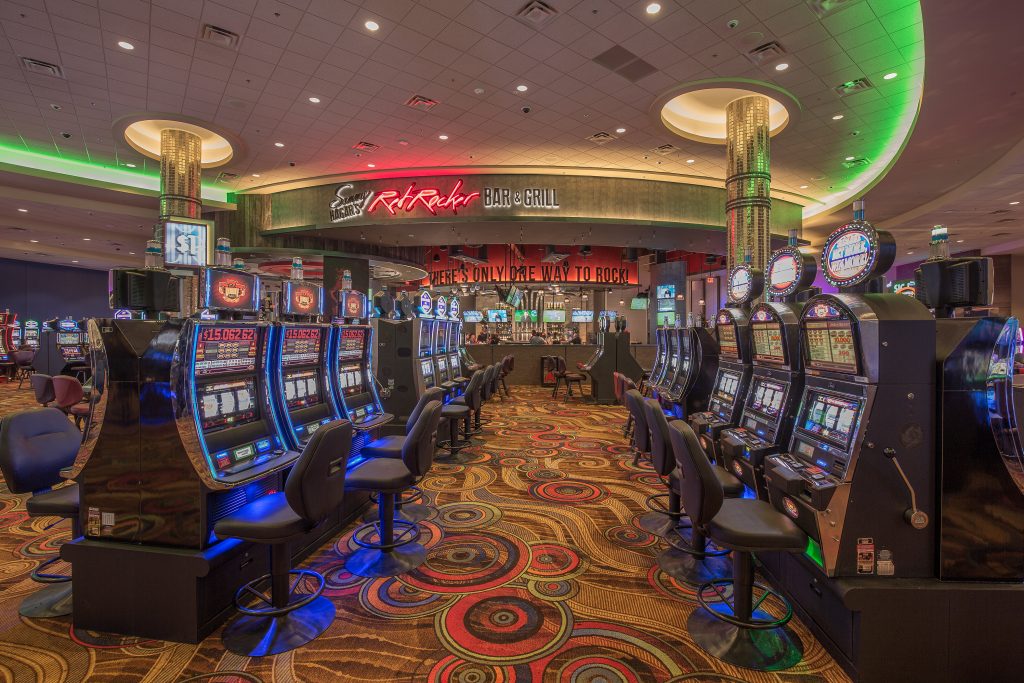 Southland Park Gaming and Racing in West Memphis, one of the largest greyhound racing facilities in the world, also offers electronic gaming and simulcast racing. After an exhilarating day of gaming and racing, groups can dine at several nearby restaurants, including Bourbon St. Steakhouse, World Market Buffet and Sammy Hagar's Red Rocker Bar and Grill. A fishing haven, Randolph County contains five great rivers, all of which offer top-notch trout, bass, bream and crappie fishing. The country's longest active rail, bicycle and pedestrian bridge, Big River Crossing's one-mile walkway connects downtown West Memphis to Memphis, offering some of the best views of the Mississippi River. A hidden Upper Delta gem, Dyess Colony was once an agricultural resettlement community created by the New Deal and later became home to famed country singer J.R. "Johnny" Cash. Groups can visit the community and see the place where Cash began writing music.
Lower Delta
A relatively unknown part of Lower Delta history was the presence of Japanese-American internment camps during World War II. The camps at Rohwer and Jerome held nearly 17,000 people, including actor George Takei's family. The WWII Japanese American Internment Camp Museum in McGhee tells the stories of those who lived at the camps. Established in 1686, Arkansas Post became the first European settlement in the lower Mississippi Valley region and saw military action during the Revolutionary and Civil wars. Arkansas Post National Memorial is a unit of the National Park Service. The "deadliest single shot of the Civil War" took place during the 1862 Battle of Saint Charles. Groups can see the where Confederate soldiers attacked a fleet of Union gunboats on the White River and killing approximately 150 men. After a day of historical sightseeing, groups can head to Jones Bar-B-Que Diner for some of the best barbecue in the South. Not only is the diner Arkansas' only James Beard Award-winning restaurant, but it is deemed the oldest, continuously operated, African-American restaurant in the South by the Southern Foodways Alliance.
Southwest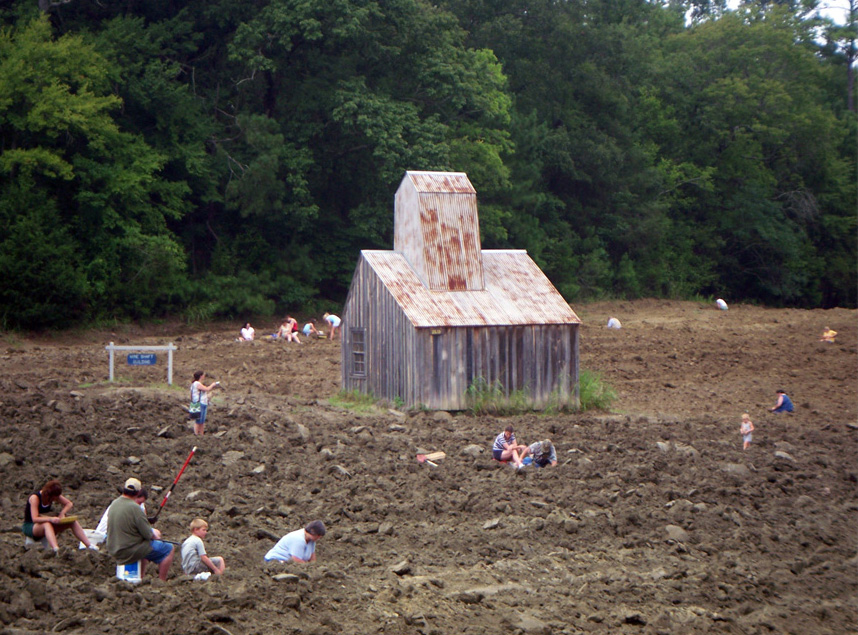 Known as being the birthplace to former President Bill Clinton, Southwest Arkansas is filled with natural hot springs and spas, scenic byways and diamond fields. The world's only diamond site open to the public, Crater of Diamonds State Park in Murfreesboro allows groups to dig for diamonds and keep anything they find. Visitors find remarkable jewels regularly at the park, where the largest diamond ever discovered in the United States was found in 1924. Similarly, Mount Ida, the Quartz Crystal Capital of the World, contains several mines that allow patrons to dig and keep their findings. For a relaxing day soaking in mineral waters, groups can visit Bathhouse Row in Hot Springs, part of a National Historic Landmark District that contains eight separate bathhouses, two of which tap into the region's natural hot springs. At Historic Washington State Park groups can partake in a workshop to learn about the craft of forging. James Black, Arkansas' most famous blacksmith, forged the first Bowie knife for James Bowie at this site in the 1830s.
Central
Since 1944, Heifer International has been working to end hunger and poverty. Groups have the opportunity to tour the organization's headquarters in Little Rock and explore the Heifer Ranch and Learning Center in Perryville. Recalling a key civil rights struggle, Central High School National Historic Site depicts what it was like during the 1957 desegregation crisis in Little Rock. Groups can skim through various artifacts, news clippings, photographs and recordings reminiscent of the time. On the banks of the Arkansas River in Little Rock, William J. Clinton Presidential Library and Museum features rotating exhibits, a replica of the Oval Office and the largest collection of presidential papers and artifacts. Arkansas Arts Center, also in Little Rock, is an ideal stop for art lovers, showcasing American and European paintings, sculptures and drawings from the 16th century to the present.