Fill your itinerary with quaint Arkansas towns, the best places to travel for world-class museums and thrilling outdoor adventures
These Arkansas towns offer charming main streets and vibrant downtowns that embrace community and history through creative inspiration, eclectic museums and exciting outdoor activities. Without further ado, here are some of the best places to travel in Northern Arkansas for memorable group excursions.
Eureka Springs (Northwest)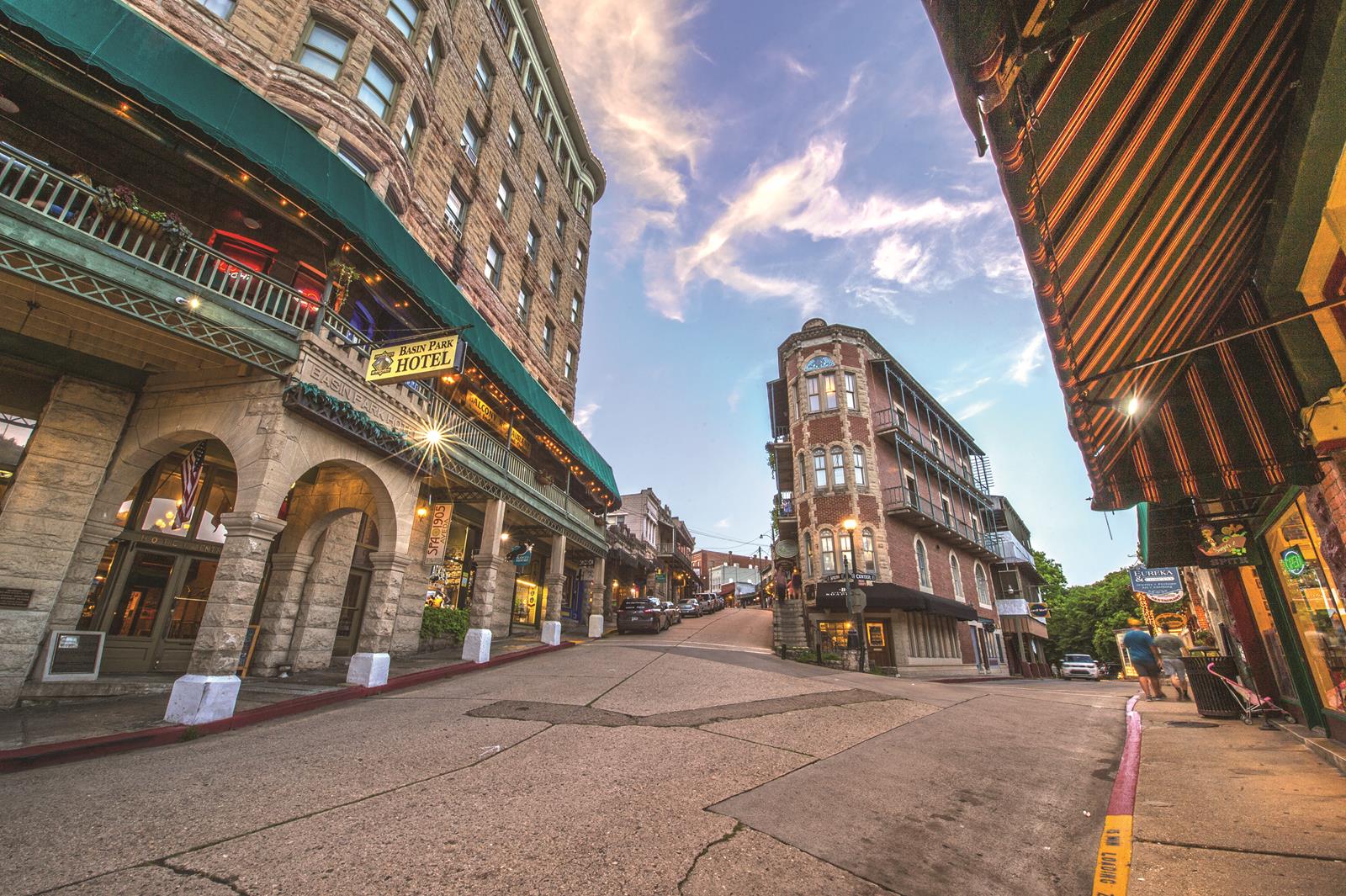 Basin Park Hotel in Eureka Springs, Arkansas
Old-world charm has placed the entire Eureka Springs Downtown on the National Register of Historic Places. Historic homes and the 1905 Basin Park Hotel embrace the cliffs, while one-of-a-kind shops like art galleries, boutiques, crafts and extraordinary dining line Main Street.
The Great Passion Play is "America's No. 1 Attended Outdoor Drama," according to the Institute of Outdoor Theater and Drama of East Carolina University in Greenville. A cast of 150 costumed actors and supporting staff tell the epic story of Jesus Christ's last days. Also located on the site are the Holy Land Tour, Christ of the Ozarks statue, museums, trails and a spectacular Christmas drive-through lights display. The season begins in April and continues through the holidays.
Of all the impressive attributes of Arkansas towns, Eureka Springs is home to a hidden gem. Nearby Thorncrown Chapel is a breathtaking architectural must-see. The edifice displays 425 windows and more than 6,000 square feet of glass towering 48-feet high nestled in the lush Ozark Mountains.
Northern Arkansas is also a safe haven for abused big cats. For more than 30 years, the Turpentine Creek Wildlife Refuge's (TCWR) mission has been to rescue abandoned, abused and neglected big cats. This Northern Arkansas town offers a sanctuary and care for over 500 rehabilitated cats including tigers and cougars who call the refuge home.
Rogers (Northwest)
Encompassing almost eight square blocks, Rogers Historic Downtown certainly has its share of specialty shops from furniture and antiques to gifts and jewelry. Blend some interesting cafes into the mix and your morning is set. Fill the remainder of your day with these uniquely Rogers attractions.
Long before the mother's famous A Christmas Story quote, "You'll shoot your eye out," Daisy airguns were on many little boys' and girls' Christmas lists. Plenty of those wishes came true. Located on a downtown corner, the Daisy Airgun Museum is a must stop for fans and collectors. Daisy airguns are part of the American story and visitors can learn about the early history of Daisy and its move to Rogers in 1958. You'll walk through more than 130 years of history viewing 18th century guns and Daisy guns from 1888 to today.
Not to be missed is the nearby Rogers Historical Museum's expanded campus which encompasses four blocks in downtown Rogers. Accordingly, its collection of artifacts tells much of the story of Northwest Arkansas. As your day comes to an end enjoy dinner downtown before an evening at The Victory Theater. It opened in 1927 and closed its doors in the early 1970s. However, the City of Rogers purchased the theater in 2008 with the support of civic-minded donors and volunteers. Let day two of your Rogers stay fulfill your outdoor wants with a visit to Hobbs State Park-Conservation Area. Arkansas' largest state park features hiking and biking trails, a shooting range and a visitor center. The center provides interpretive programs and exhibits focusing on the park's natural resources.
Bentonville (Northwest)
You'd be hard-pressed to find any other city comparable to Bentonville. Of all the featured Arkansas towns, this city of 50,000 certainly has a proud history as the headquarters for retail giant Walmart. It's also a city that embraces creativity, the outdoors and honors the area's first inhabitants. The Walmart Museum tells a fascinating story of an American icon. After serving in World War II, Sam Walton and wife Helen bought their first Ben Franklin store in Newport, Arkansas. The museum tells the story of what followed from the move to Bentonville, the booming 1950s and the founding of Walmart in the 1960s through today's new commitments.
Many years before the Walton family moved to Bentonville, Paleo Man was the neighborhood's first inhabitant. Through more than 10,000 dynamic artifacts, the Museum of Native American History traces from the Paleo period through the Archaic, Woodlands, Mississippian, Historic and Pre-Columbian periods. Architecture, nature and art present a glorious combination at Crystal Bridges Museum of American Art. Before entering the building, visitors are treated to the stunning architecture set in harmony with the Ozarks. Eight trails wind their way around the building. In addition to the permanent collections on display, the museum regularly hosts temporary exhibitions.
Fayetteville (Northwest)
Home to the University of Arkansas, Fayetteville is one of the best places to travel for all groups. This college town is a cornucopia of entertainment, culinary delights and outdoor attractions. US News has regularly ranked Fayetteville as one of the Top 5 Best Places to Live. Keep your group entertained in the evening with performances at the Walton Arts Center and TheatreSquared. Every sort of production makes stops at these two live performance hallmarks.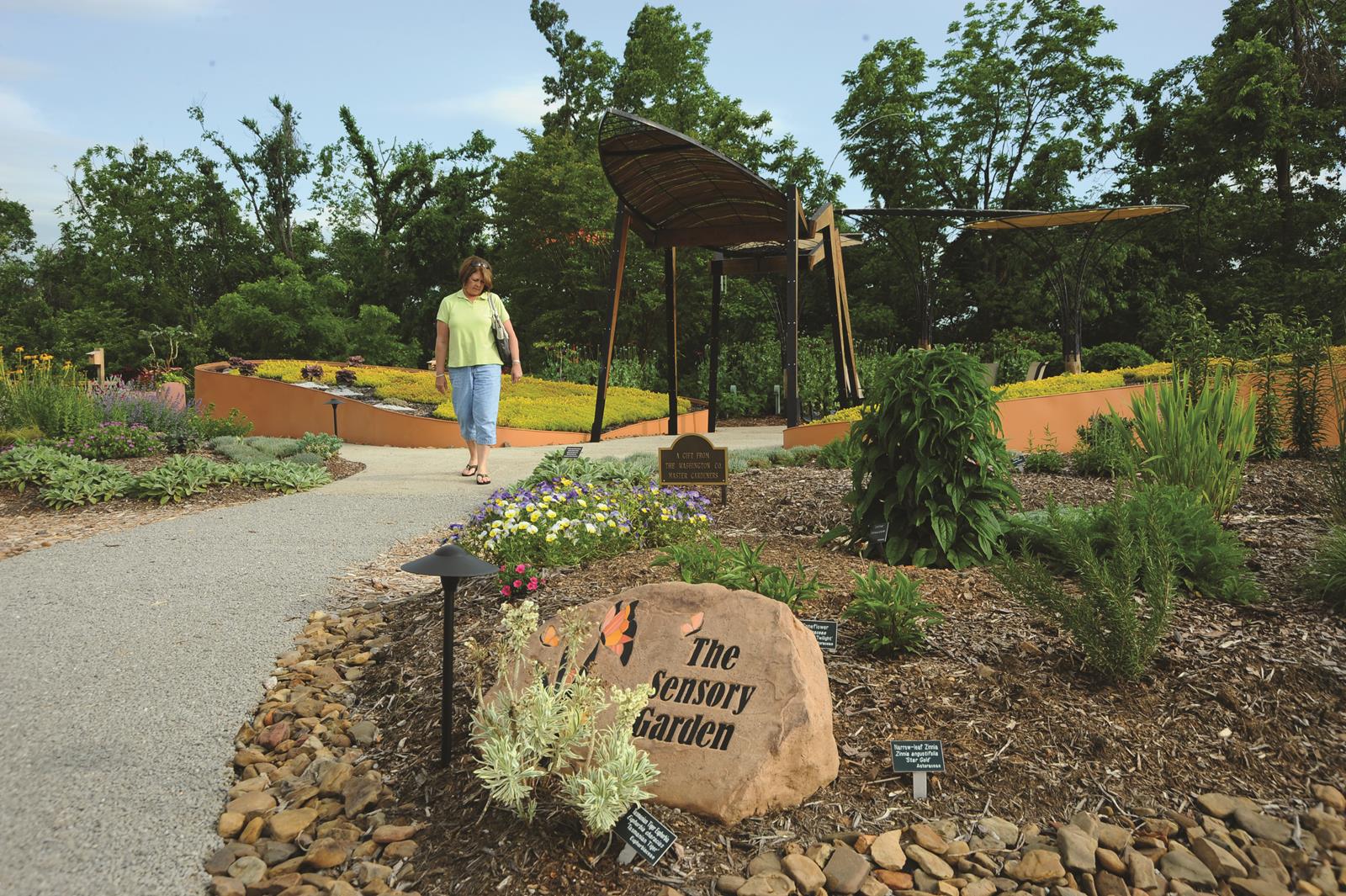 Botanical Garden of the Ozarks in Fayetteville
The Botanical Garden of the Ozarks features 12 gardens each with its own theme. Each landscape is designed to inspire visitors and residents in their home gardens. Home to the original Bluebird of Happiness and the Pink Bird of Hope, Terra Studios is dedicated to a better world through art. It just might be all fun and games. In the six-acre Art Park, visit with sculptures of fantasy people and play a giant game of chess or checkers. Experience the labyrinth and spend time in the wizard cave.
Many Arkansas towns boast community events, but as a university town, there's plenty of live music and hot eateries to choose from in Fayetteville. The culinary scene is extensive and makes the choices challenging. From BBQ and burger joints to fine dining American and international restaurants, you won't go hungry in Fayetteville.
Fort Smith (Northwest)
In the beginning, Fort Smith was the last breath of civilization before settlers and law enforcement ventured into Indian Country. Arkansas' second largest city embraces its past, but also celebrates the present. With arts and culture, shopping and a diverse restaurant scene, it's one of the best places to travel for all interests.
Step back in time to the mid-1800s. Welcome to "Miss Laura's Social Club." The only remaining house of ill repute from Fort Smith's Old West red-light district, it now serves as the visitor center. The Victorian mansion is fully restored and now sits proudly as the only bordello on the National Register of Historic Places.
The Fort Smith National Historic Site visitor center has plenty of tales to tell. Its location was originally a barracks but was converted into a courthouse and jail. It was from this courthouse that Judge Isaac Parker sent many an outlaw to the nearby gallows.
Not to be missed, The Trail of Tears Overlook paved half-mile path parallels the Arkansas River. During this boisterous period in Fort Smith's history, the only law in the Indian Territory was the U.S. Marshals. To honor the marshals' service that worked out of Fort Smith, the city's successful bid to build the United States Marshals Museum was granted. The building and Samuel M. Sicard Hall of Honor opened in September of 2019.
The "Unexpected" brings world-class mural artists downtown for a 10-day festival of murals. A windshield tour is an absolute must, but you'll appreciate the breath of these works when you get off the coach. While downtown, take advantage of the city's place as a crossroads of cultures and enjoy the culinary expressions they brought.
Mountain View (North Central)
Home to Ozark Folk Center State Park and the state's largest craft cooperative, Arkansas Craft Guild, Mountain View maintains the crafts and music of the Ozark Mountains. Presented as a living history, the park features more than 20 artisans demonstrating Ozark heritage crafts and musicians displaying their talents. Mingle with the craftspeople whose livelihood is their work in one of many musical Arkansas towns.
Just a short distance from Mountain View, groups discover not all beauty is above ground. Blanchard Springs Caverns is an underground world with its own loveliness. Three different guided tours are available depending on your time and adventuresome level.
Batesville (North Central)
With the oldest existing Main Street in Arkansas, Batesville is well worth a visit. Downtown Batesville features an attractive streetscape with a historic movie theater, homes and churches, antique and boutique shopping and dining experiences. Race fans need to make a stop at hometown hero Mark Martin Museum and Gift Shop. Like so many small Arkansas towns, a local college adds to the vibrancy of the community. For two days in April, the college shows its Scottish heritage at the annual Arkansas Scottish Festival making Batesville one of the best places to travel for exciting activities.
By Dave Bodle