Mouthwatering experiences are a necessary ingredient on boat cruises along America's waterways where groups can immerse and indulge
Boat cruises on American waters have always been a group travel staple. It could be a two-hour afternoon fling on an excursion boat or a one-week vacation aboard a deluxe vessel with all the bells and whistles.
Either way, there's something romantic about pulling away from shore and spending time on the water. Sitting back and taking in the scenery, away from traffic and in tune with nature's rhythms, fills the soul. Above all, it provides a whole new perspective on destinations visited. Additionally, when the package includes good food and/or entertainment, all the better.
Modest Boat Cruises Remain Popular
Domestic boat cruises on American waters are thriving and capitalizing on Americans' increasing desire to be out and about. When it comes to multi-day river vacations, cruising closer to home on a small ship offers a greater sense of security, health and safety. The alternative is boarding a 3,000-passenger mega-ship bound for foreign ports of call. Many of us, moreover, appreciate the benefits of calm-water sailing and just being able to see land all journey long.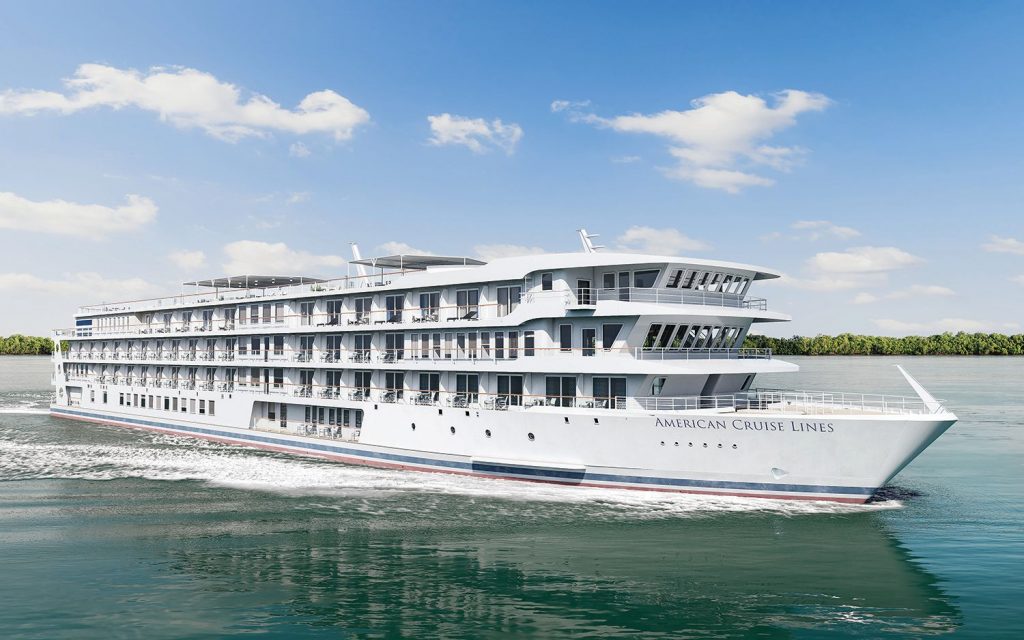 An Upswing in Boat Cruises Post-COVID
On March 13, 2021, American Cruise Lines (ACL) was the first overnight cruise operator to return to service in the U.S. post-COVID. They successfully led the return of the domestic small ship cruise industry with East Coast and Mississippi River itineraries. And despite 2020's worldwide cruise shut down, American kept its Maryland shipyard open as it continued building ships. The line introduced more modern riverboats and  redesigned paddlewheelers (Victorian-style riverboats) since then. American operates more than 16 ships—all accommodating just 90-180 passengers—that offer more than 35 American waters and 50+ coastal itineraries. They range from 5 to 23 days, including trips on the Mississippi, Ohio, Hudson and Columbia & Snake rivers. 
ACL boat cruises cooking up cultural fare 
Dining is a big drawing card for ACL ships, and menus are adjusted to reflect the availability of seasonal ingredients. Fresh produce, meat and seafood are sourced as near as possible to the cruise, and the line strongly supports farmers' markets and small businesses. Additionally, the boats offer both indoor and al fresco dining, with a casual café menu offered outdoors. Accordingly, the cruise fare covers all meals.
On ACL's Pacific Northwest cruises, guests enjoy the bounty of the Pacific Ocean. For example, relish in appetizers like shrimp bisque and shrimp scampi with entrees such as Dungeness crab cakes and salmon pasta Alfredo. A dessert favorite is cheesecake featuring the regional marionberry.
The line's Mississippi River cruises spotlight the Creole and Cajun cuisine of New Orleans. Selections include chicken and andouille sausage gumbo or penne pasta with Creole mustard cream sauce. Also on the menu is Dixie Lager Braised Chicken with andouille, red beans, rice and stewed squash. Southern-inspired desserts include peach and blackberry cobbler, bourbon pecan pie and bread pudding with whiskey caramel sauce.
Culinary-themed ACL boat cruises
ACL's special culinary-themed cruises bring experts on board to do lectures, tastings, demos and other presentations. They often lead the guided shore tours, which might include a visit to the Culinary Institute of New Orleans or a Washington State vineyard. 
Southern Hospitality and Culinary Comfort Food Boat Cruises
Creole Queen Paddlewheeler Boat Cruise
For a memorable evening out, groups touring New Orleans might consider the Mississippi River Dinner Jazz Cruise on the 880-passenger Creole Queen paddlewheeler. The lavish buffet features items like Cajun Caesar salad, Cajun seafood pasta, Cajun baked chicken, chicken and andouille gumbo, jambalaya, red beans and rice, garlic mashed potatoes, corn mac choux, cornbread and white chocolate bread pudding with whiskey sauce. As the city slips by under a canopy of stars, the sounds of traditional New Orleans jazz make the evening complete.
Savannah Riverboat Cruises
Flavors of the South also delight guests of Savannah Riverboat Cruises. On two-hour dinner cruises year-round, the 1,000-passenger Georgia Queen and 600-passenger Savannah River Queen paddlewheelers offer Southern-style buffets. They feature cuisine like shrimp and grits, lemon-artichoke chicken and a beef carving station. Equally delicious are sides like potatoes au gratin, squash casserole and seasonal fresh vegetables. The lunch menu also has shrimp and grits, plus fried chicken, mac and cheese, Southern greens and sweet potato souffle, among other temptations.
The three-deck Georgia Queen boasts three grand ballrooms with over 15,000 square feet of dining space, each seating 250 persons. Live music entertains guests, and there's patio seating on the open-air top deck. Each deck has a bar. The Savannah River Queen seats 250 guests on the first deck, 175 on the second. From their historic riverfront docks, the boats sail upriver to the Port of Savannah and then turn around, continuing downriver past the Waving Girl statue, through the shipyards and just past the tip of Hutchinson Island and Old Fort Jackson before heading back upriver to the dock.
Steam-Powered Boat Cruises
On the Ohio River, the steam-powered Belle of Louisville has been offering sightseeing and dining boat cruises for decades. A National Historic Landmark, she has plied America's rivers since 1914 and is the only remaining authentic steamboat from the great American packet (freight) boat era. Her engines are even older, dating from the 1880s, and still doing a good job. Christened as the Idlewild in Pittsburgh 108 years ago, she was named the Belle of Louisville in 1962.
Highlighting the Belle's dinner cruises are beef brisket and hot brown casserole, a Kentucky favorite consisting of roast turkey, maplewood bacon, grilled tomato and creamy mornay sauce. The dockside dinner, prepared by Ladyfinger Catering, includes wine and is followed by a two-hour sunset cruise. A once-a-month, Southern-style brunch buffet features live music and starts with a mimosa or bloody Mary. It includes Caesar salad, hot brown casserole, biscuits and gravy, and egg casserole with pastry crust, cheddar cheese and either ham, crumbled sausage or vegetables. Bacon, sausage patties, vegetables and assorted dessert miniatures round out the offering. The company's smaller Mary M. Miller riverboat does two-hour "Steamboat Supper" cruises.
Showboating in Music City
In Nashville, the stately, 1,000-passenger General Jackson Showboat offers plated lunch and dinner boat cruises on the Cumberland River. Additionally, dazzling stage productions in the two-story Victorian Theater showcase the best of Tennessee's musical traditions, including country, bluegrass, blues, soul and rockabilly. Dinner guests can expect braised short ribs in red wine sauce and jumbo shrimp and grits with smoked Gouda. Pair that with honey butter soft rolls and apple cinnamon crumb cake for the full experience on American waters.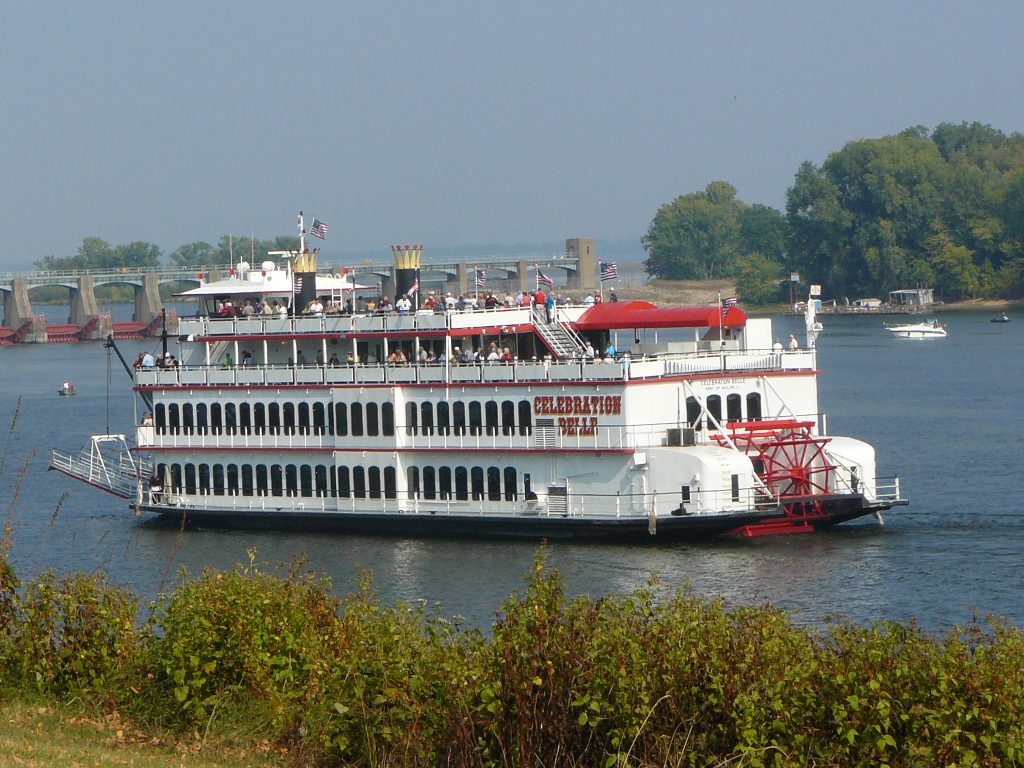 Lunch and Dinner Boat Cruises Around the Quad Cities
In the Quad Cities area of Iowa and Illinois, the 750-passenger Celebration Belle, the largest non-gaming boat on the Mississippi, offers lunch and dinner boat cruises.  Upon departure from Moline, Illinois, lunch guests enjoy homemade sticky rolls and fresh fruit, followed by a hot buffet featuring delectable traditional comfort foods and dessert. Additionally, they are regaled with facts about the river and local history. On select dates, four-hour themed lunch sailings revolve around music genres, from country tunes to classic oldies from the 1950s and '60s. On the Belle's dinner dance cruises, the menu includes carved prime rib paired with live music.
Replica Steamboat Cruises in St. Louis
About 260 miles downriver, two-hour dinner cruises from St. Louis are operated by Riverboats at the Gateway Arch on select Fridays and Saturdays from April to November. Besides music, the Tom Sawyer and Becky Thatcher, replica 19th century steamboats, dish up main-course options. For instance, taste dishes like beef tenderloin medallions, butternut squash ravioli, seared fresh salmon and smothered chicken in white wine cream sauce.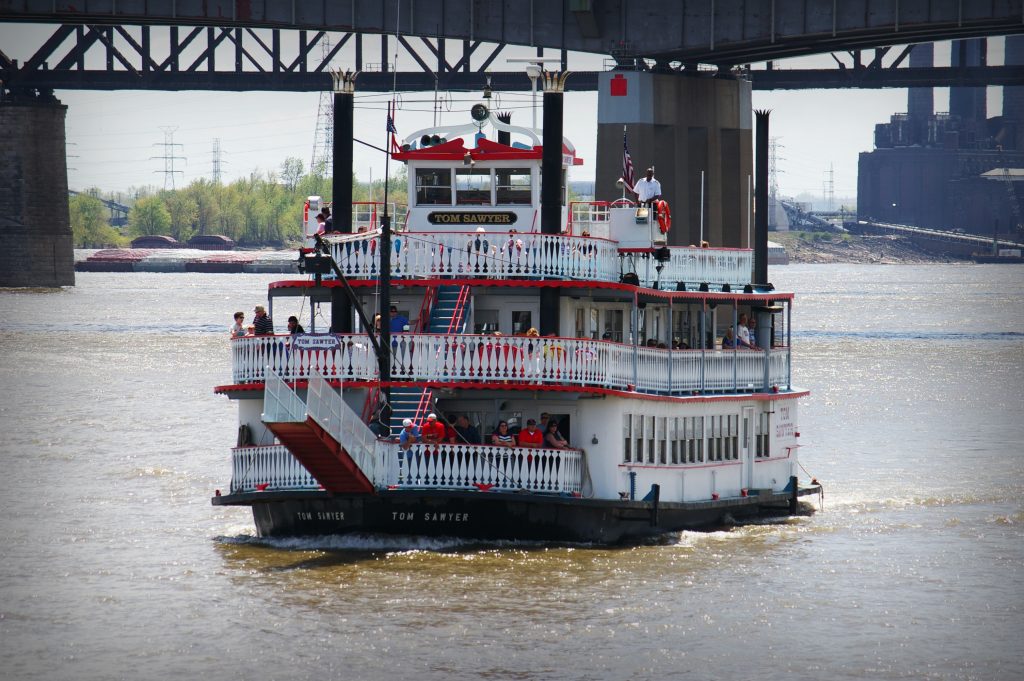 The Garden State Offers River Boat Cruises
In Toms River, New Jersey, the 150-passenger paddleboat River Lady does 2½-hour lunch and dinner boat cruises that go out into Barnegat Bay. Passing incredible waterfront homes, magnificent estates, yacht clubs and historic sites, boaters get an eyeful. Guests can choose from four entrees—salmon filet, penne pasta in vodka cream sauce and two styles of boneless chicken breast.
Stylish Dinner Boat Cruises in NYC
To do New York City in style, groups can splurge on one of City Cruises' three-hour dinner circuits on the East and Hudson rivers. While admiring the Manhattan skyline from the 600-passenger Spirit of New York or Spirit of New Jersey, they feast on a variety of foods from the buffet, which offers three salads, four entrees (such as honey sesame chicken, oven-roasted flounder, baked ziti pasta and braised beef short ribs), mashed potatoes, roasted broccoli and root vegetable fricassee. The dessert station has cakes, brownies and seasonal fruit. The same ships offer a two-hour lunch buffet cruise, and City Cruises' glass-enclosed, 300-passenger Bateaux New York has plated-meal dinner and lunch cruises. Sailings depart from Chelsea Piers or Marina Lincoln Harbor in Weehawken, New Jersey.
City Cruises, a division of Hornblower Group, also operates upscale lunch and dinner cruises on the Potomac River in Washington, D.C., and Chicago River in Chicago.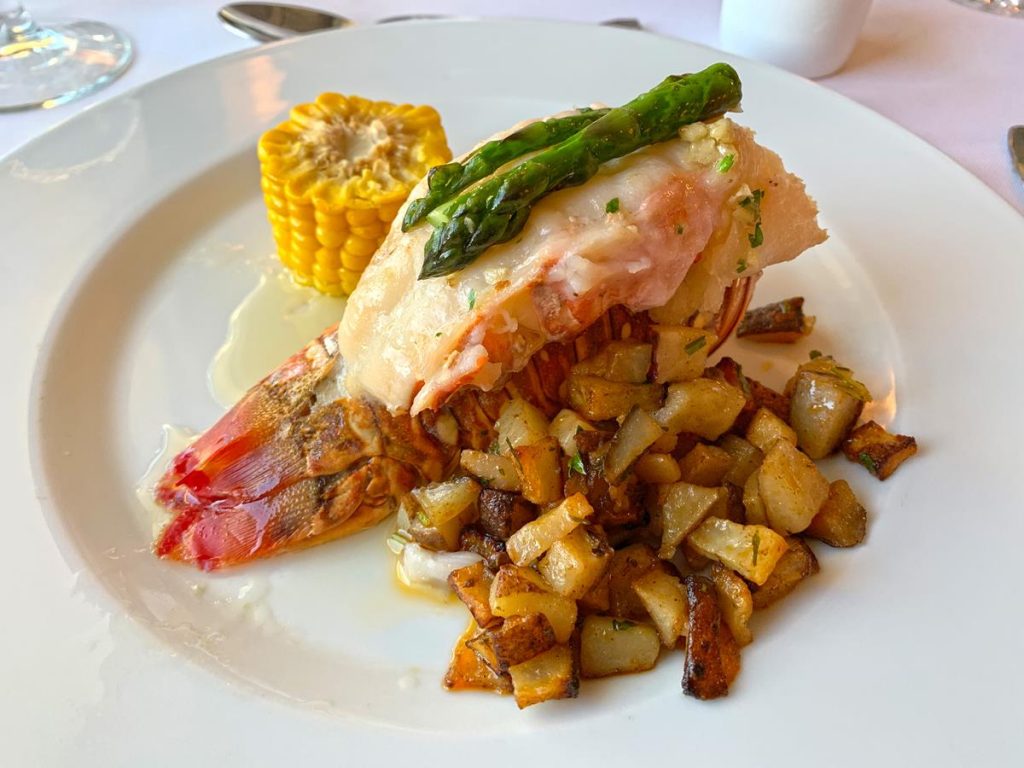 Boat Cruises with American Queen Voyages
American Queen Voyages, the new corporate name for American Queen Steamboat Company and Victory Cruise Lines, also is part of Hornblower Group. Fine dining is a big allure of overnight cruises on its four deluxe paddlewheeler riverboats—the American Queen (417 passengers), American Duchess (166), American Empress (217) and American Countess (245) —that ply the Mississippi, Ohio, Tennessee and Columbia/Snake rivers.
Delicacies served on American waters
Gourmet fare is served in multiple venues, with fresh lobster and USDA prime beef available every night. Guests have access to unlimited beverages, including an extensive wine list, choice spirits, local craft beers and specialty coffees. And there's a smoothie and juice bar every morning. Among culinary-themed cruises on select dates are those focusing on bourbon, wine and Cajun/Creole cuisine. 
Star Chef Onboard American Queen Voyages
Taking its food and beverage game to the next level, American Queen Voyages celebrates celebrity chef Regina Charboneau as its culinary ambassador. She is best known as the "Biscuit Queen of Natchez" and for her San Francisco restaurants Regina's at the Regis and Biscuits & Blues, the latter opening an outpost in her Mississippi hometown. Her book Mississippi Currents: A Culinary Journey Down America's Greatest River is a collection of recipes from St. Paul to New Orleans.
Charboneau's role includes creating culinary experiences for guests both onboard and ashore. Special sailings feature the chef and her culinary friends as speakers and at tasting events.
Treating your travelers to dining and sightseeing on American waters is a no-brainer. It simply doesn't get better than this.
---
by Randy Mink