Minnesota's Mall of America boasts an incredible array of dining options, and we're here to help you find the perfect spot to satisfy your hunger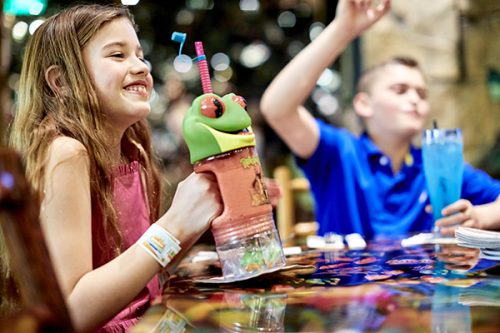 The malls of days past conjure up images of crowded food courts with a number of national chains serving up quick meals. This was because most people didn't go to a mall to eat. It was never the main purpose, and therefore, was a bit of an afterthought.
Today, malls have stepped up their game when it comes to dining, including sit-down restaurants, modern eateries and even high-end establishments. Mall of America in Bloomington, Minnesota is the epitome of the modern mall. It is a true destination, and among its many attractions are some elite dining options that will satisfy every visitor's taste buds.
Mall of America has over 60 dining options, so it can be difficult to decide which one to pick. You can select from casual eateries serving American-style food, or seafood restaurants with sushi and fish fillets. The choices are endless. Here are the top eight places to eat in Mall of America—just to get you started.
Cantina Laredo
Do you love a good taco? This is the place for you. Cantina Laredo takes authentic Mexican food and adds a modern twist. Enjoy grilled chicken, pork or steak topped with signature sauces such as chipotle-wine or guajillo-tamarind. Dive into a plate of slow-roasted brisket or mahi mahi tacos, served with marinated vegetables. Top it all off with an award-winning margarita.
Crave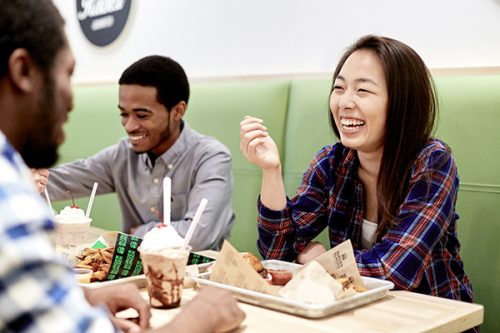 An eclectic scene with inviting décor mixed with locally sourced ingredients and high-quality food. This is Crave American Kitchen & Sushi Bar. Located on the third floor on the south side, Crave is a great spot to take a break from shopping or to do some people watching from the Parkside Patio. Munch on crab artichoke dip and edamame, before filling your belly with a Béarnaise Burger or miso-glazed salmon. Sushi fans will delight at the Grand Sushi Bar, where they can sit and watch as their meal is prepared before their eyes. 
Firelake Grill House & Cocktail Bar
If you want a place that embodies Minnesota dining, head to Firelake Grill House & Cocktail Bar. This modern and comfortable restaurant captures the essence of Minnesota with farm-to-table items that incorporate fresh and local produce, creative flair and amazing presentation. Morning visitors can enjoy classic eggs benedict or sourdough malted waffles. Stop by at dinner for rosemary rotisserie chicken or a Minnesota walleye burger. Wash it all down with a glass of red or white or a craft cocktail.
 Margaritaville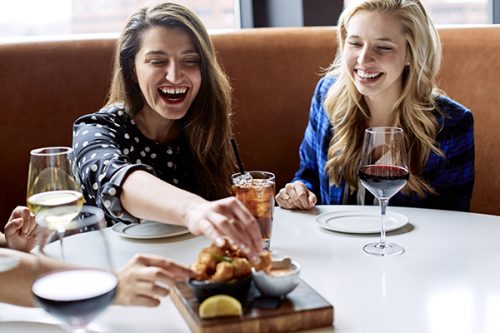 A newbie to the Mall of America dining scene, Jimmy Buffett's Margaritaville opened in September 2016, marking the first Margaritaville restaurant in Minnesota. The tropical escape serves up island-inspired meals amidst a family-friendly environment. Groups can sip on house-made margaritas and cold LandShark Lager while nibbling on signature food items, including Volcano Nachos and the Cheeseburger in Paradise. 
Shake Shack
A modern day "roadside" burger stand, Shake Shack began as a hot dog cart in Manhattan and has grown into a popular dining chain, with locations all over the country. The first Minnesota Shack found its home in Mall of America's Culinary on North space. Visitors will enjoy a menu of burgers, hot dogs, crinkle-cut fries, shakes and custard.
Twin City Grill
Retreat from the non-stop action of the mall and settle into the dining room at Twin City Grill. Located on the first floor of the Mall, Twin City Grill serves classic comfort food sure to satisfy anyone's dining desires. Try the Prime Meatloaf or a Roast Turkey Plate with made-from-scratch stuffing. Or opt for a crispy flatbread, grilled burger or fresh-tossed salad. Pair your meal with a local craft beer or a glass of wine, and you're ready for a memorable experience that will leave you full and content.
Cedar + Stone, Urban Table
Experience a true farm-to-table Minneapolis experience at Cedar + Stone, Urban Table's flagship location inside the JW Marriott. Whether you're a local Minnesotan or visiting from out of town, Cedar + Stone offers guests a truly unique dining experience inspired by the natural surroundings. Through partnerships with local farmers and cultivation of some of the area's most delicious ingredients, renowned chefs create menus for every meal that are fresh and sure to leave you feeling satisfied. As this is a popular option among visitors, reservations are highly recommended.
Nordstrom Grill
A comfortable spot to fuel up for the day or sit back and unwind, the Nordstrom Grill is a trusted option for American fare featuring fresh, local ingredients. Menus of soups, salads, entrées and desserts evolve seasonally and there is also full bar service available with a regionally inspired wine list and classic cocktails. Nordstrom Grill has been referred to by patrons as a hidden gem with some of the best sandwiches and salads inside Mall of America.
Masu Sushi & Robata
Step inside Masu Sushi & Robata and you'll be greeted by an upbeat, modern atmosphere that hosts Mall of America's go-to option for sushi. The traditional Japanese menu offers sustainable and authentic ingredients in addition to an inventive cocktail menu. Mix and match any combination of the delicious sushi, robata and selection of noodles.
The Fair on 4
Step right up and feel the magic of the state fair at The Fair on 4. This dining adventure is the perfect place to hang with friends and family while enjoying a delicious meal. Fair classics like fried pickles, artisanal corn dogs and soft pretzels are on the menu along with inventive sandwiches, Blue Horse pizza, craft beers and tasty desserts like deep-fried Oreos and mini donuts. At the Fair on 4, dining is only half the fun! Don't miss a chance to race your friends in go-karts, try your hand at axe throwing or win big at the arcade.
No matter what kind of food your group enjoys, Mall of America delivers a wide selection of options to suit everyone's tastes.