Mall of America restaurants offer diverse dining options, and we're here to help you find the 8 best food spots to satiate your cravings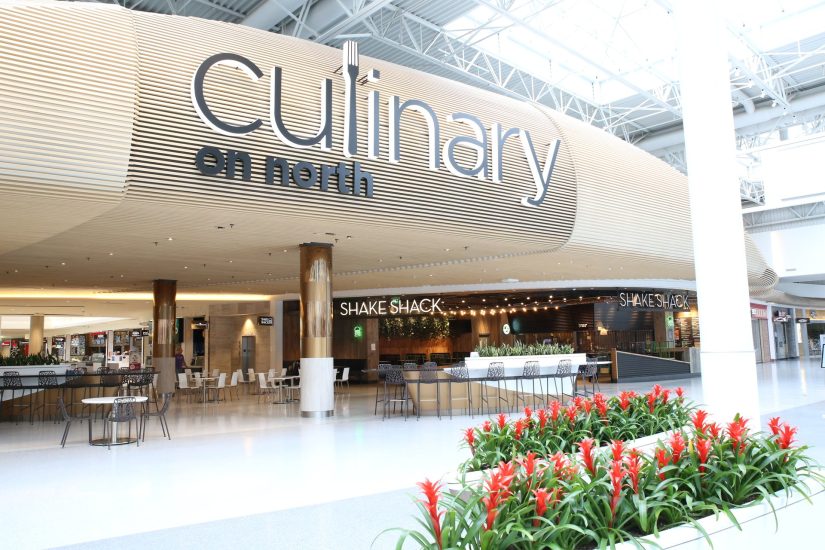 Mall of America Restaurants
The malls of days past conjure up images of crowded food courts with a number of national chains serving up quick meals. This was because most people didn't go to a mall to eat. It was never the main purpose, and therefore, was a bit of an afterthought.
In Bloomington, Minnesota, Mall of America restaurants have changed that idea, exploding with flavors from around the world. Although the mall itself is a true destination, among its many attractions are excellent dining options that will satisfy even the pickiest eaters.
Mall of America has over 60 dining options, so researching them all and choosing one can be tedious. Tastes range from casual eateries serving American-style grub to seafood restaurants serving fresh sushi and fish fillets. The choices are endless, so here are the top eight Mall of America restaurants—just to tickle your taste buds and get your started.
CRAVE American Kitchen & Sushi
An eclectic scene with inviting décor mixed with locally sourced ingredients and high-quality food. This is Crave American Kitchen & Sushi where you'll eat with your eyes and your taste buds with some of the best food around.
The robust menu showcases fresh offerings like calamari, chicken and avocado egg rolls, red quinoa and grilled salmon, tuna poke, juicy charbroiled burgers, lobster mac and cheese and delectable sushi. Find them at 368 South Avenue on Level 3.
Cantina Laredo
For authentic scratch-made Mexican food, Cantina Laredo serves up some of the best among Mall of America restaurants. They create the freshest hand-squeezed margaritas and cook up succulent fish dishes and traditional grilled plates. Dine on delicacies like seared chicken with traditional Puebla mole sauce and fire-charred skirt steak with fresh Chimichurri. Dive into some slow-roasted brisket or mahi mahi tacos, served with marinated vegetables.
The Cantina offers signature sauces such as the chipotle-wine sauce that you won't find anywhere else. The menu includes unique items like Yucatan-style braised pork in a banana leaf and the traditional Mexican custard called flan. Try their delicious offerings at 300 West Market on Level 3.
https://www.cantinalaredo.com/
Firelake Grill House & Cocktail Bar
If you want a place that embodies Minnesota dining, head to Firelake Grill House & Cocktail Bar. This modern and cozy restaurant captures the essence of Minnesota with a farm-to-table menu using locally sourced produce and goods from more than 45 artisans, farmers and and ranchers.
Morning visitors can enjoy classic eggs benedict or sourdough malted waffles. Some of the best food items include freshwater fish like their heirloom corn crusted walleye. Or, try a smoked pork chop, flat iron steak frites, spit-roasted prime rib, and so much more. Check out their amazing breakfast, brunch and lunch menus, craft cocktails, fine wines and draft beers. Head to Radisson Blu on Level 2 for a cocktail at Firelake.
https://www.firelakerestaurant.com/location/firelake-mall-of-america/
Nordstrom Grill
Kick it up a notch with a bowl of Spicy Wild Shrimp Pomodoro or go savory with Wild Salmon Oscar. Choose between impressive salads, pastas, sandwiches, steaks, seafood and more at Nordstrom Grill.
This trusted option for American fare features fresh, local ingredients. Their menu evolves seasonally and there is also a full-service bar with a regionally inspired wine list and classic cocktails. Nordstrom Grill has been referred to by patrons as a hidden gem with some of the best food in Mall of America. Grab a table at their location in Nordstrom's on Level 3. 
https://www.opentable.com/r/nordstrom-grill-mall-of-america-bloomington
Twin City Grill
Minnesota comfort food meets the vintage dining experience of yesteryear at Twin City Grill. Located on the first floor, this Mall of America restaurant serves classic comfort food in a warm environment.
Try the Prime Meatloaf or a Roast Turkey Plate with scratch-made stuffing. Or opt for a local favorite like the Northern Lakes Walleye Fish Fry, Hickory Smoked Baby Back Ribs or Prime Rib. The lunch menu includes items like prime burgers, smokehouse chicken sandwich, baked spaghetti and local sides. Visit Twin City Grill at 130 North Garden on the First Level.
https://www.twincitygrillrestaurant.com/
Masu Sushi & Robata
Step inside Masu Sushi & Robata and you'll be greeted by an upbeat, modern atmosphere that hosts the go-to Mall of America restaurant for epic sushi. The traditional Japanese menu offers sustainable and authentic ingredients in addition to an inventive cocktail menu. Mix and match any combination of the delicious sushi, robata and diverse selection of noodles.
They serve up delectable sushi rolls, ramen bowls, tempura, seaweed salad and more. The unique drink menu offers wine, bottled and draft beer, Japanese whiskey, sake and other intricately paired cocktails. Masu is located at 344 South Avenue on Level 3.
https://www.masusushiandrobata.com/moa
Piada Italian Street Food
Dining on Piada Italian Street Food is like stepping into Italy. Hand-rolled authentic piadas, a type of Italian-style street wrap, are stuffed with the freshest ingredients accompanied by scratch-made sauces. Robust salads and a grain power bowl give lunch patrons a healthy mid-day boost.
Fast, fresh food is their mission, even serving fast Tossed Pastas like Basil Pesto and spicy Diavlo. An ample list of sides include fresh sweet corn salad, grass-fed meatballs, calamari and hot peppers and lobster bisque. You can find Piada located at 326 North Garden on Level 3.
Cedar + Stone, Urban Table
Locally sourced ingredients are a cornerstone of Cedar + Stone, Urban Table. This is the Mall of America restaurant for a unique palate experience. Experience impressive dishes like fresh Skuna Bay Salmon, Comfrey Farms Pork Chops with grilled apples, butterscotch bread pudding or malted waffles with fresh berries and cream.
This true farm-to-table Minneapolis experience is a must-try. Whether you're a local Minnesotan or visiting from out of town, C + S offers guests a truly unique palate experience inspired by the natural surroundings. Through partnerships with local farmers and cultivation of some of the area's most delicious ingredients, renowned chefs create menus for every meal that are fresh and sure to leave you feeling satisfied. As this is a popular option among visitors, reservations are highly recommended. Make one soon for their location at JW Marriot on the First Level.
https://www.cedarandstoneurbantable.com/
No matter what flavors your group enjoys, Mall of America restaurants deliver a wide selection of options to suit everyone's tastes. Visit https://mallofamerica.com/diningguide for the complete list of eateries and their locations.
For more amazing foodie adventures, subscribe to Leisure Group Travel today.