Underwater adventure and biological discoveries await groups at these world-class attractions
Granting access to a realm that humans rarely enter, aquariums expose visitors to the wonders beneath the waves and enlighten them on the ecosystems of Earth's oceans and lakes. Ideal for groups, they provide a good balance between education and escape. These four attractions, with their interactive elements and displays of shimmering specimens, will add ripples of excitement to tour itineraries in the Northeast's largest metro areas.
National Aquarium
Baltimore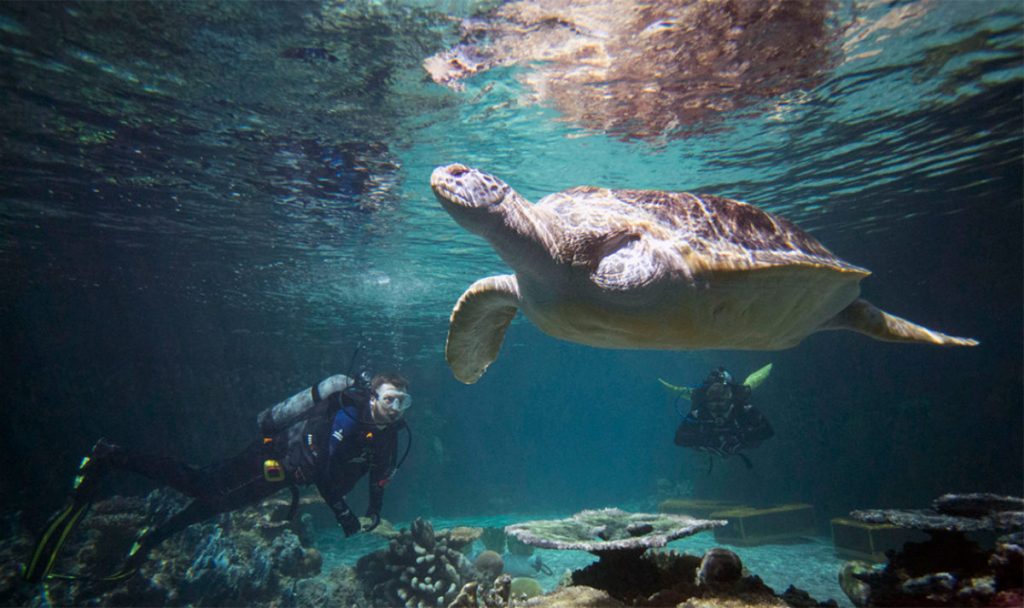 The crown jewel of Baltimore's redeveloped Inner Harbor district, the National Aquarium is an architectural wonder. Opened in 1981 atop the remains of an aging shipping pier, the angular glass structure contains tiers of tanks housing complex ecosystems for 17,000 animals. The Baltimore institution has become one of the most esteemed marine biology research centers in the world, welcoming international researchers and conservationists.
There are three main areas for visitors to explore, each with interlocking animal habitats. An enormous glass cube with an angled roof, the Glass Pavilion houses Animal Planet Australia: Wild Extremes. Made to resemble a river gorge and centered around a three-story waterfall, the exhibit focuses on the diverse biomes of the Land Down Under. Birdwatchers can spot laughing kookaburras and rainbow lorikeet parrots in the aviary, while fans of reptiles will find death adders, frilled lizards and spiny-tailed monitors in the Outback exhibit.
The diamond-shaped Blue Wonders pavilion is home to most of the aquarium's fish population, with five layers of tanks stacked directly on top of each other and viewable from a corkscrew ramp. At the building's base is Shark Alley, an area teeming with sawfish, sand tigers and nurse sharks, and above it lies the Atlantic Coral Reef, which features  eels, porcupine fish and bonnethead sharks. Other exhibits in Blue Wonders feature an octopus tank, species native to Maryland and Upland Tropical Rainforest, which resembles a sprawling Amazon riverbed. A short bridge brings groups to Pier 4, home to Dolphin Discovery. Here, visitors can interact with playful bottlenose dolphins and watch their feeding in the spacious Marine Mammal Pavilion.
(aqua.org)
---
---
New England Aquarium
Boston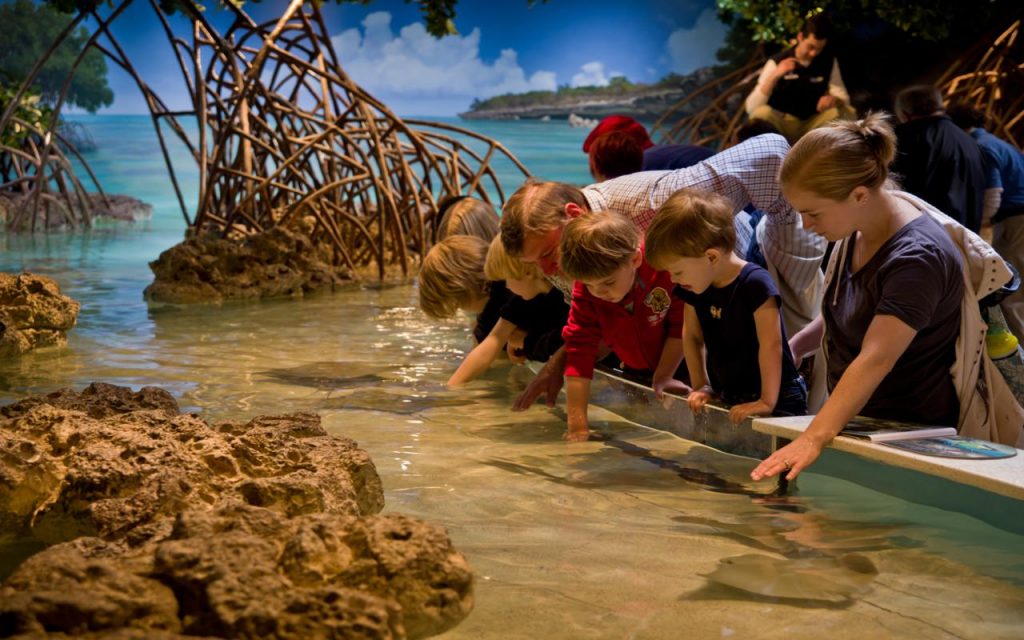 Built atop the Central Wharf that juts into Boston Harbor, New England Aquarium has been educating groups on marine life and conservation for almost 60 years. In addition to its four levels of exhibits and IMAX screen, the aquarium collaborates with whale-watch-ing cruise companies. From April to October, groups can sail 30 miles offshore to the Stellwagen Bank National Marine Sanctuary, where humpback, finback and pilot whales surface. Helpful guides explain the history of this feeding ground and how to identify species, and school groups can learn about marine mammal conservation.
The aquarium's centerpiece is the Giant Ocean Tank, a 200,000-gallon cylinder that recreates a Caribbean coral reef. Guests can peer through the exhibit's 52 windows to spot barracudas, sharks and even a scuba diver. The reef is also home to the aquarium's most famous resident, Myrtle the Turtle. The 80-year-old sea turtle has lived at the aquarium since 1970, and you can meet her up close with an exclusive Meet Myrtle animal encounter. At the base of the tank lies the popular penguin exhibit, where over 80 of the Antarctic birds gather on rocks that evoke their coastal home. Trainers are on-hand to help guests differentiate rockhoppers (with their famous yellow feathers) from African penguins (with their loud mating call), and explain the birds' complex social systems.
Four floors of exhibits branch off from the central Giant Ocean Tank, including the Tropical Gallery (which houses scorpionfish and living coral), Temperate Gallery (home to rare Australian sea dragons and Goliath grouper) and Freshwater Gallery (where visitors can see piranhas, Atlantic salmon and anacondas). Groups with small children will want to experience Edge of the Sea, an exhibit resembling a New England tide pool where visitors are allowed to touch sea urchins, horseshoe crabs and aquatic snails. (neaq.org)
New York Aquarium
New York City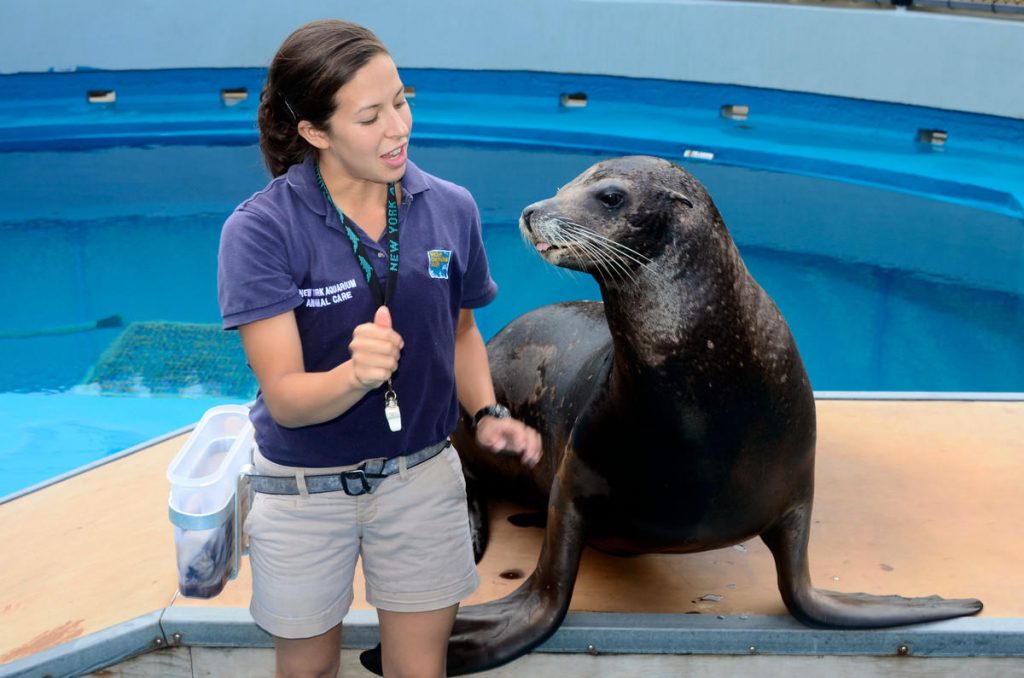 The oldest continually operating aquarium in the United States neighbors Coney Island's famous Luna Park. Visitors are granted views of the Atlantic and up-close encounters with marine mammals in the aquarium's mix of indoor and outdoor enclosures.
Conservation Hall features four exhibits that guide visitors through aquatic environments of Africa, Asia and the Americas. Glover's Reef is modeled after a coral reef system off the coast of Belize, with Atlantic rays, eels and Cuban hogfish among the residents. The Pacific Ocean's Coral Triangle recreates the Indonesian coast with its extensive anemone population, and groups can spot clownfish among the clusters. Africa's Great Lakes transports visitors to the freshwater communities of Tanzania, where fish such as the dwarf cichlids and yellow labido develop survival mechanisms to thrive in environments with thousands of species. The hall's final exhibit is Brazil's Flooded Forest, where the highlight is a school of intimidating piranhas.
In warmer months, visitors can watch walruses, seals and penguins at the Sea Cliffs exhibit, designed to resemble the rocky California coast. The outdoor Aquatheater features "Sea Lion Celebration," a show where Pacific aquatic mammals perform acrobatic tricks and demonstrate hunting techniques with commentary from keepers. The aquarium's most popular attraction for children is Spongebob Squarepants 4-D, which combines the experience of a 3-D film with sensory effects built into the theater's seats and environment. As viewers help Spongebob and Patrick retrieve jellyfish in Bikini Bottom, they are subjected to effects that include water mist, a neck air blast, snow, bubbles, leg ticklers, scents and seat vibrations. (nyaquarium.com)
Adventure Aquarium
Camden, New Jersey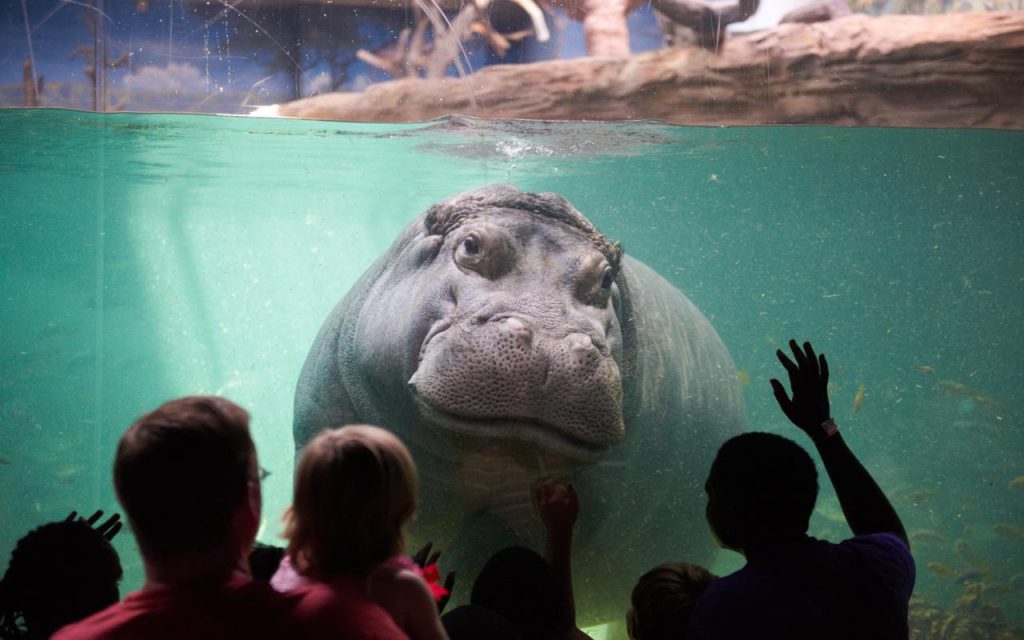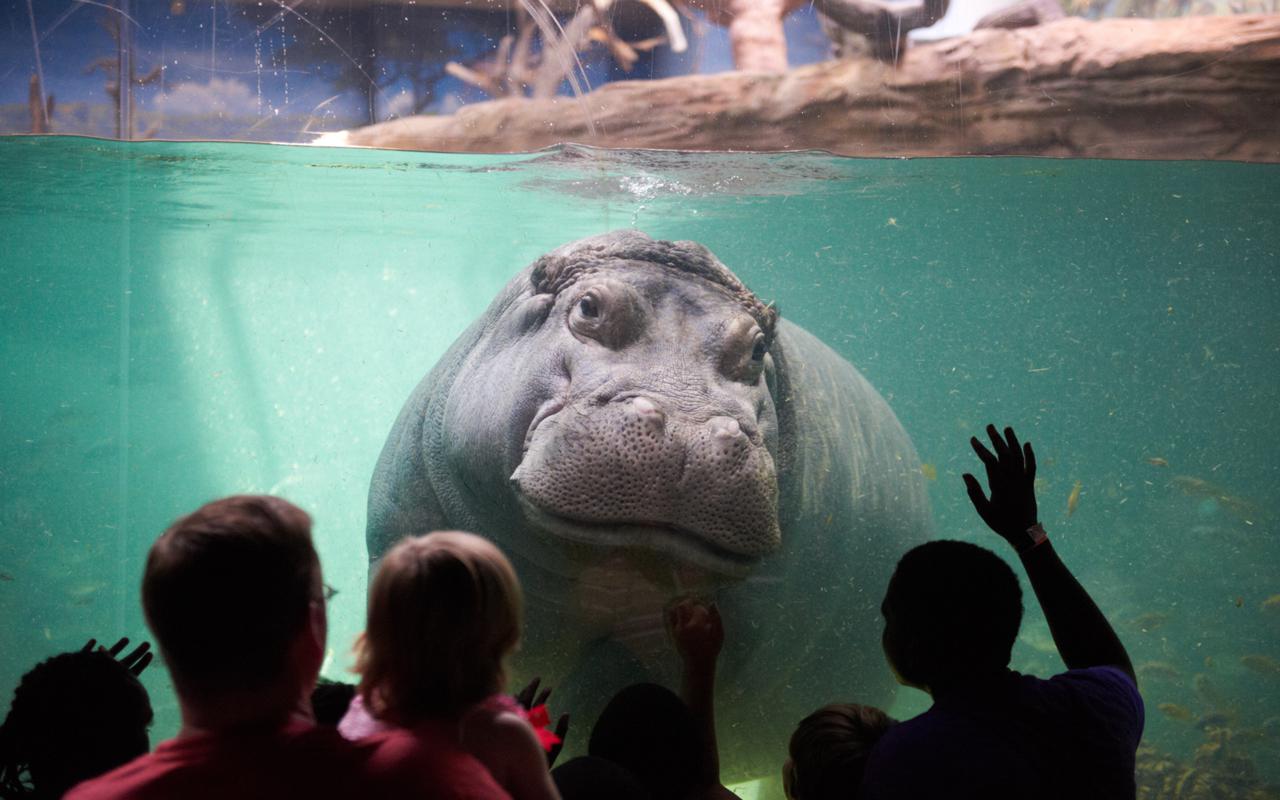 An extensive renovation has brought popular new attractions, such as the Shark Bridge and KidZone, to complement perennial favorites like sea turtles and the tropical reef. Fifteen themed areas over two floors ensure groups will have plenty of undersea life to encounter. Visitors also get stunning views of the Philadelphia skyline across the river.
Wonderful for children, the aquarium is filled with tactile exhibits and opportunities for smaller visitors to interact with marine species. Guests can touch and feed the gentle residents of the Stingray Beach Club, home to elegant leopard whiprays and yellow stingrays. The cold-water Creature Feature resembles the Pacific Northwest coast and has starfish, anemones and spot prawns to touch.
Adventure Aquarium is the only aquarium in the world to feature hippos. Visitors to Hippo Haven will venture into a recreation of an African river and meet Button and Genny, two 3,000-pound Nile hippos that play with only a few inches of glass separating them from onlookers. Penguin Island is home to a flock of African penguins, and groups can see them on dry land or swimming 20 feet below the island's surface in a 17,000-gallon tank. (adventureaquarium.com)
In addition to their exceptional displays, all four aquariums offer group admission discounts and behind-the-scenes tours for those who wish to probe deeper into marine biology. These impressive dives into undersea life will certainly make a splash with any tour group.