Featuring more than 80,000 square feet of indoor and outdoor exhibits, the aquarium is connected by walkways landscaped with native plants
Opened in August of 2020, the pristine Mississippi Aquarium features engaging exhibits and educational opportunities while providing sincere hospitality for visitors of all ages. The museum will tell the fabulous story of all of Mississippi's aquatic resources from the Delta to the coastline.
Groups can view sharks, turtles and much more while walking through the 30-foot-long, 360-degree acrylic tunnel. It's like walking on water. Go behind the scenes at the Bottlenose Dolphin Habitat with Animal Care experts for a Dolphin Experience. Touch and observe what's being done to protect this beloved species. There are also a dozen habitats from a Bird Aviary and North American River Otter Habitat to a Shark and Ray Touch Experience and Crocodilian Habitat. Fortunately, there's no touching experience on the latter.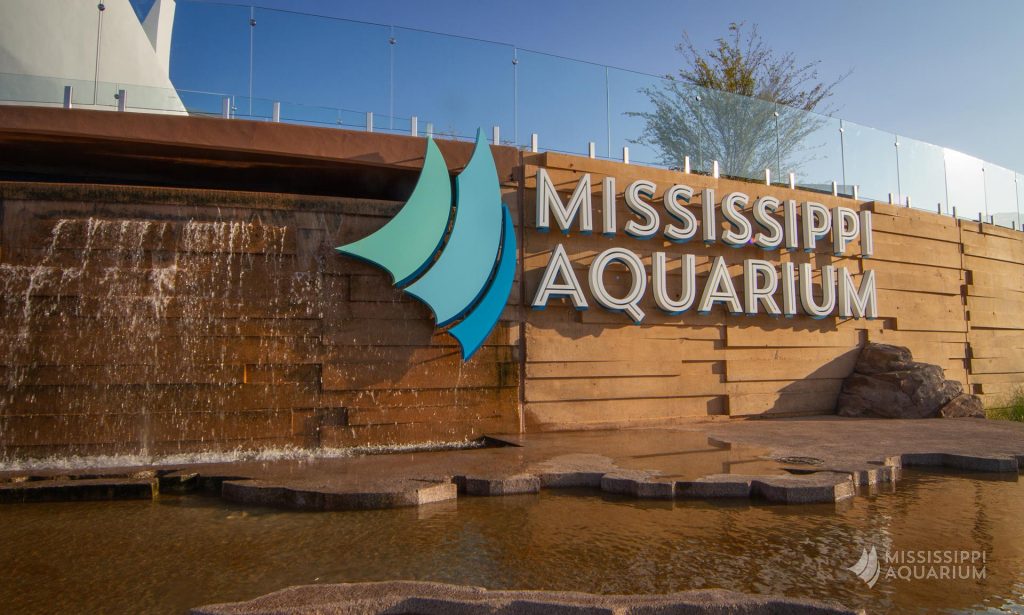 Yes, there is also a Penguin Experience. Visitors can learn all about precious African Penguins. You'll discover where they are from and what's being done to protect them, while touching and feeding them. This is a great photo opp.
The Backstage Tour takes you behind the scenes with an Aquarium staff member. You'll gather plenty of insight into the daily operations of the Mississippi Aquarium.
It's now time to go underwater. The aquarium's newest attraction, SeaTREK, is a guided underwater experience that takes the interactions between visitor and animal to the next level.
On a platform, four guests with underwater helmets with wide vision will be immersed into the ocean's habitat to get up close with sharks, rays and other aquatic wonders. You don't need a diving certification and, in fact, you don't need to know how to swim to participate in SeaTREK. Bring your bathing suit and towel and the Aquarium will fit you with a wetsuit to change into and a locker. SeaTREK is only available Friday through Sunday and like all aquarium experiences, requires a charge in addition to the group admittance.
Every day there's something going on at the Weekday and weekends between 10:30 a.m. and 3:00 p.m., there are 11 items on the schedule from Aviary Feed & Chat and Otter Chat to Croc Talk, Feedings and Close Encounters of the Aquatic Kind. There are also special events happening regularly. Many are planned around holidays like Ales at the Sails and Cocoa & Cupcakes in December.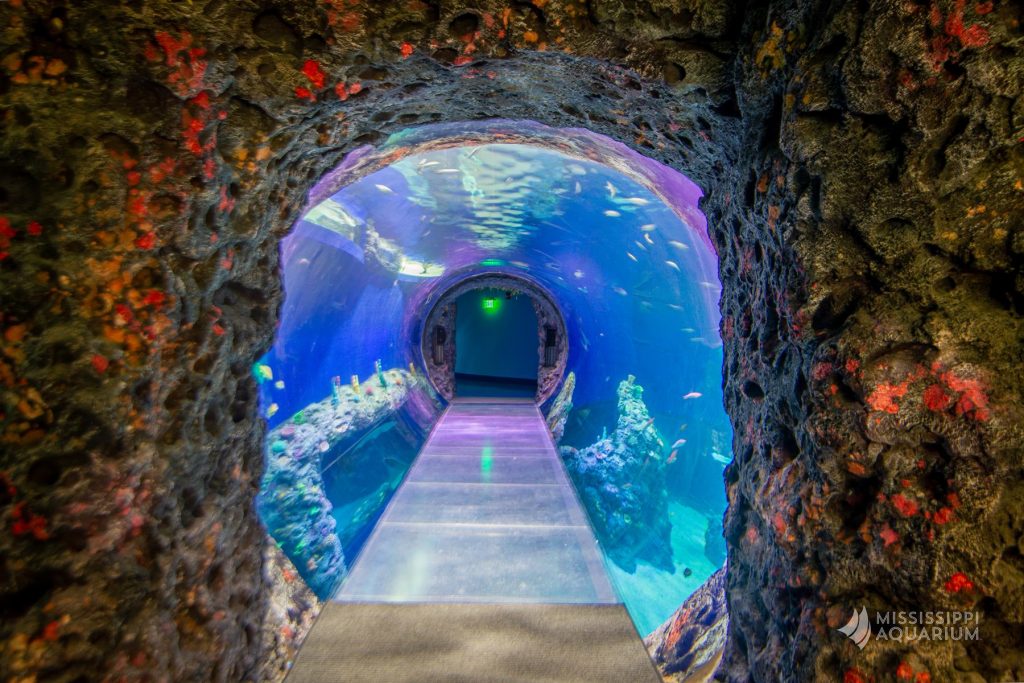 The Aquarium is also a great venue and a perfect place for hosting your own event. Whether it is a birthday party for someone in the group or a cocktail reception and dinner with the dolphins, memories will be made.
"We offer a beautiful new event space right on Mississippi Aquarium's campus," said Kendra Simpson, Mississippi Aquarium vice president of Sales and Marketing. "Guests can book events small and large. We look forward to hosting conferences, luncheons and a variety of other events. One of our three foundational pillars is community, so it was important we provide a space for the community and business professionals to gather right here at the Aquarium,"
Groups of 15+ with advance reservations receive discounted admission and personalized itineraries. An online form connects you with the Group Sales Manager.
---
by David Bodle