Travel through time — compliments of the Vintage Band Festival — as it takes you on a whirlwind musical extravaganza August 1-4 in southern Minnesota.
This notable event will be the highlight of the summer – welcoming 30 US and international bands as they perform an astonishing 100 concerts over four days! The festival is located in the historic river town of Northfield, just south of the Twin Cities, known for its Defeat of Jesse James Days, esteemed private colleges of St. Olaf and Carleton and Ames Mill, home to Malt-O-Meal® cereal.
History is in the making as this exciting musical event offers a wide range of genres, heritage influences, and period-inspired performances — with a whole host of event attractions and entertainment, sure to please any modern day history buff.
The resounding pulse of the festival is through its musicians and their expression toward the remembrance of historic accounts, cultural authenticity, and the movement music has made over the years.
What constitutes vintage you might ask? It's music from around the world dating back from approximately the mid 1700s up until the mid 1900s for this festival. Many of the reenactment bands use actual antique instruments and dress in period clothes. (Some take great care to be authentic down to their buttons and shoelaces for the shows.) The songs come from old sheet music or handwritten part books. Unique, old instruments have been restored, tuned and scored — to create an outstanding repertoire of unforgettable music that has made its mark in history.
Experience the sounds of Baroque, Balkan, Klezmer, Mariachi, Jazz, Civil War, German, New Orleans, Austrian, and Swedish tunes — all in one weekend, as a variety of ensembles participate in the Vintage Band Festival, including international bands, nationally recognized vintage bands, Midwestern vintage ensembles and a number of Minnesota-based brass bands and community bands.
The Festival concerts run back-to-back as the four-day weekend is jammed packed with the finest of brass and wind music. Concerts are held at various indoor and outdoor venues throughout Northfield. Vintage Band Festival satellite concerts are also available in nearby communities, as optional daytrips, to experience the richness of this cultural area.
Beyond the scheduled concerts, cameo appearances take place as strolling musicians tool through shops, the riverfront market, and along Northfield's downtown main street to add to the flavor of this nostalgic scene. You might hear the sounds of an ophecleide trio, sackbut duo, helicon quartet, or clarino trio to name a few.
Surrounding the festival are numerous auxiliary events: a historic horn exhibit, Battle of the Bands, vintage "base ball", ballroom-style dance, vaudeville entertainment, Lunch Listen & Learn concerts, massed concert, Sunday music in area churches, and the annual gathering of the Historic Brass Society.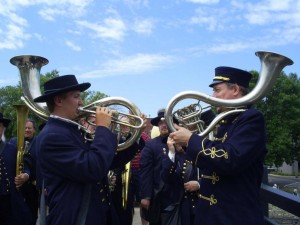 For a full list of the festival's bands, performance concert schedule, events and attractions and suggested itineraries, visit vintagebandfestival.org.
This activity is made possible by the voters of Minnesota through a grant from the Southeastern Minnesota Arts Council thanks to a legislative appropriation from the arts & cultural heritage fund.
This activity is made possible by the voters of Minnesota through a grant from the Minnesota State Arts Board, thanks to a legislative appropriation from the arts and cultural heritage fund and by a grant from the National Endowment for the Arts.
By Amy Acheson