Shoveling snow is highly overrated but you can get out there and do something fun with those piles of white flakes! Glenwood Springs, Colorado has colossal conditions this winter and there are plenty of ways to enjoy these crisp days. www.visitglenwood.com
Ski or SnowBoard
Here's some insider information: Sunlight Mountain Resort may be small but it has some of the best terrain in the country! Loyal locals have a special fondness for this family-friendly ski area. Multiple generations have learned to ski and snowboard on these hills since 1966. Skiers and riders have access to 67 trails and over 680 acres. All of Sunlight's trails funnel back to the lodge area which makes it easy for groups to meet up for lunch or at the end of the day. Sunlight is also home to one of the longest, and some of the steepest runs in the state. Ute is a continuous trail that traverses over 2 miles from summit to base. The East Ridge is an experts-only area that will challenge even the most seasoned snow sport enthusiasts, especially the Heathen, with a pitch of 52 percent. The majority of the mountain however is comprised of moderate contours that are ideal for intermediates and beginners.
Lift tickets are some of the lowest prices in the industry – a very reasonable $60 for adults ages 13-64, $45 for kids 6-12 and seniors 65-79. Hey, if you're less than 6 or more than 80 years old, there's no charge! www.sunlightmtn.com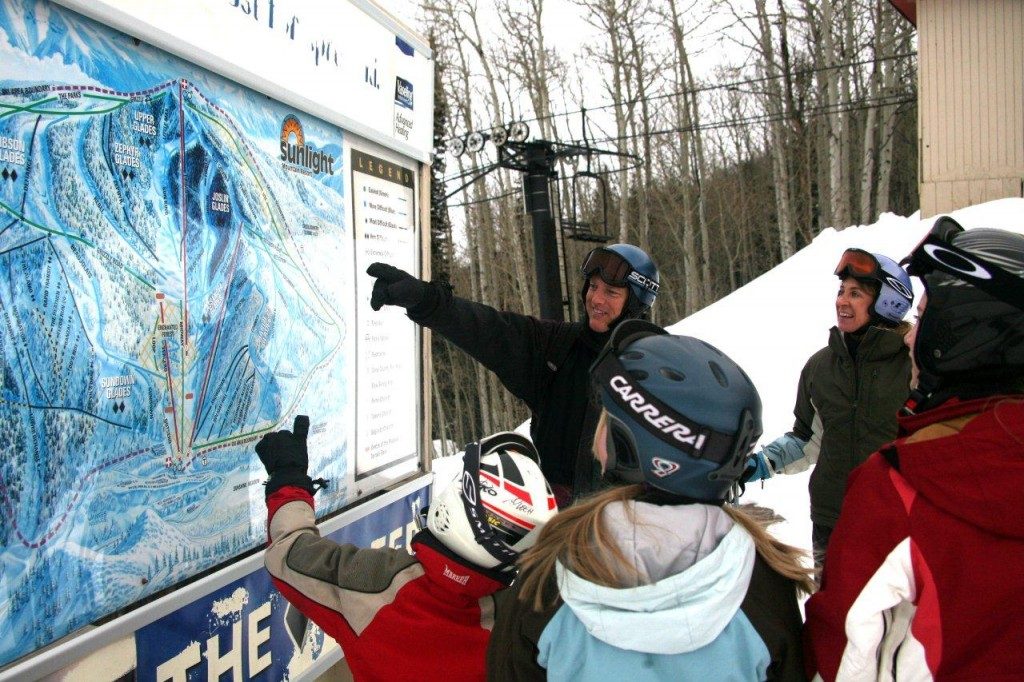 Soak
The popular Ski Swim Stay promotion has been around for nearly 30 years. Packages include all-day lift tickets at Sunlight Mountain, admission to the Glenwood Hot Springs Pool and accommodations at one of the participating lodges. Incredibly, Ski Swim Stay packages still start as low as $99! Best of all, for families with pre-teen children, kids 12 and younger ski free with a paying adult.
One of the reasons Ski Swim Stay can't be duplicated anywhere else is because only Glenwood Springs is home to the world's largest mineral hot springs pool and every Ski Swim Stay package includes admission to Glenwood Hot Springs. In fact, one of the best times to enjoy the world-famous attraction is during the winter when it's snowing and the temperatures dip below freezing – that's when steam-clouds hover over the pool, at least until a brisk breeze blows them away. The smaller Therapy Pool is a giant hot tub and an ideal place to unwind after a day on the slopes, whereas the larger pool is essentially an aquatic playground that's the size of a football field! The pool is open every night until 10 p.m., plenty of time to get into some hot water after the slopes close. www.hotspringspool.com
Visitors can choose from a diverse variety of accommodations. For the ultimate skiing convenience, stay slope-side at the Sunlight Lodge B & B or the Brettelberg Condos. Many options are also available in town including two historic hotels: the Hotel Denver and the Hotel Colorado. The Glenwood Hot Springs Lodge is ideal for those who want to be within easy walking distance of the pool. Other choices include the Cedar Lodge, Hotel Glenwood Springs and Glenwood Canyon Resort. Visit the Sunlight Mountain website to check out the accommodations in greater detail and to book a Ski Swim Stay package. www.sunlightmtn.com/plan-your-trip/ski-swim-stay
More Hot Springs Options
The brand new Iron Mountain Hot Springs is another way to warm up amidst snow-covered hillsides while overlooking the Colorado River. Soaking options include 16 naturally shaped mineral hot springs pools that accommodate about 10 people, with temperatures ranging from 99 to 108°F, and a freshwater family pool with an elevated whirlpool spa where parents can soak while watching kids play below. The bathhouse features well-appointed locker rooms, family changing rooms and a retail shop. Located next to the family pool, the Sopris Café serves snacks, meals and drinks—including wine, beer and cocktails—in a casual outdoor setting. Poolside service is also available. The history of the Iron Mountain Hot Springs property dates back to 1896. www.ironmountainhotsprings.com
X-country Skiing
Sunlight Mountain Resort maintains a network of over 29 kilometers of groomed Nordic ski and skate terrain at Babbish Gulch. Trails are free to use; snowshoers and pets are also allowed. www.visitglenwood.com/things-to-do/snow-sports/nordic-skiing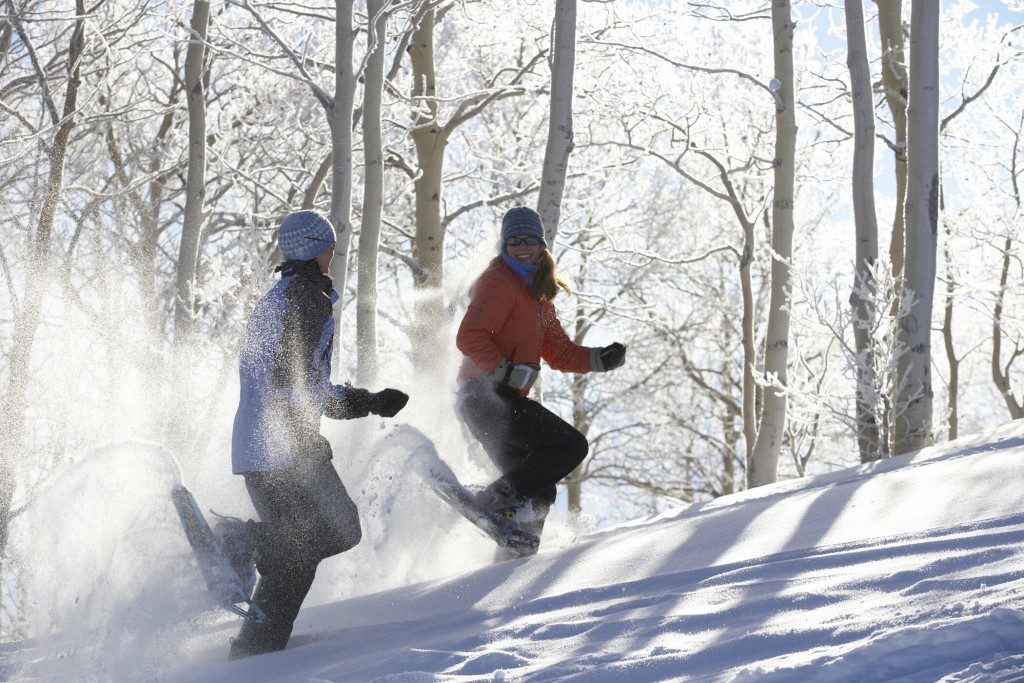 Snowshoeing
If you'd rather break trail through Babbish Gulch, strap on some snowshoes. This is an inexpensive way to really work up a sweat. Trails are well-marked for all ability levels.
www.visitglenwood.com/things-to-do/snow-sports/snowshoeing
Snowmobiling
To see expansive snow-capped vistas, explore backcountry trails on a snowmobile. There are hundreds of miles of groomed trails to explore. Top trips include the Sunlight to Powderhorn Trail and the Flat Tops with views of Glenwood Canyon.
www.visitglenwood.com/things-to-do/snow-sports/snowmobile-tours
Fat Biking
Mountain biking in the winter? You bet. These bikes have oversized four-inch studded tires! This improves traction on a variety of snowy single-track trails in the area.