Mississippi Itinerary Guide
Group-Friendly itineraries that cover the entire state; from the Delta to the Hills, Mississippi has attractions that will entice all ages.
Download Issue
Mississippi Itinerary Guide
As you plan your Mississippi adventure, it is my pleasure to share with you the abundance of attractions, restaurants, museums and so much more that call the Magnolia State home, all of which will ensure a truly Southern experience you'll cherish for a lifetime.
Allow this guidebook to serve as your roadmap to the state's historic attractions, charming communities, mouthwatering meals and artistic experiences that make Mississippi such an attractive home-away-from-home for your getaway.
The Magnolia State is a land of diverse culture, with activities and attractions for all ages. Mississippi is the "Birthplace of America's Music," and cities and communities throughout the state celebrate that heritage on most nights with live music performed everywhere from large venues to small juke joints. Be sure to check out where some of the world's most iconic musicians got their starts. The Elvis Presley Birthplace in Tupelo takes visitors on a personal tour of the King of Rock 'n' Roll's humble beginnings, and the B.B. King Museum and Delta Interpretive Center in the Mississippi Delta highlights where the famed bluesman honed his talent to share with the world.
Mississippi also is known for its world-renowned cuisine. Award-winning chefs serve up fresh Gulf seafood, classic Southern cuisine with local twists, some of the best steaks in the country, and of course, mouthwatering barbecue that will leave you craving seconds every time. You can even take cooking lessons at Viking Cooking School where you'll learn to prepare a Mississippi delicacy, so no matter where you live, you can create a Southern mouthwatering favorite for friends and family.
Mississippi also is full of enlightening and inspiring museums. The Mississippi Arts and Entertainment Experience in Meridian and the GRAMMY Museum® Mississippi in the heart of the Delta region share the stories of Mississippi artists, literary icons and more. The state's history is on display at the Mississippi Civil Rights Museum and Museum of Mississippi History, or you can tour "Mississippi's Outdoor Museum" as you follow the state's cultural trails, all displaying markers that showcase our state's place in American cultural history.
On behalf of the people of Mississippi, we look forward to hosting you this year. Welcome to the Hospitality State. We're glad to have you.
Sincerely,
D. Craig Ray, Director – Visit Mississippi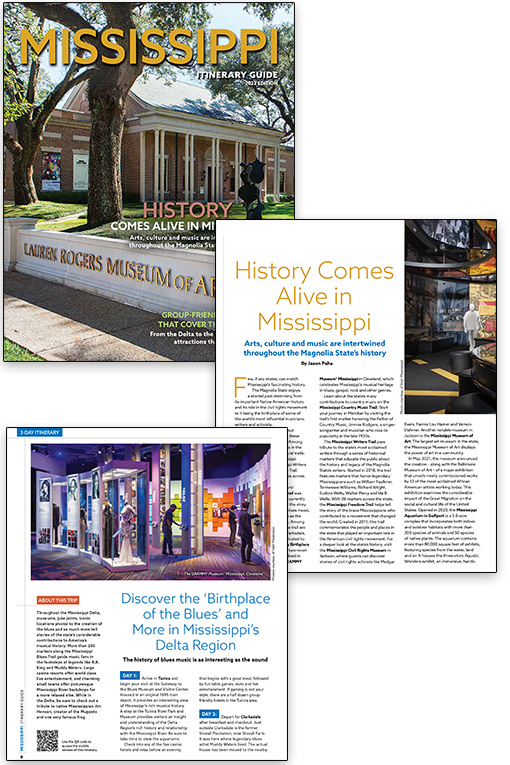 TRAFFIC RESOURCES
Download the free MDOT Traffic app for most current travel and traffic info. For even more information visit mdot.ms.gov.
AIR SERVICES THESE CITIES
Columbus/Golden Triangle Regional Airport • Greenville/Mid-Delta Regional Airport • Gulfport-Biloxi International Airport • Hattiesburg-Laurel Regional Airport • Jackson-Medgar Wiley Evers International Airport • Meridian Regional Airport • Tunica Airport • Tupelo Regional Airport
AMTRAK SERVICES THESE CITIES
Brookhaven • Greenwood • Hattiesburg • Hazlehurst • Jackson • Laurel • Marks • McComb • Meridian • Picayune • Yazoo City
Visit Mississippi Contact Form