Arts, culture and music are intertwined throughout the history of Mississippi, the Magnolia State
Few, if any states, can match Mississippi's fascinating history.
The Magnolia State enjoys a storied past stemming from its important Native American history and its role in the civil rights movement to it being the birthplace of some of the world's most influential musicians, writers, and activists.
Groups looking to learn about Mississippi's past can explore these stories in a variety of locales. Among the most popular destinations in the state are the state's four cultural trails: Mississippi Blues Trail, Mississippi Country Music Trail, Mississippi Writers Trail, and Mississippi Freedom Trail.
Must-see Mississippi museums:
Delta Blues Museum
Mississippi Civil Rights Museum
Mississippi Museum of Art
Lauren Rogers Museum of Art
Tennessee Williams House Museum and Welcome Center
Mississippi Blues Trail
The first of the state's cultural trails, the Mississippi Blues Trail was established in 2006. The trail includes more than 200 markers that tell the story of the birth and evolution of blues music, leading to Mississippi's status as the Birthplace of America's Music. Among the more notable stops on the trail are the Delta Blues Museum in Clarksdale, the world's first museum dedicated to Blues music; the Elvis Presley Birthplace in Tupelo, which includes the two-room house Presley and his family lived in during his early years; and GRAMMY Museum® Mississippi in Cleveland, which celebrates Mississippi's musical heritage in blues, gospel, rock, and other genres.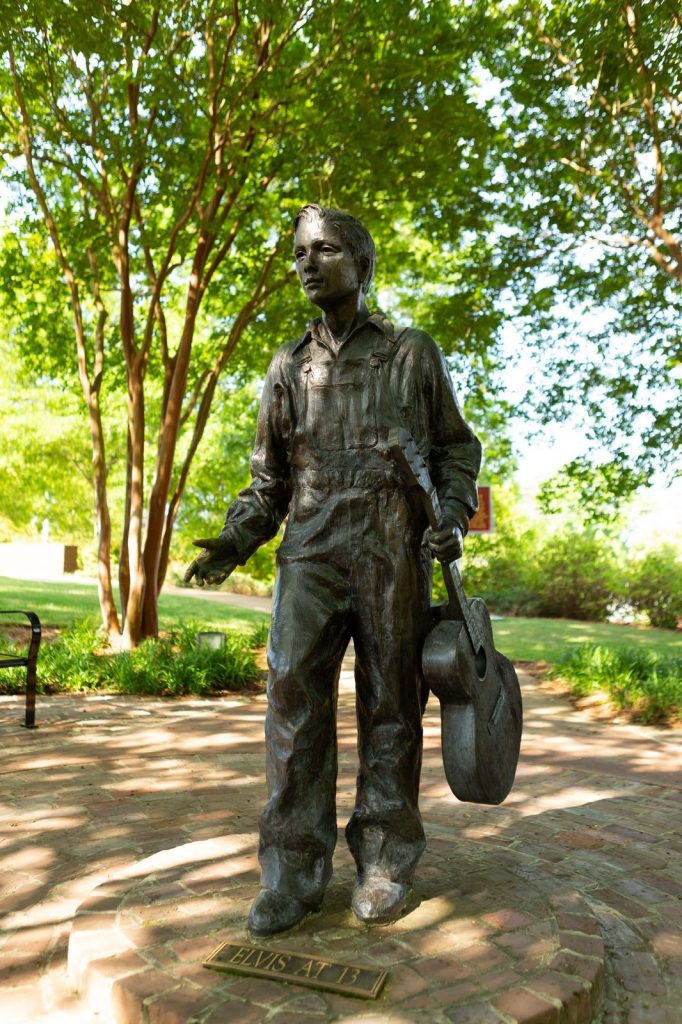 Mississippi Country Music Trail
Learn about the state's many contributions to country music on the Mississippi Country Music Trail. Whether you call it hillbilly, honky tonk or neo-traditional, country music has deep roots in Mississippi. Start your journey in Meridian by visiting the trail's first marker honoring the Father of Country Music, Jimmie Rodgers, a singer-songwriter and musician who rose to popularity in the late 1920s.
Mississippi Writers Trail
The Mississippi Writers Trail pays tribute to the state's most acclaimed writers through a series of historical markers that educate the public about the history and legacy of the Magnolia State's writers. Started in 2018, the trail features markers that honor legendary Mississippians such as William Faulkner, Tennessee Williams, Richard Wright, Eudora Welty, Walker Percy, and Ida B. Wells. Followers of the trail can explore locations with significant meaning to the authors – including their respective birthplaces, homes, gravesites, and locations that inspired some of their greatest works.
Mississippi Freedom Trail
With 25 markers across the state, the Mississippi Freedom Trail helps tell the story of the brave Mississippians who contributed to a movement that changed the world. Created in 2011, this trail commemorates the people and places in the state that played an important role in the American civil rights movement. For a deeper look at the state's history, visit the Mississippi Civil Rights Museum in Jackson, where guests can discover stories of civil rights activists like Medgar Evers, Fannie Lou Hamer, and Vernon Dahmer, as well as those who traveled long distances to stand beside them.
Mississippi Museum of Art
Another notable museum in Jackson is the Mississippi Museum of Art. The largest art museum in the state, the Mississippi Museum of Art displays the power of art in a community.
In May 2021, the museum announced the creation – along with the Baltimore Museum of Art – of a major exhibition that unveils newly commissioned works by 12 of the most acclaimed African American artists working today. This exhibition examines the considerable impact of the Great Migration on the social and cultural life of the United States. The historic phenomenon known as the Great Migration saw more than six million African Americans leave the South for cities across the United States at the start of the twentieth century and into the 1970s.
Mississippi Aquarium in Gulfport
Opened in 2020, the Mississippi Aquarium in Gulfport is a 5.8-acre complex that incorporates both indoor and outdoor habitats with more than 200 species of animals and 50 species of native plants. The aquarium contains more than 80,000 square feet of exhibits, featuring species from the water, land, and air. It houses the three-story Aquatic Wonders exhibit, an immersive, hands-on experience that captivates guests of all ages. From the ray and shark touch experience to a 360-degree suspended walking tunnel, Aquatic Wonders gives visitors an opportunity to view marine life from every angle.
Lauren Rogers Museum of Art
Mississippi's first art museum, the Lauren Rogers Museum of Art, resides in Laurel and was founded in 1923 in memory of Lauren Eastman Rogers, the only son and only grandson of one of the town's founding families. Today, almost 100 years after its founding, the museum is home to an extensive collection of American art, British Georgian silver, European art, Japanese woodblock prints, and Native American art.
Laurel Mercantile
When in Laurel, groups can also visit Laurel Mercantile, a cozy retailer stocking an eclectic range of hip apparel, rustic furniture, and home accessories. The owners of Laurel Mercantile, Erin and Ben Napier, are hosts of HGTV's Home Town, a hit home renovation show filmed in Laurel.
Mississippi's Mont Helena
A visit to Rolling Fork also should include a stop at Mont Helena, a Colonial Revival-style home built atop a ceremonial Indian ground in the Mississippi Delta. Built in 1896, the house was designed by George Barber, a renowned American architect famous for his Queen Anne Victorian-style house plans. During its early years, Mont Helena was one of the premier homes of the Delta.
Great Delta Bear Affair
If you time your stop in Rolling Fork properly, i.e., the fourth Saturday in October, you also can enjoy the Great Delta Bear Affair, a fantastic event filled with live music, arts and crafts, games and activities for children, fabulous food, a chainsaw wood carver and fireworks.
Tanglefoot Trail in Mississippi
In New Albany, guests can stretch their legs on the Tanglefoot Trail, Mississippi's longest Rails to Trails conversion measuring 43.6 miles through the foothills of the Appalachian Mountains in the Mississippi Hills National Heritage Area. Here, you can experience a bit of history as you pass through fields, forests, meadows, and wetlands while you travel down the path of the Chickasaws and Meriwether Lewis.
Sugaree's Bakery
Those looking for a sweet treat in New Albany can indulge in the goodies created at Sugaree's Bakery. Since 1997, Sugaree's has created made-from-scratch cakes using real, premium ingredients from recipes that have been passed down for generations.
Belle Flower Missionary Baptist Church
Founded in 1868, the Belle Flower Missionary Baptist Church in Grenada is the oldest African American church in Grenada and was once a hub for community and national organizers during the civil rights movement. Those seeking an outdoor utopia can visit Grenada Lake, located in the rolling hills and forests at the entrance to the Mississippi Delta. This 90,427-acre project offers something for all outdoor enthusiasts, including hiking, boating, camping, and swimming.
Tennessee Williams House Museum and Welcome Center
The Tennessee Williams House Museum and Welcome Center in Columbus is the first home of legendary playwright Tennessee Williams. Extensive efforts have been made to restore the 1875 Victorian home to its original glory. The house is a National Literary Landmark and is located in the heart of Columbus's downtown historic district.
Mississippi's Catfish in the Alley Festival
A popular event in Columbus is the Catfish in the Alley Festival, which celebrated its 10th anniversary last April. This fest features a day of fun for the whole family and includes catfish, vendors, and some of the best blues musicians in the South.
Cat Head Delta Blues & Folk Art Inc.
In Clarksdale, Cat Head Delta Blues & Folk Art Inc. is more than just a fun name, it is Mississippi's Blues Store and your first stop for live music info. The rustic hundred-year-old building is packed with blues, Mississippi, Southern, and Clarksdale souvenirs and favorites, including CDs, vinyl, DVDs, books, T-shirts, hats, artwork, and more.
Geyser Falls Water Theme Park
Those seeking to enjoy some outdoor aquatic fun can visit Geyser Falls Water Theme Park in Choctaw. This 23-acre family amusement center features 12 major waterslides, an enormous wave pool, a lazy river, and activity areas for children and teens adorned by waterfalls and crystal-clear swimming pools. Within the 23 acres is eight acres of white sandy beaches, palm trees, and glistening water.
Nanih Waiya Mound and Village in Mississippi
Another nearby attraction is the Nanih Waiya Mound and Village, an ancient earthwork mound located northeast of Philadelphia in Eastern Mississippi that is listed on the National Register of Historic Places. Nanih Waiya is a Choctaw Indian name meaning "leaning hill," and the enormous mound measures 25 feet high, 218 feet long, 210 feet wide and may have been erected around 1,000 years ago. The site plays a central role in the Choctaw Tribe's origin legends. In one version, for example, the mound gave birth to the tribe.
---
By Jason Paha
For activity ideas on your next trip Subscribe for FREE to our newsletter.