Farm-to-table fare, ethnic goodies and local wines enhance the culinary scene in Iowa
Meal times and snack stops are often the exclamation points of an Iowa itinerary. In cities and small towns, at resorts and farms, there's plenty of good eating to be had. Treat your palate with farm-fresh foods, sip Iowa-made wines and maybe even try a lavender sugar cookie at these Iowa restaurants.
Iowa must-try items:
Kolaches
Iowa bourbon
Aronia berry items
Lavender cookie
Honey-fried walleye
Classic Iowa Pork Tenderloin Sandwich
Cedar Rapids Iowa restaurants
Cedar Rapids is a dream for the culinary-minded traveler, offering a variety of premium experiences. Groups might start with a visit to NewBo City Market in the historic Czech Village/New Bohemia Main Street District, a cultural corridor that straddles the banks of the Cedar River just south of the downtown business district. Promoting access to healthy, locally grown foods, it occupies a former industrial building that covers a whole block. A showplace for small food entrepreneurs, the year-round market, according to its website, "is made up of fab foodies, persnickety purveyors of all things good and green, cupcake divas and creators of other really cool stuff." Shops include NewBo Cheese Co., That One Cupcake Place, Caribbean Kitchen, Roasters Coffee House, and Betty and Bob's Better Bread. There's a seasonal farmers' market in the Market Yard.
The National Czech and Slovak Museum, in the heart of Cedar Rapids' Czech Village, hosts group meals served by the one of the city's Czech catering companies. The Village Meat Market also dishes up authentic Czech meals. Czech Village's landmark Sykora Bakery is famed for its kolaches in a variety of flavors, from cream cheese and poppy seed to prune, fig and rhubarb.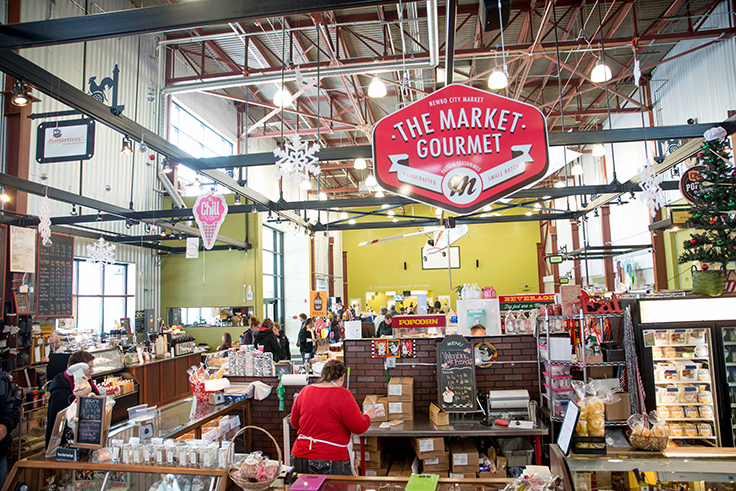 A number of Cedar Rapids restaurants take pride in sourcing locally from the angus beef to the ground flour. You'll find that farm-to-table dining experience at places like Bata's, which uses produce from nearby New Bo City Market vendors; the highly regarded Cobble Hill; and The Class Act, situated on the Kirkwood Community College campus. Groups also like Farmer's Daughter's Market in Hiawatha, a great breakfast and lunch place with homemade quiche, soups and baked goods. In this beautiful barn building, combine your farm-fresh meal with shopping for antiques and gifts. Tours and tastings are available at three area wineries—John Ernest Vineyard & Winery, Fireside Winery and Cedar Ridge Vineyards (which makes also makes small-batch spirits, including Iowa's first bourbon). Did you know that Iowa as more than 300 wineries?
Dining out in Loess Hills Iowa
In the scenic Loess Hills region of Western Iowa, groups can get familiar with the aronia berry. What's an aronia berry? Well, it's touted as the one of the most nutritionally dense fruits on the planet, and you can learn all about it at Sawmill Hollow Family Farm in Missouri Valley. America's first commercial aronia berry farm has more than 13,000 bushes that produce the dark purple berry, hailed for its antioxidant strength and considered the ultimate superfood based on scientific research. On personalized tours of the organic farm, guests can sample aronia berry wine, juice, smoothies and other foods in the tasting room. Products for sale include syrup, salsa and jelly, plus extract supplement and capsules. Eaten raw, the rough-textured fruit, also known as the chokeberry, is tart and dry.
For an up-close look at a versatile herb, tour Loess Hills Lavender Farm, another purveyor of a purple crop in Missouri Valley. It cultivates more than 2,000 lavender plants, whose oil is used in skin care and bath products. The most common culinary application on the farm is its "Almost World Famous Lavender Sugar Cookie," made with dried lavender buds. These are served to bus groups, along with lavender lemonade. The herb is also used in flavoring tea. A private high tea, with hors d'oeuvres, tea, lemonade and desserts, can be arranged. The farm has served lavender cupcakes, lavender lemon bars and lavender ice cream, not to mention chicken and pork sandwiches seasoned with lavender, rosemary and thyme
Groups touring the steep, sharply-ridged Loess Hills, recognized the world over for its superior agricultural soil, also may want to visit wineries like Breezy Hill Vineyard in Minden and Loess Hills Vineyard & Winery in Crescent.
South Central Iowa Restaurants
Rathbun Lakeshore Grille at Honey Creek Resort State Park sizzles as a culinary hot spot in South Central Iowa. Located on Lake Rathbun, the state's second largest lake, Honey Creek is considered Iowa's greenest resort, widely recognized for its eco-friendly activities and practices. Foodies know Honey Creek for its creative cuisine, with many dishes based on Iowa-grown or produced items.
Groups can arrange a cooking demonstration (perhaps a pasta, appetizer or dessert) in the banquet kitchen or take part in a hands-on cooking class and enjoy the results afterwards. Patrick Koffman, food and beverage director, said, " We have also done classes as a team-building exercise where the attendees are broken into teams and each team has to make a specific dish."
Signature dishes on Rathbun Lakeshore Grille's menu include Honey-Fried Walleye, a walleye fillet dipped in a honey-egg mixture, lightly bread and pan-friend until flaky, then drizzled with honey. The Green Tomato Parmesan features fried green tomatoes and melted Italian cheese with a zesty tomato sauce on a bed of linguine. For an excellent rendition of an Iowa specialty, try the Classic Iowa Pork Tenderloin Sandwich, breaded with cracker crumbs. Breakfast favorites include Midwest Eggs Benedict—poached eggs and grilled pork tenderloin on English muffins, with sun-dried tomato hollandaise sauce. Honey Creek guests can work off this good food by participating in resort activities, from nature and team-building programs to golf, kayaking and other water sports. The resort offers 105 guest rooms and 28 luxury cottages with full kitchens.
Explore our selection of Group-friendly Itineraries across the globe.