Off the beaten tourist paths, great little discoveries await group travelers with plenty of things to do in Iowa
Tour planners are always looking to include places beyond the obvious—unusual attractions their tour members wouldn't expect, small surprises hidden in the clutter of better known attractions. The quirkier or more obscure, the better. Here are a dozen spots in Iowa to put on your radar.
Field of Dreams Movie Site: Dyersville
On a baseball diamond carved from the middle of a cornfield for the 1989 flick starring Kevin Costner, your group can bat balls, play catch, run the bases or just sit in the bleachers and dream. Guided tours of the field and farmhouse portrayed in Field of Dreams are available. The surrounding crop, by the way, is feed corn, not sweet corn.
Fenelon Place Elevator: Dubuque
Dating from 1882, the Fenelon Place Elevator is the world's shortest, steepest railroad. It was the brainchild of banker J.K. Graves, who needed a way to cut the lunch-hour commute from downtown Dubuque to his hilltop house, a long trek up muddy paths or buggy ride around the bluff. (He pre-ferred lunch at home over the greasy spoons near his office.) Neighbors used the conveyance too and soon it became a public funicular for a penny fee. Today the cable cars, rebuilt in 1977, take riders on a nearly vertical, 296-foot trip to a lookout platform that affords views of three states—Iowa, Illinois and Wisconsin. The original cables have survived with only minor renovations.(fenelonplaceelevator.com)
Snake Alley
Burlington
The brave are invited to take a walk down what Ripley's Believe It or Not has called the "Crookedest Street in the World." Rivaling San Francisco's Lombard Street, it was built in 1894 as a shortcut from the clifftop mansions of Heritage Hill to downtown Burlington, a Mississippi River city with steep hills. With five half-curves and two quarter-curves, the brick-paved street with limestone curbing drops 58 feet over a distance of 275 feet. Snake Alley's design was conceived by three men of German heritage who used their Old World knowledge about how to build on a hill. A sign at the site proclaims that it's "reminiscent of vineyard paths in France and Germany and reflects the city's ethnic heritage." (visitburlingtoniowa.com)
Boone & Scenic Valley Railroad & Museum
Boone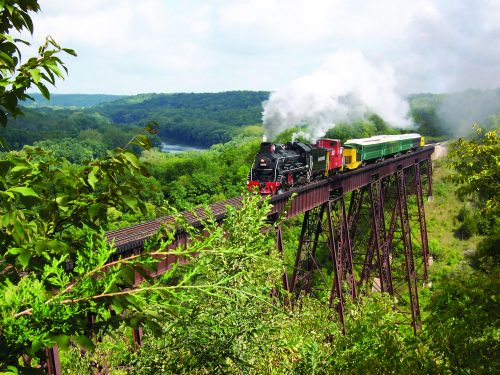 Ride in vintage 1920s railcars on a one-hour-and-45-minute trip through the beautiful Des Moines River Valley, crossing a 156-foot-high trestle along the way. Diesel engines or steam locomotives pull the nine-car train on the 15-mile roundtrip excursion. The railroad also offers a dinner train experience, and a 30-minute trolley ride is available, too. This is one of the few railroad museums in the country that operates, steam, diesel and electric equipment. (bsvrr.com)
Traer Salt and Pepper Shaker Gallery: Traer
Reportedly the second largest collection of salt and pepper shakers in the world, this treasure trove has more than 16,000 sets that Traer resident Ruth Rasmussen collected over a life-time, starting with the pair she bought at Brookfield (Illinois) Zoo in 1946. Ruth sold her collection to the city of Traer in 2008 but, at age 93, still visits when large groups are expected. The shakers, in porcelain, glass, ceramic, metal, plastic and wood, range from the pretty to the naughty to the downright strange. Included are shakers depicting Marilyn Monroe, Howdy Doody, the Flintstones and other pop culture icons.(traer.com/saltandpeppershakergallery)
Matchstick Marvels: Gladbrook
Since 1977 Patrick Acton has been building large models from ordinary wooden matchsticks, and his works of art are on display at the Tourist Center in Gladbrook's City Center Building. Millions of matchsticks have been glued together to represent planes, trains, ships, buildings and people. A 13-foot-long model of the U.S.S. Iowa battleship took 800 hours and 137,000 matchsticks. Acton's other detailed models include the U.S. Capitol, the Wright Brothers' Kitty Hawk, the Challenger Space Shuttle and Notre Dame Cathedral. Many of his works are in Ripley's Believe It or Not museums around the country. (matchstickmarvels.com)
John and Mary Pappajohn Sculpture Park: Des Moines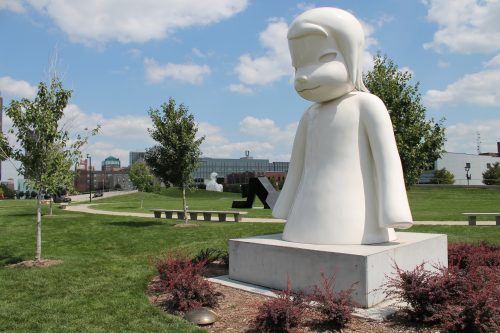 One of the most significant sculpture parks in the nation covers four acres of Western Gateway Park in downtown Des Moines. Donated by local philanthropists and art collectors John and Mary Pappajohn, the 28 works were created by 22 artists from around the world.
(desmoinesartcenter.org)
Grotto of the Redemption: West Bend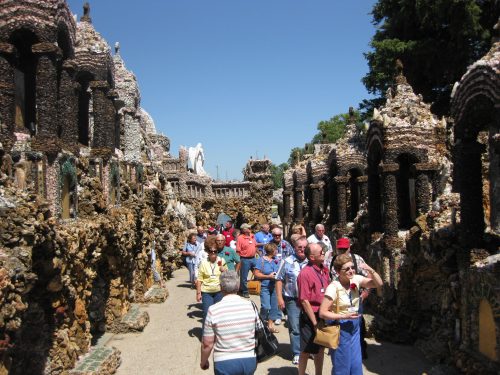 The world's largest known collection of crystals and gems in one location adorn this shrine to the Virgin Mary. Covering a city block and adjacent to Sts. Peter and Paul Catholic Church, the largest manmade grotto in the world was started in 1912 by Father Paul Dobberstein (1872-1954), who for 42 years cemented semiprecious stones in place for Stations of the Cross and other scenes in the life of Christ. He traveled far and wide, to such places as the Black Hills of South Dakota and Hot Springs, Arkansas, to gather rocks, gems, crystals and minerals. Jasper, malachite and amethyst are among the stones used. In 1946 another priest began working with Father Paul for eight years and then put in another 50 years himself. Even the restaurant and restrooms are plastered with polished stones. (westbendgrotto.com)
Historic Squirrel Cage Jail: Council Bluffs
No, this is not where naughty squirrels got locked up but rather a cylindrical, three-story jail with 10 pie-shaped cells on each level. Creaking mechanical gears would slowly spin the Pottawatomie County Jail so that the guard could stay put as he watched each prisoner's every action. Located inside an 1885 Victorian Gothic-style brick structure, the bizarre contraption (in use until 1969) is one of three rotary cell jails still in existence.
(thehistoricalsociety.org)
Bridges of Madison County: Winterset Area
Madison County boasts the largest group of covered bridges in one area in the western half of the Mississippi Valley. Of the 19 wooden-roofed bridges built from 1855-1885 to preserve the roadways' large flooring timbers, six bridges remain at various locations in and around Winterset, the county seat. All have been renovated and/or moved, and one is a replica of a bridge destroyed by an arsonist. Two bridges were featured in the 1995 movie The Bridges of Madison County, which starred Clint Eastwood as a roving photographer and Meryl Streep as a lovelorn housewife. Nearly 100,000 people attend the Madison County Covered Bridge Festival the second weekend in October.  (madisoncounty.com)
National Balloon Museum: Indianola
Artifacts and memorabilia depict the history of hot-air and gas ballooning from 1783 to the present. Videos in the theater spotlight various aspects of ballooning, and the U.S. Ballooning Hall of Fame honors those who have made significant contributions to the sport. The building resembles two inverted balloons. (nationalballoonmuseum.com)
Grout Museum District: Waterloo
One of Iowa's great cultural treasures, this cluster of museums is a magnet for group travelers. The Sullivan Brothers Iowa Veterans Museum honors the sacrifice of all Iowa veterans from the Civil War to the present. Named after five brothers who died aboard a Navy cruiser in World War II, it includes 35 interactive exhibits and an electronic Wall of Honor. The Grout Museum of History & Science focuses on regional history, flora and fauna, while the Bluedorn Science Imaginarium features hands-on exhibits that demonstrate how science affects everyday life. The district also includes the Rensselaer Russell House Museum, an 1861 Victorian brick mansion. (groutmuseumdistrict.org)
For activity ideas on your next trip Subscribe for FREE to our newsletter.
---