Explore the intriguing Western history of the Cowboy State via picturesque backdrops, colorful towns and magnificent national and state parks in Wyoming
Whether you are an experienced adventurer or merely a lover of the great outdoors, few states can match the natural brilliance of Wyoming. With two photographic national parks, millions of acres of public land, thousands of lakes, and hundreds of miles of hiking, biking and snowmobiling trails, Wyoming's natural attractions appeal to groups of all ages. The Cowboy State is such an alluring destination with plenty of things to do, U.S. News & World Report rated it the No. 1 state to road trip.
Wyoming Things to Do Check List:
Yellowstone National Park
Grand Teton National Park
Devils Tower National Monument
Buffalo Bill Center of the West
Museum of the Mountain Man
Fort Fetterman
Bighorn Canyon National Recreation Area
Flaming Gorge National Recreation Area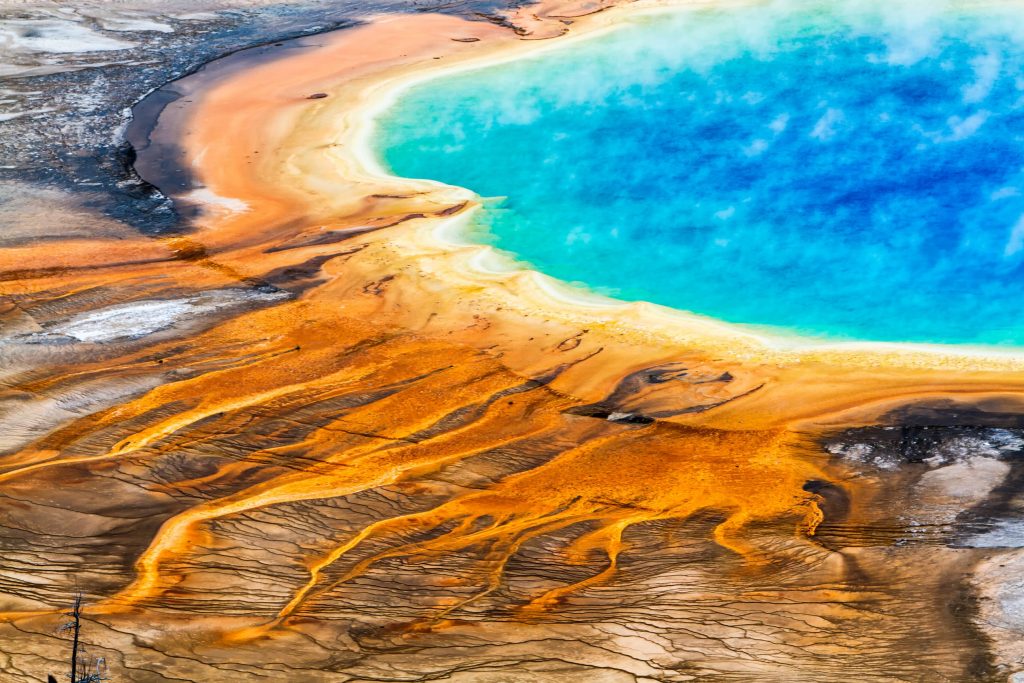 Yellowstone National Park
The world's first national park and perhaps the most famous, Yellowstone was established in 1872 by President Ulysses S. Grant. For generations, Yellowstone has captivated visitors with its spectacular scenery, diverse ecosystems and fascinating geothermal wonders. On March 1, 2022, the park celebrated its 150th anniversary.
Yellowstone, which covers two million acres, contains the largest number of active geysers in the world, including the iconic Old Faithful, which was named for its frequent eruptions that have totaled more than a million since 1872. The park is also home to hundreds of hot springs and pools, including the spectacular Grand Prismatic Hot Spring, the third largest spring in the world (370 feet in diameter) featuring rainbow colors of orange, yellow, green and blue.
Grand Teton National Park
Located just north of Jackson, Grand Teton's stunning landscapes and diverse wildlife provide the ideal location for those who want to embrace the great outdoors.
Grand Teton is home to 310,000 acres of mountain meadows, extraordinary wildlife, and pristine alpine lakes which thrive against the backdrop of the majestic Grand Teton Mountain Range. Groups looking for a memorable outing can embark on a 42-mile scenic drive through the heart of Grand Teton, giving visitors fabulous views of the Tetons and the chance to spot an array of wildlife. Those who want to stretch their legs and breathe in the crisp mountain air can hike to Inspiration Point and Hidden Falls, both of which are located on the same scenic hiking trail and are also easily accessible by a boat ride across scenic Jenny Lake.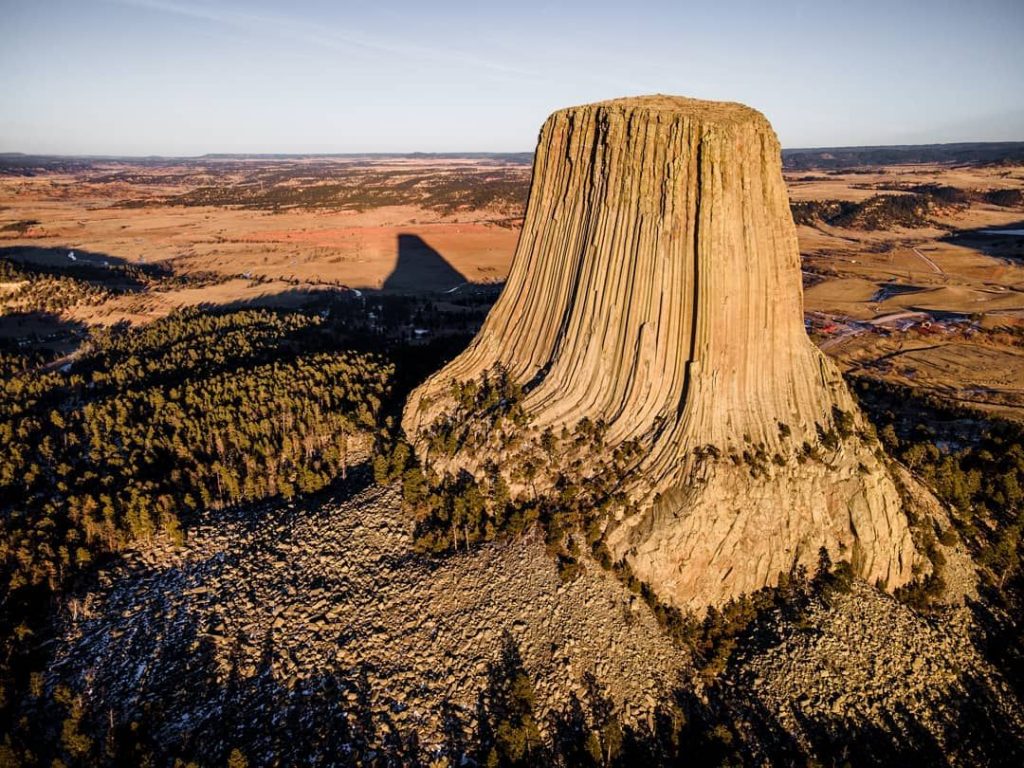 Devils Tower National Monument
The first national monument, Devils Tower was established in 1906 by President Theodore Roosevelt. This awe-inspiring and one-of-a-kind laccolith butte rises 867 feet above Wyoming's rolling prairies and has been accurately described as breathtaking. Featured in the 1977 Stephen Spielberg movie Close Encounters of the Third Kind, the tower is sacred to Northern Plains Indian tribes and the Black Hills region Kowa Tribe. The butte's markings are the basis for Native American legends, including one that claims a giant bear clawed grooves into the mountainside while chasing Indian maidens.
Native American culture has long been ingrained in Wyoming and remains an important part of the state's makeup. While Devils Tower is an important Native American site, it is but one of many. Wyoming's Wind River Country features the seventh largest Indian reservation in America. Encompassing more than 2.2 million acres, the Wind River Indian Reservation is home to the Northern Arapaho and Eastern Shoshone tribes. Visitors can go to powwows and museums to learn more about the local culture or can enjoy thousands of acres of vast, unspoiled reservation lands (with a special permit).
Wyoming Western History Comes to Life
It has been said the heart of the Old West still beats in Wyoming and its rodeo culture reinforces that line of thinking. Rodeo is Wyoming's state sport and is firmly ingrained in the heart of the state. Fans young and old flock to these events celebrating the art of cowboying.
Held annually since 1897, Cheyenne Frontier Days is the largest outdoor rodeo and Western celebration in the world. Cody is known as the Rodeo Capital of the World for good reason: The Cody Nite Rodeo started in 1938 and is the longest-running and only nightly rodeo (June-August) in the world. Rodeo has been a part of Jackson Hole's cowboy culture since the first settlers arrived more than 120 years ago and even today, it hosts raucous and fun-filled rodeos from Memorial Day weekend through Labor Day.
Another legendary western stop is the Buffalo Bill Center of the West, home to five museums under one roof. The center is located in the aforementioned Cody, a town founded in 1896 by Buffalo Bill Cody. The Wyoming Territorial Prison State Historic Site in Laramie was a U.S. Penitentiary in 1872 and later was Wyoming's first state penitentiary. It is also the only prison to hold the famous outlaw Butch Cassidy. The Grand Encampment Museum in Encampment highlights this town's local history and offers fun tours through 15 historic buildings that represent the copper mining, ranching and logging industries.
In Pinedale, the Museum of the Mountain Man presents a visual and interpretive experience into the area of the mountain man, the Plains Native American, the Oregon Trail, and other developments in this region of Wyoming. The museum sponsors programs, living history events and workshops for both children and adults to further explore Wyoming settlement history.
Wyoming National Historic Sites, Recreation Areas and more things to do
Visitors can explore a variety of national historic sites in Wyoming or explore a national scenic trail that spans five states and more than 3,000 miles. Fort Laramie National Historic Site in central Wyoming preserves and interprets one of America's most important locations in the history of westward expansion, hosting emigrants from the Oregon, Mormon and California trails, and Native American resistance.
In central Wyoming, Fort Fetterman epitomized the Wild West as it had shootouts, robberies and hangings, and hosted famous characters like Wild Bill Hickok, Calamity Jane and Buffalo Bill Cody. The Fort Bridger State Historic Site in southwest Wyoming was founded in the early 1800s and was a hub of activity for westward-bound pioneers, American Indians, U.S. Army personnel and Oregon Trail journeyers. You can walk among 34 historic structures and recreated buildings, from homestead cabins and a schoolhouse to a Pony Express barn and officers' quarter.
Some of the world's best-preserved fossils are found in the ridges of southwestern Wyoming's sagebrush desert at in central Wyoming,. Visitors can explore one of the world's largest deposits of freshwater fish fossils at Fossil Butte, which recently celebrated its 50 birthday. The visitor center contains more than 300 fossils on display, and visitors can also take a ride along the site's scenic drive.
Bighorn Canyon National Recreation Area is a land time forgot as geologic forces have created spectacular 1,000-foot cliffs that loom over Bighorn Lake. With more than 120,000 acres of wilderness that straddle northern Wyoming and southern Montana borders, and more than 12 hiking trails ranging in length and difficulty, Bighorn Canyon offers endless opportunities for adventure.
Located in the southwest corner of Wyoming, the Flaming Gorge National Recreation Area features breathtaking scenery and is the perfect setting for boating, fishing and hiking. It's also a great place to take a scenic drive where you will see a wide array of wildlife like moose, Rocky Mountain elk, antelope and bighorn sheep.
Wyoming contains 12 state parks that span more than 100,000 acres of the state's wide-open landscape. At Sinks Canyon State Park, visitors can explore the Popo Agie River, which disappears and reappears through the geological wonders of the Sinks Canyon. At Bear River State Park, keep an eye out for bison, elk and other area wildlife while enjoying beautiful natural surroundings. Boysen State Park offers a variety of water sports along the Boysen Reservoir and covers 35,000 picturesque acres at the south end of the Owl Creek Mountains.
Dude Ranches
In 1904, the term 'dude ranch,' an all-inclusive immersive vacation that includes lodging, meals, horseback riding, fishing and more, was coined at Eatons' Ranch, the country's first and oldest dude ranch. To this day, Eatons' Ranch, in Wolf still entertains guests with a Western flair on its 7,000 acres of beautiful open country with rolling hills, grassy meadows and hidden valleys. Wyoming's open plains and mountain views make it the perfect state for dude ranches and it is home to a multitude of excellent ones throughout the state.
Scenic Byways
As U.S. News & World Report understands, Wyoming road trips are second-to-none. The Rocky Mountains and the High Plains meet in Wyoming, resulting in stunning views in every direction. Wyoming has 21 scenic byways that twist, turn and climb through some of the state's most breathtaking landscapes.
Among some of its most picturesque byways include the Beartooth Scenic Byway,an All-American Road located just east of Yellowstone National Park, it winds through the Shoshone National Forest; Bighorn Scenic Byway, which passes through Bighorn National Forest and features views of ranchlands, limestone outcroppings and various mountain peaks; and the Snowy Range Scenic Byway, which features views of Wyoming's towering Medicine Bow Peak.
For activity ideas for your next trip Subscribe for FREE to our newsletter.
By Jason Paha