Travel back to the Wild West with a visit to Cheyenne, Wyoming with rodeos, Western folk art, authentic saloons and original artifacts
The itinerary at a glance
Visit the home of the World's Largest Outdoor Rodeo & Western Celebration. A narrated trolley ride takes you back to the days of the Wild West. Visit the Cheyenne Botanic Gardens, the Wyoming State Capitol and the Terry Bison Ranch, and tour a former launch military facility from the Cold War-era. Dining options show off Cheyenne's variety of cuisine and libations, embracing both the history and future of the "Magic City of the Plains."
Duration: 3 Days
Cheyenne Must-Do List:
Cheyenne Frontier Days Old West Museum
Cheyenne Depot Museum
Cowgirls of the West
Terry Bison Ranch
Wyoming State Capitol Building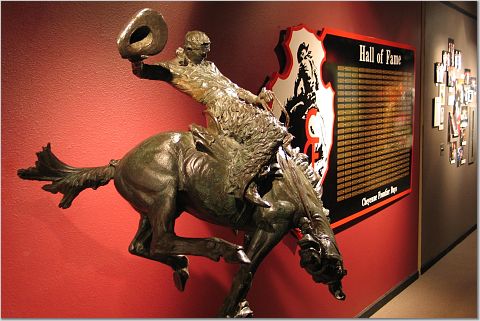 DAY 1: An Old West museum and more things to do in Cheyenne Wyoming
If you're planning to visit during Cheyenne Frontier Days (always the last full week of July), you're in for an immersive experience into cowboy culture with plenty of things to do. In addition to professional rodeo events, there's live entertainment, a carnival midway, a chuck wagon cookoff, live Native American cultural performances in the Indian Village and more. However, if you are unable to make the big event, get a slice of the 10-day festival any time of year at the Cheyenne Frontier Days Old West Museum. Learn the history of rodeo in Cheyenne and view one of the largest carriage collections in the United States, as well as historical clothing and artifacts. Western art and folk-art shows rotate through the gallery throughout the year. Groups can get a first-hand look at what goes on the athlete side of the rodeo arena by prearranging a Behind the Chutes Tour.
Next, venture across the street to the beautiful Lions Park and the Cheyenne Botanic Gardens. You'll discover award-winning displays of plants, shrubs and trees from around the world. The tropical plant collection in the Shane Smith Grand Conservatory is a pure delight and green all year round. Then, it's lunch on your own in downtown Cheyenne. Choose from Cajun, burgers or a brewery in a historic building, upscale and classy, meat and potatoes, or soup and sandwiches. You're sure to find the perfect item to please your palate.
Kick off the afternoon with the Cheyenne Street Railway Wild West Tour. This 90-minute chartered or ticketed tour puts the city's most interesting sites and historical buildings on full display with a spirited narration by a knowledgeable conductor.
Continue your afternoon at the Cheyenne Depot Museum located inside the historic Union Pacific Railroad Depot. Exhibits tell the story of why Cheyenne was selected for the depot along the Transcontinental Railroad and its years as a "Hell on Wheels" town. Views of the roundhouse, steam shop and rail yard are enjoyed from the second floor, next to an impressive model train setup.
Check into your Cheyenne group-friendly hotel. There are dozens, from national flags to locally owned and operated. Settle in before departing for dinner at Wyoming's Rib and Chop House. The menu offers an extensive list of premium steaks, fresh fish and house specialties.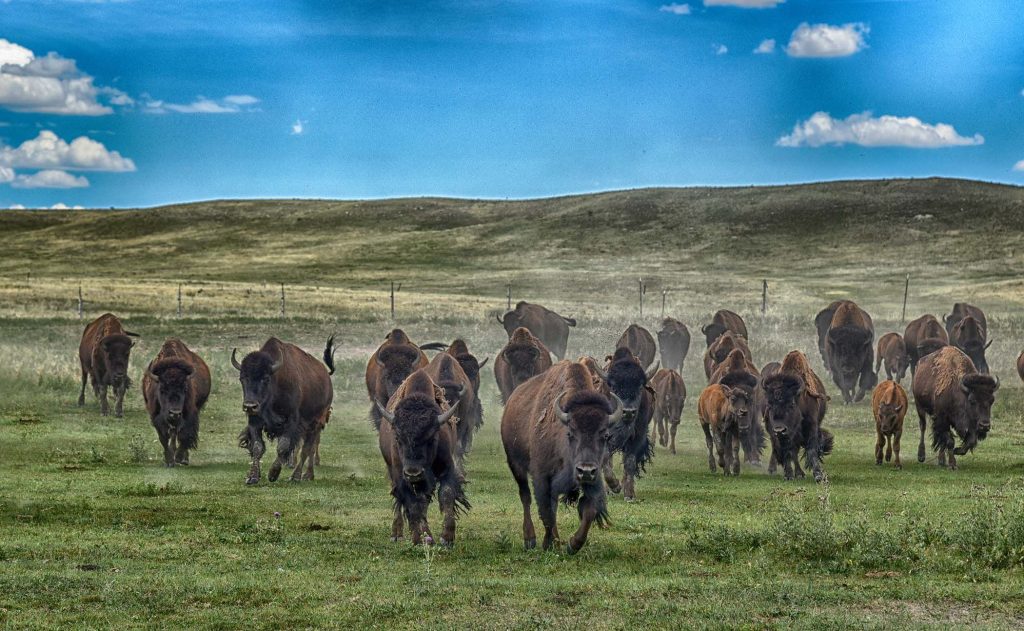 DAY 2: Wyoming history past and present  
Enjoy breakfast at your hotel before heading downtown for a visit to the Nelson Museum of the West. This Old West heritage museum has a wide variety of exhibits covering older Western cultures, including cowboy, charro, art, Native American and military aspects. The next stop is Cowgirls of the West, dedicated to the history and legends of pioneering Western women. Allow time for a little shopping at the Emporium, or other downtown shops and boutiques where you can dress like a local.
After a bite at your choice of restaurant downtown, make your way to the Wyoming State Capitol Building for a guided tour highlighting the recent $300 million restoration project of the building. Rich with art and architecture, the People's House is worth a wander — and only steps away from both the Historic Governor's Mansion and the Wyoming State Museum.
Depart for the Terry Bison Ranch where their mission is to provide something fun for every group. Begin with a ride on the well-known bison train for up-close interaction with the majestic animal and a history tour of the ranch. The Cheyenne Wyoming Delivers the Authentic West to Visitors has Western gifts and one-of-a-kind photo opportunities. The adventurers in the group could consider taking a horseback trail ride or ATV tour. Enjoy dinner tonight at the ranch's Senator's Steakhouse and Brass Buffalo Saloon. The menu features choices regardless of your taste, but the bison short ribs and bison burger are award-winning crowd-pleasers.
If you are still in for more fun, extend your evening at The Chinook at Terry Bison Ranch for a live concert experience or to The Outlaw Saloon, Cheyenne's honky-tonk, featuring a lineup of country music acts. Then, return to your hotel for a well-deserved good night's sleep!
DAY 3: Cheyenne culinary delights and more things to do
Breakfast, checkout and depart Cheyenne traveling North on I-25. It's about a 30-minute drive to the Quebec 01 Missile Alert Facility State Historic Site. Originally constructed in 1962 as a Minuteman I Launch site, it was converted in 1986 to a Peacekeeper site. It was one of five flights of Peacekeeper Missile Alert Systems and the only one that visitors can tour. Depart Quebec 01 for the 15-minute drive to the Chugwater Soda Fountain, the state's oldest still operating soda fountain. The stop couples well with lunch at the Stampede Saloon and Eatery.
Our Wyoming Itinerary Guide offers additional activity ideas for your next trip and you can Subscribe for FREE for more travel content.

Visit Cheyenne
Andi Jaspersen (Group Sales)
(307) 772-7254 (direct)
#CWY #CheyenneWY
Request Information from Cheyenne