West Region
Genghis Khan Invades Reagan Library
California
The most comprehensive exhibition of Genghis Khan and his treasures invades the Ronald Reagan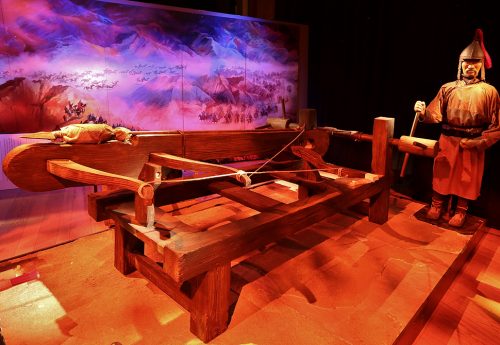 Presidential Library through August 19, 2018, its only Southern California stop on an international tour that has drawn more than a million visitors.
As the exhibit strikingly portrays, Genghis' reputation as the greatest conqueror is welldeserved. He dominated three times more land in his lifetime than either Julius Caesar or Alexander the Great, a conquest attested to by the formidable array of swords, bows, arrows, saddles and armor included on display in Genghis Khan. In fact, the historic exhibition showcases hundreds of artifacts from Genghis' 13th century empire, the largest such collection ever to tour.
However, this special exhibition presents a more complete image of the legendary leader whom Time Magazine and CNN named "The Man of the Millennium." As visitors discover, Genghis not only created the nation of Mongolia and its written language, but his lineage established the modern borders of India, Iran, Korea and China as well as opened the trade routes that united East and West forever.
Foodways of the West Honored During 34th National Cowboy Poetry Gathering
Nevada
Not surprisingly, Western cattle ranching communities prepare a lot of beef. With immigration came food traditions that mixed with Native American cuisine. All will be represented in workshops and presentations at the 34th National Cowboy Poetry Gathering from January 29 to February 3, 2018 in Elko, Nevada.
The event honors the contemporary culture and heritage of Basques and buckaroos in the Great Basin and the Basque Country, including their food traditions. Hands-on workshops are a popular part of the event, and those that teach foodways are usually the first to sell out.
Dead Sea Scrolls in Denver
Colorado
The Denver Museum of Nature & Science will host the regional premier of The Dead Sea Scrolls: A Breathtaking Exhibition of an Ancient World Brought to Life. This once-in-a-lifetime opportunity to see authentic Dead Sea Scrolls—ancient manuscripts that include the oldest known biblical documents—runs from March 16 through September 2018. The scrolls will be dramatically presented within a massive exhibit case featuring carefully regulated individual chambers and a full English translation.
In addition, the largest collection of artifacts from the ancient Middle East ever assembled for display will immerse guests in historic traditions and beliefs that continue to impact world cultures today. The authentic objects include inscriptions and seals, weapons, stone carvings, terra cotta figurines, coins, shoes, textiles, mosaics, ceramics and jewelry.
The experience features a re-creation of the Western Wall from the old city of Jerusalem with a three-ton stone from the wall believed to have fallen in 70 CE. Guests may leave their handwritten notes with prayers that will be sent to Israel and placed at the wall.