Berlitz has just introduced River Cruising in Europe, a guidebook that discusses shipboard life and popular destinations, with descriptions and ratings of 280 ships that ply the Danube, Rhine and other great rivers.
European river cruising has been growing by leaps and bounds, and now Berlitz has published a book that tells everything you need to know about the phenomenon.
River Cruising in Europe by Douglas Ward (256 pages, $19.99) is a companion book to the author's Complete Guide to Cruising & Cruise Ships, a Berlitz publication celebrating its 30th anniversary this September. As in his book on ocean cruising, considered the bible of cruise guidebooks, Ward rates the ships on a star system.
European river cruising has seen a 10 percent rise in bookings per year since 2008, and the top lines are constantly unveiling new riverships. More than one million people took a river cruise in 2013.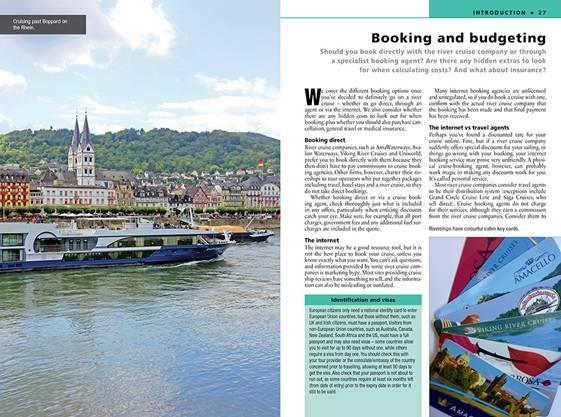 The book's first 100 pages, on glossy paper with color photos, paint a picture of the river cruise industry and the most popular destinations. Ward profiles the major cruise operators, offers tips on booking and budgeting, tells what to do if certain problems arise, and discusses life onboard (from air-conditioning and baggage handling to smoking, security and swimming pools). He also goes into the pros and cons of river cruising while offering comparisons to ocean cruising. The book also addresses shore excursions, rivership design and layout, and problems the disabled may encounter.
In the section "What the Brochures Don't Say," Ward gives pithy answers to questions like "Who's got the best food?" (Answer: "My top choices in Europe would include AmaWaterways, Viking River Cruises and Uniworld.") and "Is river cruising for solo travelers?" (No, it's designed for couples, he says.)
Also helpful are river facts, river maps, and what to see and do in ports along the Danube, Elbe, Rhine and its tributaries, Rhone, Seine, Po and Douro.
The last 140 pages are devoted to short descriptions of more than 280 riverships (two per page), each evaluated on its strengths and weaknesses. The rating system is based on one to five stars, though none of the vessels are rated one- or five-star. The highest-rated riverships are those of AmaWaterways, which earn a 4+ rating. The star ratings are based on a maximum total of 500 points, with a possible 100 points in five criteria—Hardware, Accommodation, Cuisine, Service and Miscellaneous.
The vital statistics on each ship (i.e. manager/operator, year launched, number of decks and cabins, rivers sailed) are followed by a summary paragraph and the points awarded in each of five categories. A banner sentence sums up the ship in a nutshell. For CroisiEurope's Beethoven, for example, it reads, "This fuss-free French ship is comfortable but dated." For Ama Waterways' AmaBelle: "A tip-top contemporary rivership known for its high-quality cuisine."
In his description of the AmaBella, Ward writes, "The food and service is what passengers remember most after their cruise because this company spends more on food and wine than most."
Based in England, Ward spends about nine months of the year at sea and emphasizes that he has no commercial links with any cruise operator. He is president of Maritime Evaluations Group, an independent international agency that rates cruise ships worldwide.
Considered the world's foremost authority on cruising, Ward has made appearances on the Today Show, Good Morning America, NBC Nightly News and CNN. He also is a composer, a musician specializing in the accordion, and acts as a judge at many music competitions throughout Great Britain.
By Randy Mink