As they continue to grow their fleet, MSC Cruises  has new ships set to debut in 2021. One is the MSC Virtuosa, and the other is the MSC Seashore.
The MSC Virtuosa is one of the line's Meraviglia-Plus class of ships, while the MSC Seashore is a sister ship of the MSC Seaside. Both vessels have some first-to-market features as well as continuing on with features on the previous ships.
MSC Seashore
Scheduled to debut in the Mediterranean, the MSC Seashore will arrive in Miami on November 17, 2021.  Described as giving guests an enhanced version of the MSC Seaside, the MSC Seashore will feature some new venues, more massive outdoor spaces and the largest MSC Yacht Club. Starting in November 2021, the MSC Seashore will be offering 7-night Eastern and Western Caribbean and Bahamas cruise itineraries. These will include stops at Ocean Cay MSC Marine Reserve.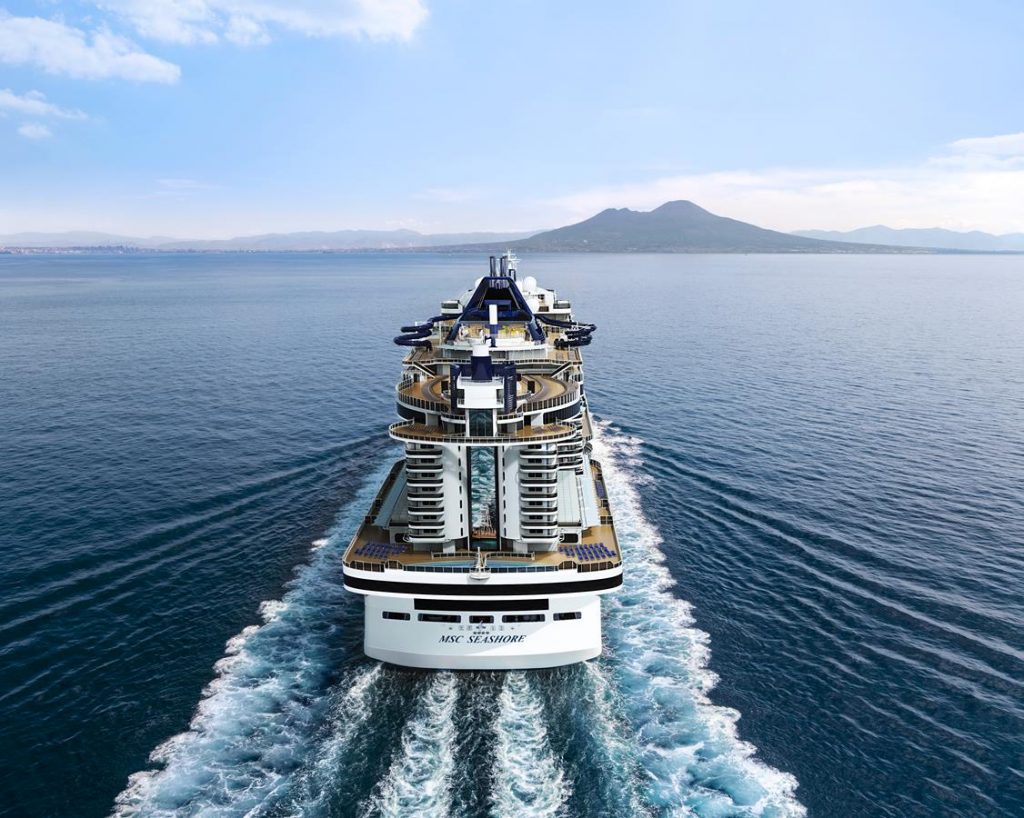 Outdoor Spaces and Connecting Guests with the Sea
As far as the expanded outdoor space, MSC Cruises' pulse is to "connect guests with the sea." And on the MSC Seashore, a new glass-floor Bridge of Sighs on Deck 16 will hang more than 70 feet above the infinity pool, which is located on Deck 8. The infinity pool extends right up to the end of the ship and includes sunbeds sunken in the water. It is one of the largest infinity pools at sea. There will also be two new infinity whirlpools on Deck 8 that will be located on each side of the outdoor promenade. Each of these whirlpools has 20 seats that face out to sea.
The Long Island Pool, the ship's main pool, will feature two different depths. One will be for standing, the other for swimming. A water fountain island will be in the center. And there will be a new connection to the children's Pirate Cove-themed waterpark. The MSC Seashore will also have the Jungle Pool, which sits underneath a magrodome that can be closed off if needed.
MSC Yacht Club on MSC Seashore
Continuing with MSC Cruises' "ship within a ship" area, the MSC Yacht Club on the MSC Seashore is larger than ones on their other ships. The space is more than 32,000 square feet on four decks and will feature 131 suites across five categories.  The brand-new Owner's Suites offer over 1,000 square feet, along with a private balcony and outdoor living area with a whirlpool.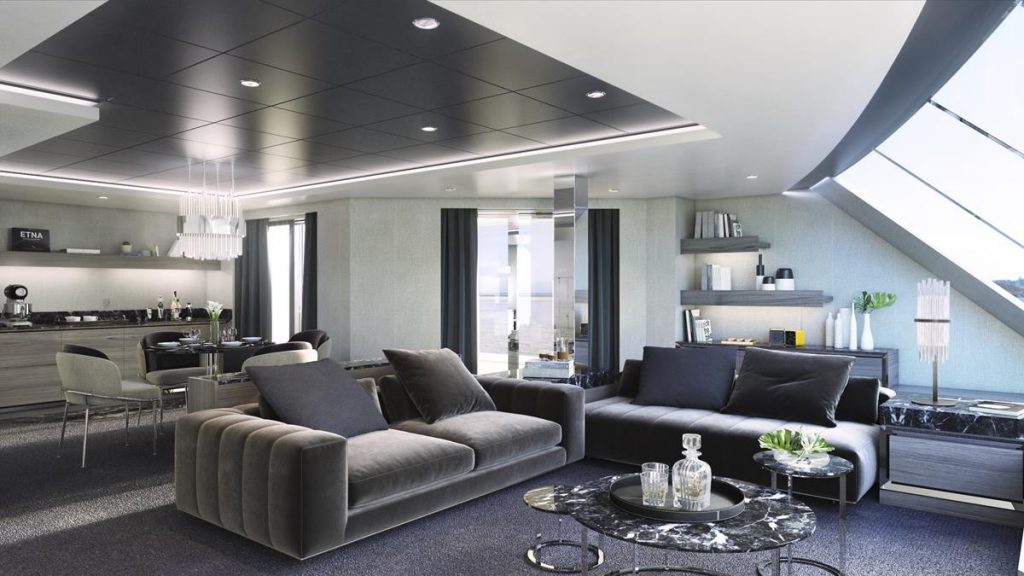 And the space in the MSC Yacht Club now includes an extended pool area with a new panoramic whirlpool. This is in addition to the standard whirlpool, the Top Sail Lounge and the private restaurant.
New Cuisine Options Let Guests Be "Closer to the Sea"
The MSC Seashore lets guests truly enjoy eating and drinking "closer to the sea" with some new outdoor cafe areas. The ship's Chef's Court, where five specialty restaurants are located, now will be on Deck 8.  Part of Chef's Court is Butcher's Cut, and for the first time, guests will be able to dine outside.
The Sky Bar, the ship's buffet, will also feature an outdoor dining area.
MSC Virtuosa
A sister ship to the MSC Grandiosa, the MSC Virtuosa is the fourth Meraviglia class ship in MSC Cruises' fleet.  MSC just took delivery of the MSC Virtuosa, and she is scheduled to enter service April 16. After four Mediterranean sailings, she will move to Kiel, offering diverse summer itineraries in Northern Europe.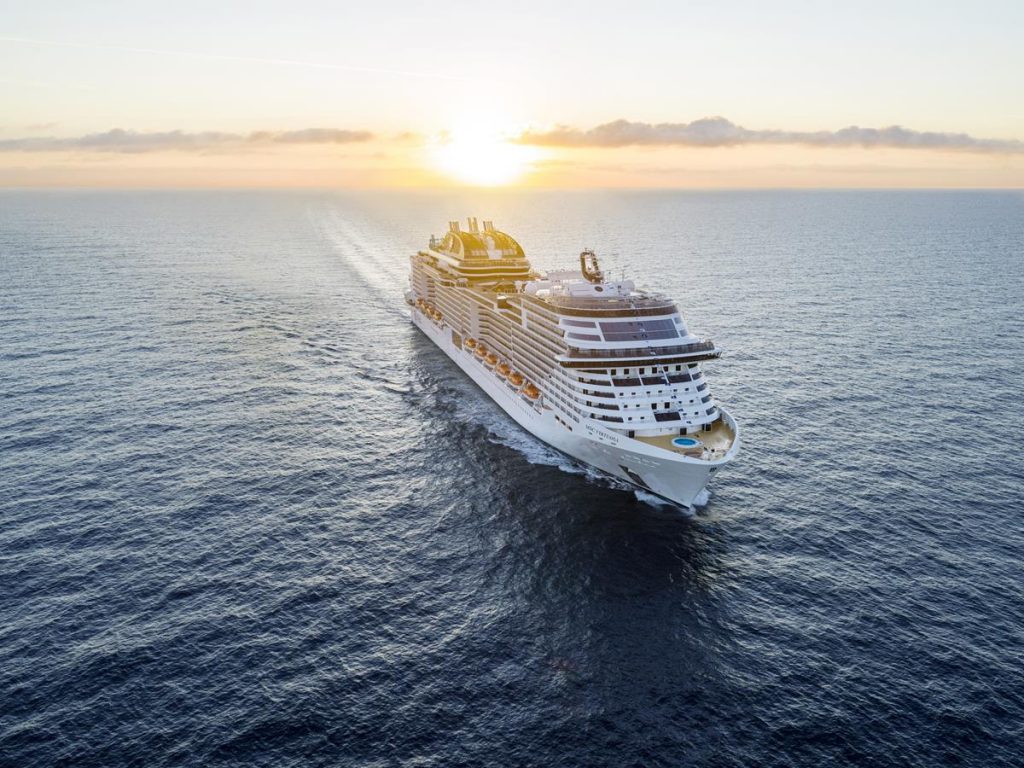 Culinary Offerings
In addition to five main dining rooms, and a 1,336-seat buffet, the MSC Virtuosa has five specialty restaurants as well as 21 bars and lounges. Two of the specialty restaurants are new ones – Hola! Tacos & Cantina and Indochine.  The latter features Vietnamese classics with a French twist. Hola! Tacos & Cantina, open for lunch and dinner, offers a selection of Mexican- and Latin American- inspired dishes and drinks, plus a new Mexican ice cream taco bar.
Humanoid Robotic Bartender
The MSC Starship Club provides a unique experience for guests to enjoy. Inspired by MSC Cruises' vision of the spaceship of the future, this integrated bar and entertainment experience features an exclusive first at sea. Rob, the humanoid robotic bartender, will mix and serve his signature cocktails, including alcoholic and non-alcoholic beverages, as well as personalized drinks.  Rob can speak eight languages – English, Italian, Spanish, German, French, Chinese, Japanese and Brazilian Portuguese. And he is able to engage with the guests with his voice and human-like expressions, creating a fully immersive bar experience. The area includes 3D holograms, a digital art wall and a 12-seat infinity digital interactive table. Guests can explore space with their own personalized galactic tour.
The cosmic cocktails are served in custom-designed, futuristic glasses that guests can collect as a special souvenir of their MSC Starship Club experience. They can return to the MSC Starship Club multiple times during the course of their cruise and enjoy new interactions with Rob each time.
MSC Cruises' Continued Growth
Once the MSC Seashore debuts, MSC Cruises will have 19 ships, with four additional vessels coming out by 2025.  MSC Cruises also continues to look to the future when it comes to guest experiences, as the line is always seeking ways to employ the latest technologies and develop new innovations. In addition, MSC has successfully implemented safety and health protocols.
With new ships debuting, it provides more options to consider when planning your next group cruise.
---
Cindy Bertram has 15+ years of cruise industry expertise in marketing, content creation, sales and training as well as social media. Her MBA from Loyola University Chicago complements her high creative edge and liberal arts BA. She can be reached at cindy@ptmgroups.com.