Continuing education for the group travel industry
We put together these resources with two purposes in mind.
To help travel suppliers better understand and comprehend the landscape of the leisure group travel industry.

To assist group travel buyers plan better trips, tours, retreats, missions, reunions, and competitions.
Our mission is to help the group travel industry better understand each other and succeed in the 21st century. Enjoy the journey!
Video Series
---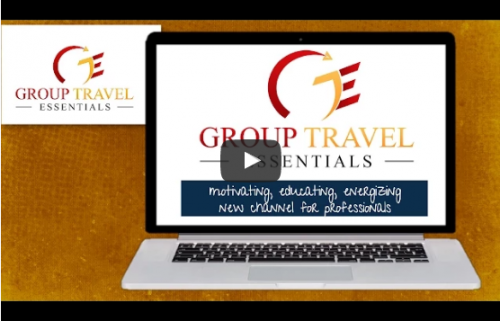 Group Travel Essentials Video Series – What's Inside:
We invite you to begin watching our video series, start applying the new strategies you learn, and you will achieve greater success and happiness! Stuart Lloyd Cohen, the travel industry's foremost group travel expert, is producing Group Travel Essentials to show you how to be even more successful as a group travel professional.
Brilliant EFFICIENCY tools that keep you from group overload
TOUR LEADER keys to success (do these before it's too late)
MARKETING STRATEGIES for selling more, selling up and selling out
Ways SMARTER PACKAGING elevate the value proposition
Proven PRESENTATION TIPS that increase influence
Things you must do to AVOID GROUP DISASTERS
<<<< Click the Video to Begin
Whitepapers and Guides
---
Operating a Successful Gaming Tour for Your Group- What's Inside:
Working with casinos can be one of the most challenging, yet one of the most profitable endeavors that tour planners can undertake.
The gaming industry and its relationship with tour operators have evolved greatly over the past 35 years and continue to evolve today. The degree to which casinos cater to the group tour industry tends to be inconsistent and cyclical, based on leadership, profits, and supply and demand.
Click the cover to explore this whitepaper to learn about the history and best practices on how to plan your own successful gaming tour.
<<<< Click the Cover to Download Instantly for FREE
---
Uncovering Unique Experiences in Columbus- What's Inside:
The travel industry has shifted due, in large part, to travelers' changing demands. Experiential travel isn't a new term. In fact, it's been around for more than a decade. The trend emerged as consumer demand for more enriched lives through genuine, engaging activities grew. Experiential travel, or immersion travel, is a form of tourism where visitors discover a destination through active connections with local culture, history, food and people. Experience Columbus recognized the switch in consumer behavior early in the game. To stand out in a crowded travel market, the city adjusted its focus to provide visitors one-of-a- kind experiences that introduced them to Columbus in a whole new way.
<<<< Click the Cover to Download Instantly for FREE
---
Voyages Cruise Guide – What's Inside:
VOYAGES IS A SEPARATE DIVISION within U.S. Tours and has built partnerships with many of the world's leading cruise lines, making us Group Cruise Headquarters for members of the American Bus Association (ABA) and Select Travel Market. We are focused exclusively on group cruises and are always looking for unique opportunities for our customer base. If you are a tour planner and need help with a cruise, we are your one-call shop.
<<<< Click the Cover to Download Instantly for FREE
---
Ski The Alps – What's Inside:
Our "Ski the Alps" whitepaper starts off with 11 great reasons for groups to plan a winter vacation in the Alps, the very place where the sport got its start. With resorts built around centuries-old villages, visitors are able absorb history and traditions while experiencing the original après-ski and reveling in perfect snow, which is generally powdery and fluffy well into spring.
In addition to ski information, these country profiles offer suggestions for off-the-slope activities at each resort, plus fun city excursions.
Rounding out the coverage is a page with practical tips and a map that pinpoints Alpine resorts. It touches on how to get there, when to go, money matters, languages spoken, lifts and gondolas, lift tickets, equipment rentals and ski schools.
<<<< Click the Cover to Download Instantly for FREE
---
How to Organize a Successful Group Cruise – What's Inside:
Cruising is one of the most popular group options available today, but with the continual expansion of the cruise industry—new lines, more ships, more port options—planners are faced with a lot to sort out. This detailed ebook includes overviews of the 27 biggest cruise lines, how to choose the right cruise itinerary and ship, and insider tips. How to make the right choices during the planning process, including booking space and extra incentives and perks, are at your fingertips.
Why Cruises Make an Excellent Trip Choice for Your Group
Key Things Involved When Booking Your Group
Choosing a Cruise Itinerary & the Right Ship
15 Key Considerations When Selecting a Cruise
Some Perks Involved When Booking a Group
<<<< Click the Cover to Download Instantly for FREE
---
Cooking Up Irresistible Itineraries – What's Inside:
What constitutes a great itinerary? We talked to tour operators and asked them what they looked for when considering new destinations. We researched market trends in the "niche" travel group sector. We took stock of sample itineraries and poured our findings into a must-have whitepaper for any CVB, Cooking Up Irresistible Itineraries.
20 themed itinerary ideas
4 steps to getting the right cooks in the kitchen
Your "must-have" ingredients
8 digital publishing and promotional hacks
<<<< Click the Cover to Download Instantly for FREE
---
A Hotel Sales Manager's Guide to Growing Business – What's Inside:
When hoteliers learn to think like a tour operator, a group leader, a reunion planner, church leader, a coach or band director you'll outperform your competition, thrive in your position and increase your hotel's profitability. Everybody wins!
12 ways to make your hotel group-friendly
Sizing up the group market
Insider tips on working with: Senior Group Tours Affinity Travel Groups Student/Youth Market Sports Team Travel & Tournaments Reunions Religious Travel Groups
<<<< Click the Cover to Download Instantly for FREE
---
Packaging Experiential Tourism – What's Inside:
Never before has packaged group travel been more important to both destination marketing organizations and their partners. With tour planners looking to DMOs and their partners for fresh itinerary ideas, it just makes good business sense that suppliers are ready, willing and able to server their needs.
5 segments of the packaged tour market
The difference between retail tours and preformed groups
5 principle reasons why people go on tours
Defining what the tour market needs
Who's buying what?
<<<< Click the Cover to Download Instantly for FREE
---
Rock Star Supplier Series – What's Inside:
Based on two and half decades of boots-on-the-ground experience, this whitepaper helps your business become a rock star in the eyes of your customers. Learn time-tested tools and newly minted tricks of the trade.
Laying the foundation of your group sales strategy
How to hire the right group sales person
Who's buying and what? There really is a difference
What do tour buyers really need?
6 tips for building the ideal profile sheet
Your guide to successful partnering & packaging
What industry trade shows are right for you?
<<<< Click the Cover to Download Instantly for FREE
---
There's Nothing Blue About SMERFs – What's Inside:
Search Google for SMERF tourism and more than 25,000 results appear – the overwhelming majority addressing the meetings sector. While packaged group tours are often ignored when addressing SMERFS, this White Paper is about finding opportunities for packaged group travel in these traditional membership organizations.
Social –Special interest groups are ideal for packaged travel
Military – Savvy suppliers are looking to this segment for promising business opportunities
Educational – Learning experiences are great for groups young & old
Religious – Faith-based groups offer an expansive market for travel destinations
Fraternal –Greek, civic & other organizations serve as dependable & rewarding packaged travel groups
<<<< Click the Cover to Download Instantly for FREE
---