Across the southern region of Minnesota you will find a variety of activities and landscapes. The spirit and traditions of the Dakota Indians and early pioneers are recalled at numerous historic sites. Southern Minnesota communities are known for their antique shops, historic architecture and ethnic festivals.
3 Unique Experiences on This Trip
[list line="no" style="style1″]
National Eagle Center
Minnesota Marine Art Museum
Spam Museum
[/list]
Duration: 6 Days
Available: Year-round
This Itinerary is Ideal For: All
Itinerary Details
---
Day 1
Arrive to MSP International Airport and take advantage of many complimentary shuttles to nearby Bloomington hotels to overnight. Shuttles can take you to dinner and shopping at Mall of America.
Day 2
Pick up the Great River Road – Highway 61 and enjoy the breath-taking views of the Mississippi River as you travel south.
Arrive in Red Wing for a visit to antique shops and the historic St. James Hotel. Visit the flagship Red Wing Shoe Store to see the world's largest boot museum, and full-floor outlet center.
Stop into Red Wing Stoneware & Pottery, take a factory tour and leave with an appreciation of the time and talent that is required to produce stoneware.
Enjoy lunch at one of more than a dozen well-reviewed Red Wing restaurants.
Next, it's on to Wabasha and the National Eagle Center, home to non-releasable bald and golden eagles. Visitors will have the opportunity to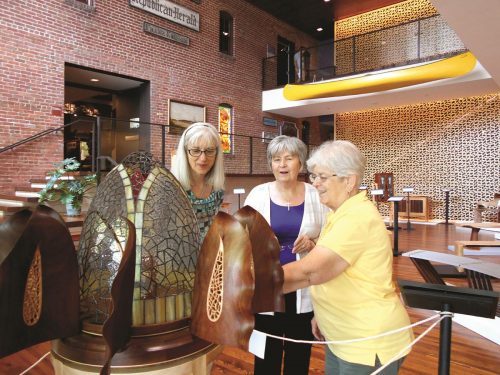 see indoor and outdoor viewing areas of eagles nesting along the Mississippi River. Just a short drive down the road is Kellogg, home of the largest independent, specialty toy store in the country. Lark Toys was recently named the "Best Toy Store in Minnesota" and specializes in handmade wooden toys.
Arrive in Winona and visit the riverfront Minnesota Marine Art Museum, home to major works by Picasso, Van Gogh, Monet, O'Keeffe and many others. The 90-minute Winona Boat Tour is a narrated tour of the Mississippi River. Following dinner in a downtown restaurant, you'll explore the heart of Winona with Pointour Historic Walking Tours. Overnight in Winona.
Day 3
Breakfast at your hotel before departing for Historic Forestville and a scenic tour of Minnesota's longest cave at 13 miles underground, Mystery Cave. Depart for Austin with lunch on the way.
Arrive in Austin and your first stop, the Spam Museum, is where the story of Hormel Foods Corp. is told. The next stop is to tour the Hormel Historic Home, the stately 14-room home of the George A. Hormel family. Complete your afternoon by getting creative with a hands-on experience at Austin ArtWorks Center. Enjoy dinner at a highly rated restaurant before overnighting in Austin.
Day 4
After breakfast at your hotel travel to Worthington to tour Spomer Classics, one of the finest automotive collections in the Upper Midwest. There's plenty of automotive memorabilia and numerous porcelain/neon dealership signs.
The first stop in Luverne is the Brandenburg Gallery, named after noted wildlife photographer Jim Brandenburg. There are more than 100 original pieces on display. Lunch on your own, then it's on to Blue Mounds State Park featuring a Sioux quartzite cliff, bison herd and a sea of prairie grass and flowers.
Pipestone National Monument in Pipestone is home to the historic Pipestone quarries, beautiful tallgrass prairie and majestic Winnewissa waterfall. For countless generations, American Indians have quarried the red pipestone found at this site. These grounds are sacred to many people because the pipestone quarried here is carved into pipes used for prayer. American Indains continue the tradition of pipe making here today. Organized interpretive programs are avail-able; programs may include talks, guided walks, multimedia presentations or other activities.
Day 5
Breakfast at the hotel and depart for Walnut Grove. Tour the Laura Ingalls Wilder Museum featuring a series of buildings including a 1898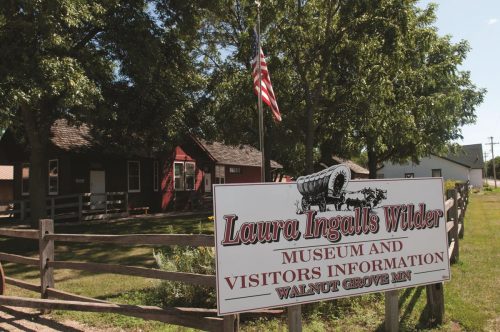 depot, chapel and little red schoolhouse, plus memorabilia from stars of the "Little House on the Prairie" TV series.
Traveling on to New Ulm, the first stop is the Lind Home, erected in 1887 by John Lind, Minnesota's 14th governor. Next, visit the Hermann the German Monument. The statue is an impressive remembrance of the Deutsch Germanic ancestry for many Minnesotans and commemorates a Deutsch victory over the Romans. Tour Schell's Brewery, the second-oldest family-owned brewery in the country, that ends with a beer and root beer sampling in the Rathskeller Tap Room. Dinner and overnight in New Ulm.
Day 6
Breakfast at your hotel and depart for Minneapolis-St. Paul.