It was at a women's retreat in Sedona, Arizona that a set of tarot cards and a wise pendulum shifted the direction of my life.
I know it sounds hokey but stick with me for a minute. I was one of 16 women who signed up for a three-day, two-night retreat promising to leave us "centered, clear, energized and inspired." Surrounded by breathtaking redrock vistas and surrendering to minimalist accommodations and a meat- and alcohol-free diet, we embarked on an agenda painted with massages, meditation sessions, healing rituals, coaching sessions and group fitness classes.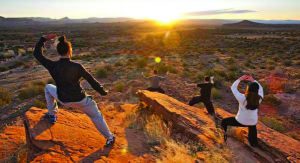 Corrin, a Shamanic healer and reiki master, led me through my private intuitive session. The first couple tarot cards she pulled revealed nothing I didn't already know—I was stuck in a lousy job short on joy and fulfillment and both my marriage and health were suffering.
After pulling a few more cards, a look of confusion came over her face.
"The cards say you have everything you need but something's holding you back," she said as she squinted at the cards.
Yup, I thought. Bills. A failing attempt at running my own business. Being an adult. "Let me ask the pendulum."
She pulled out her chained crystal and as it swung erratically back and forth in front of her, she began nodding her head in a mystical understanding.
"Uh-huh, yes, you were a nun. And you took a vow of poverty. You believe money is the root of all evil."
Wait, what? Was she telling me I was a money-shunning, habit-wearing nun in a past life?
I was suddenly struck by a flood of memories: Me, as a teenager, hunched down in the backseat of my parents' new Mercedes not wanting my friends to see me in this embarrassing display of materialism. Me, as a struggling business owner, going above and beyond for my clients but forgetting to invoice them. Me, now, settling for a job that was painfully below my potential because it was the right thing to do.
Benefits of Women's Retreats
Corrin then led me through a series of exercises to send my internal nun packing and reversing my poverty vow. When the session came to an end, I burst out of the room to find my two girlfriends waiting outside.
Overwhelmed by the sense of freedom and possibility, a messy flow of tears erupted and having my friends there on a woman's retreat was like free dessert on your birthday. They became my accountability partners and just a few months later, I had crafted an exit strategy from my job and set myself up to earn more money doing what I loved.
Talk About a Vacation Exceeding my Expectations
Women's retreats are by no means new in the group travel industry. What's changed recently is they've become less exclusive, less "weird." Retreat centers are figuring out that if they wrap their offerings in a package of flavorful food, scenic surroundings and meaningful takeaways, travelers will be more apt to untie the ribbon. And the programs offered are more inclusive of women of every age and every end of the spiritual spectrum—from lifelong learners to New Age newbies.
Travelers are trending toward more immersive, meaningful adventures, too. A report by Amadeus North America, "Trending with NextGen Travelers," found that modern travelers see themselves as explorers, not tourists, who are looking for "something different." Across the board, from Millennials and Gen Xers to Boomers, travelers want to live the world, not just see it, and many are seeking out experiences that improve their lives through actions, not things.
Retreats promise all that and more. Travelers don't have to figure out the details because the itineraries are usually built into the program—breakfast is at 8, yoga at 10, massages are at 2 and so on. And groups are embraced. Women's retreats invite travelers to be part of a shared journey where individual revelations and insights form a communal experience. Call it the new R&R—reset, reboot and realign. For women simply wanting to disconnect for a few days or possibly discover past blocks that only an intuitive and pendulum can reveal, women's retreats take group travelers on the soul-stirring side street less traveled and they often emerge with an entirely new perspective on their lives.
by Lisa Kasanicky