Your group will find peace, relaxation and simple pleasures at these wellness retreats, which are found in welcoming hideaways from Washington to Texas
Ah, the cushy luxury resort where your options are endless and you simply need to lift a manicured fingernail to have a cream puff delivered to your upgraded deluxe room. On any given day, you and your traveling cohorts could golf, spa, shop, hike, eat (again), nap by the enormous pool or sip cocktails (again). The possibilities are … well, exhausting. And another girls getaway slips by with little to show for it but a sunburn and a maxed out spending budget. For women looking to travel inward minus the mindless distractions of modern life, these six wellness retreats merge the simple beauty and quietness of nature with soul-stirring programs and fulfilling takeaways.
1. Sedona Mago Retreat
Sedona, Arizona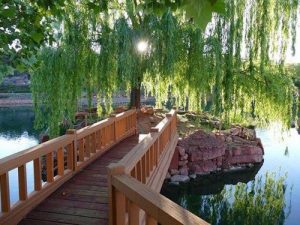 Sedona Mago Retreat offers a literal off-the-beaten-path experience. Accessible only by a bumpy 10-mile dirt road, the 163-acre retreat center is run by the Tao Fellowship, a foundation for those seeking an "open-minded, integrative and practical spiritual direction for changing their lives." Fringed by Sedona, Arizona's red-rock buttes, the meticulously maintained property is laced with meandering trails leading to gardens, a tranquil lake, labyrinths, statues that embrace the world's religions, meditative spaces, a pool, Jacuzzi, gift store and interestingly, a memorial burial site of Lester Levenson, the founder of the Sedona Method healing release technique (a fascinating story, be sure to ask about it). The modern, minimalist-style rooms are conducive to relaxation while the communal dining hall offers self-serve pesca-vegetarian dishes with a lively social area and a separate "whisper room" for mindful eating. Programs such as the Revitalizing Detox Retreat and Tao Natural Healing Retreat are offered throughout the year along with special events with guest artists and authors. Retreat class sizes are limited and prices are inclusive of meals and accommodations. (sedonamagoretreat.org)
2. Spirit Rock
Woodacre, California
The vast spaciousness and stillness that blankets the 411 serene woodland acres of Spirit Rock invite quests to quiet the mind and let go of the busy trappings of everyday life. About an hour northwest of San Francisco in the San Geronimo Valley, Spirit Rock was established in 1989 as a place of refuge to practice mindful awareness through silent meditation retreats.
The centerpiece of the grounds is the new Great Hall, a meditation and community space with a soaring 41-foot-high ceiling and seating for 400 people. The building includes communal gathering space with tea service, an outdoor terrace with bench seating for meal breaks, an expansive, light-filled bookstore and private meeting rooms. Accommodations are on the monastic side and vegetarian meals are carefully prepared by the Spirit Rock kitchen.
Programs in a variety of formats are offered, from two-hour, drop-in classes and day-long events to silent residential retreats lasting from three days to two months. Most programs are five to 10 days long and are suitable for beginners and experienced students alike. (spiritrock.org)
3. Deer Lake Lodge Spa Resort
Montgomery, Texas
Send your group off for a walk in the woods and mind-body cleansing at Deer Lake Lodge Spa Resort. Less than an hour from Houston, the 50-acre woodland retreat invites guests to reset their health through clean eating and self-guided detox programs. Guest won't have to completely disconnect as suites and cabins do have flat-screen TVs, telephones and Wi-Fi along with organic organic cotton towels, bedding, pillows, robes and slippers. The communal Fasting Lounge is the central meeting place while the heated saltwater pool, jetted spa and outdoor fireplace also invite lounging and sharing. With three-, four-, five- and eight-day detox programs, guests and can personalize their experiences to include colon hydrotherapy treatments, yoga classes, life enhancement classes, nutritional classes and cleansing therapies. (deerlakelodge.com)
4. Drala Mountain Center
Red Feather Lakes, Colorado
Framed by northern Colorado's Rocky Mountain valley and just a few hours' drive from Denver, the 600 pristine acres of Drala Mountain Center evoke a peaceful mindset of inward reflection. Established in the 1970s by a Tibetan meditation master and teacher, the property inspires mindfulness through its botanical gardens, hiking trails, bird sanctuary, mediation halls, and, most markedly, the Great Stupa of Dharmakaya, a 108-foot-tall spired Buddhist shrine. Lodging varies from Zen-inspired single and double rooms to dormitory-style rooms, and in the summer, platform tents with shared bathhouses. Program offerings at Drala Mountain Center range from weekend-long meditation retreats to special events and workshops for everything from yoga to aspiring artists and writers. For women who want to create their own experience, self-guided wellness retreats with optional meditation instruction are available. (dralamountain.org)
5. B Bar Ranch
Emigrant, Montana
As one reviewer put it, B Bar Ranch is a "nature lover's, photographer's, hiker's, explorer's paradise." That it is, and so much more. Set against the expansive blue Montana skies and 10,000-foot peaks of the Gallatin mountain range, the 9,000-acre working ranch sits on the edge of Yellowstone National Park. Heirloom vegetables and herbs grow in the high-altitude garden while a herd of rare Ancient White Park cattle graze the pastures. Guests can stay at the lodge or one of the cozy A-frame cabins, each of which sleeps four. The cabins have a porch, living room, bedroom, bath and loft and are just a stroll from the open-air hot tub.
The lodge is the ranch's social center and houses the dining room, a sunny deck, barn-loft yoga studio, gift shop, and living room area with a wood stove and handmade log furniture. B Bar hosts a variety of group wellness retreats throughout the year, most notably Big Sky Yoga Retreats for women (bigskyyogaretreats.com) as well as photography, wilderness and horse therapy workshops. (bbar.com)
6. Cloud Mountain Retreat Center
Castle Rock, Washington
A peaceful soundscape of trickling water, rustling forest and songbirds of all kinds supports the quest for quiet mindfulness at this 15-acre retreat center in southwest Washington. Founded in 1984, the meditation center grounds are dotted with a complex of buildings, ponds and gardens tucked into the lush forest canopy and connected by meandering rock-lined gravel paths. Cloud Mountain is purposely free of distractions (expect no cell service or Wi-Fi) to cultivate mindfulness and encourage guests to travel deeply inward and connect to their present-moment experience.
Rooms are clean, comfortable and deliberately spartan while simplicity carries through to the dining hall where shared vegetarian meals are nourishing yet uncomplicated. The center hosts a variety of themed wellness retreats throughout the year, most of which are appropriate for individuals of all degrees of meditation experience, from novices to experienced practitioners. (cloudmountain.org)
By Lisa Kasanicky
For more travel inspiration and group planning advice, be sure to subscribe for FREE to Leisure Group Travel.