Phoenix, Scottsdale and Mesa serve up desert delights
With 330 days of sunshine each year, a vast array of outdoor sports and activities, a wide range of hotels and meeting venues, and the "draw of the West," the Phoenix-Scottsdale-Mesa area is a triple warm-weather retreat for groups.
Situated in the heart of Arizona's Valley of the Sun, these three growing cosmopolitan cities provide a sweeping diversity of excellent restaurants, upscale resorts, state parks, scenic landmarks and historic sites.
Phoenix Sky Harbor International Airport, which serves the area, sees more than 43 million passengers each year, contributing $106 million each day towards the local economy.
Phoenix Fun
In the last few years Phoenix's "urban heart" has been transformed into a large downtown area called Roosevelt Row, a pulsating arts district that is gaining popularity. Groups of all sizes and interests can walk this urban core to discover galleries, boutiques, live music and the popular First Friday events staged from 6 to 11 p.m. Visitors can tour galleries and art-related spaces to view artwork, attend cultural events, and mingle with owners and artists. Inviting bookstores, coffee shops and restaurants are other crowd-pleasers.
At the Wrigley Mansion, also known as La Colina Solana, group tours (Tuesday through Saturday) run about 45 minutes and can be combined with lunch packages at Geordie's Restaurant & Lounge. Listed on the National Register of Historic Places, the landmark was built by William Wrigley Jr. of chewing-gum fame as a 50th wedding anniversary gift to his wife. It affords magnificent views from atop a 100-foot-high knoll. The house is operated as a club, with large and small groups welcome for conferences and meetings. Many weddings are held there.
Of the many outdoor activities in and around Phoenix, scenic mountain preserves provide a vast acreage for hiking, horseback riding, picnicking, bicycling, fishing, or studying the fauna and flora. Papago Park, with about 1,500 acres and picturesque red butte formations, is known for its popular Hole-in-the Rock views. At 16,000-acre South Mountain Park, groups have 51 miles of trails for hiking, horseback riding or mountain biking. Dobbins Lookout, at 2,704 feet the highest point in the park, is accessible to the public.
Other major Phoenix attractions include the 140-acre Desert Botanical Garden, which features more than 50,000 plants on display, representing one of the most important documented collections of desert plants in the world. Discounts are available for self guided groups of 10 or more, and the garden also offers private tours and educational activities.
---
Digital Edition Sponsored By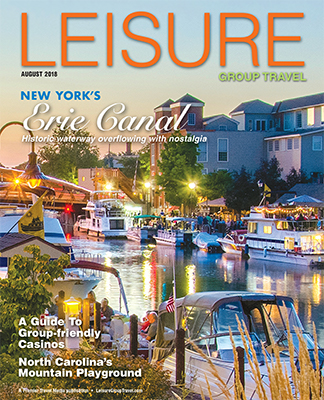 ---
The Heard Museum in Phoenix is the world's preeminent museum for the presentation, interpretation and advancement of American Indian art. Founded in 1929, the museum has grown in size and stature to become recognized internationally for the quality of its collections, world-class exhibitions, educational programming and festivals. The museum can accommodate groups of 10 or more by scheduling private docent-guided tours. Adult tour group fees are discounted, and groups also have the option of adding a boxed bunch from the museum's Courtyard Cafe to their tour package.
Phoenix's Musical Instrument Museum displays more than 6,800 instruments collected from 200 of the world's countries and territories. Many of the displays are enhanced by state-of-the-art audio and visual technology that permits guests to see, hear and watch the instruments being played. The museum also features an Experience Gallery that allows guests to actually play instruments. Instruments from music icons such as John Lennon, Taylor Swift, Elvis Presley and Carlos Santana are on display. The museum's staff can help groups that want to host special events there.
Dining Tips: Rustler's Rooste, up the road a piece from the Arizona Grand Resort, is a downhome Western restaurant serving chicken, steaks, burgers, salmon, chops—and rattlesnake. It can accommodate 2,000 guests and often hosts both small and large group events. The restaurant, which features a live Western-style band every night, has been in the same family for 47 years. El Chorro in Paradise Valley, with great mountain views and an upscale menu, can host private events for groups and serves dinner and a tempting Sunday brunch.
Accommodation Tip: The upscale Arizona Grand Resort & Spa (877-800-4888) features 644 newly renovated, residential-style, all-suite rooms, and 100 newly renovated one- and two-bedroom luxury resort villas. The resort encompasses a 20,000-sq.-foot athletic club and spa, six acres of water recreation, six pools, an 18-hole golf course, six restaurants and food emporiums, and 120,000 sq. ft. of meeting and function space. The resort is located next to 65 miles of hiking trails in the South Mountain Preserve.
The resort's unique, innovative Activlab programs emphasize eight principles and a proprietary training system, and are available to individuals and especially groups, according to Brad Jarritt, manager. Besides a large indoor training facility, the Activlab utilizes the expansive Arizona Grand Resort campus for some of its programs.
Scottsdale Savvy
Whether in North Scottsdale taking in a game of golf or wandering the Arts District, Waterfront and Southbridge areas of Old Town Scottsdale, visitors discover the city has many faces. Each district has something for groups of all sizes. From the famous Waste Management Phoenix Open to fine art to museums and luxury accommodations, Scottsdale is a brand unto itself and often called "The West's Most Western Town."
Start with Scottsdale's Museum of the West, a Smithsonian affiliate, located downtown. This $11 million, 43,000-sq. ft., two-story museum houses the Rennard Strickland Collection of Western film history featuring numerous, highly-collectible movie posters and lobby cards. In addition, ceramics from one of the finest collections of Hopi Indian pottery is on display, as well as an exhibition honoring Joe Beeler, a founding member of the Cowboy Artists of America. Numerous other exhibits of Western art, unique and common cowboy artifacts, a sculpture courtyard, Katsina dolls and Heritage Hall (honoring those who have made contributions to the American West) also engage museum goers.
The Waste Management Phoenix Open Golf Tournament, held at TPC Scottsdale, is a highlight each year and draws hundreds of thousands of visitors—and many groups— to the area. Golfing in Scottsdale, which enjoys an average high temperature of 71 degrees between December and February, is a year-round sport, and golfing groups put the city on their bucket list of places to play.
Taliesin West, the winter home, studio and school of architect Frank Lloyd Wright, welcomes groups to learn about Wright's design principles and how Wright conducted his school of architecture. The surrounding desert is a picture-perfect location to incorporate the architect's genius; Wright craftily hid the complex into the landscape. Today more than 100,000 visitors annually come to tour Taliesin, learn about Wright's ingenious ideas and discover how he united art and nature in Arizona's Sonoran Desert. Tours last 90 minutes.
Scottsdale's self-guided walking art tour, which began in 1985, features 70 permanent and 30 temporary artworks encompassing a wide range of artistic expression. If your group likes to bike, Scottsdale offers a bike-sharing program called Grid N Bike Share that lets you rent a brightly painted bike for as little as $10 a week. Several companies offer the convenient service.
Scottsdale Stadium hosts the San Francisco Giants every season for Cactus League spring training action in downtown Scottsdale. Dining, nightlife and group activities abound within easy walking distance of the stadium.
Dining Tip: FnB Restaurant in the 5th Avenue Shopping District features dark wooden tables, low lighting, and menu specials such as Macau-style African chicken, lamb manti and octopus. For dessert, order the tasty butterscotch pudding. Groups are welcome.
Accommodation Tip: The posh Fairmont Scottsdale Princess (480-585-4848), set against the backdrop of the McDowell Mountains, is an AAA Five-Diamond resort featuring 750 guest rooms and six heated swimming pools. It has a 44,000-sq.-foot well-being spa, championship golf at the adjacent TPC Scottsdale and four dining venues.
Mesa and Beyond
If your group is primed for baseball, Mesa offers two spring training teams, the Chicago Cubs and the Oakland A's. Nearly 2 million fans watched the area's major league spring training games last year.
At the Cubs' Sloan Park, there are 15,000 seats and seven practice fields where Cub fans can watch their favorite players in action. The stadium features luxury suites and two party decks, and groups can find reasonably-priced tickets. A pathway between the locker room and stadium is where fans can see players up close as they enter the stadium. The 12,500-seat, state-of-the-art Hohokam Stadium, home of the A's, features the largest video board in the Cactus League and a party deck as well.
The Commemorative Air Force Airbase Arizona, Arizona Museum of Natural History, IDEA Museum and Mesa Arts Center (for shows and concerts) are all open to group tours, classes and special events.
On the Apache Trail west of Mesa, the rugged Superstition Mountains loom large and hold many group recreational possibilities. The 1890s Goldfield Ghost Town sports a steam train, saloon, gun fights, gold mine tour, blacksmith shop, an active church, schoolhouse, brewery and museum. At Tortilla Flat Stagecoach Stop and Saloon ("the town too tough to die") you can have a sarsaparilla on a bar stool saddle, grab a cowboy burger, visit the gift shop and walk down the boardwalk to witness cowboys in Western garb.
On the Dolly Steamboat's 90-minute nature cruises on Canyon Lake, passengers can see eagles, bighorn sheep, deer and other wildlife along the cactus-dotted shoreline. The boats are available for weddings, parties and team-building cruises.
Accommodation Tip: Hyatt Regency Scottsdale Resort & Spa at Gainey Ranch (480-444-1234) encompasses 27 acres set amidst flowering cactus and framed against the McDowell Mountains. It features 493 rooms and suites with private balconies, 70,000 square feet of flexible meeting space for group activities, eight restaurants and bars, a 2½-acre water park, a 27-hole championship golf course and four lighted tennis courts. There is live evening entertainment in the lobby.
Dining Tip: The Hyatt Regency's Wine Me, Dine Me experience, offered nightly with sous chef Juan Solorlo, is a journey into flavors of the Southwest where guests can enjoy a four-course menu with wines and tequila. Toro Latin Restaurant & Rum Bar is located on the 18th hole of the TPC Scottsdale course. Complimentary shuttle service is available from the hotel.
-Don Heimburger