Downtown sidewalks invite shoppers and sightseers to experience reminders of yesteryear
The best history lessons embody a strong sense of place and it's a bonus when the setting is a charming city whose residents take pride in sharing stories about what makes their hometown special.
Within historic districts are restored mansions and mills that celebrate long-ago architecture and lifestyles. Boutiques, restaurants and museums give new purpose to century-old buildings. Others are open for tours.
The population is less than 15,000 in most of Wisconsin's Main Street communities, but each demonstrates a big-time commitment to preservation. Expect a friendly welcome when roaming their inviting main streets and city sidewalks.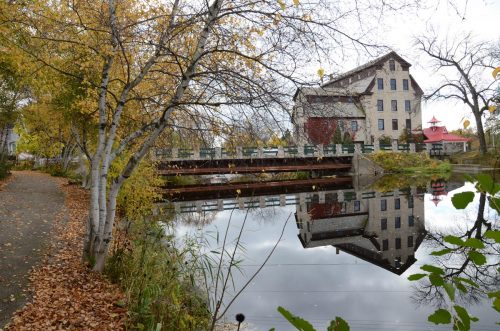 Artists, antique collectors and more do business in 70-plus shops on and near Washington Avenue in downtown Cedarburg, 20 miles north of Milwaukee. Count Cedar Creek grist and woolen mills from the mid-1800s among the area's best-preserved limestone buildings; the latter is a retail hub known as Cedar Creek Settlement, where tours and tastings are offered at the Cedar Creek Winery.
At least 200 structures are deemed historically significant in the city's two historic districts. Inside the General Store Museum, an 1860s wooden building, is the Midwest's largest array of antique advertising art. Cedarburg Art Museum is a red-brick mansion from 1898.
The Wisconsin Museum of Quilts and Fiber Arts exhibits vintage and contemporary collections on a converted farmstead. Just outside of town is the last covered bridge in Wisconsin and the hamlet of Hamilton, known for its attractive stone buildings.
For an eclectic mix of architecture, head 40 miles south of Milwaukee to Burlington, where the White and Fox rivers meet. Look for the many styles of grand houses and churches in and near Kane Street Historic District.
A pioneer log cabin and 1840 brick schoolhouse are open for tours, but one word sums up the sweetest of the city's history: chocolate. The community that began as Foxville is nicknamed "Chocolate City, USA" today because a longtime Nestlé factory produces millions of pounds of candy and cocoa per year.  Chocolate Experience Museum explains more, and ChocolateFest draws thousands during Memorial Day weekend.
The annual Burlington Liars Club contest began in the 1930s and attracts entrants from around the world. Read championship lies on the self-guided Tall Tales Trail; some plaques are between specialty shops downtown. That's where you'll also find a museum devoted to spinning tops, logic puzzles and yo-yos.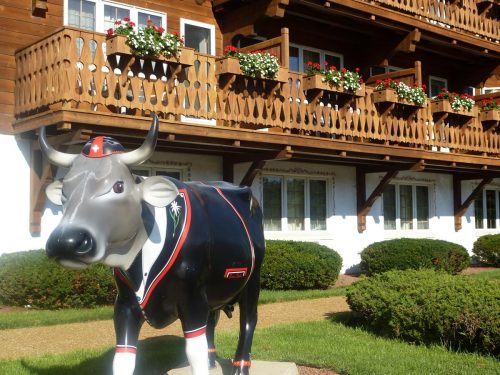 Swiss heritage defines downtown New Glarus, settled in 1845 by immigrants in search of a New World location that looked and felt like home. Farming, cheesemaking and ethnic festivals put the area on the map as "America's Little Switzerland." Look for herds of Brown Swiss cows that wear bells around their neck while out to pasture.
Downtown businesses resemble Swiss mountain chalets, and the village's tiny population – 2,200 – belies its ability to hold a traveler's attention for hours. Swiss and German cuisine, including schnitzels and fondues, draw tour groups to New Glarus Hotel Restaurant, a cozy spot housed in a former hotel built in 1853, and the 67-room Chalet Landhaus Inn, a magnificent specimen of Alpine architecture that is large enough to accommodate bus tours; both restaurants can arrange Swiss-style entertainment. Buy almond horns and bratzeli cookies at New Glarus Bakery, in business since 1910, and bring home reminders of Switzerland at Esther's European Imports.
The 1942 Swiss Historical Village Museum's 14 buildings – from a cheese factory to a firehouse – explain the life of village founders. Tour the three-floor Chalet of the Golden Fleece Museum, the keeper of authentic Swiss art and handicrafts.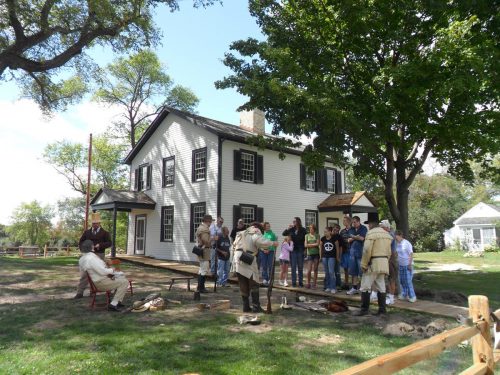 Portage was Wisconsin's third-oldest settlement and a major trade center in the mid-1800s because it is near the center of the state and at an important portaging spot, between the Fox and Wisconsin rivers. A city ordinance makes historic preservation a priority and many of the original Victorian buildings enrich the Historic Downtown Retail District.
Explore the 1832 Historic Indian Agency House at Fort Winnebago and meander the 225-acre site's nature trail and garden. Guided tours describe the role this site played in westward expansion and forever changing Native American lives.
The home and writing studio of Zona Gale, a 1921 Pulitzer Prize winner, is The Museum at the Portage. Self-guided and docent tours explain the author's life, local history and unique building features.
Where was the Republican Party born? A modest, white schoolhouse in Ripon hosted the first meeting in 1854 of what would become a political movement that remains with us today. Tours of the National Historic Landmark can focus on political history, the history of one-room schools or Ripon history.
The mix of casual, edgy and artsy Italianate businesses in the downtown Watson Street Historic District is influenced by the presence of Ripon College, a private liberal arts school since 1851. Campus tours, by appointment, include a college history museum that is in one of three original limestone buildings.
Much of the city's historic architecture remains intact elsewhere, too. Look for the grandeur of Victorian "painted ladies" in a residential area south of downtown. Maps for walking tours are available.
---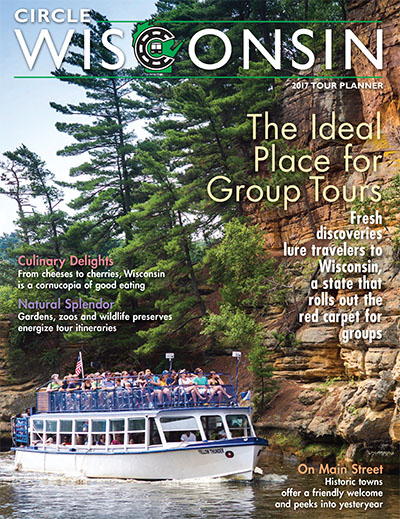 ---
Chippewa Falls exists because of the energetic Chippewa River, a major player in the city's success as an innovative community. A riverfront lumber mill was the largest in the world in the late 1800s, during the heyday of logging. Brewing of Leinenkugel's beer began riverside in 1867 and continues today, making Leinie Lodge a popular stop for tours, tastings and souvenir shopping.
Native son Seymour Cray invented the world's first supercomputer and his computer collection is a star at the downtown Chippewa Falls Museum of Industry and Technology. Within walking distance is a county history museum in a four-story, 1881 church convent.
A lot happens along and near North Bridge Street. That includes shopping at The Brown Barn Company, which sells lotions and body butters that are made with botanicals from the owner's nearby farm. Tour Cook Rutledge Mansion, a long-ago lumber baron's home that is almost riverside.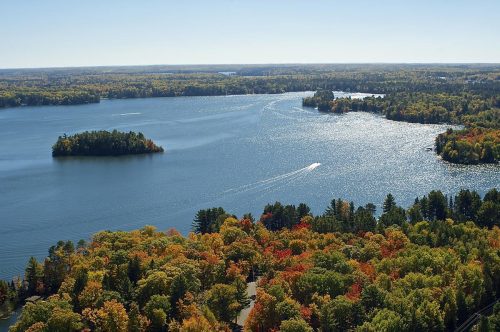 Much of Minocqua, a historic lumberjack town in Northwoods Wisconsin, was destroyed by fire in 1912. That led to a surge of rebuilding and long-term preservation along Oneida Street, the main drag today. Look for blue signs in front of the most historically significant properties.
Prepare for a big variety in dining: pizza at Alexander's to supper club dining at Polecat & Lace. Boutique offerings are also diverse: Must-stop shops include Imaginuity, a specialty toy store, and Earth Goods, where you can buy pottery or make it.
Immersing yourself in local history means watching a lumberjack or water ski show (the local Min-Aqua Bats are the oldest water ski teams in the nation). The city's name refers to "noon-day rest" in Ojibwe language, and droves of visitors are drawn to the pristine area because of Lake Minocqua fishing, swimming and boating.
About 100 miles west is Hayward, another logging community that mixes rugged and refined living in its historic downtown. Of special interest to visitors are Itasca Leathergoods, which sells handcrafted moccasins, and the decades-old Moccasin Bar, known for its vast and sometimes-odd collection of taxidermy.
Ice cream since 1954 is made and sold at West's Hayward Dairy. Old Southern BBQ, a newer business, was started by Dave Anderson, founder of the Famous Dave's restaurants.
Lumberjack shows are a proud reminder of Hayward heritage, but the unique downtown attraction is a 40-foot-tall replica of the feisty muskellunge, Wisconsin's state fish, at the National Freshwater Fishing Hall of Fame and Museum.
Historic Main Street in Shawano, located northwest of Green Bay, delights tour groups with its antique and specialty shops. A few blocks from the courthouse is Shawano County Heritage Park, a collection of seven museum buildings, including an 1871 house original to the site, an 1895 schoolhouse, a reconstructed log cabin, church and railroad depot.
At Twig's Beverage, a company that bottles specialty sodas, visitors can tour a museum full of soda memorabilia, see the production line in action, and belly up to the tasting bar for samples of the original Sun Drop, Farmer's Brew Butterscotch Root Beer and flavors like blue raspberry, black cherry and caramel apple.
You'll likely find Amish bakery goods sold at festivals and various outlets around Shawano because many Amish families live on farms in the nearby village of Bonduel, which is home to Amish stores. The Shawano Country tourism area is Wisconsin's Barn Quilt Capital, with more than 300 barns sporting painted quilt patterns
All is proof that fascinating history lessons are just waiting to be told, regardless of the direction roamed in Wisconsin.