Visitors to the Will Rogers Memorial Museum in Claremore, Okla., will get a taste of the man's wit and wisdom through exhibits, video clips and a movie.
Oklahoma's favorite son, known around the world for his homespun humor and timeless quotes—many of them jabs at politicians, still are relevant today.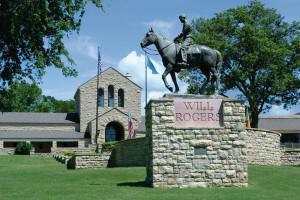 Rogers' tomb at the hilltop museum is inscribed with his most famous quote: "I never met a man I didn't like."
These are among other memorable quotes from Will Rogers:
There is nothing of which I am more proud of than my Cherokee blood.
My ancestors didn't come over on the Mayflower, but they met the boat.
I hold only two distinctions in the movie business: ugliest fellow in 'em and I still have the same wife I started with.
I was born on Nov. 4, which is election day. . . . My birthday has made more men and sent more back to honest work than any other days in the year.
A man only learns by two things, one is reading, and the other is association with smarter people.
Most people and actors appearing on the stage have some writer to write their material. Congress is good enough for me. They have been writing my material for years.
This would be a great time in the world for some man to come along that knew something.
They want peace. But they want a gun to get it with.
A man that don't love a horse, there is something the matter with him.
No man is great if he thinks he is.
Remember, write to your Congressman. Even if he can't read, write to him.
We shouldn't elect a President. We should elect a magician.
Why don't they pass a Constitutional Amendment prohibiting anybody from learning anything? If it works as good as Prohibition did, in five years we will have the smartest people on earth.
This country is bigger than Wall Street. If they don't believe it, show 'em the map.
What constitutes a life well spent, anyway? Love and admiration from your fellow men is all that any one can ask.
We should never reach so high that we would ever forget those who helped us get there.
America can carry herself and get along in pretty fair shape, but when she stops and picks up the whole world and puts it on her shoulders she just can't "get it done."
Let this country get hungry and they are going to eat, no matter what happens to budgets, income taxes or Wall Street.
Washington mustn't forget who rules when it comes to a showdown.
It takes nerve to be a Democrat, but it takes money to be a Republican.
There ought to be a law against anybody going to Europe until they have seen the things we have in this country.
If by some divine act of providence we could get rid of both parties and hire some good men, like any other good business does, we would be sitting pretty.
Ohio claims they are due a president as they haven't had one since Taft. Look at the United States, they have not had one since Lincoln.
If we could just send the same bunch of men to Washington for the good of the nation and not for political reasons, we could have the most perfect government in the world.
A politician is just like a pickpocket. It's almost impossible to get one to reform.