The Itinerary at a Glance
Norfolk truly shines when your group explores its local businesses and outdoor recreation areas. Whether you prefer to bike or hike, you can find a route that serves your needs on the Elizabeth River Trail or Fort Norfolk walkways. Other notable parks include the Weyanoke Audubon Sanctuary, Jeff Robertson Park and the Plum Point Park. If your group is interested in retail therapy, Historic Ghent has plenty of boutiques and specialty stores to appeal to shopaholics in your party. A visit to Norfolk is incomplete without a taste of hearty Southern cuisine, and there are countless memorable restaurants for your group to sample.  Handsome Biscuit serves enormous sandwiches covered in specialty red eye sausage gravy, Smartmouth Brewing Company has India Pale Ales and saisons on tap and Cure Coffeehouse & Brasserie is known for flavorful coffees and freshly baked desserts.
 3 Unique Experience on This Trip
[list line="no" style="style1″]
Biking on the Elizabeth River Trail
Visit the historic NARO Cinema
Behind-the-scenes tour at Smartmouth Brewing Company
[/list]
Duration: 3 Days
Available: Spring and Summer months
This Itinerary is Ideal For: Adults over 21
Itinerary Details
---
 Day 1
Riding a bicycle is a blast! Everyone loves the feeling we get when we're peddling in a bicycle-friendly city. The Elizabeth River Trail is an off-road biking and pedestrian path. Built on an abandoned railroad right-of-way, the trail provides a taste of Norfolk's wildlife and history. The trail provides access to historic Fort Norfolk, a National Register property. Other key locations along the trail include the Weyanoke Audubon Bird Sanctuary, Jeff Robertson Park and Plum Point Park. Along the way, park your bike in one of five racks designed by local artists as part of a Downtown Norfolk public art display project.
For lunch, try the Handsome Biscuit, which has over 10 different biscuit sandwiches made from sweet potatoes.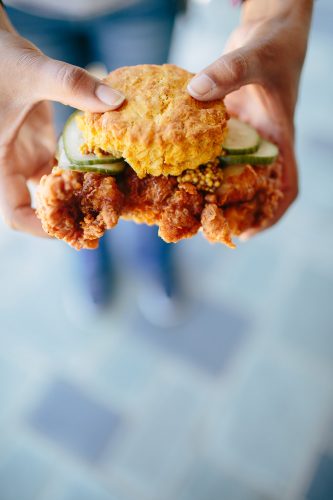 Eating with both hands will not even begin to handle the size of this biscuit. Your eyes will be bigger than your stomach from everything to the Hella Fitzgerald with fried chicken, bacon, cheddar and red eye sausage gravy to the Mr. Close Love with roasted pork shoulder, sweet hot mustard and cucumber. Spend the afternoon on a hunt for vintage clothing for the perfect outfit to rock the night away! Historic Ghent offers a number of great shops like the 2nd ACT Consignment Shop that specialize in the finest women's clothing for all seasons. Then top off your concert outfit with the perfect accessories at Lili's of Ghent.
In the evening, experience the history of rock and roll in Norfolk at LeGrand Kitchen. The name of the restaurant, which seats 15 to 16 people, stems from a record label that was once based in Norfolk. Time to rock the night away with a show at the nationally renowned NorVa, a historic theater built in 1917 that was once was home to famous vaudeville acts. Readers of Rolling Stone were recently polled about "venues that rock," and they chose the NorVa as the place that rocked the hardest. Catch some of the country's most popular music groups here, including Government Mule, G Love & Special Sauce, Future, Modest Mouse and Phoenix. Before the show, enjoy a cocktail at FM Restaurant. FM Restaurant offers a "GET IN EARLY" program that gets you into any NorVa show 10 to 15 minutes before the general public.
Day 2
Have a lazy late start to the day by catching a classic movie at the NARO Cinema. This historic theater was built in the 1930s and has been a part of Norfolk for over 75 years. NARO Cinema features indie movies, documentaries, environmental films, classic movies and much more. Vinyl is back in style! In Historic Ghent, music enthusiasts can find their favorite music at Skinnie's Record Store. Find out why national recording artists such as Sonic Youth, Cracker, Morrissey and the Foo Fighters have shopped here. Next stop; head to Smartmouth Brewing Company, located on the banks of the Elizabeth River in Norfolk. From the bite of Smartmouth's India Pale Ale to one of the few saisons brewed in Virginia, get a handle on what you can expect with a behind-the-scenes tour of the brewery and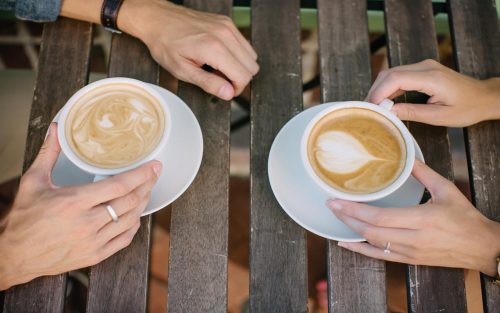 tasting room. Spend the evening with some local bands winding down after a long day of activities in local spot Hell's Kitchen. Hell's Kitchen offers a full menu, live music on Friday and Saturda and HK Unplugged on Thursday.
Day 3
Before you head home, explore different coffee shops in downtown Norfolk. Cure Coffeehouse & Brasserie, located in Historic Freemason, is known for their flavorful coffees and freshly baked desserts.