Explore beautiful homes and gardens, and get your fingers dirty at a gardening workshop. Stop in at a fun new brewery for a look at how a certain flower – hops – becomes beer (and of course, you may taste). The incredible story of Fredericksburg and the famous people who have walked its streets are revealed on an engaging trolley tour. Your day is topped off by a tasty dinner and live theater.
4 Unique Experiences on This Trip
[list line="no" style="style1″]
Historic Gardens and Homes
Gardening Workshop
Drinkable Blooms
Dinner Theater
[/list]
Available: Year-round
This Itinerary is Ideal For: Adults over 21
Itinerary Details
---
Day by Day:
Fredericksburg is a city that blossoms with the promise of enjoyment. So much of the town's historic fabric and landscape remains intact, with elegant homes of the 1700s and 1800s found throughout.
Historic Kenmore Plantation and Gardens
Historic Garden Week in Virginia, the longest-running statewide garden event in America, began here at Kenmore in the 1920s. This Georgian-style mansion was the home of George Washington's sister Betty and her husband. It is famous for its plastered ceilings, some of the finest surviving examples from America's colonial period. The gardens are based on popular colonial designs. Tour the house and gardens with resident experts and learn about colonial life in Fredericksburg.
Container Gardening Workshop
No matter where you live – apartment, suburban home, farm – container gardening is a great way to grow flowering plants, herbs and vegetables. Enjoy a lively hands-on (and hands-in) workshop that teaches the basics of soil preparation, plant selection, plant design and tending. If you're not already an active gardener, you'll become one before you leave Fredericksburg.
Belmont: Gari Melchers' Home, Studio and Gardens
He was one of the most successful painters of his time, sought out by the rich and famous. She was a beautiful young art student – and his biggest fan.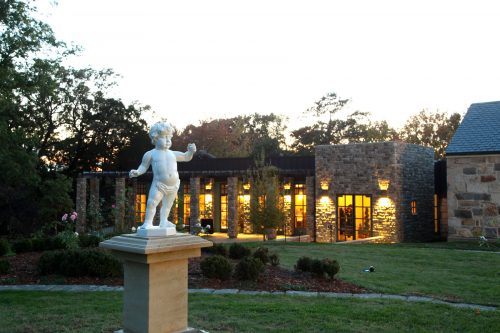 They fell in love on an ocean liner and spent their lives sharing their love for art and each other. More than 100 years later the story of Gari and Corinne Melchers lives on in their 18th century home, Belmont. Explore this historic home, tour the art studio and visit the restored gardens.
Downtown Garden Walk
A springtime walk through the historic streets of Fredericksburg reveals carefully tended gardens bursting with color and fragrance. A local garden expert will guide us on our stroll and show us some of Virginia's most appealing gardens.
Hops Farm and Spencer Devon Brewery
Visit a hops farm to see where the buds used in beer brewing are grown, then visit one of Virginia's best new breweries, Spencer Devon, where those very hops are used. Tour the brewing facility and then enjoy a flighted tasting.
Riverside Center for the Performing Arts
After a full and fulfilling day in Fredericksburg here's the icing on the cake: a sumptuous dinner and live theater. Professional theater productions grace the stage with lively performances of hit Broadway classics. In December 2017 the Riverside Christmas Spectacular will be performed.