Mascot Hall of Fame
Every corner of the globe is filled with museums that honor great athletes, but where are the institutions that honor their greatest cheerleaders—the mascots? These felt and plastic icons will soon have their very own place of honor at the Mascot Hall of Fame, set to open in early 2019 in the South Shore community of Whiting. Here, famous figures like Brutus Buckeye and Mr. Met are honored in a state-of-the-art, 25,000- square-foot facility that will welcome school groups, coach tours and mascot fans of all ages.
Founded by David Raymond, the original Phillie Phanatic from 1978 to 1993, the Hall honors mascot performers and performances that have shined positive light on professional and collegiate sports teams. Like any hall of fame, there is a stringent nomination and selection process before the annual induction ceremony. While inductees have been welcomed since 2005, they will now be forever enshrined in the new Whiting museum.
Designed by Jack Rouse Associates, the same award-winning firm that created the World of Coca-Cola and Crayola Experience, the building's exterior will greet groups with the enormous head of Reggy: the hall's official mascot. Once inside, groups can explore exhibits such as "Department of the Furry Arts," "Science of Silliness Lab" and "Phuzzical Education Department." Visitors can also engage with their imaginations to design and physically build a mascot and audition as it through exciting stunts like firing t-shirt and
confetti cannons.
The Hall also looks to appeal to students by emphasizing STEM disciplines in its interactive exhibits and is developing a curriculum with nearby Calumet College that incorporates science, technology, engineering, art and mathematics components into the displays. Whether your group is populated with sports junkies or simply wants a zany stop in the itinerary, consider a few hours spent with legends like Bucky Badger and the Nittany Lion.
For more information, visit MascotHallOfFame.com.
Military Museum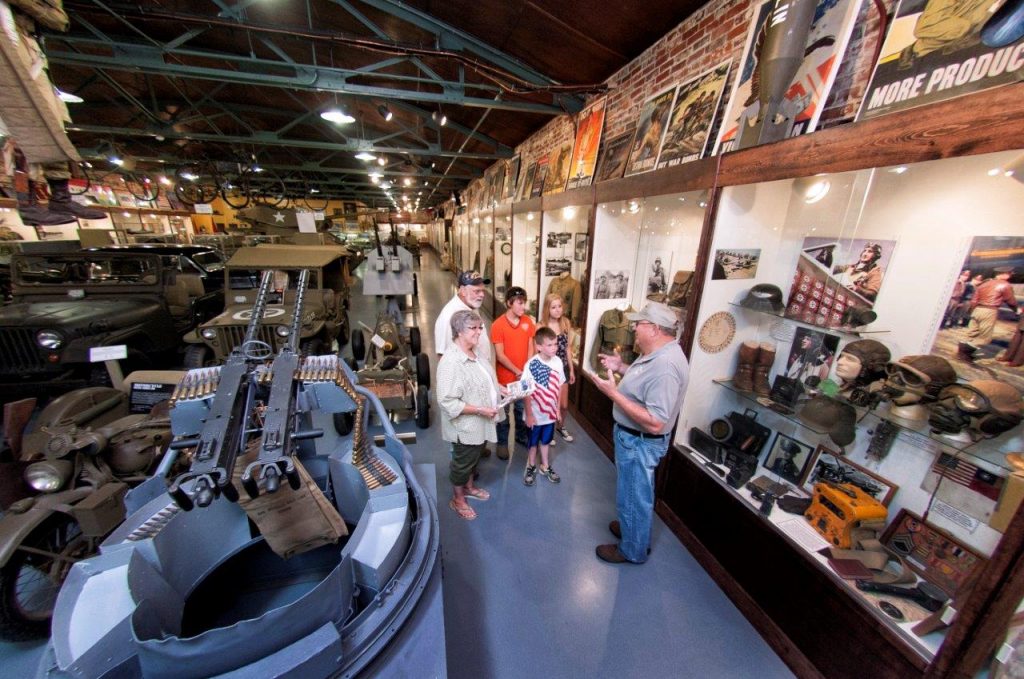 Saluting the brave men and women who have served in America's wars, the Indiana Military Museum in Vincennes boasts one of the most comprehensive collections of military memorabilia in the country. There is so much to see that the best strategy is to pick a few exhibit areas and give them a good study. The main display area occupies a single level in one long building, an old glass manufacturing plant.
Some members in your group may gravitate to the Civil War, while others will want to focus on World War I or II. Among the oldest artifacts are muskets dating back to the period between the American Revolution and War of 1812. The succession of glassed-in exhibits progresses chronologically, ending up with the Korean, Vietnam, Iraq and Afghanistan wars.
The museum's collection contains some rare items, and many relics have local connections. Besides glass cases crammed with memorabilia—from weapons, helmets and gas masks to medals, newspaper clippings and magazine covers—there are tanks, jeeps, bicycles, motorcycles and other vehicles in the middle of the room. Vintage patriotic, recruiting and War Bonds posters, along with flags foreign and domestic, festoon the walls. The museum is the pride and joy of founder and curator Judge Jim Osborne, who began collecting WWII artifacts as a child.
World War II buffs are impressed with the uniforms belonging to Generals Patton and Eisenhower. Ike's uniform, tailor-made in London, was worn during the week of the D-Day invasion of Normandy. Other reminders of D-Day include a paratrooper's jacket and bits and pieces found in the sands of Omaha Beach, including shrapnel, spent ammunition and a fighting knife. Another heroic stand, the Battle of Iwo Jima, is remembered with a captured Japanese rifle and tray of sand from the island. Also see goggles used by pilots who dropped atomic bombs on Nagasaki and items from Nazi Germany such as a formal napkin and bit of the fireplace from Hitler's Berchtesgaden retreat.
The "Women at War" exhibit recognizes pilots, nurses and those employed in factories on the home front during World War II. Displayed are the coveralls, goggles, shoes, drill, lunch box and clip-on ID badge of one of the many female workers who helped build the Navy's LSTs (Landing Ship Tanks) at the Evansville (Indiana) Shipyard. Inside the case is a "Rosie the Riveter" poster. The domestic scene is also highlighted in a display of WWII-era toys—tanks, boats, planes—that had to be made of wood or cardboard because metal was needed for the war effort.
The WWII service of comedian Red Skelton, a native of Vincennes, is enshrined in an exhibit showing his Army jacket, honorable discharge papers and a picture of him surrounded by Italian children. One photo shows Skelton entertaining troops on a ship bound for Europe in 1945. Outdoors, visitors can get a taste of trench warfare, often used as a symbol of World War I, by walking through a set of replica trenches from the period. Also displayed outdoors are military aircraft. A series of dioramas, ranging from World War I to the present day, are being installed in an existing warehouse building on the property and will be unveiled in January 2019.
For more information, visit IndyMilitary.com.
Toyota Plant Tour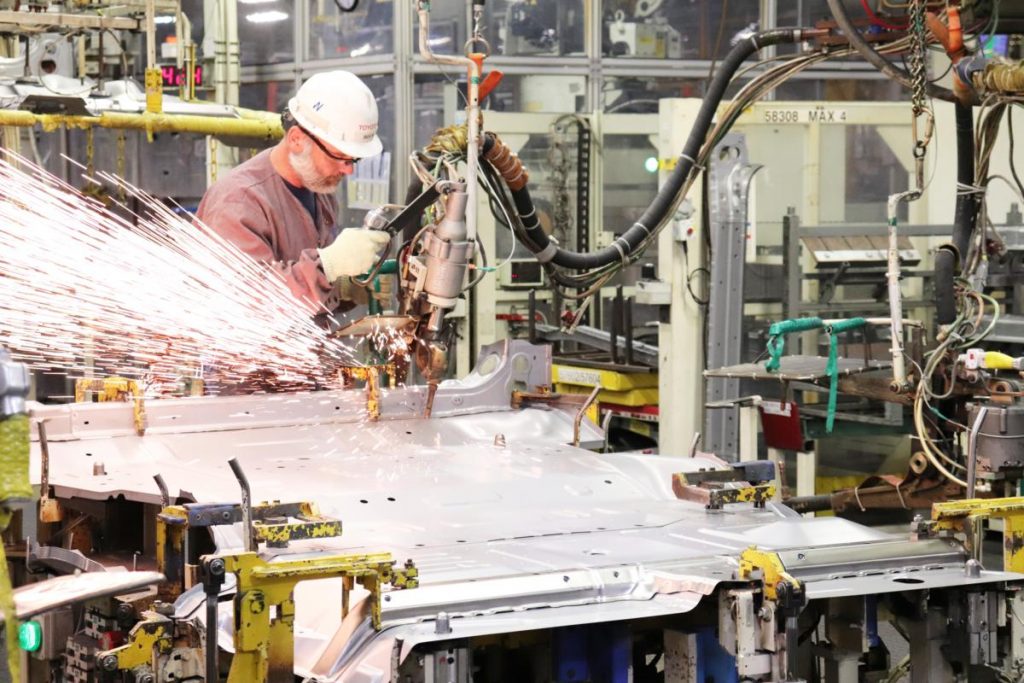 An auto factory tour isn't on the top of many travel bucket lists, but the drive to Princeton, Indiana is worth a side trip. Here you'll find Toyota Motor Company's manufacturing plant, which is exclusively responsible for producing the popular Highlander and Sequoia SUVs and Sienna minivan models.
Opened in 1999, this massive plant stretches over 70 football fields (under roof) and across 1,160 acres. Toyota Indiana employs over 5,400 workers, and on any given day, up to 5,000 outside contractors are on-site providing various services at the facility. The plant even has its own medical staff and child daycare center.
Each year over 400,000 SUVs and minivans roll off the assembly line. Visitors to the plant can learn about the history of Toyota and see the entire manufacturing process. The tour begins in the modern, expansive visitors center that features interactive multimedia exhibits that illustrate the Toyota manufacturing process.
A time frame exhibit traces Toyota's history and its entry into the U.S. auto market in the late 1950s with displays of an early model on the floor. Toyota is proud of its commitment to the environment and the local community, as displayed by a variety of stewardship and community care projects and awards. The highlight of the visitors center is a deconstructed Toyota Tundra pickup truck suspended from the ceiling.
The tour moves into the theater, where a film portrays the construction of the plant, the use of technology in daily operations and insider views of plant operations not accessible to the public. You'll literally see how steel coils arrive at the plant one day and become SUVs and minivans the next.
After the film, the tour continues inside the plant, where you'll see the entire production process of a Toyota vehicle. Armed with safety goggles and long sleeves, visitors board a tram and travel first to one of thousands of spot welds, often signaled by a burst of flashing sparks. Here, robot arms adeptly guide parts as they proceed through the assembly line. Next is the Customer Satisfaction Line, where doors, fenders, hoods and the back hatch are installed to complete a body ready for paint. After Body Weld, you'll ride through one of two Assembly shops. You'll see engines and axles, wire harnesses, instrument panels, headliners, seats, carpets and a wide range of other parts and trim added to the body to create the final product.
Throughout Body Weld, Assembly and other production shops, you'll be side-by-side with Toyota team members as they perform a variety of checks to ensure the quality of vehicles.
The estimated total time to see both the visitors center and the plant tour is 75-90 minutes.
The Toyota Indiana Visitors Center is an excellent way to explore the history of Toyota and discover southwest Indiana's industrial heritage. You'll see Toyota's manufacturing facility and production system up close and in-depth and discover why Toyota has built such a solid reputation with their reliable vehicles.
For group reservations call 888-696-8211 or visit TourToyotaIndiana.com/Plant-Tours.
Indianapolis Memorial Tour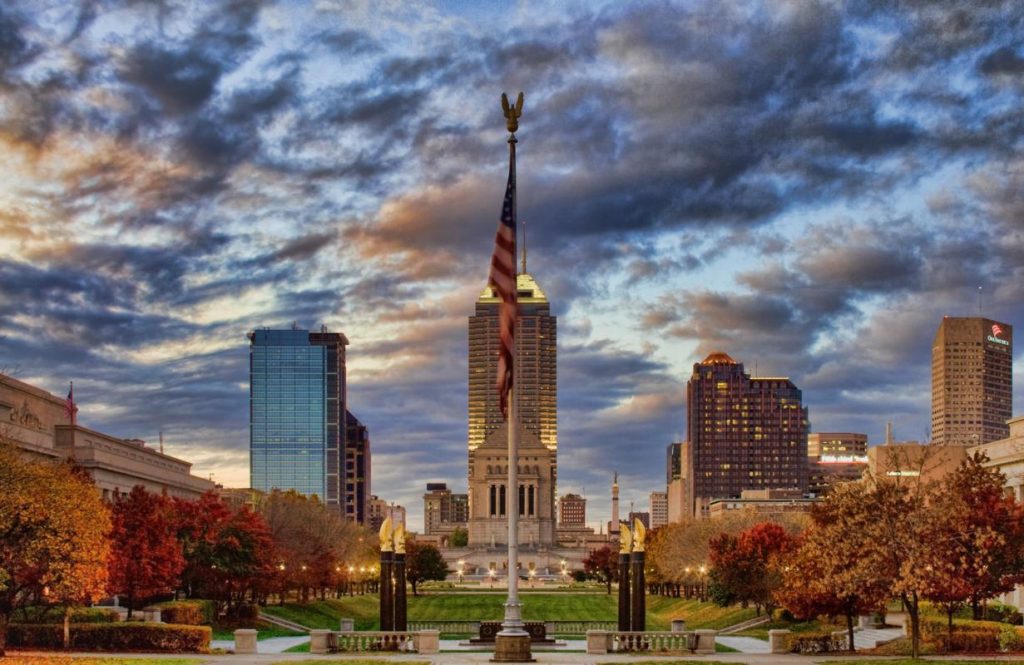 Indianapolis dedicates more acreage to honor the nation's fallen than any other American city and is second only to Washington, D.C. for total number of war memorials. Clustered around the downtown area, these humbling structures are free to admire at your group's convenience. Tour planners can also consider the free guided tours offered through Indiana Landmarks or the Indiana War Memorial Museum.
If your memorial tour is self-guided, begin along the Indianapolis Canal Walk at the 9/11 Memorial. Dedicated in 2010, the memorial consists of two 11,000-pound beams taken from the Twin Towers. Atop one sits a life-sized bald eagle, its wings outstretched and its head gazing east towards New York. Behind the beams stand a pair of granite walls inscribed with remembrances of the horrible attacks in New York, Washington, D.C. and Shanksville, Pennsylvania.
Next, head west to Memorial Circle, which gives Indianapolis its nickname of "The Circle City," and admire the 284-foot-tall Soldiers and Sailors Monument. Completed in 1902 and costing over $500 million in modern dollars, this imposing limestone obelisk tower honors the Indiana veterans of the Revolutionary War, War of 1812, Mexican-American War, Civil War, Frontier Wars and Spanish-American War. Four heroic figures sculpted by noted German artist Rudolf Schwarz at each corner represent the infantry, cavalry, artillery and navy, while the 30-foot-tall bronze Victory statue that adorns the monument is depicted as a female warrior holding a flame. For a stunning view of the Indianapolis skyline, climb 331 stairs (or take the elevator) to the Observation Level to spot the next stop on your tour: University Park.
Originally land designated for a state university (hence its name), the park is visually dominated by the Indiana War Memorial. Honoring Indiana soldiers killed in World War I, the structure is a limestone shrine that features an exterior of Roman columns and stone figures that represent American ideals such as liberty and patriotism. Inside is the Shrine Room, a grand space that includes 24 pillars made from Vermont marble, alcoves with paintings of important Allied Forces generals and the Altar to the Flag: a marble box flanked by torch standards. As you exit the memorial, be sure to see the Pro Patria sculpture, which depicts a young man draped in an American flag and was the largest bronze casting ever made in America to date.
Continue north through Veteran's Memorial Plaza, which is dedicated space for all 50 state flags. The plaza's centerpiece is the 100-foot-tall obelisk, its four-sided base decorated with bas-relief panels that represent the four core American values: law, science, religion and education. Proceed through American Legion Mall and past the Cenotaph, a sculpture that honors Corporal James Gresham—Evansville native and the first American casualty of World War I. American Legion Mall also contains the World War II Memorial (a concave half circle imprinted with letters from war and Hoosier Medal of Honor recipients), and the Vietnam and Korean War Memorials (which soberly list Indiana soldiers who died or went missing in action).
Conclude your tour and return back to the canal walk to see the USS Indianapolis Memorial, which honors the single greatest loss of life in U.S. Navy history. The vessel was returning sailors to training duty in the Philippines when it was torpedoed by a Japanese submarine in 1945 and resulted in nearly 900 deaths. These brave men are honored in a stone memorial shaped like the cruiser itself with etchings of the vessel on its side. For more information, visit In.Gov/IWM.
Annie Oakley Natural Perfumery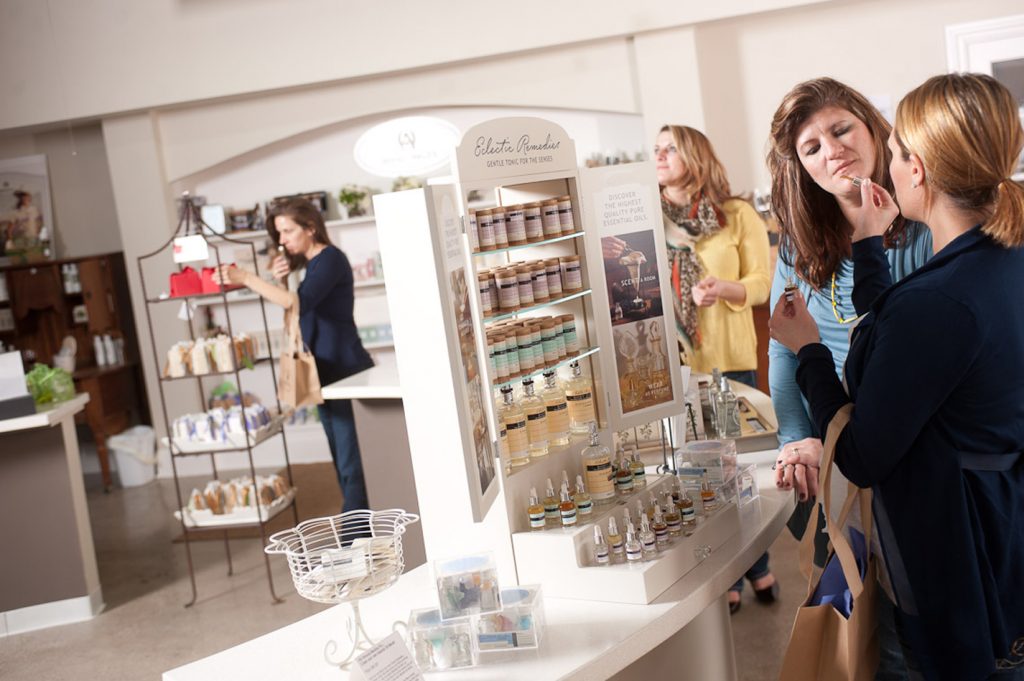 If you're looking to treat your group to an opportunity that's available in just one place in the whole country, consider a tour of America's only perfumery. Its unlikely location: the Amish Country of northeastern Indiana, about 14 miles south of Shipshewana.
Annie Oakley Natural Perfumery in Ligonier started in 1980 in the kitchen of Renee Gabet, who, with her daughters, created and hand-blended fragrances and essential oils. Over time, the products gained popularity and the little company expanded into an off-site factory. Today it produces a full line of products, many of them natural and organic, for men and women; they are available at more than 1,000 retail locations. More than two million bottles have been sold.
On 45-minute tours of the factory, visitors learn the story of the company's beginnings and see how fragrances are created, blended and bottled. There's a chance to sample products, from the original Annie fragrance to not-yet-released products in development. After the tour, guests can sample more fragrances and essences and then browse the gift shop.
Fragrances for women include Indian Musk, Citrus & Honey, Evening Lavender, Cherry Blossom, Honeysuckle and White Lily, to name just a few. Sagebrush, Stampede and Wild West are for men.
The company is named after Annie Oakley, a sharpshooter in Buffalo Bill's Wild West show. Born in Ohio in the mid-1800s, she was the first female to gain any notoriety in that previously male-dominated field. Gabet says what Oakley represented – the spirit of America, simplicity, freshness – represented her brand perfectly.
Private tours can be scheduled Monday through Friday between 8 a.m. and 3 p.m. Saturday tours are available on request. For more information, visit AnnieOakley.com
Park County Covered Bridges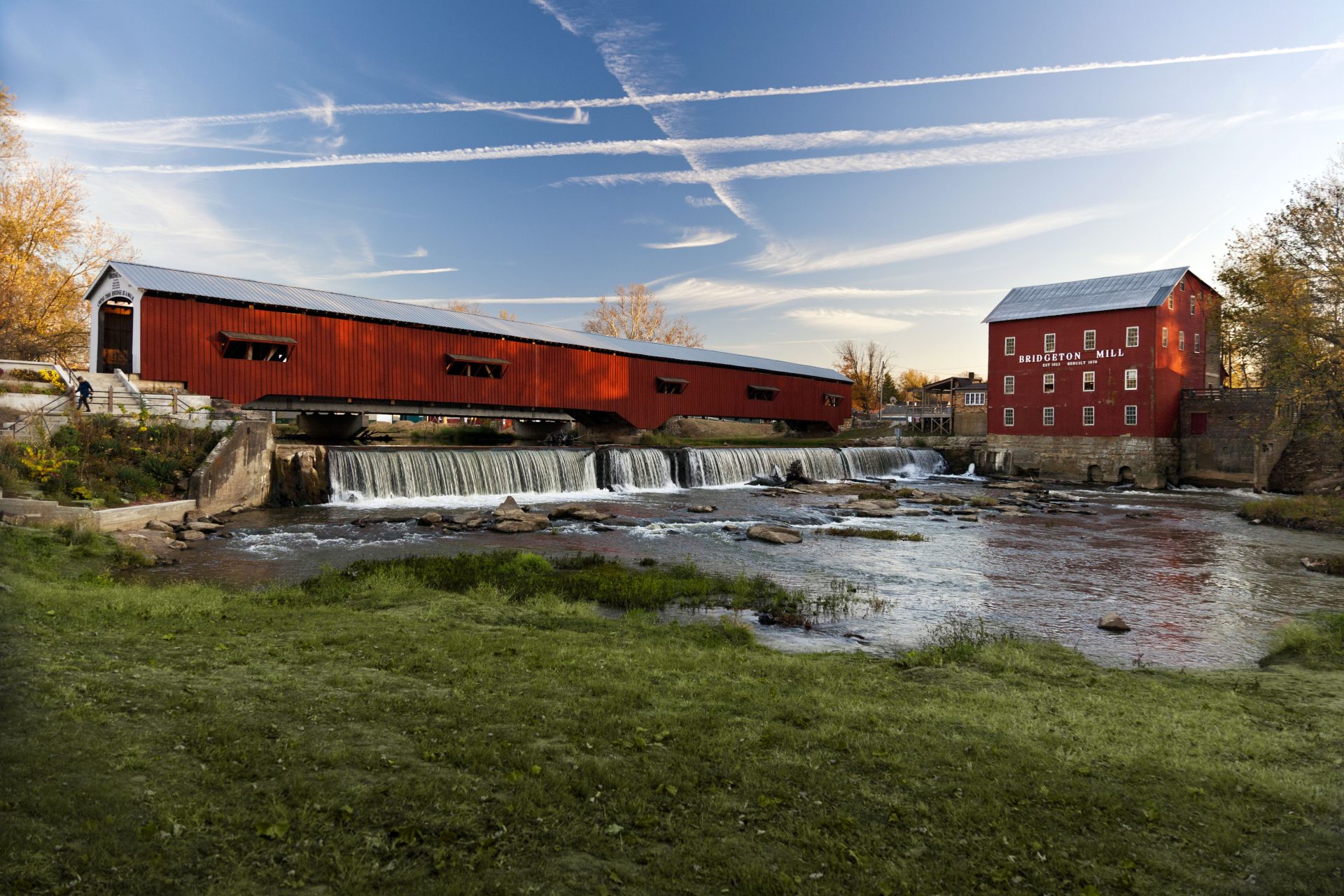 The "Covered Bridge Capital of the World," Parke County is home to 31 preserved rustic bridges that dot the countryside. Located in western Indiana, 55 miles west of Indianapolis, the county offers five color-coded touring loops that range from 24 to 33 miles. The bridges along these routes will explain the story of Parke County, an area originally occupied by the Miami Nation before European settlers moved into the county in the 1800s. The many fertile creeks that flow across the landscape led to flourishing trade and the need to pass over them, resulting in the exemplary bridges that stand today.
A tour guide can explain that 19th century covered bridges were wooden due to the abundance of virgin timber in the area. Most of the bridges in Parke County are made of yellow poplar or white pine, whose hardy qualities have assisted in the bridges' preservation. Historians can also explain the advancement in bridge-building throughout the decades by showing differences in foundations, roofing and paint at different sites. Each route features four to six covered bridges, some dating back to 1856, and all hub-and-spoke through the county seat of Rockville, so multiple-day touring is convenient.
The Black Trail, which passes through the county's southeast corner, features one of the most-photographed structures in the area: the Bridgeton Bridge. A reproduction after the original was destroyed in a fire, this bridge is an excellent example of the Burr Arch design, which combines a wooden arch and multiple trusses. Constructed alongside a still-operating mill, the bridge is great for group photographs and is accompanied by a short paved walkway along Big Raccoon Creek. The gristmill still operates and offers freshly made flour and cornmeal for sale.
Continue clockwise to the Red Trail, which passes through the Roseville Covered Bridge. Constructed by the Van Fossen brothers, whose work is associated with at least four more bridges in the county, the structure is notable for its concrete abutments and cut sandstone base that has helped preserve it since 1910. Meanwhile, the West Union Covered Bridge on the Yellow Route was used for stagecoach traffic to Lafayette and was part of the longer "Indiana State Highway," which was established by the state in 1827 and was to extend from Richmond to Terre Haute. Fans of haunted history should stop by the Sim Smith Covered Bridge on the Brown Route. Locals have reported hearing the noise of a phantom horse and buggy and seeing a Native American ghost, so come prepared with a hearty constitution if your group visits at night. Narrows Covered Bridge in Turkey Run State Park is one of the most-photographed bridges in the state with a compelling backdrop of sugar maple trees and river rocks.
Every October, thousands of visitors converge upon Parke County to experience the Covered Bridge Festival, the state's largest festival and one of the Midwest's top autumn events. The annual celebration is centered on the Rockville Courthouse Square, which turns into a marketplace of arts, crafts and food vendors. Throughout the festival, nearby towns like Bridgeton, Mansfield and Montezuma beckon travelers with vendors, community-wide yard sales and history tours.
For more information, visit CoveredBridges.com.