With fewer people traveling by air these days, the airport experience is more relaxed. One traveler describes his no-stress flight but warns it won't be like this forever.
As some COVID-19 restrictions were beginning to lift and I was going stir-crazy staying at home, a long-time friend of mine sent me a screenshot of a new flight that was starting up between Chicago Midway and Asheville, North Carolina. My friend had just recently relocated near there and thought it would be a great idea for us to hang out, spend some time hiking, and get away from the turmoil and isolation we all have been facing since March.
On top of that, introductory fares on this route were outrageous to say the least. The base fare was $29 each way, and even adding in a preferred seat with extra legroom and a carry-on bag, the fare including taxes was something like $129 roundtrip, non-stop. I could drop that on dinner at a decent restaurant, so what did I have to lose?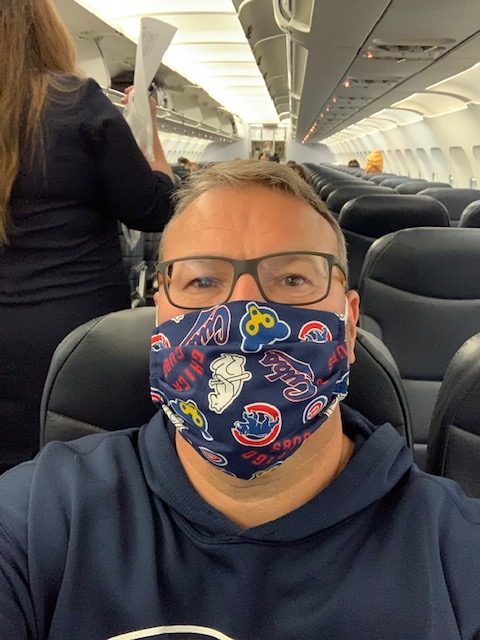 As my flight day approached, I was a bit anxious, but in a good way. In many roles that have taken me around the world and away from home as much as 50% of the time, flying has been a necessity, and often a chore. As we have all experienced, the long check-in lines, security and, most maddeningly, the delays didn't always make it an experience most people craved. I often found myself numb when flying, which is the one of the best ways to survive it if you are a road warrior. As a youngster, when our family would take trips, the excitement and anticipation of flying somewhere was part of the trip and made it something to look forward to. This recent flight felt a bit like that, which was very cool given the less-than-ideal circumstances we're all facing these days.
Once Bustling Airports Now Empty
I got a ride to Midway (no traffic!) and was quickly dropped off at the curb. Seeing the airport so relaxed and empty was a bit alarming, but also refreshing. We have all become used to the chaos, so it definitely felt very different. Everyone was wearing masks and couldn't have been friendlier. The check-in procedure at TSA was the quickest I had ever had, as I simply walked up, presented my passport and went to the security lines. There were greetings and smiles everywhere—so different than it usually was prior to COVID-19. I appreciated all of this new courtesy and civility at the airport and was very relaxed. I kept thinking to myself, "This is how flying should always be."
The time from curb to gate was less than 10 minutes, and it reminded me of small regional airports with one building and four or five gates—definitely not a major airport like Chicago Midway. Upon arrival at the gate, two friendly Allegiant Airlines gate agents greeted me enthusiastically and encouraged me to relax before our boarding and departure. I was impressed by their obvious joy for being able to serve customers once again.
The gate areas were wide open, with plenty of distance between passengers, which made the entire pre-departure experience very relaxing. Of course, since the flight was not full at all, the boarding process was quick and simple. And Allegiant Airlines gave every passenger a "kit" that included a mask, anti-bacterial wipes for your seat area and a small container of hand sanitizer—a welcome surprise. And, of course, it's always good to have an extra mask!
Empty Flights Means More Legroom!
There were about 30 people on the Airbus A-320, which meant tons of extra room and my own row of seats. I was sending texts out to friends and family that it felt like flying a private jet. In fact, since everyone was onboard so quickly, we left when the flight crew was ready—about 15 minutes early. It's only about a 90-minute flight from Midway to Asheville, and I enjoyed every minute of it. The aircraft was incredibly clean and comfortable, and being back in the air for the first time in such a long time felt so liberating and uplifting. There is something about travel that frees the mind and spirit, and I certainly needed that after all of that quarantine time at home.
Everyone onboard, especially the flight attendants, wore masks and maintained proper distancing. It was clear to me that the crew was well trained for these new protocols that will make people feel comfortable going back to the skies. During the boarding announcements, the captain commented about the plane's HEPA filtration systems, which basically "scrub" and circulate fresh cabin air every three minutes. This quickly set the tone for people to sit back, relax and enjoy the ride.
Our arrival into Asheville could not have been easier, or more punctual. Of course, it is a smaller airport, which is always fun to fly into and out of, but the entire journey, especially leaving from Chicago, seemed so effortless. My return journey went just as smoothly. Onboard, I thought about when I would be taking my next flight, and to where.
I was also thinking about all of the times that flying went so bad and how challenging it had become. How the service levels were dropping and a cattle car mentality was prevalent with many air carriers. That the value for service was not there with each plane filled to capacity and supply and demand dictate higher fares and service reductions.
But for this brief time, and in the near future, there is a reset in progress that makes flying more enjoyable and a bit more civil. The staff is friendlier, the passengers are more excited and appreciative, and the lack of chaos at the airports makes for a pleasant voyage. It won't last forever, as airlines are already adding back some capacity and the buzz is getting out about how great it is to fly now thanks to fewer crowds and low fares.
It might be a while until everything is back to pre-COVID-19 levels, so this is one of those rare opportunities in which the customer benefits from this re-set and the flying experience becomes enjoyable again. But airlines can't survive on half-empty planes, so get out there now before the crowds return.
---
By Mike Schields