Since the restart of cruising began in the late summer of 2021, cruise lines have putting more and more of their ships back into action on varied itineraries from different ports. People might wonder what the cruise experience entails today, so I felt it would be valuable sharing my experience on a recent eight-night Caribbean cruise from Fort Lauderdale on Royal Caribbean's Allure of the Seas. 
The Allure of the Seas is one of Royal Caribbean's Oasis-class ships. Normally she can accommodate up to 5,400 guests based on double occupancy. On my sailing there were approximately 4,400 guests onboard. 
The Allure of the Seas has 16 decks and features the line's exclusive neighborhood concept. The seven themed neighborhoods are Central Park, the Boardwalk, Royal Promenade, Pool and Sports Zone, Entertainment Place, Vitality at Sea Spa and the Fitness Center, and the Youth Zone, a haven for children and teens. 
The Boardwalk features shops, casual eateries, restaurants, a custom-made carousel and the Aqua Theater. An amphitheater-style space celebrating water, the Aqua Theater offers a spectrum of day and night-time activities. In the evenings it is a dazzling oceanfront theater with water and light shows. 
The Royal Promenade has several restaurants and bars, including Champagne Bar, Rising Tide Bar, Schooner Bar, Sorrento's Pizza and Boleros, a Latin dance club. 
The ship's diverse dining options range from specialty restaurants to the Main Dining Room, where guests can opt for the traditional Main Seating or Second Seating as well as My Time Dining. Reservations are required in advance. These can be done using the Royal Caribbean app or dining reservations number from your stateroom, or stopping by the dining venue.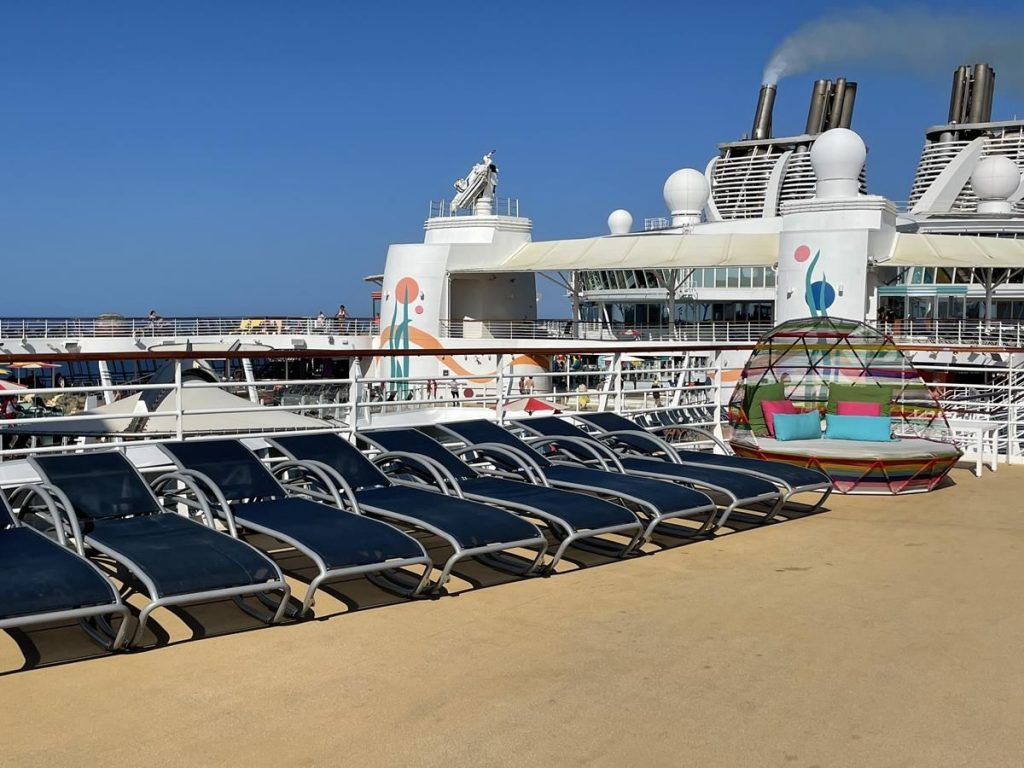 Booking Requirements, Check-in Procedures and Boarding Protocols 
When I got my cruise booked, I had to submit necessary documents, including my COVID-19 vaccination card, which shared when I had my vaccinations and boosters done. And there were a few more questions I had to answer. COVID-19 vaccination requirements vary by the port of departure and age group. This Royal Caribbean site shares details: https://www.royalcaribbean.com/gbr/en/faq. 
In my case, because I was departing from the United States two days (no more than 48 hours) before embarking on the Allure of the Seas, I had to get a rapid COVID-19 antigen test myself that showed I had tested negative. I brought that document with me. 
I had been given boarding instructions in advance. Masks were required at the cruise terminal, and social distancing was implemented. The first area/line I was directed to was in the cruise terminal itself – cruise line embarkation staff members were there. We had to show our COVID-19 vaccination card and the negative result of the rapid antigen test that had been done less than 48 hours prior. From there we were directed to another line and waited to check in for the cruise with other staff members. After completing this, we were directed to an area where we went through the normal security check. From there, we boarded the ship. Overall, it was a very seamless experience. 
Entertainment 
On the Allure of the Seas, there many diverse entertainment options available throughout the cruise. Reservations were required for the shows, but using the Royal Caribbean app made it extremely easy. I downloaded the app in advance and made reservations prior to embarkation. 
"Ice Games – Ice Spectacular," which took place in Studio B, let guests enjoy a show featuring an international cast of world-class skaters in musical production numbers. It was definitely a show not to miss. "Ice Games – Ice Spectacular" was offered three evenings during the cruise. 
In the OceanAira Aqua Show, held four evenings at the Aqua Theater, the graceful divers soared overhead, making an underwater civilization come to life. The musical Mamma Mia! was performed on two different days. 
In addition, there were diverse Headliner Showtimes starring different performers. From trivia and big-screen movies to music and dancing, adult karaoke, piano bar entertainment at the Schooner Bar and guitar melodies in Central Park, there was no lack of phenomenal entertainment onboard. At the outdoor Aqua Theater, another fun option was the "Movie on Deck," where different movies were shown throughout the week. 
Dining – Diverse Options 
Besides dining in the Main Dining Room, the Allure of the Seas offered many other wonderful options, from coffee and snacks 24 hours a day at the Cafe Promenade (a personal favorite) to Windjammer Marketplace located on Deck 16, which featured beautiful views.
Specialty restaurants involved a separate cost but offered wonderful cuisine. They included Chops Grille, Giovanni's Table, Sabor, Samba Grill, Hibachi Teppanyaki, Izumi, 150 Central Park and Johnny Rockets. 
Bars and Lounges 
Another fun experience I enjoyed was the Rising Tide Bar, located on Royal Promenade. A the world's first moving bar at sea, cruise guests can enjoy a cocktail as the bar slowly moves between the Royal Promenade on Deck 5 to Central Park on Deck 8. Other bars include Schooner Bar (featuring varied entertainment), the Solarium Bar, Boleros, Pool Bar, Bow & Stern Pub and Vintages Tapas. 
Pool and Sports Zone 
On Allure of the Seas, the Pool and Sports Zone provides a "playground" for guests of all ages. There are four unique types of pools. The Main Pool has two side-by-side whirlpools. The Beach Pool has a sloped area where guests can wade into the water or just relax in colorful beach chairs under an umbrella. The H2O Zone entertains families looking for fun and has a giant octopus with water- spraying tentacles, along with other water-spouting ocean creatures. The Sports Pool is where guests can enjoy lap swimming in the morning and afternoon sports. The open-air, adults-only Solarium is a two-deck-high, glass-paneled enclave with a tranquil swimming pool, two serene whirlpools and four cantilevered whirlpools.
Other Fun Options 
Allure of the Seas has two signature rock climbing walls that flank the Aqua Theater. For guests who want to safely fly through the air, there is the zip line, also on Deck 7. There is mini golfing at Allure Dunes MiniGolf on Deck 15. 
Diverse Shore Excursions 
In addition to having the Shore Excursions Deck located on Deck 6, another option (which I took advantage of myself) is to pre-book my shore excursions using the Royal Caribbean app. 
Disembarkation and Easy Departure 
Prior to disembarkation day, Royal Caribbean provided us with a special "Tips for Easy Departure." They implemented a more gradual flow for their departure process, and it was very seamless. We were provided details including the departure schedule going from the stateroom to the departure lounge areas. It was very easy to use, and there weren't any major backups. 
Final Thoughts 
This was the first cruise I had taken since 2020 when COVID-19 came up so unexpectedly. With the protocols put into place and implemented, I felt extremely safe. 
When thinking about organizing a future group trip, definitely consider a cruise. Royal Caribbean, with its diverse line-up of ships, wide range of entertainment and dining, and plethora of things to do, is a good line to consider. 
By Cindy Bertram
Cindy Bertram has 15+ years of cruise industry expertise in marketing, content creation, sales and training as well as social media. Her MBA from Loyola University Chicago complements her high creative edge and liberal arts BA. She can be reached at cindy@ptmgroups.com.