Captivating scenery awaits travelers on Wisconsin's highways and byways
One of the joys of group travel is simply looking out the window, your eyes glued to the glass as the coach passes through mighty forests, skirts lakes and rivers, rolls through farm fields and slows down in hamlets that harken back to days gone by. For scenic drives, there's no better place in the Midwest than Wisconsin.
Any time of the year can produce eye-popping vistas of Mother Nature at her best and nostalgic longings for country life, but the flaming leaves of fall foliage season seem to put an exclamation point on the trip. Spring and summer are alive with brilliant blooms, greenery, wildlife and spectacular views. Here are a few ideas for pretty drives in all parts of the state.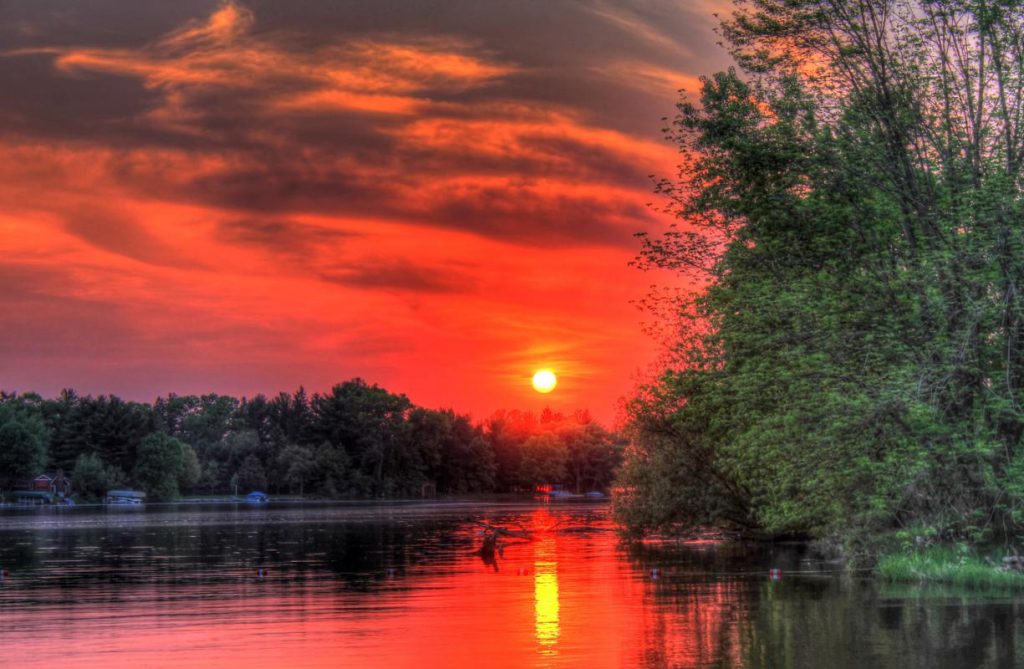 Great River Road
Highway 35 constitutes the Wisconsin portion of Great River Road National Scenic Byway, which curls along the Mississippi River for 250 miles through 33 historic towns and villages, from Potosi north to Prescott. Forming the state's western border, the road is nestled between the mighty Mississippi on one side, sheer bluffs of limestone and sandstone on the other. Overlooks along the way provide great vistas to stop for a photo op, group picture or perhaps a selfie to post. Autumn's glowing oranges, reds and yellows only add to the majesty, making the byway one of the Midwest's most celebrated fall foliage routes. February-March is the best time for spotting eagles, but they can be seen any time during the year. Thousands of ducks, geese and tundra swans also frequent the valley. River history comes alive at six interpretive centers maintained by the Byway and at historical attractions such as the Riverside Museum in La Crosse and Prairie du Chien's Villa Louis and Fort Crawford Museum. Half the fun of cruising the Great River Road is stopping in the little towns filled with specialty boutiques and antiques shops.
Rolling Hills of Highway 14
Start your explorations at 600-foot-high Grandad Bluff, a city park that overlooks La Crosse; the view of the Mississippi River Valley takes in three states (including Iowa and Minnesota) and is one of Wisconsin's most scenic. Then head east on Highway 14 to the Shrine of Our Lady of Guadalupe, a popular pilgrimage site. Tours of the shrine are free and include the hilltop church, its campanile and dome visible from afar. The drive continues to Amish farm country and the bucolic beauty surrounding the village of Coon Valley. A visit to the area is not complete without exploring the always popular The House on the Rock in Spring Green. Explore some of the world's most unique collections including the world's largest carousel, a 200' sea creature, automated music machines and so much more. Enjoy the views of the valley as you step into the Infinity Room, which offers stunning vistas of the area.
Cranberry Highway
From late September to late October, Central Wisconsin's Cranberry Highway reveals brilliant splashes of fall color as red seas of cranberries ready for harvest combine with the blazing yellows and oranges of fall leaves. This drive stretches for almost 50 miles along century-old cranberry beds from Wisconsin Rapids to Warrens, and between Pittsville and Nekoosa. Highways 54, 173 and 13, plus county roads in Wood, Juneau and Monroe counties, are best for exploring cranberry country. Several area growers offer fall tours that take visitors right up to the edge of the flooded marshes where workers wade through the crimson lakes and rake the tart bed berries to an elevator belt that conveys them into waiting trucks. Visitors can learn about the official state fruit at the Wisconsin Cranberry Discovery Center. Wisconsin is America's largest producer of cranberries.
Trade busy highways for scenic local roads in southwestern Wisconsin's unglaciated Driftless Area.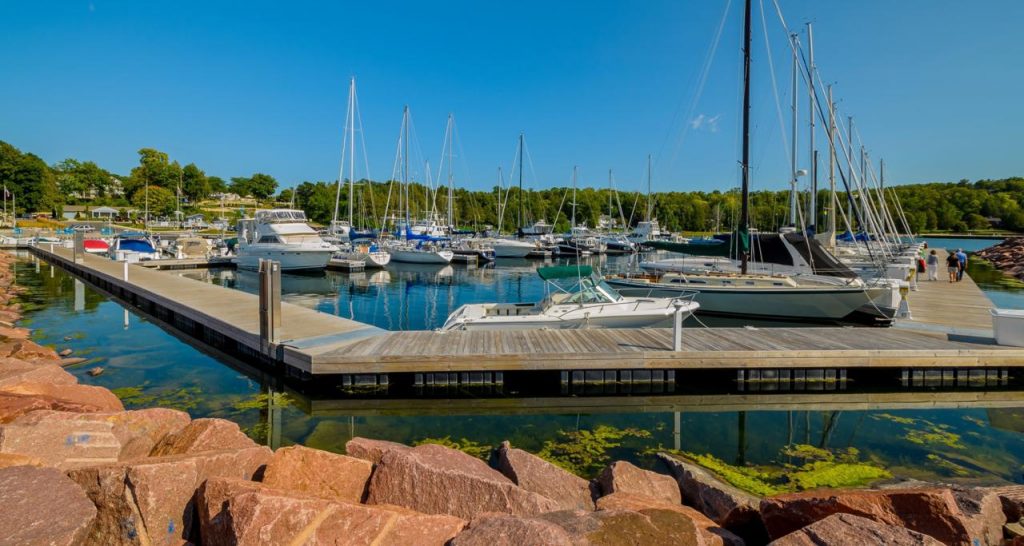 Wisconsin Lake Superior Scenic Byway
This 70-mile route follows the southern shoreline of Lake Superior along the Bayfield Peninsula, passing through charming harbor towns, historic fishing villages, small farms and orchards. Take in views of forests, pristine sandy beaches, bluff tops, waterfalls, majestic lighthouses and the sparkling blue waters of Lake Superior, Apostle Islands National Lakeshore and Gaylord Nelson Wilderness Area. Other highlights include Brule River State Forest and Amnicon Falls State Park. American presidents and generals enjoyed the beauty, trout fishing and serenity of Wisconsin at Cedar Island Lodge also known as "the Summer White House," located in the state forest.
Chippewa Falls to Cornell
This 24-mile drive on Highway 178, hugging the north shore of the Chippewa River, is bookended by two scenic state parks: Lake Wissota to the south and Brunet Island to the north. Chippewa Falls, just southwest of manmade Lake Wissota, abounds with group-friendly attractions, including the Chippewa Falls Museum of Industry & Technology, which spotlights local industries like supercomputing, packaging and footwear manufacturing.
Baraboo Hillstour
The Baraboo area, between Madison and Wisconsin Dells, abounds with breathtaking bluffs and is always popular with fall leaf-peepers. Start your loop in the town of Baraboo, famous for its Circus World Museum, and go east on Highway 113, following it up and over the Baraboo Range. Once back on the bottom on the south side of the hill, see Devil's Lake State Park, the state's largest and most visited state park. A geological phenomenon, it dazzles visitors with its giant boulders and quartzite bluffs. On Tower Road a small country church provides great photo opportunities, especially when framed by maples in full fall regalia. A Baraboo Hills drive also might include visits to Durward's Glen and Parfrey's Glen, peaceful natural areas popular with hikers.
Great Divide National Scenic Highway
Travel on Highway 77 through the towering trees of Chequamegon-Nicolet National Forest and revel in the diversity of plant and animal life in the majestic north woods. Spanning 29 miles between Glidden and Hayward, the road crosses lakes, swamps and bogs alive with beaver, loons and bald eagles. It passes through forests harboring black bear, timber wolves and white-tailed deer; look for Rocky Mountain elk, especially on side roads at sunrise. Fall brings fiery reds and shimmering golds as maples contrast with the
deep-green pines.
St. Croix Valley
Explore quaint river towns on this scenic drive covering 60 miles on Highway 35 in the St. Croix River Valley between Prescott and St. Croix Falls. Interstate Park in St Croix Falls lies along the east side of the Dalles, a gorge with walls rising 200 feet above the river. A true geological gem, the park is the headquarters for the St. Croix National Scenic Riverway. This preserved land along the Minnesota-Wisconsin border features campsites, hiking trails and birdwatching areas to entice groups year-round. Further northwest of the St. Croix, the scenic riverway includes the Namekagon River. This protected system of riverways is the largest of its kind east of the Mississippi River. Learn more about Scenic Riverway at one of the two National Park Visitor Centers in Trego and St. Croix.
Door County Coastal Byway
Follow the signs for this designated scenic byway stretching over 60 miles of the Door Peninsula, a part of the Niagara Escarpment that stretches from New York to Niagara Falls through Wisconsin down to Illinois. Take Highway 57 north from Sturgeon Bay, the peninsula's only city, to Gills Rock on the tip of the "thumb" and then head back south on Highway 42. The rugged landscape, featuring shoreline cliffs and caves, is dotted with fishing villages, beaches, cherry orchards, wineries, lighthouses and five state parks. Often compared to New England, Door County has been nicknamed the "Cape Cod of the Midwest." Quaint shops and casual to gourmet dining, including the famous Door County fish boils, can be found
in lakeside towns like Fish Creek, Egg Harbor and Sister Bay.
Shawano County
One of the best ways to appreciate autumn's kaleidoscope of colors in Wisconsin's Heartland Region is to explore the picturesque countryside of Shawano County. From mid-September to mid-October, see the sugar maples in all their red and gold glory on a loop around Shawano Lake via Highway 22 and County H. A driving tour of Shawano Country also rewards the traveler with more than 300 quilt patterns painted on historic barns and cultural insights into the Amish community, Menominee Nation and Mohican Nation.