Cindy Bertram of Leisure Group Travel spoke with several river cruise industry leaders to get insights on what calm-water cruising offers groups. Some of their responses were published in Leisure Group Travel's December issue, and additional comments appear below.
Participating were Timothy Beebe, vice president, marketing, American Cruise Lines; Patrick Clark, managing director, Avalon Waterways; Richard Marnell, vice president marketing planning, Viking River Cruises; Rudi Schreiner, president, AmaWaterways; and Guy Young, president, Uniworld Boutique River Cruise Collection.
Cindy Bertram: The river cruise industry has gone through tremendous growth. What do you attribute this to?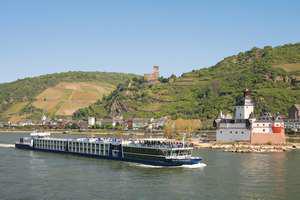 Timothy Beebe: Several factors have led to growth in the river cruising sector. First, awareness. More unique itineraries on some of the U.S.'s and world's most fascinating rivers are being offered and advertised. Second, the popularity of European river cruises is spilling over into the U.S. People are realizing that they can have a similar experience right in their own backyard. Third, cruise vacations continue to grow in popularity, which certainly helps river cruise lines expand market share and awareness. Lastly, the competitive landscape for river cruising is a smaller one, with each line offering a unique product appealing to different audiences and interests.
Patrick Clark: Demographics are baby boomers looking for a hassle-free travel style that provides good value and interesting, enriching destinations.
Richard Marnell: We too have seen growth since we entered the market in 2000. Much of the growth can be attributed to the education of today's travelers, sharing information on what river cruising is and what the benefits are. As people become educated on everything that a river cruise has to offer, they open their minds to the concept. Plus, those who take a river cruise tend to become enthusiasts, repeating the river cruise experience in a variety of destinations. For Viking, that could be a number of rivers in Europe, Russia, Ukraine, China, Egypt and Southeast Asia.
Rudi Schreiner: More and more people are realizing that river cruising is the finest way to experience the heart of the destinations we serve, including Europe, Russia, Vietnam and Cambodia. We are also expanding to Africa in 2012, with a program featuring an amazing safari cruise on the Chobe River. Our river cruises combine the best of an ocean cruise with the best of a land tour, with none of the downsides, such as the lines, crowds or seasickness.
Guy Young: The biggest driver for the growth of river cruising is the product itself. River cruising is absolutely the best way to see a destination. Clients unpack once. They are then transported on a beautiful ship – and in great comfort –to some of the most interesting cities and small villages in Europe. A river cruise experience is almost all-inclusive, which clients find very attractive. Our client satisfaction rate is 98 percent, resulting in a very high repeat factor.
Bertram: How are you marketing river cruises to a younger, more professional traveler?
Beebe: There tends to be an assumption that river cruising is primarily for older clients. First and foremost is the travel agent and group leader community, coupled with a combination of magazines that have a wide sort of demographics. Some of these do target a younger, more professional audience, so using these magazines increases the awareness of our products.
Clark: We have shorter cruises for the time-starved younger guests. In addition, we have theme cruises centered on wine, music, art, European history/politics, Jewish heritage and Christmas markets. Guests receive added inclusions at no additional cost. By making the travel style all inclusive, we can save both time and money, important to all ages.
Marnell: River cruising is for anyone who enjoys the convenience of cruise travel—unpacking once, sailing from port to port, exploring highlights of their destination—but wants to discover some inland destinations. We use a variety of marketing channels to reach our past guests as well as potential future guests, including marketing to travel agents who target a variety of travelers.
Schreiner: I'm not sure where the concept of older traveler comes from in regards to river cruising. Ocean cruising had this image, but it's slowly eroded in the past decade. Our river cruises are ideal for the more active passenger. Each day can be action-packed – taking part in complimentary shore excursions in one or more destinations, perhaps a little bike ride or enjoying some delicious meals (all our ships are members of Chaine des Rotisseurs). Guests can check emails on their laptop with our complimentary Wi-Fi and listen to some evening entertainment. We already market to the type of passenger who'd want to take advantage of everything we have to offer. We're not really making a concerted effort to reach a younger audience – it seems to happen naturally!
Young: We are beginning to attract a younger clientele for many reasons. First, river cruising is growing tremendously. Getting more exposure in the marketplace also attracts attention of a wider audience and a younger demographic. We've also done some product changes to attract a younger clientele – offering bikes on board our ships, more active shore excursions and walking tours. We also have a handful of itineraries geared towards multi-generational travel – these have proven to be very successful.