The American South provides endless opportunities for soft outdoor adventure tourism, including horseback riding, hiking, camping and more.
From the vast, rolling landscape of Virginia's Blue Ridge Mountains to the salty seawater of North Carolina's Outer Banks, the Southern United States is nothing less than a utopia for soft outdoor adventure tourism. It's low-risk but high in fun, and this style of tourism can include anything from horseback riding to birdwatching. Simply bring your hiking shoes, your swimsuit and your spirit of adventure — you're bound to be enchanted by the endless soft adventure tourism the South has to offer.
SNORKELING ALABAMA'S BEACHES
After a day of lounging in the sugar-white sand of Orange Beach or chowing down on some fresh seafood, visitors to Alabama's Gulf Coast can cool down by diving face-first into the deep blue.
Snorkeling around Alabama's beaches is a great way to have close encounters with a wide array of marine life, from jellyfish to sea turtles. The best part? The only equipment needed is a mask and a pair of flippers — no boat required. Simply swim to the Alabama Point jetties to see horseshoe crabs and tropical fish along the rocky shoreline. Other under-the-sea sights include the Paddle Wheeler, a popular snorkeling site that boasts abundant marine life and the shallowest waters. History buffs might be inclined to check out the Whiskey Wreck, an old Spanish rum runner that sank in the early 20th century. You can still see fragments of the wreckage only 150 yards off the Gulf Shores.
PARASAILING THE OUTER BANKS
Who says North Carolina can't be enjoyed from a variety of perspectives? For any visitor to the Outer Banks, parasailing over the blue waters is a must-do. Parasailing has become a popular water sport for tourists seeking a memorable vacation experience.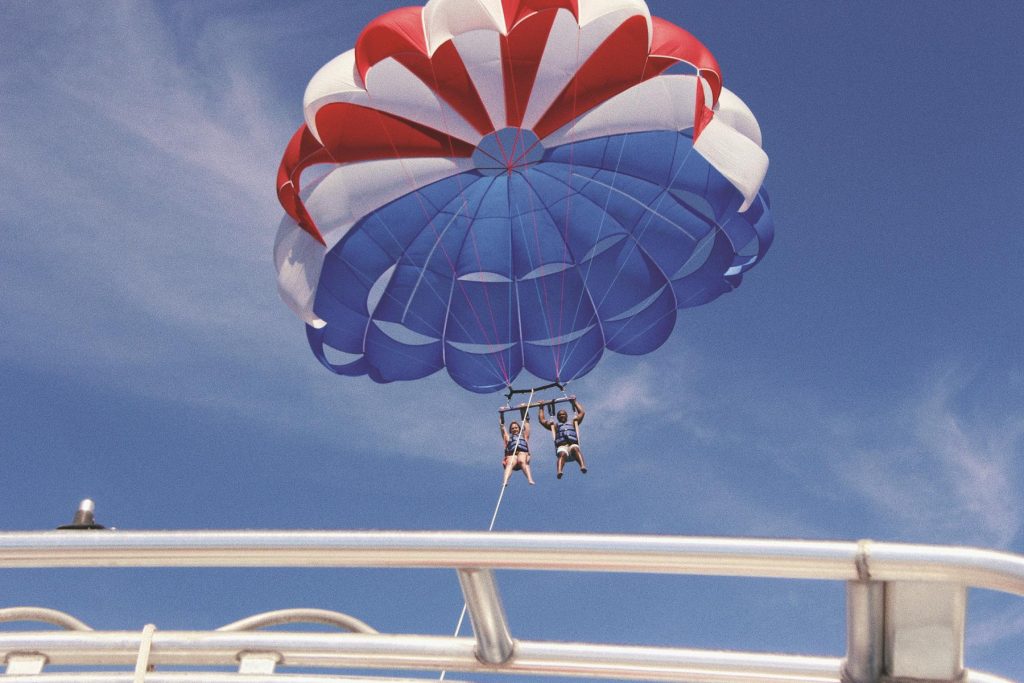 Your parasailing journey will begin by boarding a boat and setting off to sea. Once your captain picks up the speed, you'll be lifted from the water and into the sky by a canopy wing. From there, sit back and take in astonishing views of the Outer Banks. Adrenaline junkies can pay an additional fee to go higher in the air, with most parasailing companies topping off at 1,200 feet.
DEEP SEA FISHING IN MYRTLE BEACH
The American south is an angler's paradise, and South Carolina's Myrtle Beach is no exception. Visitors to the area have a wide variety of options when it comes to fishing excursions, including dolphin tours and private fishing charters. When setting out on the saltwaters of the Atlantic Ocean, you can expect to catch an array of fish such as red snapper and grouper. If you prefer fresh water fishing, worry not: the Myrtle Beach area conveniently sits on a series of inland waterways.
CANOEING AND KAYAKING GEORGIA'S WATERS
For a relaxing paddle along gorgeous waterways, look no further than the state of Georgia. Rushing rivers, picturesque lakes and whitewater rapids are just a few of your options for a true kayak adventure. Consider taking a gentle canoe expedition down the Suwannee Canal, located in Georgia's Okefenokee Wildlife Refuge. Surrounded by cypress forests and idyllic water lilies, visitors to this site will find themselves moved by the calm of the undisturbed wilderness.
SALTWATER PADDLING IN FLORIDA
Low-hanging palm trees, turquoise-blue rivers, manatees — this is the quintessential Florida experience, and for visitors wishing to tour the South, the best way to see the Sunshine State is on a kayak or canoe.
Groups like Paddle Florida are dedicated to giving eco-tourists a memorable exploration of the state's 1,700 miles of coastal creeks, springs and rivers. The bonus? Paddle Florida and other groups work to promote wildlife conservation and waterways protection while highlighting the area's cultural and natural heritage. You can choose from a variety of paddling tours, including multi-day or short expeditions led by local naturalists.
LOUISIANA SWAMP TOURS
Is it really a trip to the South if you don't see at least one gator? South Louisiana's ancient swamps are some of the planet's most diverse ecosystems, and play an important role in the state's cultural heritage. For visitors flocking south, a guided airboat or kayak tour is a must-experience. To fly over the murky water (and minimize gator-to-hand contact), consider taking an airboat tour at Atchafalaya Basin Landing.
BIRDING & WILDLIFE VIEWING IN MISSISSIPPI
For visitors looking to explore the pristine wilderness of the south, simply look to the Mississippi sky. Nature lovers can venture into one of Mississippi's many wildlife preserves or national parks to spot a variety of bird species. During the spring and fall months, head to the Mississippi Flyway to get a one-of-a-kind view of waterfowl and Neotropical songbirds as they migrate south for the season.
HORSEBACK RIDING IN KENTUCKY
If you're an equestrian, a nature lover, or simply looking for a memorable vacation experience, trot down to the Bluegrass State and explore scenic trails via horseback. What better way to indulge yourself in Kentucky's rich history then by riding horseback, one of the state's most cherished traditions?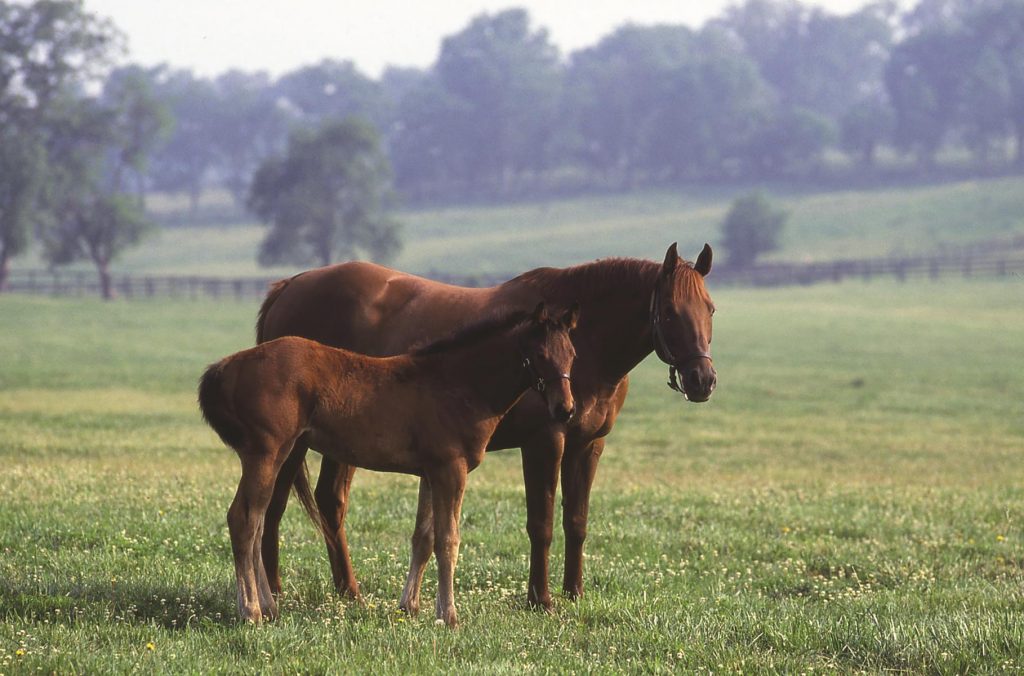 You can find a variety of short, affordable trail rides, but for those seeking a longer outdoor adventure, consider a visit to one of Kentucky's wilderness horse camps. Spend your days riding through the lush greenery of Daniel Boone National Forest, and fall asleep under the stars.
GEOCACHING IN WEST VIRGINIA
Have a smartphone? Great — you're all set for a geocaching adventure in beautiful West Virginia! If you don't know what geocaching is, here's a quick overview: individuals hide caches in national forests, parks, and other sites for visitors to find. Once discovered, you're free to take the reward and refill the cache with new items for the next treasure hunter. West Virginia offers a wide variety of geocaching sites across the state, including Blackwater Falls State Park, North Bend Rail Trail, and Kanawha State Forest.
EAGLE WATCHING ARKANSAS
Nothing says "All-American outdoor adventure" quite like eagle watching, and no state does it better than Arkansas. According to the experts, winter is the best season for avid eagle watchers to visit, as the most settled populations occur during this season. However, eagle spotting is available year-round at Holla Bend National Wildlife Refuge. Free eagle watching tours are available to visitors during Eagle Awareness Weekend.
WHITEWATER RAFTING ON TENNESSEE'S OCOEE RIVER
This one's for the adrenaline junkies. Strap on a helmet, pick up a paddle, and hop in a raft to brave the whitewater rapids of Tennessee's Ocoee River. Surrounded by serene wildlife, this roaring river is located in the Cherokee National Forest outside of Chattanooga, Tennessee.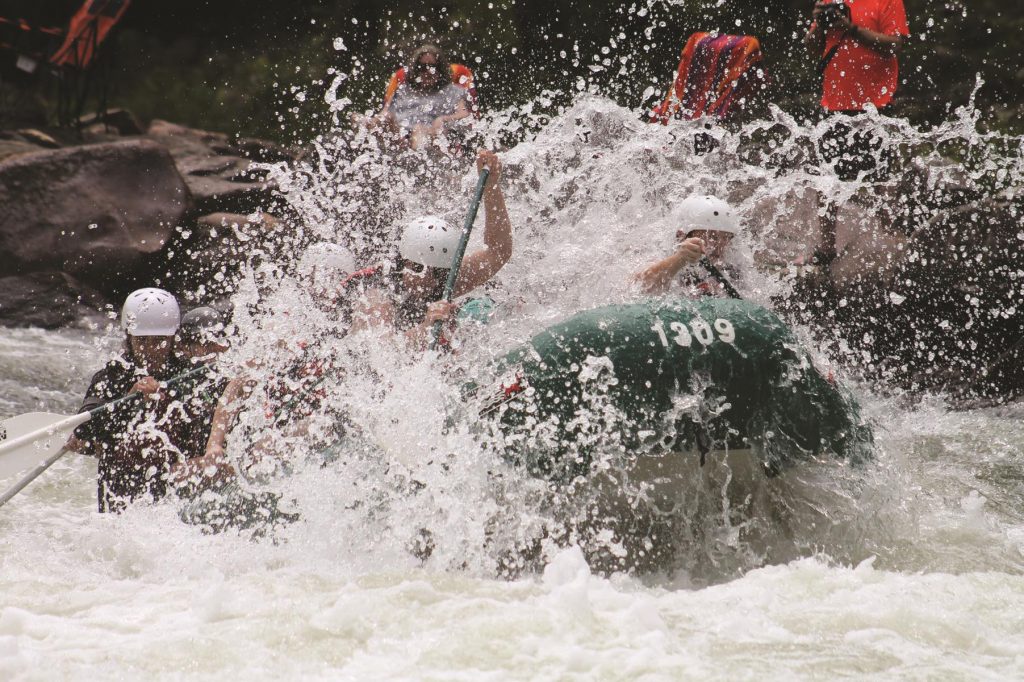 If you're looking for a fun-filled outdoor adventure on the water, head to Ocoee Rafting, the oldest whitewater rafting company on the river.
VIRGINIA'S BLUE RIDGE MOUNTAINS
Roanoke, Virginia is home to the natural beauty of the Blue Ridge Mountains. The towering slopes, stunning views and blue-tinted terrain make these mountains an iconic American landmark, and a must-do on any outdoor adventures' itinerary. Hiking the mountains might seem daunting, but don't be alarmed. If you're seeking an easy hike, check out the Thunder Ridge Trail. It's a short trek, but you'll be surrounded by a panoramic view of the mountain range — without all the sweat of a steep hike. For daring visitors, consider hiking to the summit of Sharp Top Mountain for unparalleled views.
---
By Amanda Landwehr