Sample history and heritage along with delicious cuisine in these historic Ohio areas
Ohio's ethnic roots can be traced through its fertile farmland and cosmopolitan cities. Rural and urban areas alike share the state's rich cultural heritage, and there's no better way for groups to experience the Buckeye State and its hundreds of nationalities than through its ethnic cuisine. From hearty Italian to farmfresh Mexican, nearly every global culture is represented in the state's restaurants, festivals and historic districts.
Cincinnati's Over-the-Rhine
Ohio experienced a wave of Central European immigration in the mid-1800s, with millions of Germans, Poles and Hungarians seeking a better life in the booming Midwestern river cities. No American neighborhood witnessed a greater influx of Germans than Cincinnati's Over-the-Rhine, a district north of downtown populated by poor factory workers. Isolated from the rest of the city by the Miami and Erie Canal, the neighborhood retained its European flavor, and the district boasts distinct Queen Anne architecture and curved cobblestone streets found nowhere else in Ohio. Today, Over-the-Rhine is the largest preserved historic district in the United States, and visitors can sample authentic German and creative Continental cuisine in addition to visiting the preserved buildings.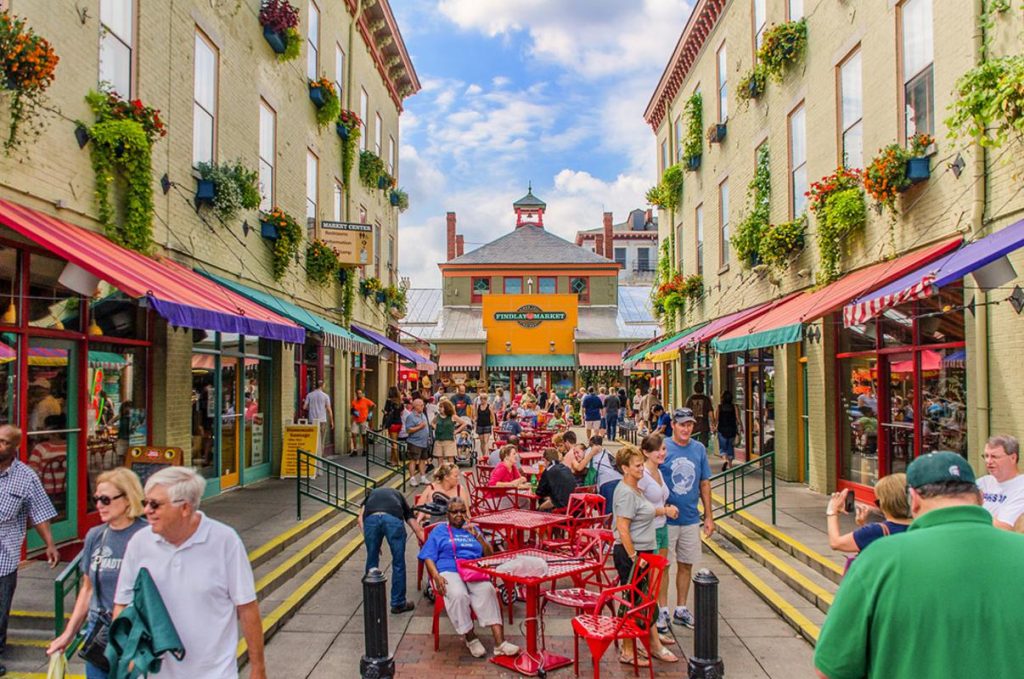 Begin with a visit to Findlay Market, an iron pavilion constructed in 1855. Home to Cincinnati's largest  farmers market, the building also hosts a walkway of permanent vendors such as Babuska's Pierogis and Dojo Gelato. Stop by the Little Berlin stall to taste a döner, a kebab consisting of roast chicken and cabbage that's popular as German street food. Next, walk the winding streets toward the Brezel, which serves authentic Bavarian-style pretzels with garlic and jalapeno variations. The nearby Taste of Belgium serves European breakfast favorites beyond the obvious Belgian waffles, such as hand-rolled crepes and galettes—French breakfast pies filled with eggs and sausage.
Coshocton's Butter Stirrin' Festival
Coshocton is a city of convergences, not just of the Walhonding and Muskingum rivers but also the various cultures that formed modern Ohio. A Lenape tribe settlement for generations, the town developed rapidly after the completion of the Erie Canal in 1824, and the area became known for intercontinental trade and its bountiful apple orchards, which survived even the devastating Great Flood of 1913. Your group can taste the fruits from these same trees at the annual Butter Stirrin' Festival, which features more than 100 vendors and savory offerings served over an open flame. Costumed interpreters recreate Coshocton's 19th century past, while volunteers stir the apple butter in enormous cast-iron cauldrons in the centuriesold tradition.
Toledo's Birmingham Neighborhood
Toledo, located at the mouth of the Maumee River, was a depository for cultures and traders as they traveled downstream toward Lake Erie. While dozens of ethnic neighborhoods developed during the city's rich history, none have become as notable as Birmingham—the heart of Ohio's Hungarian population. A working class district named for the industrial city in England, the area became a Hungarian enclave after foundries in Cleveland shipped their non-union workers to new plants in Toledo. Nearly 40,000 Poles, Czechs and Hungarians lived in East Toledo during its population peak in the 1940s, and while the area has since become much more diverse, the city still celebrates its Eastern European heritage with the annual Birmingham Ethnic Festival. Here your group can sample Kolbász (sausage sandwiches spiced with paprika), palacsinta (thick crepes with fruit fillings) and traditional stuffed cabbage. If your group can't visit in August, stop by Tony Packo's, an authentic Hungarian diner founded in 1932. Be sure to sample the signature sandwich (kolbász sausage served on rye with spicy chili sauce) that's been nicknamed the "Hungarian Hot Dog," and consider sharing an authentic strudel filled with layers of decadent cherry or apple filling.
Cleveland's Little Italy
A culinary anchor on Cleveland's East Side, Little Italy was developed by immigrants from the Abruzzi region. The neighborhood's most notable resident was Giuseppe Carabelli, an artisan who moved from New York to expand his masonry business. He and his fellow sculptors quickly developed such a reputation that their craft was in demand by architects throughout the Midwest, and their success allowed the neighborhood to prosper. Today, your group can tour the preserved Roman Catholic churches and indulge in hearty Italian cuisine served up by local establishments.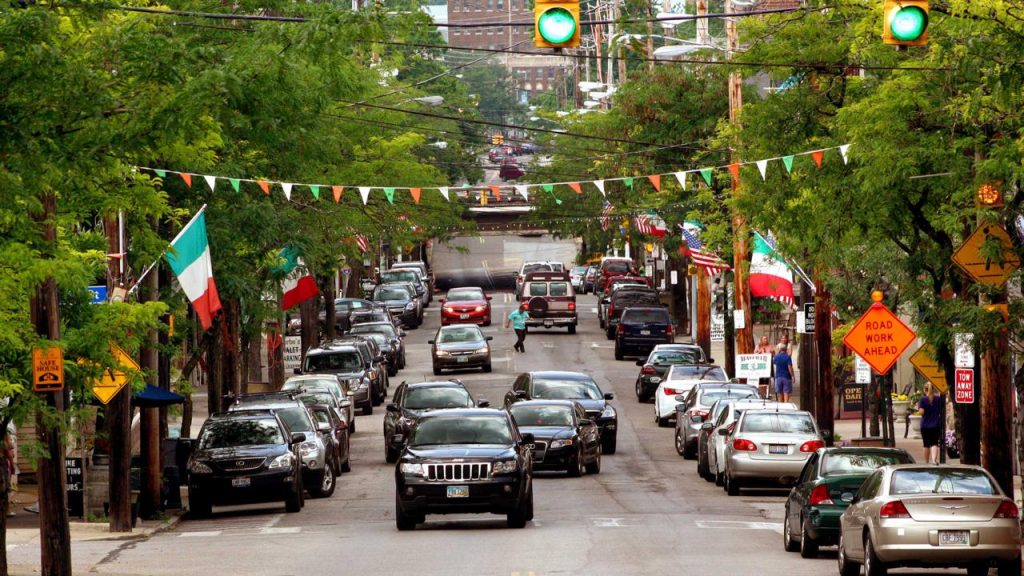 Valerios, operated by classically trained Florentine chefs, serves hearty Tuscan favorites like gnocchi and veal ossobucco in addition to savory seafood specials like linguine al vongole (pasta with clams) and farfalle pasta with salmon and caviar. Nearby is La Dolce Vita, opened in 1914 to recreate the atmosphere of Italy's street cafes. Stop by any time of day for a pick-me-up of cappuccino and biscotti, or savor an entire meal of antipasti, seafood risotto and tiramisu. For a more upscale atmosphere, consider a meal at Angelo's Nido Italia, an elegantly appointed dining space with a dance floor and large tables ideal for groups. A menu inspired by Italy's northern provinces includes jumbo ravioli, veal Milanese and sweet spumoni.