Take to the Water in Minnesota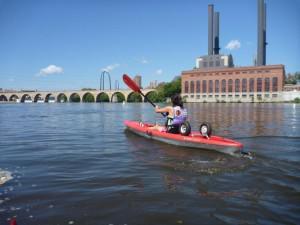 Groups are no strangers to the waterways of Minnesota. On lakes throughout the Central Region and Boundary Waters Canoe Area are numerous outfitters to equip your group with gear and instruction.
If you're looking for such an adventure closer to the Minneapolis-Saint Paul metro, consider these outfitters for a break from urban setting:
Above The Falls Sports handles custom experiences for groups, with a focus on safety and insights into the region's socio-economic and natural history. Meal options are offered with luncheon and supper tours featuring excellent restaurant venues, box lunches and catered picnic sites. Contact Bob Schmitz, chief boat handler: 612-825-8983, www.abovethefallssports.com.
Clear Waters Outfitting offers daily canoe and kayak options further upstream on the Mississippi, near St. Cloud. Various drop-off points allow for two- to three- hour or four- to five-hour day trips. Contact Dan at 320-558-8123 or www.cwoutfitting.com.
Ply the Rivers on a Paddlewheeler. If your group prefers taking a more gentile means to navigate a river, consider the many paddlewheeler options in the Minneapolis-Saint Paul area. Daily excursions are available on the Mississippi through the lock and dams in downtown Minneapolis aboard the Minneapolis Queen. Great views of Saint Paul's waterfront towards Fort Snelling are an option aboard one of the Padelford Riverboats. Or venture along the Saint Croix River from historic downtown Stillwater on one of five traditional paddewheelers of the St. Croix Boat & Packet Company.
For a different vantage point, consider a Segway Magical History Tour through the historic Summit Hill area of Saint Paul, or along the riverfront of downtown Minneapolis. Both offer unique crowd-pleasers without breaking a sweat! Orientation and training helps get your group members comfortable with the unique transportation mode. For more details: 800-749-5584 or www.humanonastick.com
Nice Ride Minneapolis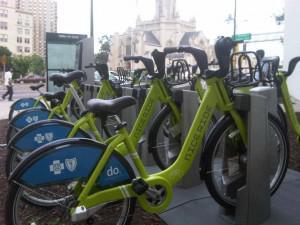 Minneapolis, already considered the most bike-friendly city in the nation, adds another edge with the Nice Ride bike-share program. For a low participation fee, riders can take a bike between stations for up to 30 minutes at no additional cost. With over 1,000 bicycles and lots of stations, it's the nation's largest such program. It expands in 2011 with the addition of Saint Paul. www.niceridemn.org.
Partake in a Pint on the PedalPub
Bike your way around a historic district in either Saint Paul or Minneapolis aboard the Pedalpub. Up to 16 may take part at once, pedaling their way while whistling a happy tune and wetting their whistles. The multiple districts and interesting stops make for many opportunities to enjoy and imbibe. Not recommended for those allergic to the outdoors, or those who hate even the slightest form of anything remotely resembling exercise. www.pedalpub.com
Group Lodging at Minnesota Resorts
Minnesota is home to a great array of resorts, large and small, on hidden lakes, near the Mississippi headwaters or overlooking Lake Superior. With family resorts being a fixture of the Minnesota landscape, you're sure to find one to suit group budgets and interests. Here are just some of the outstanding values this year:
Ruttger's Bay Lake Lodge, Bemidji, MN, offers a multi-room special. Reserve 10/more rooms and get three nights for the price of two in early July. Another option offers a $50 food credit for each room booked. Ruttger's first opened their doors 111 years ago, offers golf, fishing, spa services and a marina, and is just a short drive from the headwaters of the Mississippi River. www.ruttgers.com
Chase on the Lake, Walker MN, has lodge and condo accommodations to give groups plenty of room. The resort also features an indoor pool, beach events and nature activities, and is just a short drive from the restaurant capital of the world, Dorset, MN. www.chaseonthelake.com
Caribou Highlands Lodge, overlooking Lake Superior near Grand Marais, MN, can accommodate more than 600 guests in lodge rooms to luxury lodge homes that sleep 12. Amenities and activities include indoor & outdoor pools, golf, hiking, bicycling, birding, bonfires, gondola rides, alpine slide, barbecues and more for all ages and energy levels. www.caribouhighlands.com
Vines, Hops & Spirits
It's a great time of year to bring your group to a Minnesota vineyard or brewery. The wine industry thrives in our Minnesota climate; savor the results of hearty vines. Or for beer lovers, learn how our underground springs give way to tantalizing brews.
Alexis Bailly Vineyards & Winery, Hastings, MN, www.abvwines.com.
Savor wines that embody the hearty Minnesota landscape. Over 45 national awards.
August Schell Brewery, New Ulm, MN, www.schellsbrewery.com.
Over 150 years and 17 brands among beautiful gardens.
Carlos Creek Winery, Alexandria, MN, www.carloscreekwinery.com.
This federally-designated viticultural area features the annual Grape Stomp & Fall Festival.
Cold Spring Brewing Company, Cold Spring, MN, www.coldspringbrewery.com.
Granite filtered spring water from an underground prehistoric glacial lake.
Forestedge Winery, Laporte, MN, www.forestedgewinery.com.
Fine specialty wines from fruits and berries that thrive on northern winters.
Garvin Heights Vineyards, Winona, MN, www.ghvwine.com.
A perfect combination with area festivals and attractions.
Lake Superior Brewing Company, Duluth, MN, www.lakesuperiorbrewing.com.
The only commercial micro-brewery in the Northland. Regional names with worldly flavor.
Morgan Creek Vineyards, New Ulm,  MN, www.morgancreekvineyards.com.
Minnesota's only underground winery. A great pairing with the August Schell Brewery.
Summit Brewing Company, Saint Paul, MN, www.summitbrewing.com.
They only brew what they love to drink. Anything left over, they sell.
Three Rivers Wine Trail: Cannon Falls, Chisago City, Red Wing, Stillwater, MN, www.3riverswinetrail.com.
Minnesota's first wine trail amidst Swedish and German roots.
For group tour assistance, go to www.TravelTrade.ExploreMinnesot.com or call 800-657-3600.