Minneapolis-St. Paul
St. Croix Scenic Byway 
The 124-mile St. Croix Scenic Byway runs from Point Douglas to a point north of Sandstone, MN. Prepare to be impressed by the great beauty of the St. Croix "Wild and Scenic" River Valley. Long vistas and rolling landscape in the south change to a more rugged environment of rock, cliffs and woods as you proceed north. Once in historic Pine County you will realize that you have truly arrived in the "North Country."
Minneapolis Grand Rounds Scenic Byway
The Grand Rounds Scenic Byway offers a little bit of everything: great scenery, historic sites, modern and contemporary art, outdoor recreation, and great shopping and dining, all within the heart of Minneapolis. Highlights include a wildflower garden at Theodore Wirth Park, a large rose garden at Lake Harriet and a beautiful waterfall at Minnehaha Park. The byway brings you close to Orchestra Hall, Weisman Art Museum, Minneapolis Institute of Art, Walker Art Center and Minneapolis Sculpture Garden, and Guthrie Theater. Views of the Minne-apolis skyline are visible from just about every portion of Grand Rounds.
Southern Minnesota
Highway 75 King of Trails Scenic Byway
This route stretches 414 miles along Minnesota's western border. Visit the communities along the way to appreciate the history and natural beauty of the prairie. You'll be surprised! Experience fascinating historical sites, colorful festivals, national monument, and state parks.
Historic Bluff Country National Scenic Byway
Follow the lush Root River Valley and wind your way through what feels like a landscape painting of woodsy hills and dra-matic dolomite bluffs. At a state park, naturalists lead tours of Mystery Cave and costumed interpreters portray life in 1899 Historic Forestville. Amish buggies are a common sight on these country roads.
Shooting Star Scenic Byway
This official Minnesota Scenic Byway is one of the state's first designated wildflower routes. The Minnesota Departments of Transportation and Natural Resources collaborate to manage wildflowers and native grasses along the route, which passes through rich agricultural regions and small rural towns with historic buildings of national significance.
Apple Blossom Drive Scenic Byway
This rolling farmland and bluff-top route travels high above the Mississippi River, offering dazzling views of the river valley below. Stop for a picnic at Great River Bluffs State Park, where short paths lead to scenic overlooks with panoramic views. Each end of this thoroughfare connects with High-way 61, which is Great River Road, another scenic drive.
Minnesota River Valley National Scenic Byway
Life still moves at an unhurried pace, neighbors wave at passing cars, and visitors are embraced with old-fashioned hospitality along this nationally designated route. Several spots focus on Dakota Indian heritage and tell the tragic story of the 1862 U.S.-Dakota War.
---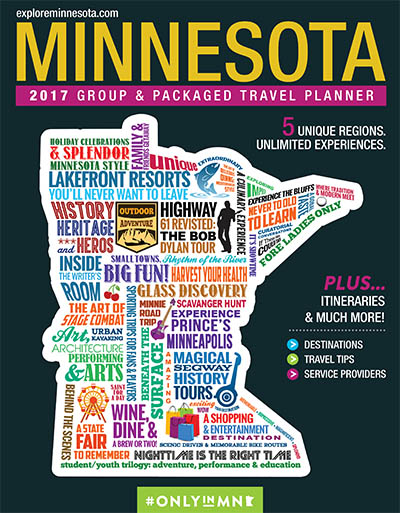 ---
Northeast Minnesota
Avenue of the Pines Scenic Byway
Some of the Highway's outstanding scenic values include views of mature red pines stands, sparkling lakes, marshes, and aspen stands. Spatial sequences range from enclosed and focused in the pines, to open and expansive near the lake and marsh areas. Lakes include Island, Round, Nature's, Cut Foot Sioux and Little Ball Club, along with Lake Winnibigoshish.
Skyline Drive Scenic Byway
Overlooking the lovely port city of Duluth, the Skyline Park-way offers travelers a rewarding, bird's-eye view of the harbor and the endless shoreline of Lake Superior. At the northern end of the Byway, Hawk Ridge is an excellent vantage point for watching migratory birds in spring and fall.
Superior National Forest Scenic Byway
This drive takes travelers on a relaxing wooded drive from the North Shore to the communities of the Iron Range. Fall color buffs will delight in the spectacular reds and yellows of the hardwoods, and the towering pines. There are no towns along the way, so enjoy the natural beauty and the chance to ob-serve the area's many species of birds. Migrating hawks can be witnessed over the Laurentian Divide at the Skibo Vista Scenic Overlook.
Veterans Evergreen Memorial Drive Scenic Byway
This section of Highway 23 has been known as the "scenic route to Duluth" for decades. Near the beginning of the route is Banning State Park, with camping, hiking, river fishing and canoeing. Creeks and small rivers criss-cross the length of the route, and near the end of the route is the Veteran's Memorial Overlook, with a breathtaking view of the St. Louis River Valley.
North Shore All-American Drive Scenic Byway  
The spectacular scenery of the North Shore of Superior, including seven state parks, has earned this scenic route a national designation as an "All-American Road." Small shoreline towns offer restaurants serving local fish and produce as well as unique shops and art galleries.
Edge of the Wilderness National Scenic Byway
This route was once used by voyageurs and loggers through the Chippewa National Forest, over rolling hills, and past bogs and fishing lakes. Much of the 47-mile drive that connects Grand Rapids to Effie was reconstructed in recent years, promising a smooth ride and spectacular scenery —from historic sites and lumberjack-influenced small towns to bald eagles and balsam firs.
Gunflint Trail National Scenic Byway
Beginning in a harbor town on Lake Superior, this paved road heads inland through the rolling hills of Superior National Forest. There are no towns along the route, but side roads lead to resorts, campgrounds, canoe outfitters and boat ramps.  Many of the lakes are within the Boundary Waters Canoe Area Wilderness. Wildlife abounds, so there's a chance of spotting deer, moose or bear, seeing a wide variety of birds, or hearing the howls of wolves.
Central Minnesota
Otter Trail Scenic Byway
This serene drive in pastoral Otter Tail County visits the forests and lakes of Maplewood State Park and Glendalough State Park, a scenic overlook at Inspiration Peak, and the 1889 Phelps Mill and millpond.
Glacial Ridge Trail Scenic Byway
This officially designated Minnesota State Scenic Byway is a 220-mile route through lakes, woods and farmlands. Massive glaciers once covered this land; as they melted, they left west central Minnesota dotted with lakes nestled among hills and ridges. This byway offers several scenic loops and side trips.
Paul Bunyan Scenic Byway
This resort region is rich in history and beauty. This thorough-fare and bike trail are named for the legendary lumberjack whose giant footprints produced the area's abundant lakes, or so the tale goes. The water tower in Pequot Lakes is painted to look like Paul's fishing bobber.  This drive is bursting with options for nature enthusiasts – birding, fishing, biking and hiking or casual day-trippers who prefer the boutiques, galleries and gift shops of Pequot Lakes, Pine River and Crosslake.
Great River Road
The Great River Road National Scenic Byway follows the course of the Mississippi River from central Minnesota through 10 states. Minnesota's Great River Road is a net-work of roadways offering a bounty of river experiences in a parkway setting. It spans 565 miles, 43 communities, 20 counties, three tribes and six unique destination areas, providing public access to and promoting exploration of America's Great River.
Northwest Minnesota
Waters of the Dancing Sky Scenic Byway
Minnesota's northernmost scenic drive travels west from Voyageurs National Park along the Canadian border. The route runs along the Rainy River from International Falls to Baudette, through fields of lady's slippers from Baudette to Warroad, and along the Pine to Prairie Birding Trail west of Warroad.  The  roadside between Baudette and Warroad blooms with wildflowers, and the area west of Warroad is part of the Pine to Prairie Birding Trail. The "Dancing Sky" refers to the aurora borealis, or northern lights, which frequently appear in the area thanks to its far-northern location and absence of bright city lights.
Lake Country Scenic Byway
Approximately 3 ½ hours north of the Twin Cities, the 88-mile Lake Country Scenic drive travels a segment of Minnesota's Pine to Prairie Birding Trail, and also connects  three "anchor" towns: Walker, Park Rapids and Detroit Lakes.  Itasca and the Tamarac National Wildlife Refuge are good places for bird watching. Visit a small art museum in Park Rapids and a gallery of Indian art in Detroit Lakes.
Lady Slipper Scenic Byway
Journey through the Chippewa National Forest as you travel the 28-mile Lady Slipper Scenic Byway. The Byway features pine and hardwood forests, great fishing lakes, recreation areas, historic sites and crosses the mighty Mississippi. Lady's slippers, the state flower, are a common sight along the by-way beginning in late June. Visit the Rabideau Civilian Conservation Corps Camp, a national treasure.