Things to do at Minnesota's Mall of America
You'd assume the Western Hemisphere's largest mall would offer almost endless shopping options. While that is true, you'll also need to bring your appetite in order to fully experience Mall of America.
3 Unique Experience on This Trip
Mall of America
SEA LIFE Minnesota Aquarium
FireLake Grill House & Cocktail Bar
Duration: 4 Days
Available: Year-round
Ideal For: All
---
Day 1: Explore the Mall of America
Arrive in Bloomington early afternoon for a Mall of America Scavenger Hunt. Dick's Last Resort hosts this Signature Experience. You'll be given an iPad and your MOA knowledge will be tested with 32 questions. This one-of-a-kind way to see MOA is great fun and perfect for planning your shopping strategy over the next few days. Tonight, it's dinner at Dick's Last Resort to announce the winners and share some photos of the hunt. Check in at your Bloomington hotel.
Day 2: Things to do at the Mall of America
After breakfast at your hotel and with your game plan in hand, to-day is the day for serious shopping at Mall of America. The largest retail and entertainment complex in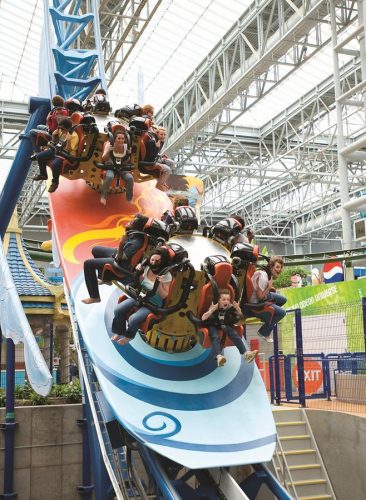 North America welcomes you to its 520 world-class shops and 50 dining options all under one roof.
Lunch at Hard Rock Café and partake in a behind-the-scenes Signature Experience. Discover the history and tales that have built this legendary global brand. Hear the story behind the collectible pins and view rock & roll memorabilia. Your shopping ad-venture continues after lunch.
Dinner tonight will be a guided epicurean delight at VOM FASS for the "Art of Delicious Dining – Mediterranean Style." A fun, interactive three-course tasting program introduces guests to Mediterranean food and lifestyle. Customized options, including wine and spirits, can be arranged for this private gathering.
Return to hotel. NOTE: Bloomington hotels provide shuttle service to/from MOA. If guests decide to continue shopping after dinner, transportation can be arranged.
Day 3: An aquarium, delicious Minnesota cuisine and more things to do at the Mall of America
Breakfast at your hotel before departure for Sea Life Minnesota Aquarium and another behind-the-scenes Signature Experience. You'll visit the laboratory and see how 1.3 million gallons of water are maintained and visit the food prep kitchen to see what thou-sands of creatures are fed. You'll have time for a leisurely stroll through the aquarium to experience its almost hypnotic sound.
Lunch on your own at MOA's Culinary on North food court be-fore continuing shopping for those last-minute items. It's been estimated that it would take three days to visit all the shops in MOA! You made a pretty good start in just a few days.
Dinner tonight is a Signature Culinary Experience at FireLake Grill House & Cocktail Bar. "Taste of the Seasons" is designed to introduce diners to experience the bounty of Minnesota cuisine. It's true farm-to-table food with the freshest and most appetizing ingredients. You'll learn recipes, cooking tips and the latest food trends from expert chefs. Return to hotel.
Day 4: Minnesota's Mall of America
Breakfast at the hotel, grab your luggage and it's departure for home with a great taste for dining and shopping in Bloomington and Mall of America.
If you'd like more great group travel ideas in Minnesota, check out the Minnesota Group Tour Guide and be sure to Subscribe to Leisure Group Travel to stay up to date with our latest travel news.