During the Prohibition era, St. Paul was a hotbed of gangster activity and notorious crimes. Towering over the lawlessness was the Cathedral of Saint Paul, which later inspired the name of the hometown St. Paul Saints minor league baseball team. (It certainly sounds better than the St. Paul John Dillingers.)
3 Unique Experiences on This Trip
[list line="no" style="style1″]
Wabasha Street Caves
Alexander Ramsey House
Ordway Center for the Performing Arts
[/list]
Duration: 3 Days
Available: Year-round
Itinerary Details
---
Day 1
Arrive in St. Paul before noon for a Landmark Center Building Tour. The historic building was completed in 1902 and original-ly served as the Federal Court House for the Upper Midwest. A St. Paul Signature Experience, you'll tour the nooks, crooks and crannies of this historical and notorious building.
Check into hotel and refresh before dinner.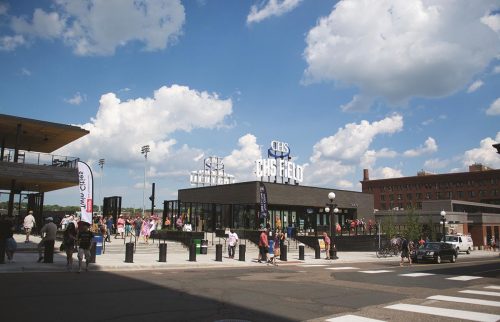 Enjoy dinner at The Commodore Bar and Restaurant. The Commodore Hotel, a residential hotel and its art deco bar, opened in 1920, but Prohibition soon forced the hotel's bar to close. It did not take long before a speakeasy opened in the basement hosting F. Scott and Zelda Fitzgerald and Chicago mobsters, who were given protection from prosecution in St. Paul if they left the locals alone. The bar has reopened in its 1920s/30s style.
Day 2
Breakfast at hotel and depart for The St. Paul Gangster Tour. Join a disreputable mobster or his moll to explore the local sites of kidnappings, gun battles, hideouts and nightclubs. Here, the likes of John Dillinger, Ma Barker, Babyface Nelson and others planned and executed some of the most notorious crimes in the Upper Midwest.
Tour the Wabasha Street Caves to see and hear the history of this unique venue. Originally mined for their sandstone, the finished caves were once The Castle Royal nightclub. There are mobster stories to hear before enjoying a box lunch in the caves.
Arrive at the Alexander Ramsey House for a St. Paul Signature Experience. This beautifully preserved Victorian-era home of a Minnesota founding family shares an insight into political and social power in Victorian St. Paul. The house is filled with original furnishings and family items. Your tour will include excerpts from letters and journals that show the power and influence of the wealthy  Alexander Ramsey, Minnesota's first territorial governor.
Return to your hotel and refresh for dinner at any one of a dozen St. Paul group-friendly restaurants.
Depart for the Ordway Center for the Performing Arts and take in a performance of theater, dance or music. Groups are welcome for a pre-show reception and any Ordway Music Theater Season or Target World Music & Dance Series performance.
Day 3
Breakfast and checkout of hotel and depart for CHS Field, home of the St. Paul Saints.
Feel the thrill of being a Saint for a Day! In this St. Paul Sig-nature Experience, you'll learn the ins and outs of being on a minor league baseball team and see your name in lights on the CHS Field scoreboard. Your visit includes a tour of CHS Field, voted best new ballpark in 2015 by Ballpark Magazine, where you'll learn the history of baseball in St. Paul and management's philosophy that "fun is good." Your experience concludes with a team workout, official jersey and cap, and lunch.
Depart St. Paul with a suitcase full of memories.