Leave your group off at a retail hotspot and you'll have a busload of happy campers.
"Shop-til-you-drop!" may be the battle cry of girlfriend getaways the world over, but every genre of group tour can benefit from just the right amount of retail therapy. A sampling of group-friendly cities throughout the Midwest offers a smorgasbord of shopping from main-throughout retail centers and designer districts to off-the-beaten-path boutiques and old-fashioned markets of the flea and farmer's variety.
Chicago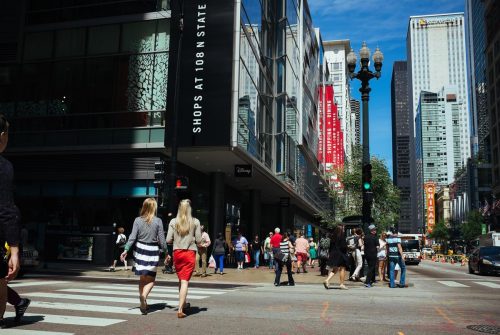 The Windy City is a shopper's paradise beginning with the Magnificent Mile – that section of Michigan Avenue stretching between Oak Street and the Chicago River – and extending over to State Street in the Loop.
New York City may boast Fifth Avenue, but Chicago can tout Michigan. Not only famed for being home to the massive Crate & Barrel flagship store, this length of retail heaven invites shoppers to stroll from store to store and step into vertical malls, perusing names like Nordstrom, Neiman-Marcus, Niketown, Burberry, Coach – the list is virtually endless. Eye-catching near Water Tower Place are the bright red bags announcing the presence of the American Girl doll store, complete with a bistro for those fabulous grandmother-mother-daughter lunches or teas.
If your appetite leans more toward really high-end goodies, visit nearby Oak Street, where famous names like Prada, Harry Winston, David Yurman and LaPerla reign supreme. Visiting Oak Street puts you steps closer to Rush Street, where some outstanding dining spots are located.
Exhausted by this non-stop retail running? Duck into Forth Street Presbyterian Church on North Michigan Avenue, where every Friday at precisely 12:10 p.m., free concerts are offered. Or step into the lobby of the John Hancock Center, board an elevator and jet 94 floors to 360 Chicago observatory. Have a refreshing beverage with your vies at the Signature Lounge at the 96th or meal at the Signature Room at the 95th.
Don't leave Chicago without making the short hike to State Street and a visit to the National Historic Landmark that used to be Marshall Field's, but gave way to Macy's when the New York retail giant purchased the iconic Chicago retailer in 2005. staple experiences, such lunch at the Walnut Room, still lure groups and are worth the trip.
Milwaukee
Offering everything for a group shopping experience from suburban malls – both retail and outlet – to – antiques and more, Milwaukee provides a wealth of opportunities for travelers to fill their suitcases.
Margaret Casey of Visit Milwaukee recommends several shopping gems for groups, including the Historic Third Ward, located just south of downtown. The revitalization of this turn-of-the-20th century warehouse and manufacturing district has earned it comparisons to New York's trendy SoHo neighborhood. The six-square-block area contains the city's highest concentration of art galleries, as well as theaters and a selection of exclusive boutiques, specialty stores, restaurants and nightlife. The neighborhood was named a Top 12 ArtPlace in 2013 and is home to the award-winning Third Ward RiverWalk as well as the Milwaukee Public Market, a foodie haven.
The RiverWalk extends for more than 15 city blocks, sporting a variety of permanent and temporary public art displays along this scenic promenade of restaurants, cafes, pubs and shops. At the southeast corner of Wells Street and the RiverWalk, group members are sure to jump at a thumbs-up photo-op with the "Bronze Fonz" – a life-sized statue of Henry Winkler's iconic character "Fonzie" from the Milwaukee-based "Happy Days" TV show.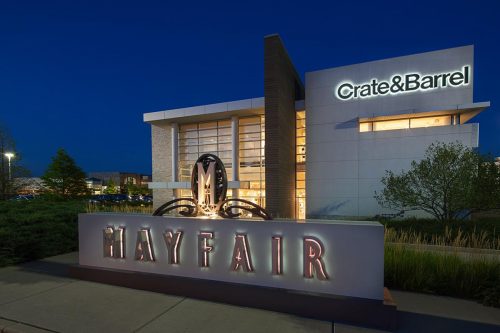 At the other end of RiverWalk is Old World Third Street, a historic landmark zone where Milwaukee's German heritage is brought to life in the detailed facades of 19th century, European-style buildings lining this cobblestone street. Shopping at Wisconsin Cheese Mart, the legendary Usinger's Sausage and The Spice House is a feast for all senses. And a visit would not be complete without a stop at the Old German Beer Hall and Mader's, where famous German dishes have satisfied hungry patrons for more than 100 years.
Visit Milwakee's Casey also recommends Wauwatosa, just 15 minutes away from downtown Milwaukee as a unique, European-style village that offers a wide range of shopping options. Whether independent retailers or luxury national brands are the goal, it can be found in Tosa, as it's known to locals. Charming and highly walkable, Tosa is filled with one-of-a-kind shops. Looking for a chic boutique! Find trendy accessories at Bangles & Bags or explore a number of other local shops featuring contemporary and urban women's apparel and accessories, including designs from local artists as well as designers across the country.
After scouring the boutiques, head to Mayfair, Wisconsin's most successful shopping center. Explore 180 shopping and dining retailers including Crate & Barrel, Coach, Pandora and Bare Escentuals. This Wauwatose shopping destination is also home to the state's first Nordstrom. Just up the street from Mayfair is The Mayfair Collection, completing the exciting fashion-focused retail corridor. The Mayfair Collection is home to retailers like Nordstrom Rack and Saks Fifth Avenue OFF 5TH and still expanding.
Bloomington, Minneapolis and St. Paul, Minnesota
In a region best known as the corporate home of popular retailer Target and for the goliath Mall of America, Minneapolis-St. Paul and nearby Bloomington, Minnesota might just well be the embodiment of shopping heaven.
Even with its 520 stores, 60 restaurants, indoor theme park, aquarium and other attractions, Mall of America is the country's second largest shopping mall behind King of Prussia in Pennsylvania. More than 12,000 groups flock here each year to enjoy sales tax-free shopping for clothing and shoes, not to mention tailor-made group experiences, such as Hard Rock (as in Cafe) Behind-The-Scenes, SeaLife Aquarium's Behind-The-Scenes, Dick's Last Resort's Scavenger Hunt and a multitude of culinary experiences. These can be pre-arranged for groups by contacting the mall's group sales office in advance.
Beyond Mall of America, a very different shopping destination exists in nearby St. Paul on Grand Avenue, where shops boast a wide range of styles. Shoppers can expect to find some of the best apparel, accessories, shoes, spas, books, furniture, and gift shops in Minnesota,
Another crowd-pleaser is Midtown Global Market, an internationally themed public market offering groceries, food and gifts in a diverse setting that has characterized South Minneapolis for decades.
Columbus, Ohio
Known for pioneering the experiential tourism trend, Columbus, Ohio's vibrant neighborhoods are teeming with some of best shopping in the Midwest.
Columbus is ranked #3 on the Fashionable Destinations list by USA Today. From boutiques in the Short North Arts District to its "Rodeo Drive of the Midwest" at Easton Town Center, Columbus lives up to its #3 USA Today ranking. It seems fitting (no pun intended), given that a wealth of clothing mega-brands, such as Victoria's Secret and the L Brands, are headquartered here.
The Short North district, which bills itself as "the art and soul of Columbus," is not just for the well-dressed, although it is described as teeming with one-of-a-kind and trendy clothing boutiques. This highly successful urban revitalization project is centered on the main strip of High Street immediately north of downtown and extending until just south of the Ohio State University campus area. It is an easy walk from the convention center of Nationwide Arena district. Shopping – from vintage to funky to chic to artsy – is on the menu, as are art galleries.
Located just south of downtown Columbus, German Village is one of the most atmospheric neighborhoods in the Midwest. Originally built by German settlers in the mid-1800s, the lovingly restored brick houses, shops, streets and sidewalks are full of historic charm and modern swank. It's here that the 32-room Book Loft has been a favorite location to wander for generations, Helen Winnemore's carries modern American crafts and Caterina stocks fine European wares.
Outside the city, the aforementioned Easton Town Center is a mammoth outdoor shopping experience offering everything from department stores, like Nordstrom, to smaller designer boutiques.
Indianapolis
Indianapolis is well known for its world-class museums, but its shopping deserves a high ranking on a group's "to-do" list as well.
Described by Indy native & resident/retired educator/veteran group tour traveler Sharri Wagner as "the ultimate shopping area in Indy" Keystone at the Crossing (I-465 and Keystone Parkway) not only includes shops like Saks, Nordstrom, Crate & Barrel, J Jill, West Elm, Kate Spade, Urban Outfitters and Williams-Sonoma, but some great locally owned dining spots and a healthy number of chain eateries.
Only a mile-and-a-half from downtown Indianapolis, Fountain Square is located at the intersection of Virginia Avenue at Shelby and Prospect streets. The funky Indianapolis neighborhood is filled with independent restaurants, live music, working artists and specialty stores that sell food, fashion, comics, fresh flowers and more. Calling it the hottest area for foodies and shopping, Wagner says, "I was there recently and was just blown away with all the people and activity."
Among her favorite shops? Vintage Antiques, Wildwood Gourmet Market and Mass Avenue Knitting.
She also mentioned the abundance of locally owned dining establishments.
Massachusetts Avenue, or "Mass Ave" as it's known locally, is a five-block cultural district just northeast of downtown and packer with eclectic shops, theaters, galleries and dining. Wagner likes the variety and the fact that the neighborhood, which is termed "45 degrees from ordinary," is conveniently located and "very walkable."
Shops include Mass Ave Toys, Silver in the City, Arts-A-Poppin and Global Gifts, among many others.