Intriguing attractions and ethnic festivals reflect Oklahoma's Diversity.
Cultures from all over the world are celebrated in Oklahoma at group-friendly museums, attractions and festivals throughout the state. From Native traditions to Western heritage, Oklahoma cherishes its rich beginnings. Over the years, influences from the Amish, Europeans (German, Czech, French, Italian, Greek, Polish and British), Hispanics, Asians and African-Americans have added to the state's flavor and diversity.
Native American Cultures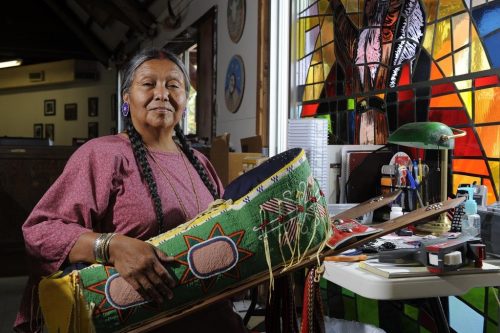 Over 30 federally recognized tribes call Oklahoma home. Groups can share in Native American traditions by attending authentic celebrations or powwows. One of the most popular events is the Red Earth Festival, held each summer in Oklahoma City where over 100 Indian tribes from across North America compete in a dance competition and exhibit works from prominent artists utilizing techniques passed down for generations.
Another festival to consider is the Cherokee Art Market, which takes place every October in Tulsa. Now in its 11th year, the event has grown into one of the finest Native American art markets in the country, featuring more than 150 elite artists from more than 50 tribes across the nation. Pieces include beadwork , pottery, painting, basketry, sculptures and textiles.
Further discovery of the American Indian culture can be experienced at one of the many tribal museums, such as the Cherokee Heritage Center in Tahlequah and Chickasaw Cultural Center in Sulphur. The Cherokee Heritage Center includes outdoor museums and indoor exhibit galleries. The Diligwa Living History Village and Outdoor Museum features authentic reproductions of traditional homes from the 1700s with villagers demonstrating traditional Cherokee crafts. In addition, Adams Corner Rural Village recreates a 1890s setting to illustrate Cherokee society in Indian Territory. The Cherokee Heritage Center also offers world-class educational exhibits, such as the Trail of Tears exhibit, and nationally-recognized Cherokee art shows.
The Chickasaw Cultural Center, one of the largest and most extensive tribal cultural centers in the country, offers an opportunity to connect with Native American history. The story of the Chickasaw people is portrayed through performances, re0enactmets, demonstrations, collections and exhibits.
Western Heritage
Oklahoma also offers an authentic look into the Old West, from nationally acclaimed museums to fun-filled events and festivals. On any given weekend, groups can experience displays of ancient ranch practices at a rodeo or one of the many Western events throughout the state.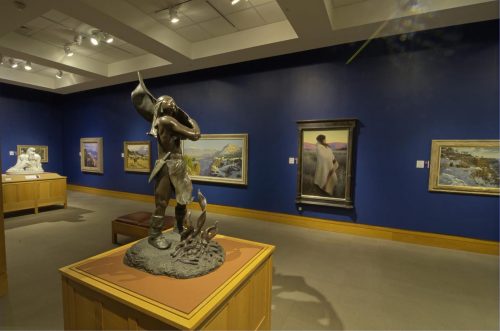 The Chisholm Trail Heritage Center in Duncan is home of the campfires, Cattle and Cowboys Poetry Gatherings in November, featuring Western songs and poetry. Speaking of the Chisholm Trail, it will be celebrating its 150th anniversary in 2017. the story of the trail is one of entrepreneurship, capitalism, struggle and American can-do spirit.
The Chisholm Trail, beginning in Fort Worth, Texas and ending in Abilene, Kansas, was first marked by Jessie Chisholm in 1867. From 1867-1872, more than three million head of cattle were driven up the trail and by 1871 as many as 5,000 cowboys were paid off during a single day. Thus the beginning of the legend of the American Cowboy.
In Oklahoma, US 81 has been designated as the Chisholm Trail Historic Route and boasts more than 400 trail markers. Waurika is home to the Chisholm Trail Historical Museum. The Chisholm Trail Heritage Center and the "On the Chisholm Trail" bronze statue are located in Duncan. The Trail Memorial Highway (US 81) continues through Yukon, home to country singer Garth Brooks and the Express Ranch, home to 15 beautiful Clyesdale horses.
Explore the West through its people, places and history at the National Cowboy & Western Heritage Museum in Oklahoma City. It contains vast displays of internationally renowned Western art by Remington, Russel and Bierstadt along with exhibits on everything from Native American culture to life as a ranch hand and singing cowboys of the Silver Screen.
The Amish way of Life
The Amish began setting in Oklahoma in 1910. the two Amish communities remaining today are Chouteau and Clarita (both are from the New Order). Since 1934 they have used tractors with rubeer tires in farming the rocky, hard soil of Oklahoma.
The Amish School Auction, Crafts and Antique Show takes place every September at Raymond Miller home in Coal County. Breakfast is served followed by the auctioning off of hand-sewn quilts, antiques, glassware and furniture. Horses, poultry, farm-related items and plenty of homemade baked goods of every kind are also available for purchase from over 200 vendors. This event is organized by a group of about 20 Amish families.
In early fall, Oklahoma celebrates its Amish heritage during Black Buggy Days in Chouteau. Dine on a variety of traditional Amish food, such as hot chicken and noodles, freshly baked breads and pies, cinnamon roll and smoked ribs. Other fair-type food is also available. Bluegrass music is performed by young Amish men throughout the event.
European, Asian and Hispanic Influences
Many additional ethic influences can also be experienced at festivals throughout Oklahoma. Lawton produces the International Festival every September to create awareness and appreciation of the city's diverse heritage. The festival provides groups and individuals an opportunity to display their culture through performances and demonstrations. There are free concerts, parades, plenty of food vendors, children's games and activities, and non-stop multicultural entertainment.
Germans began settling in Oklahoma in the early 1870s as farmers. As of the 2010 census, German is the largest ancestry group in Oklahoma.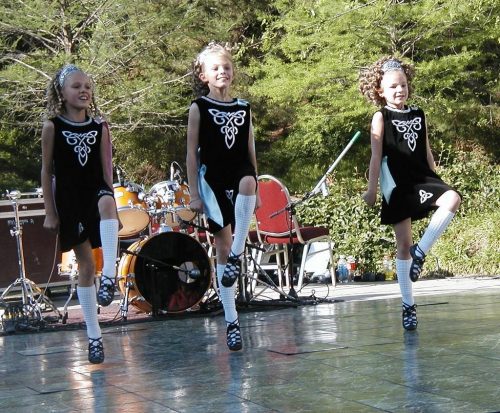 At the annual Germanfest in Tulsa, dine on authentic German food, listen to live German polka bands and watch skilled folk dancers perform. The three-day even also features the traditional crowning of the May Queen, a German ritual dating back to pagan times.
Choctaw Oktoberfest is a favorite for cisitors wanting homemade German food, German beer (over 30 draught beers to choose from), international wines and German music. This week-long event features live entrainment for all ages plus special appearances by German dance groups. Choctaw Oktoberfest also features a German car show, crafts and vendors.
Scottish heritage is also alive and well in Oklahoma. Yukon is home to the Iron Thistle Scottish Heritage Festival and Highland Games every spring. The festival begins on a Friday night with a traditional fire ceremony, a re-enactment of the gathering of the clans before battle. The official opeing ceremony takes place on Saturday. Throughout the festival, there's something for everyone, Scottish or not. Entertainment includes rousing Celtic bands and pipe bands, Scottish and Irish dance troupes, traditional Scottish heavy athletics and sheep herding demonstrations.
The Choctaw Nation's coal mines attracted many Poles, and the population spread to the eastern half of the state. The annual Praque OK Kolache Festival celebrates the Czech heritage with polka music, dancing, food, Czech Costumes, a parade, beer garden, wine tasting booths and made-in-Oklahoma foods. Now in its 56th year, the festival attracts over 20,000 visitors to this town of 2,500. kolaches, a sweet bread containing fillings like cherries, poppy seed and apricots, are baked months in advance to prepare for the festival. A contest to determine the best homemade kolaches is held in conjunction with festival. Activities begin with a costume contest followed by Prague Czech Folk Dancers Entertainment continues throughout the day and one of Oklahoma's largest parades makes its way through downtown Prague. An arts and craft show features jewelry, wood art, ceramics and yard art.
Asian culture in Oklahoma has expanded over the last 50 years with "Little Saigon" in Oklahoma City becoming nationally known for its cuisine and shopping. Scores of restaurants, Asian retail boutiques, supermarkets and Asian-oriented service outlets cater to the district's large Asian population as well as tourists. Visitors will find everything from traditional Hong Kong dim sum to Taiwanese bubble tea.
Hispanics are the third largest ethnic minority in Oklahoma. Immigration swelled shortly afer the Mexican revolution of 1910. Popular events such as Cinco de Mayo and Mexican Independence Day (September 16) are celebrated throughout Oklahoma. September 15 to October 15 has been established as Hispanic Month.
Fietas de las Americas is a multicultural festival that celebrates Hispanic heritage in Oklahoma City. The Parade of the Americas exhibition travels through Capitol Hill. Groups can sample a wide variety of food, including tacos, shop at numerous vendors, and watch entertainers perform traditional song and dance in their colorful costumes.
So whatever culture you choose to explore, Oklahoma is waiting to welcome your group and showcase their history, traditions and hospitality.