We love to think of taking a cruise as "going away" – far away – perhaps to the Mediterranean, the South Pacific or to other alluring waters. But did you ever think of offering a cruise close to home in American waters?
It's just as much fun, isn't so hard to get to, and we have some really interesting ports of call along the rivers and coastal waterways of our own USA.  Let's take a quick look at several possibilities you might consider.
Blout Small Ship Adventures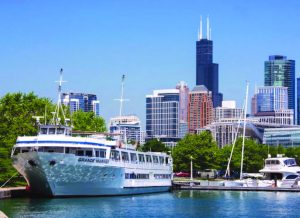 When engineer Luther Blount started designing vessels with a retractable pilot house, he could suddenly take his travelers to formerly inaccessible spots like the Erie Canal. Now celebrating 50 years in business, his fleet of small ships offers one- or two-week cruises on a variety of homegrown itineraries.
In the hands of daughter Nancy Blount, new itineraries have blossomed. Blount Small Ship Adventures offers one-week sailings such as "The Islands of New England" up the Hudson River to Nantucket, Martha's Vineyard and Newport. "Southern Treasures" goes to Charleston, Savannah, Beaufort and St. Augustine. A two-week trip that ventures into Canadian waters to Quebec and Montreal is particularly popular, especially in the fall when the leaves are turning. A Great Lakes itinerary departs from Chicago.
With a friendly all-American crew, casual atmosphere and sit-anywhere dining arrangement, it's a winner. These ships (Grande Caribe and Grande Mariner) take fewer than 100 passengers; accompanied children 14 years and over are welcome. Shore excursions and airfare to/from the ship are additional cost. Oh – and by the way – it's strictly BYO (Bring Your Own alcoholic beverages). (blountsmallshipadventures.com)
American Queen Steamboat Company
If you've ever wanted to take a group up (or down) the Mississippi, American Queen Steamboat Company is your opportunity. You cruise from one historic battlefield or antebellum mansion to another and do it in modern-day comfort. It's aboard a vessel painted glistening white with a huge scarlet paddle wheel, a wrap-around deck with white rocking chairs, and a Victorian decor (with one of the most expansive collections of Tiffany glass in existence).
Constructed in the mid-1990s, the American Queen carries 436 passengers and a crew of 160. And while the ship may look like the paddlewheelers of days gone by, its comforts and onboard programs are up to the requirements of today's most demanding traveler.
Many of the departures are themed cruises such as Big Band Swing, Antebellum, Civil War, Presidents and Politics and Mark Twain. And if you have music-lovers among your clientele, they will love the piano sing-alongs or evenings of ragtime, bluegrass, jazz, blues and country music.
Guest historians (called Riverlorians) are aboard each sailing to help passengers relive a tale from Mark Twain or enjoy a recounting of the Lewis and Clark expedition. Complimentary "Hop On, Hop Off" guided tours are provided in port. This cruise is a great option for your mature travelers or for those who might like to get away during the holidays on especially festive cruises. The company's American Empress paddlewheeler plies the Columbia and Snake rivers in the Pacific Northwest. (aqsc.com)
Other Closer to Home Cruise Options
American Cruise Lines has added several new ships to its fleet in the last few years, offering a variety of Mississippi, Columbia/ Snake and East Coast sailings. Other cruising at-home possibilities might include Norwegian Cruise Line's one-week Hawaiian Islands itinerary on board the Pride of America. It operates Saturday to Saturday year-round from Honolulu, visiting Maui, the Big Island of Hawaii and Kauai. Norwegian, Princess Cruises and Holland America Line have some excellent Pacific Coast cruises worth checking out – particularly repositioning cruises heading north to Alaskan waters in late spring and heading southward in early fall back to the warmer waters of Mexico or the Caribbean for their winter season.