Mall of America in Bloomington, Minnesota hosts over 12,000 groups each year.  Find out what shops, restaurants and other experiences keep groups coming back.
MOA at a Glance
With 520 stores, 50 restaurants and many attractions, Mall of America is the nation's leading shopping and entertainment destination. How big is this mammoth complex? It's 5.5 million square feet — so big that seven Yankee Stadiums can fit inside. Spending just 10 minutes in each store would add up to more than 86 hours – that's three and a half days full of nothing but shopping.
And it's not just retail madness that's on tap.  Mall of America (or MOA, for short) is also a music venue, a thriving community center, a culinary classroom, a flight simulator, a huge aquarium and an indoor theme park. It doubles as a place for kids to explore their creativity and for adults to host gatherings of any size. In the next few paragraphs, we're going to take a quick look at what Mall of America has to offer visiting groups.
[optin-monster-shortcode id="dhwbhwtz1z6ogbikgrle"]
---
Mall of America Shopping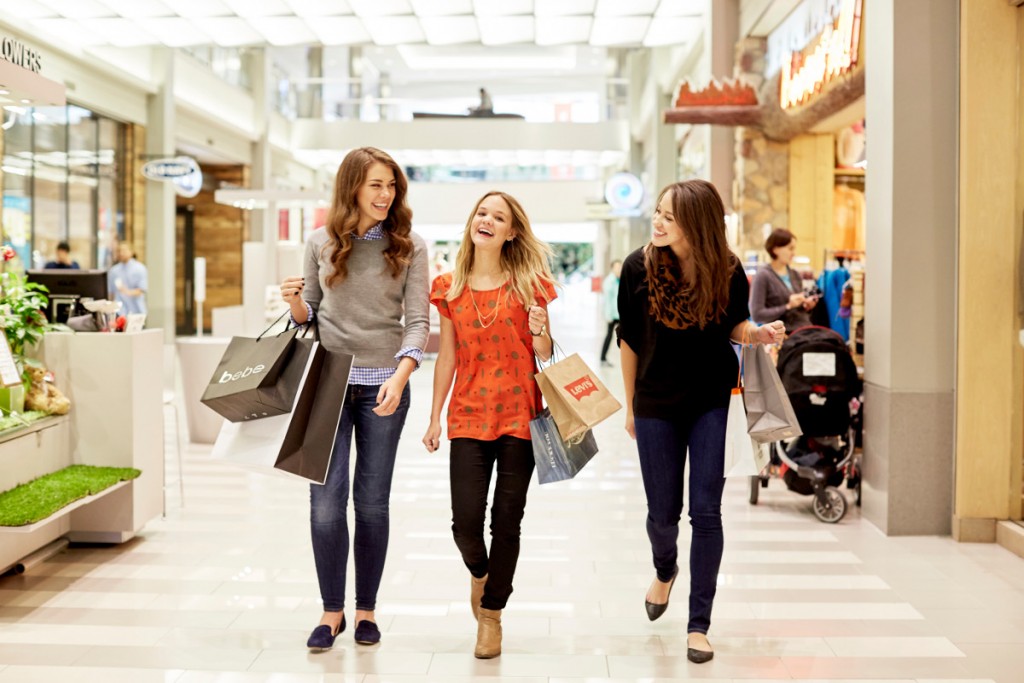 A lot of the publicity you see surrounding MOA focuses on its in-house attractions.  But when a place has the word "Mall" in its name, it's really all about the shopping.
When it comes to shopping at MOA, your group will be spoiled for choice.  You have everything from the Apple Store to the Alpaca Connection and anything in between (note to fashionistas— there is no sales tax on clothes or shoes in the state of Minnesota).  What does your group like? Home goods?  Check.  A store dedicated to American Girl Dolls and all their devotees?  Got it.  Video games? Chocolate? Vitamins and health? LEGOs? A store that features both cheese and the Green Bay Packers?  It's all at MOA.
Before you go, check the website; it's not at all unusual for new stores to open, and one of your favorites might be on the list.
Cool Stuff to Do at the Mall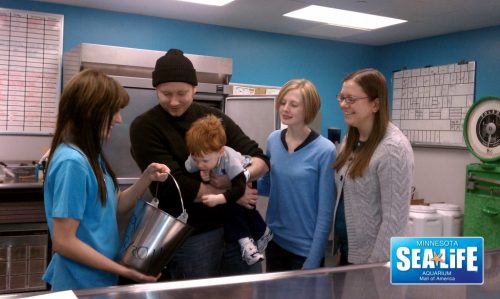 Not everybody lives to shop, but that doesn't mean they won't love visiting Mall of America.  Non-shopping activities rival the retail so much that they are often mentioned first.
The list of MOA attractions often starts with Nickelodeon Universe, a seven-acre indoor theme park that's great for anyone from toddler to adult. In addition to "meeting" popular kid-show characters, guests can experience more than twenty rides and activities, including a mini-golf course, a giant swing and an adventure course with the longest indoor zipline in North America. For a more educational spin, there's SEA LIFE® Minnesota Aquarium, the Minnesota Children's Museum and the Crayola Experience.
MOA houses two very different flight simulators. FlyOver America gives you a pilot's view of various U.S. landmarks and regions, complete with special effects like wind, scents and mist. The A.C.E.S. flight simulator utilizes military-grade simulation technology to enable visitors to "fly" combat missions, land on an aircraft carrier or pilot a WWII plane.
Just to emphasize that you truly can cater to any preference here, we'll close this incomplete list of MOA attractions with the Downton Abbey Experience, which focuses heavily on the fashion and clothing of the hit TV show.
Where to Eat at MOA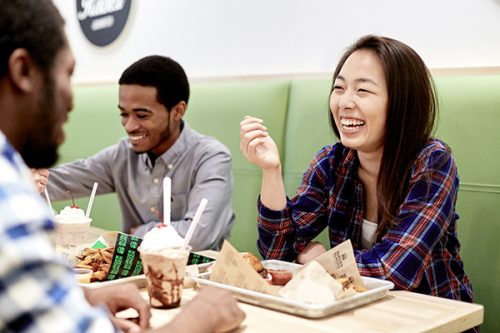 With over four dozen restaurants and eateries, your group won't go hungry no matter what they crave.  You'll find places to eat throughout the mall, but it's good to know that there's a dining area at Level 3 South and a brand-new culinary area at Level 3 Central Parkway.
Let's talk about some of the unique things on offer at MOA. Pretty much any mall worth its salt will have favorite chains featuring Mexican, Italian, Chinese, sushi, etc.  What's special at the Mall of America?
First of all, you're in Minnesota.  Why not indulge in Minnesotan favorites with a modern spin? Try a refined version of local cuisine at Cedar + Stone Urban Table.  Its renowned chef offers dishes that are inspired by regional food and culture. FireLake Grill House & Cocktail Bar embraces the farm-to-table concept, using fresh and locally-sourced ingredients wherever possible. The Twin City Grill offers American standbys as well as local favorites like Walleye Fish Fry.  The 1940s ambiance is elegantly traditional, and there are plenty of craft beers and hand-shaken cocktails to slake the thirst of a thirsty shopper.
Not into the trendy food scene?  No problem. Rainforest Cafe and the American Girl Bistro are perfect for young guests, and family-friendly restaurants abound.  For the adults in your group, there are a couple of laid-back cantinas, a selection of steakhouses and other fuss-free eateries.  One of MOA's newest eateries, Sky Deck Sports Grille and Lanes, combines food with bowling, video games and a steady stream of sports on their HD TVs. When you're weary of shopping, try that for a change of pace!
Mall of America's Special Events
All kinds of special events are held at Mall of America, from celebrity appearances to weddings.  In fact, the venue's various event centers and meeting rooms host about 400 different gatherings.  Some recent and upcoming highlights include the Chinese New Year Celebration, the American Heart Association Go Red for Women Health Expo and the 12th Annual Volunteer Expo.  All year long, look for ongoing  special events like Toddler Tuesdays, Music in the Mall (school and community group performances of live music), and other charitable and community events.
Attractions Near MOA
Bloomington is Minnesota's fourth-largest city and is just a stone's throw away from the Twin Cities of Minneapolis and St. Paul.  As such, there's quite a lot going on here that's not strictly MOA-related.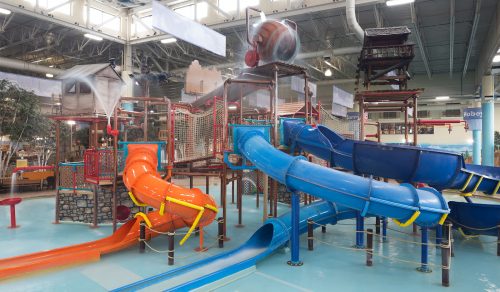 We'd have to start out by mentioning the area's other big attraction: the Water Park of America.  This indoor, all-seasons water park has a massive water slide and lots of other attractions. However, it was recently purchased by Great Wolf Resorts and is currently closed for remodeling and rebranding.  It is scheduled to reopen as Great Wolf Lodge in late fall 2017.
Other activities directly celebrate the area's culture and love of the wintry outdoors.  The annual  Bloomington Winter Fete combines hockey, fat bike races (fat bikes are modified to be ridden off-road and in the snow), ski jumping competitions and a pair of festivals.
You can also take a break at the Hyland Hills Ski Area or the Hyland Lake Park Reserve.  Hyland Hills is known as one of the best snowmaking spots in the Midwest and is ideal for snowboarding and downhill skiing.  And don't worry—SnowSports Academy is on hand if your skills need brushing up.  The Park Reserve gives visitors a chance to relax and experience prairie landscapes via hiking trails and other facilities, and should you feel a competitive surge coming on, there's an 18-hole disc golf course on-site.
Of course, if you want to truly get away from the bustle of the metro area, you can't do better than the Minnesota Valley National Wildlife Refuge. Its 14,000 acres are dedicated to the natural wonder of this bit of the globe.  It's a great place to hike, or you can stop by the either of the two Visitors Centers for an educational side trip.
Getting the Most from Your Trip to MOA
---
Before and during your visit to Mall of America, we suggest that you do some tactical planning to ensure that everyone gets the maximum enjoyment from their visit.  Below, you'll find some helpful tips for organizing your trip.
Before You Go
1. Get Free Professional Help
You don't want to fly blind on this one, so contact the Bloomington Convention & Visitors Bureau for help.  They will provide all the information you need, including facts about transportation, hotels and local attractions.  At the very least, check out the website and get a free visitors' kit with the official MOA Visitor's Guide, Map & Store Directory, and a Destination Bloomington Travel Guide.
2. Consider Booking a Group Experience
Mall of America provides many complimentary group services you can sign up for by using this form. For example, the Meet & Greet Service is ideal for first-time visitors. When you book this in advance, a Mall of America representative will welcome your group when it arrives and will provide a brief introduction to the mall. This service includes Mall of America shopping bags, coupon books, maps and store directories.
Recently, MOA also introduced some special groups-only package experiences.  These include behind-the-scenes tours of the Hard Rock Cafe or the SEA LIFE Aquarium, culinary adventures at Fire Lake Grill House, a crash course in Mediterranean food and culture at VOM FASS or a 32-item scavenger hunt captained by Dick's Last Resort.  For groups with kids, the American Girl store and Nickelodeon Universe both offer group packages that are definitely worth looking into.
3. Plan Your Campaign
In a place of this size, you have to prioritize. Find out what each member of your group really wants to do and see.  Even if you split up, schedule enough time for each group member to enjoy several things within MOA.  This can be a multiple-day excursion; there's more than enough to keep everyone occupied.  Thanks to the proximity of hotels and other relaxing spaces (including a day spa on Level 2), you can even plan some downtime.
4. Pick a Meeting Place
Chances are that your group will scatter once inside the mall. Unless you designate a meeting place, you may not see much of your fellow travelers.  In addition to some handy tech tips that we'll discuss below, we suggest setting up meeting points. Here are a few ideas:
Nickelodeon Universe is in the center of Mall of America. It's easy to find, but it's also very big! You may want to decide to meet at a specific spot (such as the carousel) or at the entrance.
The South Avenue area, located just outside the Radisson Blu Hotel and in between the Apple Store and American Eagle Outfitters, is directly across from the LEGO Store.
The Rotunda is next to the East Ramp and Barnes & Noble.
MOA's three major corners are home to Macy's (Southwest), Nordstrom (Northeast) and Sears (Northeast). The Southeast corner features the Rainforest Café, which is a great lunch stop for groups with kids.
The fourth floor can a quieter place to meet. This floor includes the Theatres at Mall of America, House of Comedy, Sky Deck Sports Grille & Lanes, Dick's Last Resort and Hooters.
5. Download Apps
You can download the Mall of America app for free from Apple's App Store or the Google Play Store.  It's a combination of map, style newsletter, to-do list and event calendar.  It even comes with its own digital concierge service when you need help.
We'd also recommend downloading a messaging app, like WhatsApp, Google Hangouts or Facebook Messenger.  There's wi-fi throughout the mall, so everyone can stay connected even if their cell signal drops.
At the Mall: Convenient Guest Services
At the Mall itself, there are numerous ways to make your visit more enjoyable and comfortable:
The Theatres at Mall of America offer free auditory and visual equipment for hearing- and vision-impaired guests.
Lockers are available for rent on Levels 1-3 and at the North Entrance to Nickelodeon Universe. Go ahead and shop like there's no tomorrow;  these lockers will hold your overflow so you don't have to tote it all over the store. There are even jumbo lockers for luggage and other oversized items.
Strollers, shopping carts, wheelchairs and electronic carts are available for rent.
Travel and Transportation
Mall of America is five minutes from Minneapolis/St. Paul International Airport (MSP) and 15 minutes from downtown Minneapolis. More than 50 area hotels offer free shuttles to the Mall and the airport. There's also a light rail service that connects MOA with the airport and downtown Minneapolis.  With a very few exceptions, hotel shuttles, tour buses and taxis all use the new North Entrance as the pickup and drop-off point.  You can also request an Uber driver for five pick up zones.
Of course, there is plenty of parking if you choose to bring your own vehicle.  You can even park RVs, semis, and other over-sized vehicles in the Lindau Lot. However, note that there is no overnight parking at the Mall. This includes RVs, but there are a couple of campgrounds nearby that accept them.
Where Can We Stay Near Mall of America?
After all the shopping (and zip-lining, and riding and eating, etc.) it's time for your group to relax.  We're talking swimming pools, Jacuzzis and room service.  Fortunately, you don't have to travel far (or even warm up your car) to enjoy this. Almost 40 Bloomington hotels are located within 10 minutes of MOA. The Radisson Blu Mall of America is actually attached to the mall; it features a full-service restaurant and bar, meeting and event facilities, a large workout center and a pool.
Many of the local hotels offer preferred packages or special rates for Mall of America guests, including Best Western Plus Bloomington, Country Inn & Suites, Hilton, Crowne Plaza Aire and Residence Inn.  As you can see, there is a range of options here that can work for families and groups of all sizes.