The Midwest of the United States has no shortage of small towns that all exude their own unique brand of homey charm that can't be found anywhere else. These little hamlets can be found just about anywhere from North Dakota to Texas and everywhere in between. Among them, nestled on the banks of the upper Mississippi along a cascade of waterfalls from which the town derived its name, is Little Falls Minnesota, a place which serves as a perfect example of Midwestern hospitality.
Known for being the birthplace of aviator Charles Lindburgh, Little Falls embraces its legacy as a historic attraction with a plentiful array of museums and cultural centers to commemorate the many facets of the region's rich past. This gem of a town in Minnesota also makes great use of its beautiful surroundings, supplying locals and visitors alike with no shortage of:
outdoor parks
gardens
biking
hiking
camping
hunting
It doesn't end there either, because when the weather gets chilly (which tends to happen in Minnesota) fun can still be found in designated areas for skiing, sledding or ice fishing on one of the state's 10,000 lakes. For more great activities to be found in this neck of the woods, check out this activity guide for Central Minnesota.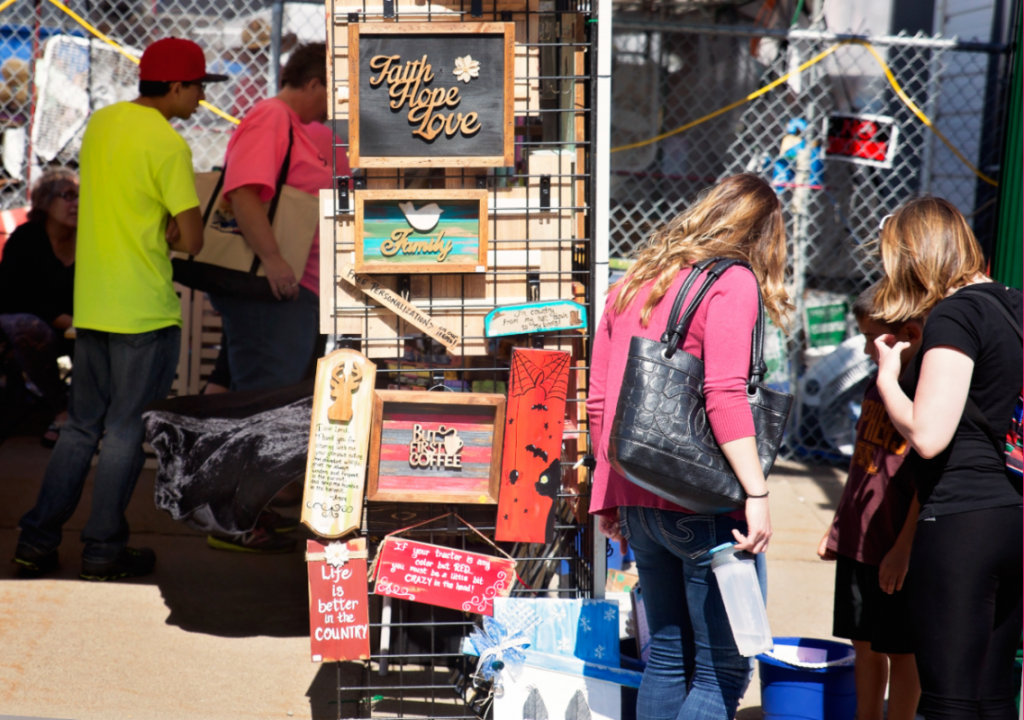 Little Falls, Minnesota Arts and Crafts Fair
This much celebrated fair has drawn large crowds from all over for 50 years, and for good reason.
But the thing that draws the most visitors to this picturesque little burg every year is a special event that Little Falls has held for 50 years. It is the Little Falls Arts & Crafts Fair, an award-winning late summer fest that puts the town's thriving arts and crafts community front and center.
Every year after Labor Day, Little Falls transforms from a quaint waterside hamlet to a major tourist destination. During this weekend, more than 600 vendors from several states across the nation gather at the Morrison Fairgrounds to sell handcrafted trinkets of all sorts. In addition, the West Little Falls Antiques & Collectibles Fair and the Market Place Fair take place at the same time, providing visitors with an even wider variety of wares to admire.
More Things To Do in Little Falls
The fun in Little Falls is not contained to only a couple spots. The whole town is filled with things to see and adventures to be had.
But, if shopping isn't your favorite activity, there is much more to be found on this eventful weekend than the market alone. Occurring in tandem with the fair will be an annual car show and swap meet celebrating its forty-eighth anniversary this year. Here auto enthusiasts can find a collection of more than 500 used vehicles of different classes gathered in one place with over 100 swappers prepared to strike a deal. At the end of the day, a vote is held by all participants to decide which is the most excellent ride, so don't forget to place your vote!
After a long day of walking, shopping, idle meandering or whichever of the many ways you could spend your time in Little Falls, a nice meal to enjoy will definitely be needed. Local restaurants and bars can be found close by all around the city, especially near the serene waters of the Mississippi. As for those looking to spend both days attending the events, hotels and the nearby campgrounds dot the outskirts of Little Falls within walking distance of the fairgrounds. Buses run throughout the town to help visitors get around a little faster. With so much to offer from recreation to shopping to food and drink, there's something for everyone to fall in love with in Little Falls.
Enjoyed the article? Want some help planning your next trip? Consider subscribing to Leisure Group Travel for guides, tips, and more articles like this.