For the past 45 years, the first weekend after Labor Day finds Little Falls, Minnesota as the Place to Be!  Little Falls, a historic river town nestled on the banks of the Mississippi, is known for the boyhood home of aviator Charles A. Lindbergh and lumber history.  The first weekend after Labor Day, Little Falls becomes a destination mecca for shoppers looking for that unique handcrafted item(s) they just can't live without!
September 8 and 9, 2018 will be the 46th annual Little Falls Arts & Crafts Fair, sponsored by the Little Falls Area Chamber of Commerce.  Vendors from over 20 states converge on the community to sell their handcrafted items to approximately 125,000 shoppers for the two-day event.  This is an outdoor event with vendors staged in community parks on the sidewalks, streets and parking lots in downtown Little Falls.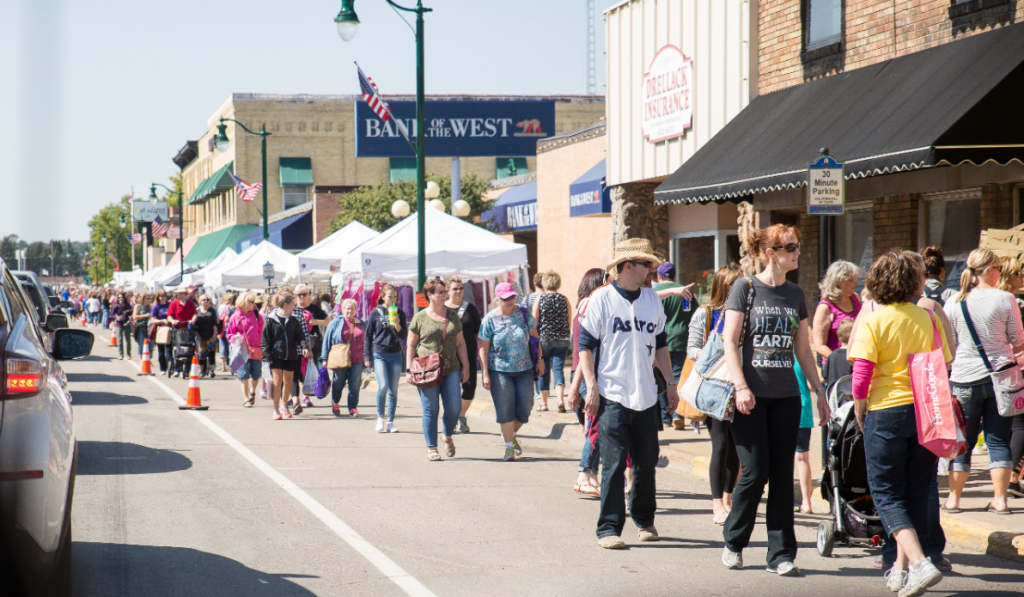 The Fair turns many communities in Central Minnesota into bed and breakfasts as family members return "home" for the fair, bringing with them extended family, co-workers and friends for a great girls getaway weekend.  Leave the kids and husbands at home and enjoy not only the fair, but all the activities the make the event one that people come back to year after year.
The local establishments roll out the red carpet for the weekend with food specials and nightly entertainment.  "Dance like no one is watching" is the mantra that completes a day of "Shop 'til you Drop".  You can sleep when you get home!
Shoppers will find a variety of handcrafted items including woodworking, candle-making, doll clothes, stylish and chic women's apparel, painting, pottery, home décor and more!  Unique jewelry is always a favorite with artisans from across the country bringing their local influence to the table.  Bring your shopping list of gifts for all occasions and wear comfortable walking shoes!
No need to go hungry!  Backing up the great local restaurants and bars are specially selected food vendors that provide a variety of great food – some of it even on a stick!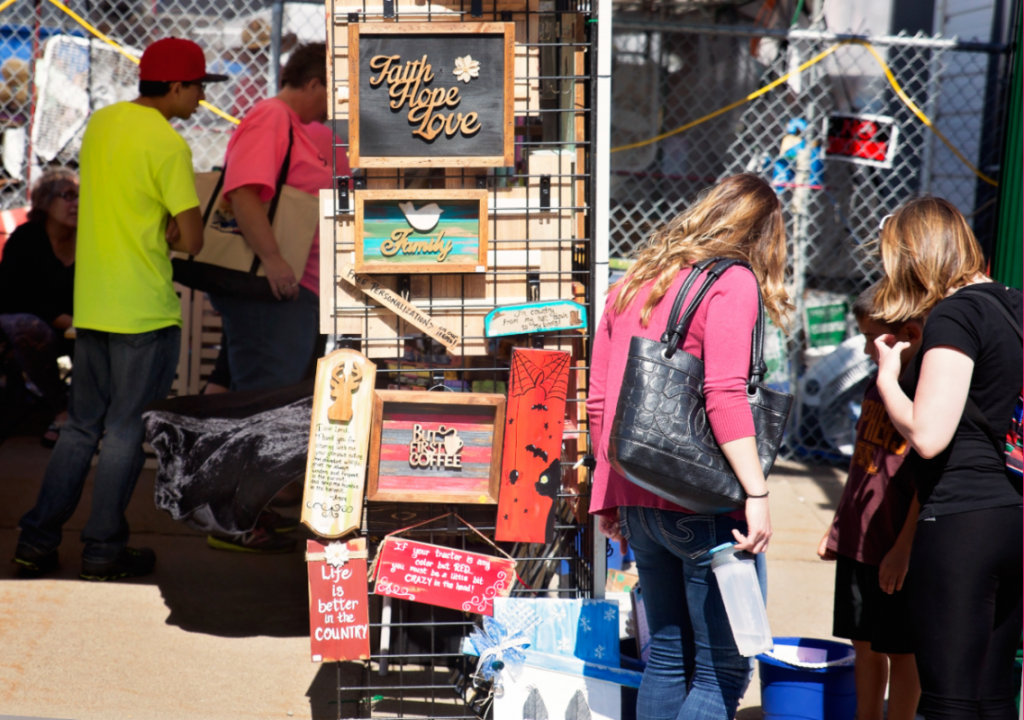 Rounding out the weekend in Little Falls and truly making it the "Place to Be" is the Little Falls Antique & Collectibles Fair staged along the Mississippi River in LeBourget Park. The Market Place Fair staged on West Broadway features commercial buy-sell items from vendors such as Tastefully Simple, Cutco, Lula Roe, Sheets Galore and Norwex, plus one-of-a-kind items patented and produced locally. These events are within walking distance of the Fair. On Sunday, the Lone Eagle Auto Club sponsors a car show and swap meet at the Morrison County Fairgrounds.
Fair hours are 8:00 am – 6:00 pm on Saturday and 9:00 am – 4:00 pm on Sunday.  Designated tour bus drop-off/pick-up location are available with adjacent free parking.  Not arriving by bus?  Free parking and shuttle bus service is available from the Morrison County Fairgrounds.  For more information, visit www.littlefallsmnchamber.com