A tour of Western Indiana is sure to include numerous selfie stops, as this region is bursting with scenic sites perfect for a group photo. The public sculptures of Terre Haute, covered bridges of Parke County and birthplace of famed journalist Ernie Pyle are all sites for a perfect portrait, and the region's various arts districts are great ways to meet local craftspeople.
3 Unique Experience on This Trip
[list line="no" style="style1″]
Candles Holocaust Museum & Education Center
Beasley's Orchard
Lafayette Farmers Market
[/list]
Duration: 3 Days
Available: Year-round
This Itinerary is Ideal For: All
Itinerary Details
---
Day 1:
Afternoon: While on your Selfie Photo Tour of Western Indiana, you will discover a charming setting that is home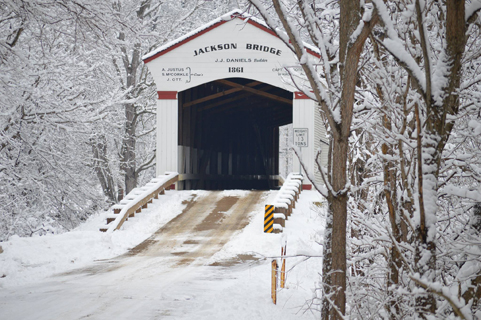 to 31 covered bridges, each with its own unique past and history. Your afternoon features a narrated covered bridge driving tour that explains how these have survived until today.
The tour is filled with forgotten historical sites such as Bridgeton Mill, the oldest operating mill west of the Alleghenies. Here, massive stones still grind wheat into flour and corn into meal. Overlooking Big Raccoon Creek, the Mansfield Roller Mill has been grinding with water power since the 1820s.
The real covered bridge enthusiasts and those who have been charmed by the tour will love the Covered Bridge Art Gallery in downtown Rockville. A historic structure in its own right (built in 1877), the gallery houses works by approximately 30 local artists.
Evening: Your evening features a nice local meal before the Outdoor Sculpture-Super Selfie Tour. Terre Haute is a city proud of its public art with 18 unique public sculptures, including one of NBA legend and Indiana State University graduate Larry Bird. You may want a selfie standing beneath The Chorus of Trumpets, The Flame of the Millennium or The Spirit of Space. Filling parks and public spaces, these artworks are waiting to frame your face.
Your tour includes a free PhotoVision App for all of your customers. The photos they snap are saved by the App and PhotoVision will produce a unique video for each traveler.
Day 2:
Morning: This morning you visit the Clabber Girl Museum. You'll be transported back in time with their antique household items and kitchen appliances. There are vintage toys, a Clabber Girl delivery wagon, an antique racecar from Indianapolis and a number of exhibits on Hulman & Co. products and brands like Clabber Girl. Other options would include Candles Holocaust Museum & Education Center or Saint Mary-of-the-Woods, a college and spirituality center that was once home to saint and education advocate Théodore Guérin.
In nearby Dana you will visit the Ernie Pyle State Historic Site. The site features Ernie Pyle's birthplace and a museum highlighting the famous journalist's life and writings as a correspondent during World War II.
Afternoon: Enjoy lunch at the Beef House Restaurant in Covington, which serves only the finest beef cooked over hardwood briquettes on an open-hearth charcoal broiler.
Later this afternoon you step out on downtown Danville's Courthouse Square with a number of options all within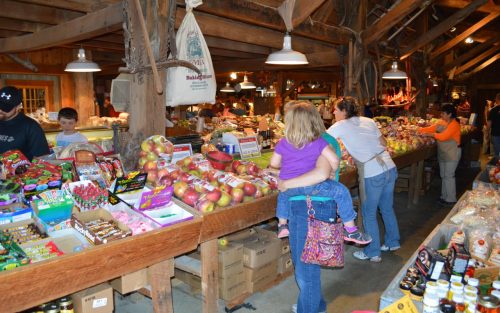 walking distance. You can tour an 1886 sheriff's residence and former county jail at the Hendricks County Historical Museum or enjoy a custom workshop at Frazee Gardens by landscape and greenhouse experts. You could schedule a guided tour of Beasley's Orchard, peek behind the scenes and shop the farmer's market in their Civil War-era barn.
Evening: This is "dinner and a movie in small-town America" night. First, you dine at the Mayberry Cafe,
a friendly family restaurant with home-cooked food just like Aunt Bee put on the table for Andy and Opie. It's comfort food in a nostalgic atmosphere; the décor reminds you of the 1950s and '60s, and you'll catch yourself looking every time the door opens to see if it might be Andy or Barney stopping for dinner.
Next, you enjoy a private movie showing at the Historic Royal Theatre. They have been showing films here since 1914 and use the latest technology to provide you a quality experience with a retro film – ask for a list of choices. Movie night comes with a bottomless bag of fresh popcorn.
Day 3:
Morning: This morning begins with a tour of the Purdue University campus. It was founded in 1869 after a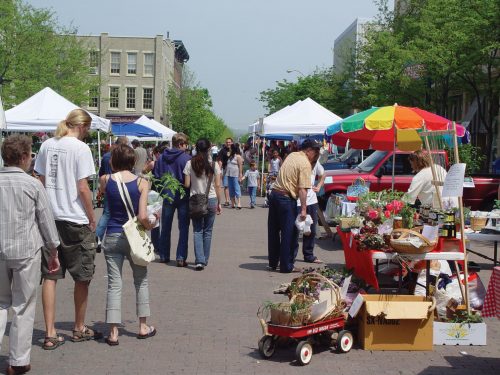 donation of land and money from Lafayette businessman John Purdue. He wished to establish a college of science, technology and agriculture in his name. The student enrollment is currently over 39,000. West Lafayette is a historian's dream, with beautiful turn-of-the-20th-century architecture.
Afternoon: Enjoy your afternoon with a leisurely tour of downtown Lafayette, home to the Arts & Market Downtown District. Galleries from a burgeoning art scene and friendly cafes surround the Tippecanoe County Courthouse. For a snack before dinner, the Lafayette Farmers Market is open three times a week and welcomes vendors from across the region.