Indiana's cosmopolitan capital is unbeatable for groups interested in art, sports and fine dining. From the famous basketball jerseys in the NCAA Hall of Champions to the vrooms of racecars at the Indianapolis Motor Speedway, the Central region is filled with sights and sounds sure to thrill your tour group. Those less interested in an adrenaline rush can browse through the city's boutiques or tour president Benjamin Harrison's north side mansion.
3 Unique Experience on This Trip
[list line="no" style="style1″]
Benjamin Harrison Presidential Site
NCAA Hall of Champions
Exit 76 Antique Mall
[/list]
Duration: 3 Days
Available: Year-round
This Itinerary is Ideal For: All
Itinerary Details
---
Day 1:
Morning: This tour begins in Indianapolis, the state capital, where the Indianapolis Motor Speedway Museum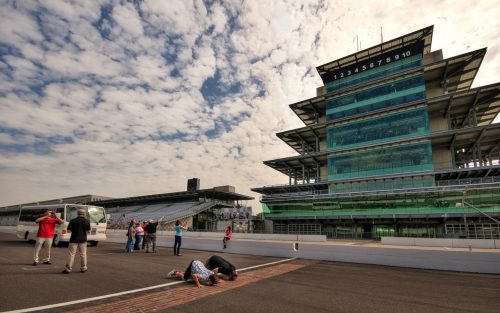 has amassed one of the world's largest, most varied car collections. The museum features racing, classic and antique vehicles, including more than 30 race cars that won the Indianapolis 500. Here you view a 20-minute film on the history of the track and race highlights followed by a Thrill Ride, a narrated bus tour on the race track, weather permitting.
You also tour the Speedway's grounds and facilities. Surrounding the oval track is the media center, Pagoda, victory platform, garage area and a Gasoline Alley suite. Your group will have a chance for selfies on the famous "Yard of Bricks" at the start/finish line.
Afternoon: Later in the day, thrill-seekers can buddy up and soar high above Pioneer Park at Soaring Eagle Zip Line Ride, a 600-foot, two-person seated adventure ride that more and more adult groups are including in their itineraries. Those in your group who don't ride will enjoy watching their friends.
Evening: This evening, after checking into your hotel, dinner is at the Beef & Boards Dinner Theatre, which has entertained audiences for over 40 years. Amphitheater seating gives everyone a terrific seat. Enjoy a full dinner buffet while watching nationally renowned productions.
Day 2:
Morning: At the Benjamin Harrison Presidential Site, a trained docent guides you on a tour of the elegant home of Indiana's only U.S. president. The dining room features presidential china, and Harrison's study is filled with personal belongings from his White House years and his Oval Office desk.
Afternoon: Next is a visit to the NCAA Hall of Champions, which boasts two levels of interactive exhibits to create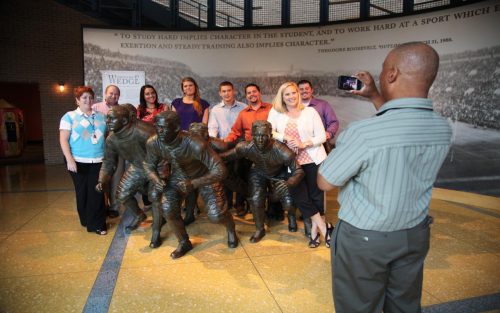 a true-to-life understanding of what it takes to make the grade. All 24 NCAA sports are represented and include a novice-to-historian trivia challenge, current team rankings, video highlights and artifacts donated from colleges around the nation.
Evening: Next is a historic thrill, as you ride in an Italian gondola ride sailing under Venetian-style bridges. This is the Indianapolis Canal Walk, featuring waterside cafes and Midwestern hospitality reminiscent of both Venice and San Antonio. Segway tours are available to explore the nearby Ransom Place neighborhood.
Day 3:
Morning: The morning begins at the Exit 76 Antique Mall. There is nothing fancy about this place; it is just a great place to browse. Filled with unusual and hard-to-find items that make unique gifts, it features 600 booths and is full of everything from antiques and collectibles to modern artisan creations. Truly a collector's dream!
Afternoon: Next, a Columbus architectural tour shows you how this small Midwestern city south of Indianapolis became a modern architectural "mecca," boasting structures by big names such as Eero Saarinen, Harry Weese, Kevin Roche and I.M. Pei. The tour drives by more than 40 architectural treasures and provides an opportunity for your travelers to visit inside two of the buildings.