Boasting old growth forests and stunning views of the Ohio River Valley, the rolling hills of Southern Indiana remain largely the same as when Abraham Lincoln spent his childhood in Southern Indiana. In addition to seeing a replica of Honest Abe's famous log cabin, visitors to the region can tour natural wonders such as the Binkley Cave System and Lincoln State Park. Groups should also be sure to journey through the regions many wineries and orchards, many of which offer tastings and field tours for visitors to taste fresh Hoosier produce.
Duration: 3 Days
Available: Year-round
This Itinerary is Ideal For: Adults over 21
Southern Indiana Itinerary Details
---
Day 1
Afternoon: Your group's tour of Southern Indiana will be full of surprises. You begin in Corydon with a visit to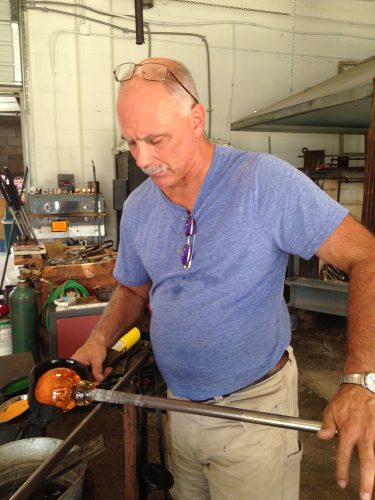 Zimmerman Art Glass Factory and see beautiful glass pieces being made right before your eyes. In the gift shop, you may find the perfect present for a special person.
Southern Indiana is known for its wineries. We suggest you make a stop at Corydon's Turtle Run Winery, where walking through the front door puts you in the tasting room with the proud owners behind the bar. You actually get to know the wines and the winemaker.
Turtle Run is part of the Upland Wine Region, with nine wineries across several Southern Indiana counties welcoming groups to their tasting rooms. Also popular are the Patoka Lake Wine Cruises, where groups sample hors d'oeuvres and local wines during sunset. In Starlight, enjoy Huber's Orchard, Winery & Vineyards and Huber's Starlight Distillery.
Evening: Tonight's feature presentation is a nice buffet meal with a salad bar, desserts and cocktails before a show at the Derby Dinner Playhouse in Clarksville. This theater has produced every one of the top 50 Broadway musicals of all time, including Annie, The Sound of Music and Oklahoma! There are eight shows a year running Tuesday through Sunday year-round, and you are sure to see either a wonderful musical or comedy such as Singin' in the Rain, Cats or The Odd Couple.
Day 2
Morning: This morning you visit Indiana Caverns; dating back thousands of years, they're a constant 56 degrees year round. Descend 110 feet under-ground and walk into one of the world's longest caves. Fear not the walk, as a major portion of your tour is an under-ground pontoon cruise. You'll glimpse blind cave crayfish and other cave life while learning about how caves are formed and their special role in the environment.
Afternoon: Your lunch is at the Overlook Restaurant, uniquely positioned on a bluff in Leavenworth with a 20-mile panoramic view of the Ohio River. Watch barges churning up and down the river while you dine.
Next up: a visit to the town of Santa Claus, where a small museum tells the story of this settlement once known as Santa Fe and how the name evolved to Santa Claus. This is the only town in America intentionally named after jolly Old St. Nick.
You'll love the magic in the Santa Claus Christmas Store, which boasts an abundance of beautiful gifts, collectibles and Christmas tree ornaments. There are brilliant twinkling light displays as you trip down memory lane to Santa's Candy Castle, where you'll find many of your childhood favorites such as Necco wafers, candy buttons and candy canes.
Celebrating bearded men day continues as you visit Lincoln's Boyhood National Memorial. Abe spent 14 years here growing from youth to manhood.
You will see the recreated 1820s homestead where interpreters in period clothing show you what his early life was like on this family farm. Just south of the memorial is Lincoln State Park, a 1,747-acre recreational area with hiking and camping opportunities. The park's out-door Lincoln Amphitheatre presents concerts throughout the summer as well as the Lincoln Boyhood Drama, which portrays our 16th president's adolescence in Southern Indiana.
Evening: Tonight is a special treat onboard the Chocolate, Wine and Dine Train in Jasper. The beautifully renovated, climate-controlled dining cars feature a delicious German dinner catered by the Schnitzelbank, chocolate from the Chocolate Bliss candy shop and a tasting of wines to enhance the mood.
Day 3
Morning: This day begins at southwest Indiana's most respected cultural institution: the Evansville Museum of
Arts, History & Science. It maintains a permanent collection of more than 50,000 objects, including fine art, decorative arts, photographs and historic documents.
Later, you'll visit the Reitz House in historic downtown Evansville. John Augustus Reitz amassed a fortune in the lumber business and built this house in 1871. It is a fine example of French Empire-style architecture and is often featured in magazines.