Harvest season in Illinois features haunted houses, fall festivals and beautiful foliage
Not-to-be-missed autumn places to visit:
Shawnee National Forest
Matthiessen State Park
Oak Park
Illinois U-Pick Orchards
Fox River Trail
Galena
Illinois' expansive state parks and architecturally distinct neighborhoods are granted additional beauty each autumn with clear blue skies and the dazzling colors of turning leaves. Your group will enjoy touring the state during this season for the milder weather and countless festivals where local communities celebrate the harvest. From haunted houses to winding corn mazes, there's an autumn attraction for every interest.
One of the best ways to experience the state's dazzling variety of fall colors is a low-impact hike in a state park along one of Illinois' protected waterways. Located near the convergence of the Mississippi and Ohio rivers in southern Illinois, Shawnee National Forest features rolling hills, lakes, creeks and rugged bluffs. Its most famous landmark is the Garden of the Gods, a collection of ancient sandstone formations that date back 320 million years and descend four miles below the Earth's surface. Groups can walk along the quarter-mile interpretive trail for clear views of formations like Camel Rock, Table Rock and the Devil's Smokestack, and a ranger can accompany your party to point out seasonal wildflowers and autumn leaves.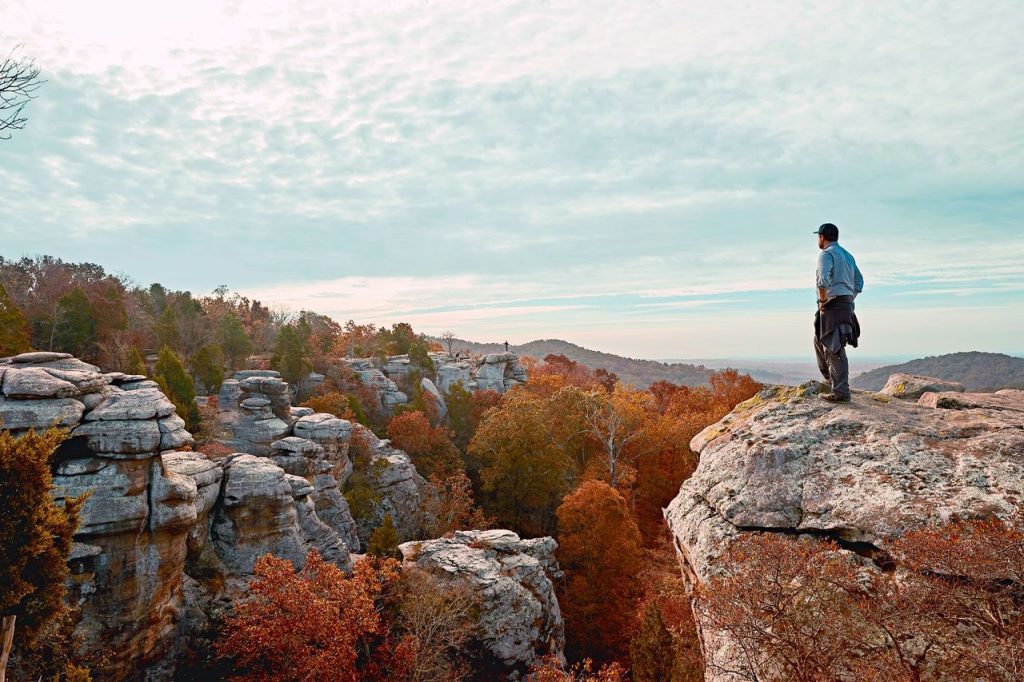 Visitors to the popular Starved Rock State Park along the Illinois River will also want to admire the fall colors in nearby Matthiessen State Park. Hikers can walk through a landscape of gentle wooded valleys (called "dells") that features table-top waterfalls and angular sandstone formations made even more beautiful by vividly colored leaves. Groups can walk through a series of interconnected plank walkways and staircases to see several waterfalls that cascade over rocks before returning to the motorcoach. Nearby Buffalo Rock State Park is located on a bluff that was once an island on the much-wider Illinois River. An enormous limestone bluff provides a sweeping view of the river and surrounding forest, and a park ranger can explain how these very rocks were passed by French explorer Louis Joliet in 1673.
Leaf peepers don't want to miss out on a fall color drive along the Meeting of the Great Rivers National Scenic Byway in southwest Illinois. This 33-mile stretch of roadway features the stunning Mississippi River on one side and soaring tree-lined limestone bluffs on the opposite side creating one of the most scenic fall color drives in the Midwest.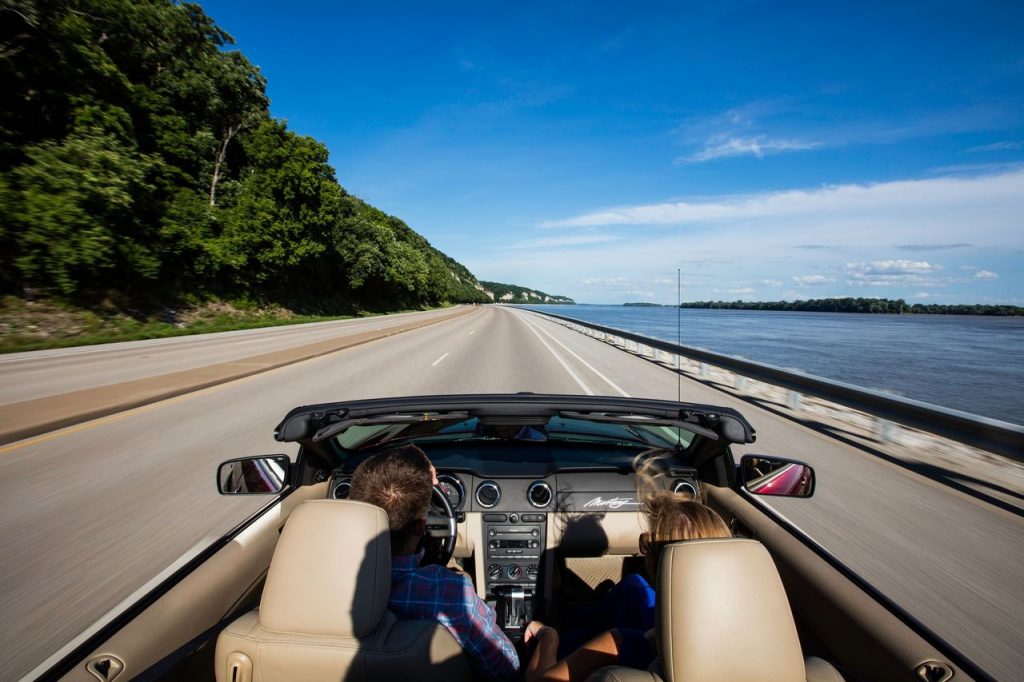 Looking for a spooky haunted house to include in your visit? Illinois is home to several buildings inhabited by specters that are prepared to welcome groups with a taste for the macabre. Joliet Prison, which once housed famous criminals such as Leopold & Loeb and Babyface Nelson, is now a spine-tingling environment of castle-like guard towers and wrought-iron gates. Groups can visit the Joliet Historical Society to learn about the prison's history, but you can also register for a Haunted History Tour to enter cellblocks occupied by infamous inmates. Guests will learn about the "singing ghost" that lingers in the Old Convict Cemetery, the specter of a warden's wife who was murdered in her bed, and the mysterious vibrations that emanate from Death Row. Budding ghosthunters will also want to visit Alton — cited as The Most Haunted Small Town in America. Haunted tours are offered year-round but gear up in September and October. Hop on board an Alton Odyssey Tour trolley and discover the most haunted sites in the city. Or stroll through the city's haunted downtown streets on a Haunted Alton Walking Tour that includes the incredibly spooky Mineral Springs Hotel. Visit McPike Mansion in Alton, which according to legend was built on a Native American burial ground and was potentially the site of an Underground Railroad stop before construction began in 1869. Join the thousands of annual visitors and paranormal investigators who believe that Eleanor and Henry McPike still roam the corridors at night and a mysterious woman appears in the bathtub.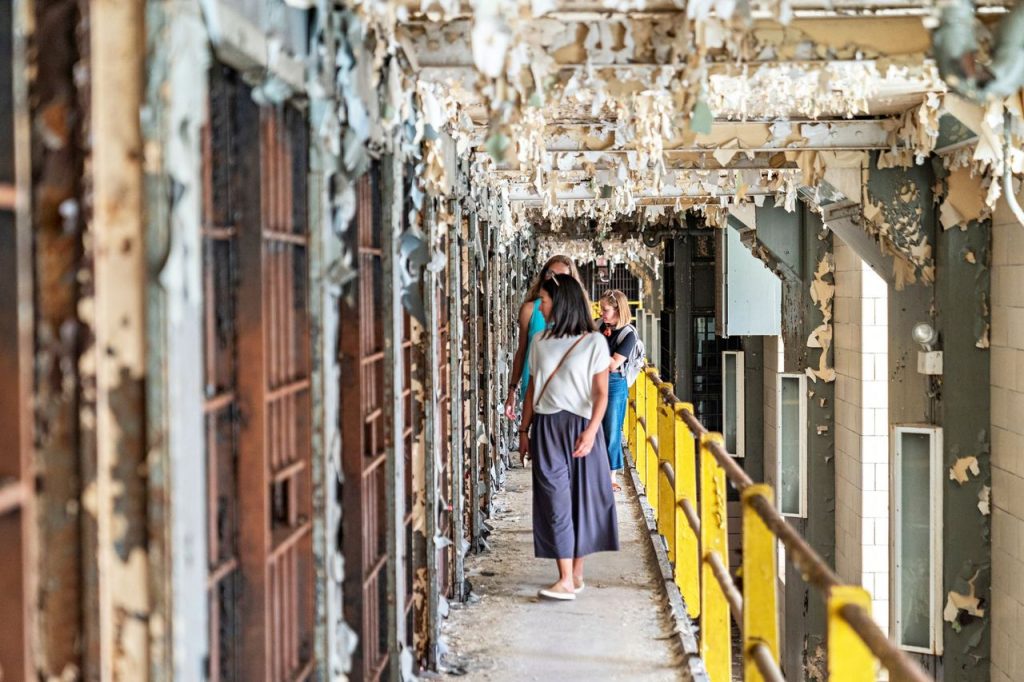 If you want to spend your Illinois adventure exploring beautiful homes that aren't haunted, consider a day touring the beautiful Prairie School buildings of Oak Park. This charming village located just outside the Chicago city limits is where famed architect Frank Lloyd Wright moved with his family in 1889. He would become a fixture of the community for the next 20 years and design 25 Oak Park buildings while perfecting his Prairie style, and the area now has the densest collection of Wright-designed structures in the world. Orient your group to the area with a tour of the Frank Lloyd Wright Home and Studio, which Wright designed himself and contains his draft room and original sketches. The Frank Lloyd Wright Trust conducts several tours throughout the neighborhood within walking distance of the studio, and the wide streets are particularly attractive during the autumn months.
Groups will also want to visit Unity Temple, a triumph of modern design and one of Wright's favorite projects. After a fire severely damaged the local Unitarian church in 1905, he was commissioned to re-imagine the building on a tight budget and resorted to a concrete exterior because it was inexpensive. The material was rarely used in public buildings, and especially for places of worship, but the combination of necessity and inspiration resulted in an iconic building with striking columns and elevated windows that allow natural light to enter but deny worshipers an outside view. Architecture buffs can also tour the Laurent House in Rockford, another exceptional Usonian space. Built for a paraplegic U.S. Navy veteran and completed in 1949, this home fuses form and function with a single-story design, open floor plan and floor-to-ceiling windows that maximize views of the backyard to create a sense of tranquility.
Groups who want to celebrate the harvest can take advantage of Illinois' dozens of u-pick orchards and farms that welcome motorcoach groups. With nine miles of winding trails across 28 acres, the corn maze at Richardson Adventure Farm is the largest in the world. Visitors to this Sugar Grove attraction can also embark on a wagon ride on a vehicle created from repurposed bus seats, fly through a 750-foot zip line and relax next to the community campfire. See and pick hundreds of pumpkin, squash and gourd varieties from over 30 countries at the Great Pumpkin Patch in Moultrie County. Here visitors can admire over 5,000 mums, wander the beautiful gardens that grace the grounds and purchase delicious cinnamon rolls, cookies and signature angel food cakes at the Homestead Bakery. Those seeking a good scare can head to Jacksonville, and take a Haunted Jacksonville Tour, which takes visitors on a tour of the most haunted spots of this beautiful city.
Visitors who want to pick their own apples should visit Jonamac Orchard to explore the seemingly endless rows of apple trees and select delicious varieties like Honeycrisp, Pink Lady, Granny Smith and Fuji. Groups who visit the 65-acre site during harvest season can pick apples from nearly 5,000 trees, indulge in apple donuts from the bakery, ride on a tractor cab and get spooked in the haunted corn maze. Groups can also tour the Cider House to see Jonamac's cider pressing operation before entering the tasting room to try apple wines and hard ciders and watch the sunset from the Cider Garden Patio. Also popular with fall visitors is Edwards Apple Orchard West in the town of Winnebago. Groups can tour a 100-year-old dairy barn, pick 18 varieties of apples in the orchard and enjoy fresh apple donuts.
Groups can take a walk through a 15-acre corn maze at DeMange Farms in rural St. Jacob in southwest Illinois or stroll through the pick-your-own pumpkin patch — there are plenty of varieties on hand — on this working farm. Grab a bag or a basket of apples at Liberty Apple Orchard in Edwardsville and choose from the 15 varieties available. Loads of fall activities are waiting for you at Bengston's Pumpkin Farm in Homer Glen, where you can pick out pumpkins on a hay ride out to the patch, watch pig races, visit the Fun Barn or Haunted Barn, do some gem mining, watch animatronic skeletons singing tunes, enjoy some rides and more. Try out some snacks, like apple cider donuts, churros, kettle corn, or something more filling, like Uncle Bub's Award Winning BBQ, Anna's Tacos or Home Run Inn Pizza.
Tranquil forest preserves and native prairie fields line the banks of the Fox River, a major tributary that becomes especially beautiful in the autumn. The 32-mile Fox River Trail features a combination of paths that run under forest canopies and through charming riverside downtowns, and adventurous groups can rent stand-up paddleboards or canoes to view the fall foliage while floating downstream. The Fox River flows through several communities that feature group-friendly shopping opportunities, wineries and restaurants that take advantage of their beautiful waterside locations. Begin your Fox River Valley tour in the city of Elgin, which was established as a stagecoach stop in 1835. Groups can taste hand-dipped shakes at Val's Frozen Custard and Burgers, purchase classic sweets in an antique storefront at Around the Corner Candy and enjoy a refreshing ale at Black and Grey Brewing Co. Downstream is the Fox River Trolley Museum, which oversees a collection of 30 antique electric trolleys and locomotives that date back to 1887.
Continue to the city of St. Charles, whose downtown features Art Deco architecture and riverside dining that captures autumn beauty for touring groups. Visitors can sample craft beer and watch the boats float downstream at Alter Brewing + Kitchen, eat hearty Italian cuisine at Fratelli's Ristorante and catch a rock show at the Arcada Theater. Upstairs is the Club Arcada Speakeasy & Restaurant, a tribute to 1920s nightclubs that features Prohibition-themed cocktails, swing music and magic performances.
With its grand Victorian homes along the Fox River and over 100 specialty shops, Geneva has solidified itself as Kane County's premier shopping destination. One stop is all your group will need to admire the historic mansions along 3rd Street, enjoy a gourmet brew at Graham's 318 Coffeehouse and splurge on a dress at Mish Boutique or Jori & June.
If you'd like to try some of the best wine the Midwest has to offer, Fox Valley Winery in Oswego offers samples of fruity zinfandels, rich merlots and dry rosés. Their expansive tasting room welcomes groups and encourages visitors to enjoy their glass on a comfortable couch or in the gallery space that showcases works from local artists.
Groups should also consider including an Illinois Maker in their itinerary when visiting the state. This collection of creators and artisans includes breweries, restaurants, art studios and farms that support the local economy and present unique products crafted by hand. Visitors to Lake County north of Chicago can learn how to make delicious Italian desserts at Tony Cannoli. Register for a class to learn how Tony started in his grandmother's kitchen, the secrets of a delectable cannoli filling and how to make other Italian specialties like dolce chips. Lambs Farm in Libertyville welcomes groups to learn about its mission to hire and support developmentally disabled employees, tour the farmyard and enjoy a hearty barbecue meal. Craft beer aficionados will want to sample popular creations like the Comfortably Blonde IPA and Boxcar Porter at Tighthead Brewing Company, and groups can register for an in-depth glassblowing workshop at Peter Patterson Glassworks (both businesses are located in Mundelein).
Group tours are available at David Stine Furniture, an Illinois Maker located in Dow in southwest Illinois. Stine creates custom furniture from the hardwood trees that grow on his property. In Alton, groups are always welcome at My Just Desserts, famous for its soups and sandwiches but an Illinois Maker because of the desserts.
In Galena, tour the home of the United States' 18th president, Ulysses S. Grant. On Aug. 18, 1865, Galena celebrated the return of its Civil War hero Gen. Ulysses S. Grant. Following a jubilant procession filled with flag-waving and speeches, a group of Galena citizens presented the general with a handsomely furnished house on Bouthillier Street. It was opened to the public in 1904. Furnishings are original.
Operating since 1854, Dittmar Farms in Elizabeth, a family-owned and operated farm, specializes in apples, sweet corn, and pumpkins. The farm features seasonal activities such as scenic hayrides, u-pick apples, a corn maze, and u-pick pumpkins.
The largest Amish population in Illinois can be found in Arthur. The area's farmers continue to work the soil — some of the richest in the world — using horse and plow.
Discover their process to plant, grow, and harvest corn and soy. Go behind-the-scenes when you tour the impressive Amish woodworker, Das Holz Haus' facility. This large facility creates custom, hand-crafted furniture and cabinetry, focusing on intricate details that make your house a home. See the woodworkers in action, and the large Amish community helping create the end products that are made for customers all over the country.
The Amish buggy is a common sight in the Amish Country and you won't leave without getting to ride one. Visit a local Amish buggy maker and experience an in-depth tour of his buggy shop. See the ins and outs of creating the undercarriage, the buggy body, and listen as a buggy maker discusses the old art of wheel making. Finish up the tour with a short buggy ride, completing the true Amish experience.
By Miles Dobis
For more travel ideas, download our current issue of Leisure Travel Guide.