A baker's dozen travel ideas provide just the right of ingredients for cooking up a creative tour in Iowa
Many surprises await travelers who stray from the beaten path. Here is just a sampling of overlooked Iowa treasures that merit your attention.
Reiman Gardens: Ames
Located on the campus of Iowa State University, this 17-acre horticultural wonderland is a beautiful place to stroll and relax. Enhanced by a lake and other water features, it has 26 distinct gardens that include rose, herb and children's gardens and offers plenty of things to do in Ames Iowa. A tropical conservatory houses seasonal displays and a wing with hundreds of live butterflies from six continents.
National Motorcycle Museum: Anamosa
Anyone with a passion for the open road will revel in the display of more than 400 rare and vintage machines from around the world, one dating as far back as 1902. Visitors to this Anamosa attraction also will see thousands of photos, posters and advertising art, a large collection of antique toy motorcycles and other memorabilia.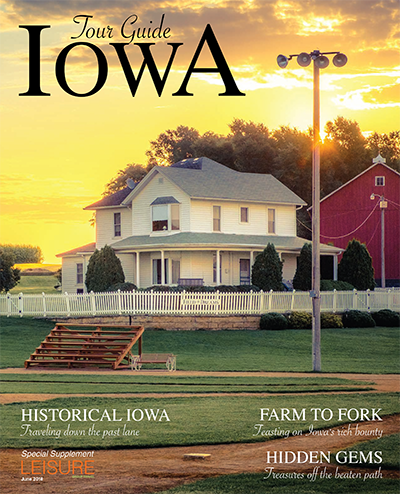 Big Treehouse: Marsalltown
Located at Shady Oaks Campground just east of Marshalltown, the Big Treehouse is the six-story, 12-level hobby of Mick Jurgensen and his family. Begun in 1983, it boasts more than 5,500 square feet of floor space. Features include music, electricity, running water, telephone, refrigerator, grill, spiral stairway and 13 porch swings. Guided tours are available.
Algona Nativity Scene
The grouping of 65 half-size figures, built by six German prisoners of Camp Algona during World War II, tells the biblical story of Jesus' birth, complete with Mary, Joseph, the manger, wise men, shepherds and camels. Made of concrete over wood-and-wire frames, the pieces range from 12 to 56 inches high, and some are finished with hand-carved plaster. For the six Germans who worked on the scene, it was a way to connect to their families back home. To the people of Algona, it represented a common faith and humanity shared with the captives living outside their town. The Nativity scene was donated to the community when the war ended. Today it is housed in a building at the Kossuth County Fairgrounds and cared for by the Men's Club of the First United Methodist Church of Algona. The scene is open in December and by appointment year-round. Groups also can visit the Camp Algona POW Museum.
Field of Dreams Movie Set
Set among cornfields northeast of town is the baseball diamond used in Field of Dreams, the 1989 film starring Kevin Costner. Visitors can sit in the bleachers, bat balls, play catch and walk the bases. Groups can arrange a guided tours of the field and farmhouse.
Boone & Scenic Valley Railroad & Museum: Boone
Besides viewing videos and artifacts from the glory days of railroading, visitors can take an excursion in 1920s-era coach cars pulled by diesel or steam locomotives, traveling from Boone to the old coal mining town of Fraser. Operating daily from Memorial Day weekend through October, the trip through the Des Moines River Valley lasts an hour and 45 minutes. One highlight of the 15-mile roundtrip is crossing a 156-foot-high trestle. A dinner train option on the same route (two hours and 15 minutes) features 1950s passenger cars used on Union Pacific Railroad's famous City of Los Angeles and City of San Francisco streamliners that traveled between Chicago and the West Coast.
Dunning's Spring Park: Decorah
Minutes from downtown Decorah, this Iowa State Park features hiking trails, picnic areas and one of the great photo spots in northeast Iowa: a spectacular 200-foot waterfall that cascades over the rocks. Just down the road, the adventurous will want to check out the Ice Cave, which features ice deposits that last until late summer.
Manning Hausbarn: Manning
The town of Manning celebrates its German roots at the Manning Hausbarn-Heritage Park, whose centerpiece is a combination house and barn that was disassembled in Germany and reconstructed onsite in the 1990s. With its striking thatch and brickwork, the hausbarn from the Schleswig-Holstein region dates from 1660, a time when it was not unusual for families and livestock to live under the same roof. The park also has a restored 1915 farmstead with a bungalow, carriage house, barn and outbuildings.
Matchstick Marvels: Gladbrook
Gladbrook master craftsman Patrick Acton has created some 70 works of art constructed entirely of ordinary wooden matchsticks. Scale models at the Matchstick Marvels Tourist Center include the Challenger spacecraft, Notre Dame Cathedral, U.S. Capitol and a 13-foot-long model of the battleship USS Iowa. The larger pieces involve hundreds of thousands of matchsticks and take hundreds of hours to complete. Many of Acton's models are on display at Ripley's Believe It or Not museums around the world.
Browns Century Theater: Le Mars
Groups enjoy Branson-style entertainment in a new venue housed in a former bank building. Shows staged by the talented Brown family feature the best in patriotic, gospel, country, Celtic and Christmas music. A buffet meal is served in the Browns' newly renovated Central Event Center across the street.
Whitewater Parks: Manchester and Charles City
Raging rapids in Iowa? You'll find them at two of the Midwest's premier whitewater parks. In Manchester, over an 800-foot of the Maquoketa River, the course at Manchester Whitewater Park has been constructed to include a series of six, 18-inch drops that thrill kayakers, canoeists and tube riders. The quarter-mile course at Charles City Whitewater, on the Cedar River at Riverfront Park, has three distinct features for paddlers of all abilities. Both parks are free and open seven days a week year-round. Local rentals are available.
Lake Resorts: Okoboji
The Okoboji resort area in the state's northwest corner features six interconnected lakes that offer summer vacation fun. Boating, fishing and other water activities are available, and the Queen II departs from Arnolds Park Amusement Park for narrated 60-minute cruises on West Lake Okoboji.
Clark Tower: Winterset
You'll feel like you've traveled back to medieval times when you climb to the top of Clark Tower in Winterset City Park, a castle-like structure erected in 1926 as a memorial to Madison County's first pioneer family by its descendants. Constructed of native limestone, it stands 25 feet high and offers a commanding view of the Middle River Valley.
Explore our selection of Group-friendly Itineraries across the globe.