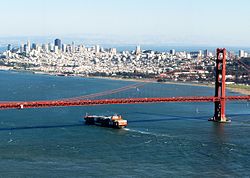 San Francisco's abundance of museums, outdoor activities and culturally diverse neighborhoods combined with a yearlong temperate climate make the city the ideal destination for travel groups. Its no wonder tourism has become San Francisco's largest revenue generator – the city is not too far from being perfectly well-rounded. San Francisco has previously shown strength in four travel industry sectors: commercial, meeting and group, and leisure. In the early 1980s, many large corporations left San Francisco because high-operating costs threatened profitability.
Economic tendencies shifted toward e-commerce in the 1990s, with the city becoming the front runner in the dot.com boom. Consequently, the city's commercial industry rallied. This regained prosperity made San Francisco an attractive place to hold conventions and large group meetings. The commercial buzz has been a saving grace for a city that has seen so much fluctuation in the last two decades. Visitors to the Bay area generate over $6.7 billion yearly for San Francisco's economy, and that exponential growth does not appear to be trend.
Time permitting, your group will get the best grasp of contemporary San Francisco by visiting as many of the city's neighborhoods as possible. Alamo square, Chinatown, Fisherman's Wharf, Mission District and Pacific Heights should not be overlooked, nor should Nob Hill, Richmond District or Sacramento Street. The city's progressive nature is underscored when the food, arts and culture of these places come together to form such an admirable whole, and there is certainly no danger of your group being at a loss for entertainment. Enjoy this history lesson and group travel guide of San Francisco!
San Francisco History
1. Originally established as a Catholic mission for the conversion of Native Americans around 1775, San Francisco's history is dotted with events that have drastically changed its growth and significance in the West coast landscape.  California grows as the discovery of gold in 1848 drives people westward. As a result of this growth institutions are established and in 1850 the California Legislature created the original counties, including San Francisco (18 Feb).
2. The Great Earthquake struck on April 18, 1906, at 5:12 a.m. Its magnitude was 8.25 on the Richter scale, and it lasted 49 seconds. The Great Fire that followed caused more damage than the earthquake, destroying about 28,000 buildings. About 3,000 were thought to have died that day while 225,000 were left homeless.
3. The opening of the San Francisco-Oakland Bay Bridge and the Golden Gate Bridge in 1936 and 1937, respectively, made the city more accessible, and its population grew faster in the 1940s due to its importance as a military base in World War II. Urban planning projects in the 1950s further transformed the city, tearing down and redeveloping many neighborhoods and introducing major freeways.
4. In the 1960s, San Francisco became the focal point of the counterculture revolution. Communal living became commonplace, and the intersection of Haight and Ashbury was the movements epicenter. It was then that San Francisco became a haven for many young people seeking peaceful living and mutual understanding, and this national migration pushed San Francisco's population diversification to where it is today.
Top San Francisco Group Travel Attractions
Fisherman's Wharf
Known for its historic waterfront, delicious seafood, spectacular sights and unique shopping, Fisherman's Wharf offers an array of activities for groups large and small. Fisherman's Wharf offers great views of the San Francisco Bay, the Golden Gate Bridge and the cityscape.
Cable Car Ride
Three cable car routes are in operation, and it helps to know their respective destinations. At Powell and Market streets, there is a cable car turntable which serves as the beginning stop for two lines, the Powell-Mason and Powell- Hyde lines. The Powell-Mason line begins at the Powell/ Market turntable, and the line runs from there up and over Nob Hill and down to Bay Street at Fisherman's Wharf. The Powell-Hyde line also begins at the Powell Market turntable and runs over Nob and Russian hills before ending at Aquatic Park near Ghirardelli Square.
Golden Gate Bridge
Linking San Francisco with Marin County, the Golden Gate Bridge is a 1.7 mile-long suspension bridge that can be crossed by car, bicycle or on foot.
Golden Gate Park
Comprised of 19 separate ecosystems in 7 distinct watersheds and is home to 1,273 plant and animal species.
Ferry Building Marketplace
Ferry Building Marketplace is located along the Embarcadero at the foot of Market Street. It is the center of a transit hub that connects all of San Francisco's neighborhoods and the surrounding bay communities.
Arts and Culture
San Francisco is one of the most creative and stimulating cities in the world. Home to many world renowned-cultural institutions, it also is home to many lesser known organizations that are equally exciting. Artistic expression can be found all over town in the citys museums, architecture, and local shops.
Fine Arts Museum of San Francisco
Comprising the de Young in Golden Gate Park and the Legion of Honor in Lincoln Park, this is the largest public arts institution in the City of San Francisco and one of the largest art museums in the United States.