Look toward Minnesota's rugged Iron Range for clues about what helped inspire folk-rock icon Bob Dylan, winner of the 2016 Nobel Prize in Literature
The boy born as Robert Zimmerman spent much of his childhood in Hibbing, Minnesota, population 16,361, and music fans from around the world find their way there.

By appointment, Hibbing historians Joe and Mary Keyes arrange group tours of one to three hours. They board buses or lead group walks, whatever makes the most sense for the group. LeRoy Hoikkala, drummer for Dylan's high school band in the 1950s, occasionally comes along.
Tours can include the inside of Hibbing High School, called a "castle in the wilderness"when it opened in the 1920s. It still has chandeliers, mosaic floors, marble staircases, pillars and artwork that includes a 60-foot-long oil painting, all about the area's strong mining heritage.
Mary Keyes refers to nearby Hull Rust Mahoning Mine as "a manmade Grand Canyon,"and the influence this land had on Dylan's music is a recurrent tour theme. At 8 miles long and 3 miles wide, Hull Rust Mahoning is among the world's largest open-pit mines.
Dylan was born in Duluth, 75 miles southeast of Hibbing and the host of an annual Dylan Fest during the week of the musician's birthday, which is May 24. Along the 1.8-mile Bob Dylan Way in downtown Duluth is a Dylan exhibit inside of Fitger's, a historic hotel/dining/shopping complex. A highlight of Dylan Fest is a singer-songwriter contest; entrants perform one of Dylan's songs and one piece of original music.
The Nobel Prize recognizes Dylan for "having created new poetic expressions with the great American song tradition." Poetry is a big part of Dylan Fest too, and organizers predict it will get bigger. The 2017 event is May 21-28.
If you'd like more great group travel ideas in Minnesota, check out the Minnesota Group Tour Guide and be sure to Subscribe to Leisure Group Travel to stay up to date with our latest travel news.
---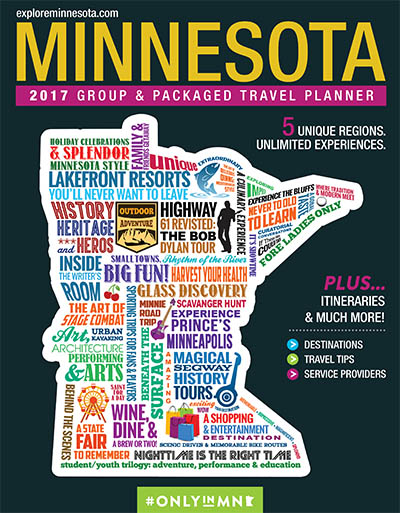 ---