A rich blend of domestic and international flavors awaits your group
Bursting with adventure and cultural travel options, Costa Rica is always a crowd-pleaser. The only difficulty in building an applause-worthy itinerary for your group is deciding what to leave out.
Food, however, is another matter entirely. As dining becomes an ever-important aspect of any travel experience, striking the balance between sampling local flavors and meeting the needs of your group can be challenging, especially in a developing country. Here is where I come in.
Having lived in Costa Rica for over 12 years, I have been blessed (and occasionally cursed) with the opportunity to sample nearly 500 restaurants, from rural mom-and-pop sodas (mini-restaurants) featuring traditional arroz con pollo (chicken and rice) and beachside "catch-of-the-day" fish taco stands, to elite, reservation-only, Michelin-starred establishments.
Beyond coffee and chocolate, Costa Rica is not known for its culinary scene, having adopted more of an import-based philosophy regarding food. If you are looking for the best places to find the most authentic traditional Costa Rican dishes, they are, in my opinion, at the little sodas tucked away in every town or roadside rest stop. While many gems do exist among them, they are not the best places for a group, as they simply lack the capacity needed to accommodate large numbers.
However, thanks to its ideal geographical location, ballooning tourism industry and growing affluent population, I have witnessed the Costa Rican foodie scene diversify and mature over the last decade with both traditional and fusion establishments offering up delicious dining options.
While I could easily list scores of excellent eateries, here I have focused on the capital, San Jose, and tried to provide a few options for either a planned group or for your members to experience on their own.
La Esquina de Buenos Aires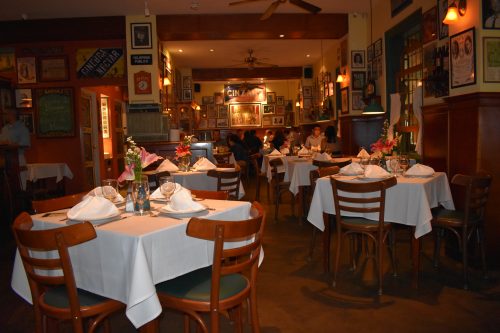 Have you ever wondered what it would be like to dine on grilled Argentinian cuts of steak, sipping a glass of perfectly matched Argentinian wine and soaking in the colorful atmosphere of a San Telmo bistro while soft, yet passionate tango music plays in the background? If you haven't, add the experience to your list, then in big bold letters next to it write "La Esquina de Buenos Aires, San Jose, Costa Rica."
Argentina is famous for its beef and its bistros, and the little slice of this legacy that is La Esquina de Buenos Aires does that tradition proud. Although several vegetarian options exist, the main attractions here are for the carnivores in your group. Come hungry, pace yourself and leave satisfied. (laesquinadebuenosaires.net)
My Recommendations:
Starters
Vitel Tone – beef slices covered with a tuna and anchovy sauce topped with capers
Marlin Ahumado – thin slices of smoked marlin with arugula
Entrees
Lomito al Malbec – tenderloin beef in a Malbec wine and rosemary sauce with potatoes au gratin.
Chorizo – Argentinian sausage served with linguini in an olive oil, black pepper and Parmesan cheese sauce
Desserts
Crêpe de Banana Flambeé – banana crêpe rum flambé served à la mode
Mousse "La Esquina" – made of chocolate, orange peel, ground coffee and served with walnuts
Hotel Grano de Oro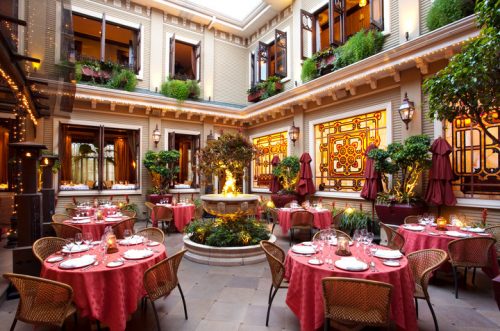 Located in a series of exquisite Victorian homes once owned by the locally prominent Pozuelo family, Hotel Grano de Oro takes its name from the Costa Rican slang term for the coffee bean, which translates to "grain of gold."
Whether your group is dining in the elegant indoor dining room or enchanting open-air inner courtyard, the French chef, Francis Canal Bardot, offers a refined take on French Mediterranean cuisine, using local Costa Rican ingredients that will delight even the most selective foodie in your group. (hotelgranodeoro.com)
My Recommendations
Starters
Raviolo dede Conejo Confit – homemade rabbit ravioli, carrot foam, rabbit jus
Pâté de Campagne – country pate, black currant mustard, brioche crostini
Entrees
Corvina Cardamomo – sautéed Costa Rican sea bass, jumbo prawn, wilted spinach, cardamom essence
Portobello Relleno – roasted Portobello mushroom stuffed with braised beans, tomato marmalade, herbed quinoa, sautéed zucchini and cauliflower couscous
Desserts
Tres Leches – three milk cake, a traditional Costa Rican dessert
Marquise de Chocolate – dark chocolate marquise, red wine poached pear, sweet gorgonzola
Pescatore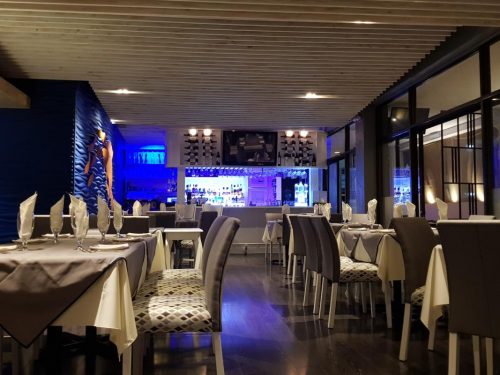 It would be a tragedy to bring your group to Costa Rica and not indulge in one of the prime delicacies Latin America has to offer – seafood. Bordered by the Pacific Ocean to the west and Caribbean Sea to the east, Costa Rica is a perfect destination for experiencing the fresh bounty of the sea, and nobody does it better than Restaurante Pescatore.
A graduate of Le Cordon Bleu Peru, Peruvian chef Regis Molina serves up a creative and original fusion of Mediterranean and Peruvian creations. Fans of ceviche in your group? They offer six varieties, including some with passion fruit or avocado. While there are plenty of dishes featuring nonaquatics as well, the main reasons for visiting Pescatore are the wonderful fish and seafood offerings. (pescatorecr.com)
My Recommendations:
Starters
Tartar de Atun y Aguacate – fresh cubes of tuna softly marinated with ginger, lemon, soy and sesame
Carpaccio de Salmon – salmon slices, marinated with soy vinaigrette with avocado and arugula
Entrees
Corvina Portobello – corvina in dry tomato juice, Portobello and a touch of butter and white wine, accompanied by angel hair pasta
Salmon Pescatore – grilled salmon fillet, topped with a layer of Portobello slices, tomato and onion seasoned with soy sauce and accompanied by rosemary potatoes
Kalu
This trendy, relatively new choice on the San Jose culinary scene takes its name from the Kuna Yala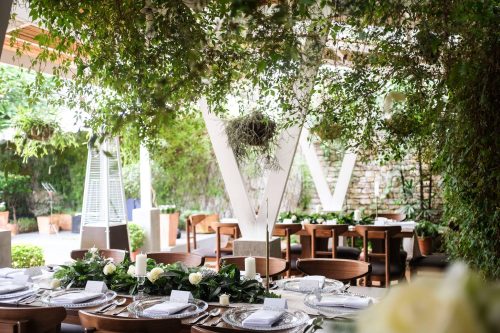 (Panamanian Indian) word for "meeting place." Camille Ratton, a chef of French and Costa Rican origin, bases the restaurant on the concept that the act of eating in the company of others constitutes the cornerstone of civilization by building ties between members of the community.
A full coffee bar and generous dessert menu are the highlights of the open-air, naturally lit eatery, the perfect place for your group to have a respite from the tour trail and reenergize themselves. The entrée menu is nothing to slouch at either, with a varied selection of dishes combining Costa Rican, Taiwanese and American elements. The on-site bakery is perfect for grabbing a little something for the road before getting back on the bus. (kalu.co.cr)
My Recommendations:
Starters
Crema de Tomates – served with crostini of bread with pesto and creamy goat cheese
Tortilla Espanola – with salmon cured in coffee, mini green asparagus peelings and apple cider vinaigrette
Entrees
Grilled Scallops – Beurre Blanc Sauce – lemon and basil sauce, on farro, asparagus tips and colored tomatoes
Risotto del Bosque – porcini, crimini, oyster and Portobello mushrooms served with Parmesan flakes
Desserts
Tarte Tatin – homemade baked apple pie with cinnamon and caramel
Pie de Maracuya – Passion fruit pie filled with cream
Tin Jo
Delivering delicious Pan-Asian cuisine, Tin Jo resides in the expansive former house of Don Cuco Arrieta,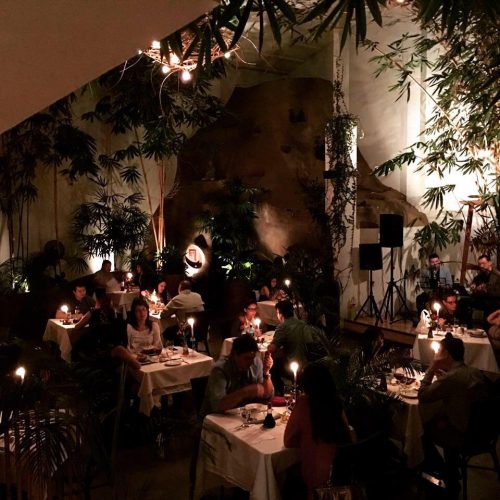 notable as the first kidnap victim in Costa Rican history. But don't worry – the only dangers you will face
are getting your group to decide in which of the seven immersive, beautifully decorated themed rooms they wish to dine and perhaps getting them to leave this warm and inviting dining atmosphere.
Featuring traditional and idiosyncratic dishes from India, China, Thailand, Japan, Korea, greater Southeast Asia and a little Costa Rica thrown in for good measure, Tin Jo's extensive menu can at first blush seem overwhelming, but within its pages your group will find true culinary enlightenment. They also have an extensive vegetarian and gluten-free menu. (tinjo.com)
My Recommendations:
Starters
Maya's Miso Soup – seaweed-based broth with miso, tofu, carrots and scallions
Samosas – Indian curried potato and pea turnovers with tamarind chutney
Entrees
Vegetarian Green Curry – bok choy, Swiss chard, French beans and shiitake mushrooms in green curry paste
Korean Chapche – sweet potato noodles sautéed with vegetables and choice of meat or vegetarian
Desserts
Fried Banana Tempura – with coconut ice cream
Rosemary Polenta Short Cake – with organic strawberries and Chantilly